After a fun Fight Night card to open up the month, the UFC will put on its Pay Per View offering of June on June 12th, with two title rematches set to headline the card.
In the main event, kickboxing legend Israel Adesanya will fight Italian bruiser Marvin Vettori. Their first meeting saw Adesanya's hand raised in a contentious split decision. The co-main event will have the Flyweight title on the line as Brandon Moreno and Deiveson Figueiredo look to solidify control of the division after their draw in December.
Three ranked matchups precede the title affairs, with the featured bout being a rebooked contest between Nate Diaz and Leon Edwards that is set to be the first five-round non-title featured bout.
---
Israel Adesanya vs. Marvin Vettori II (MW)
Israel Adesanya (20-1, 9-1 UFC) suffered his first professional loss in his last matchup, losing to Jan Blachowicz in an ill-fated move up to Light Heavyweight. Prior to that, Adesanya was on a twenty fight unbeaten streak, with two title defenses to his name. He has secured has cemented himself as one of the greatest strikers to ever enter the Octagon, now seeking to cement his legacy by moving up a weight class and becoming a double champion. His record holds fifteen knockouts on it brought on by his unorthodox and impressive striking, polished after a storied career in GLORY Kickboxing. His massive 6'4 frame grants him a heavy range advantage, but will not be as apparent here in his move up to Light Heavyweight. Adesanya uses amazing kickboxing to dominate his opponents from range and up close, delivering elbows and knees, along with punches down the middle. "The Last Stylebender" has been absolutely thrilling to watch with his high pace and his cardio has held up, winning five-rounders against Brad Tavares, Kelvin Gastelum, and Romero (though that's not the best example of his cardio). Adesanya has impeccable takedown defense and uses it to keep the fight exactly where he wants it and his striking can give him one punch (or knee/kick/elbow) knockouts with his precision or he can decimate his opponent with a thousand strikes.
We last saw Marvin Vettori (17-3-1, 7-2-1 UFC) pick up a decision win over Kevin Holland to extend his win streak to five.. Before that, "The Italian Dream" picked up a first-round submission back in June over Karl Roberson, putting a quick end to their bitter rivalry. Vettori is a talented grappler with nine submissions to his name, as well as nasty top control. His striking has improved leaps and bounds since his debut, as he only narrowly lost a decision to Israel Adesanya, who is widely regarded as one of the best strikers on this planet. Those striking improvements showed through in his decision win against Jack Hermansson, as Vettori scored a knockdown and landed over 160 significant strikes to earn a Fight of the Night bonus. Even so, his raw athleticism remains his key strength, as he can manhandle his opponent in clinch or surge in with power hooks. Vettori's most clear advantage in this bout is through his wrestling, averaging over two successful takedowns per fifteen minutes in the Octagon.
The first bout between these two came three years ago, and resulted in a split decision victory for Adesanya. Both fighters have significantly improved since their last fight, and we should expect an even better contest. Their first meeting saw Adesanya win out in the striking exchanges, but Vettori keeping it close with his pressure and durability, willing to take a shot to give one in return. Vettori also found success with his takedowns, clearly superior once the fight was secured on the mat. This fight should be well contested through its entirety, particularly on the feet. While still available to be hit, Vettori is more technical and just as hard-nosed as ever, with his power presenting a real threat to Adesanya. His blistering top control will also be a key advantage, though Adesanya's takedown defense is exceptional. I expect a strong start for Adesanya, with Vettori taking over late with his top control and volume. If Vettori can regularly draw the fight to the mat, he has a massive edge in grappling and control, meaning he can easily secure control time as Blachowicz did to great success. This is such a close fight, but I like Vettori to edge out a decision.
My Pick: Marvin Vettori via Decision
Deiveson Figueiredo vs. Brandon Moreno II (FLW)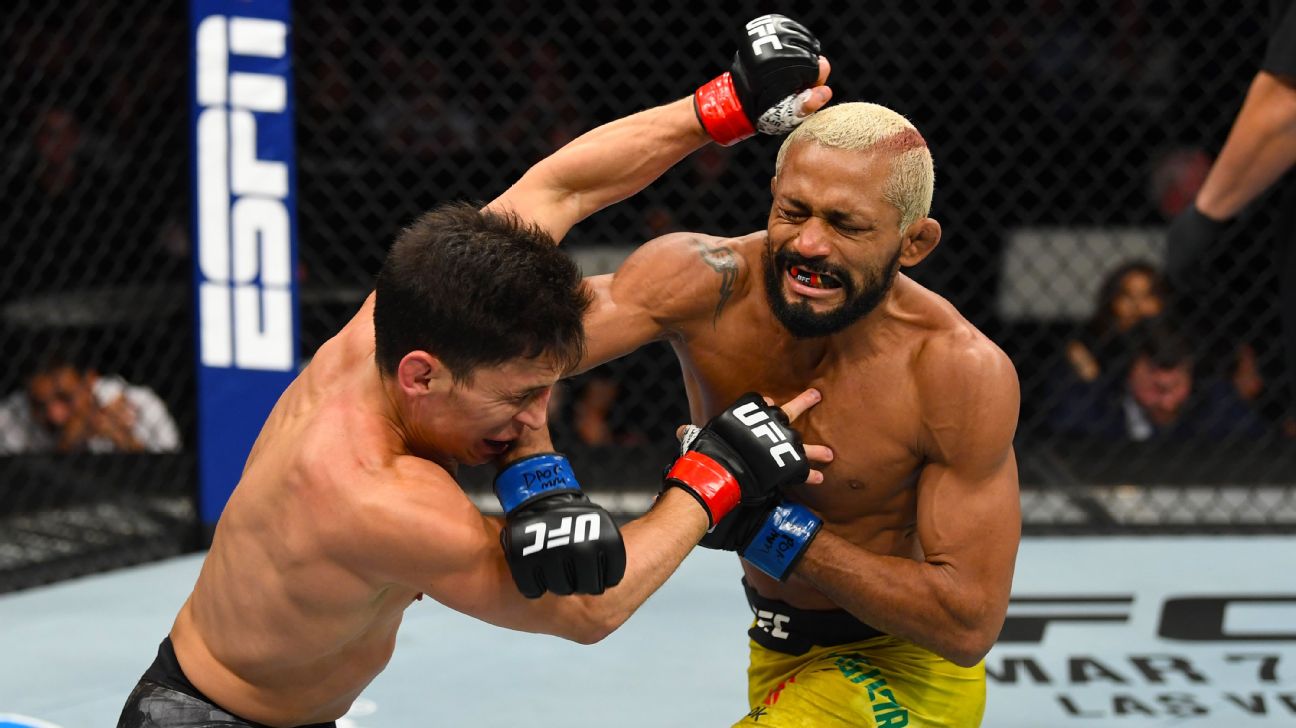 Deiveson Figueiredo (20-1-1, 9-1-1 UFC) made a quick turnaround following a first round submission over Alex Perez, getting right back into it by facing Brandon Moreno on the following Pay-Per-View. That bout saw the two scrap it out in a Fight of the Year contender, ending in a draw and necessitating this rematch. "Deus de Guerra" is a finisher in every area, with 16 stoppages and nine coming by knockout. His striking is his main forte and he utilizes a long, odd, and almost karate style stance to set up his power punches. His guard is a little low and outstretched, but his hand speed and concrete chin do more than enough to shore up those concerns. Even on the mat, Figueiredo has a number of crafty submissions in his repertoire, with his iron tight guillotine earning four of those seven.
Though he was cut in the 2018 Flyweight purge, Brandon Moreno (18-5-2, 6-2-2) scored a win on the regional circuit to vault himself back into the world's leading MMA promotion. His last UFC fight saw him put on a Fight of the Year contender with Figueiredo back in December, following a four fight unbeaten streak with wins over Brandon Royval and Jussier Formiga. Moreno has a well-rounded style, with a love for scrapping on the feet as well as talented grappling in his back pocket. As a striker, Moreno finds most success through his boxing, with a high volume and not discriminating with his attacks to the head and body. His scrambling is his highlight on the mat, quickly cutting angles and using his high takedown defense to decide where he wants the fight. "The Assassin Baby" has scored thirteen finishes in his pro career, with ten by way of submission. Moreno has a massive frame for the division, coming in with a 5'7″ height and two-inch advantages in both height and reach in this bout.
Who among us is not excited for this rematch. These two met back in December, with the fight going to a draw. Figueiredo would have came out the victor, if not for a colossal low blow that saw a point deducted. The first fight was a scrapper's delight as both fighters exchanged shots in the pocket and mixed it up on the mat with expert scrambling. The warring spirit of Moreno shown through, and I fully expect that same toughness. The one intangible that I do think needs to be mentioned for this bout is the fact that Figgy was submitted to the hospital less than 24 hours before their last fight, meaning he will likely come in with better conditioning and power. As with their first bout, the fans can expect a real treat, though the volume and fierce accuracy of Figueiredo will win out the firefight.
My Pick: Deiveson Figueiredo via Decision
Leon Edwards vs. Nate Diaz (WW)
British talent Leon Edwards (18-3, 10-2 UFC) is riding an astounding eight-fight win streak since a decision defeat to current champion Kamaru Usman, most recently besting former Lightweight champ Rafael Dos Anjos. Edwards is a technical specimen, boasting masterful distance striking, clinch work, and well-timed takedowns. Edwards has a durable wrestling threat based around control time, but his best foot lies in striking and his skill at drawing a match into his best territory. Though "Rocky" doesn't have the best power, he does well dictating range and the course of the fight with his high fight IQ and uncanny ability to gage the perfect timing for a strike or takedown. Edwards is a supremely cerebral fighter, knowing when and where to take the fight, as well as cutting angles and changing levels like a magician, bringing the fight to exactly where he needs it. His last bout against Belal Muhammad was overturned to a no contest following an eye poke from Edwards.
It's tough to find a finish against the insanely tough Nate Diaz (20-12, 15-10 UFC). The Gracie Jiu-Jitsu black belt is terrifyingly skillful off of his back, as well as holding skilled boxing. That is a problem only made worse by his unrelenting cardio and pressure as well as talented jab he uses to dictate range. The problem for Diaz has been going more technical fighters unwilling to brawl, especially those with a wrestling background who are capable of controlling him on the mat. Diaz holds sixteen wins by finish, including twelve via submission. He is an offensive threat wherever the bout goes, though his poor striking sand takedown defense leave him liable to being outdone by a more technical approach.
This is certainly an intriguing bout, though the -500 odds favoring Leon Edwards may disagree. Edwards holds a clear advantage on the feet, with superior technique and a higher variety of strikes. Meanwhile, Diaz boasts a high output and relentless pace, capable of banging it out all five rounds if need be. Diaz's greatest advantage comes on the mat, though, as his high level grappling make him a threat from top control and off his back. The latter is much more likely in this case, as Diaz's low takedown accuracy and Leon's high defense mean Edwards should dictate the range of the bout. Unless Diaz can keep Edwards in close, Leon will cleanly piece him up from range for a late finish or decision win.
My Pick: Leon Edwards via Decision
Demian Maia vs. Belal Muhammad (WW)
Demian Maia (28-10, 22-10 UFC) has not competed since a knockout defeat to Gilbert Burns way back in March of 2020, in the first UFC event to take place without a crowd. Maia is the OG submission king, other than being a UFC mainstay for almost 12 years and a title challenger. Maia is a fairly simple fighter. He uses his jiu jitsu to take the fight down to the mat and finish it at all costs. Though it is a one-note approach rarely seen in modern MMA, it has worked wonders for the Brazilian legend, finishing fourteen of his pro wins by submission. His striking isn't the worst, but it is only really used as a means to an end at getting the fight to the mat. In terms of a ground game; however, Maia is as good as it gets.
An eye poke from Leon Edwards turned their bout to a no contest, giving Belal Muhammad (18-3, 9-3 UFC) a less than definitive result In his first main event showcase. Prior to that, he had a four-fight winning streak interrupted by top-notch prospect Geoff Neal, but turned it around with four straight victories, including his first career submission over Japanese powerhouse Takashi Sato. "Remember the Name" comes in with a wrestling background, but is rarely in a boring fight because of his pace. Belal is set apart by his cardio and relentless output, pressuring forward with technical striking to secure the takedown. Though he only sports five career stoppages, his wrestling and aggressive pace are incredibly aggravating against elite striker or even ground-savvy opponents.
This has been roughly confirmed as the final fight of Demian Maia's storied career, and unfortunately, it is a nightmare of a stylistic clash. Maia is a true wizard on the mat, with the positioning and finishing skills to dominate whenever the fight touches the canvas. However, he is up against a high proficiency wrestler who sports an 85% takedown defense. Belal's pace on the feet is more than enough to do in the Brazilian vet, and his top-notch takedown defense affords him the ability to dictate where the fight takes place. So long as he avoids the mat like the plague, Belal should outpoint Maia on the feet for a clear decision win.
My Pick: Belal Muhammad via Decision
Paul Craig vs. Jamahal Hill (LHW)
Paul Craig (14-4-1, 6-4-1 UFC) is a finisher in every sense of the word, claiming each of his fourteen wins by finish and all but two by submission. "Bearjew" is coming off a knockout victory over Shogun Rua that saw the veteran tap to strikes on the ground. Craig is a dangerous grappler, willing to pull guard to get the fight to the mat and has an incredibly threatening guard off his back, earning multiple bonuses for last-second submissions, including a submission over the Uber-talented Magomed Ankalaev. When striking, Craig exploits a Kung-Fu style and has shown improvements as of late, using his kicks, long frame, and improving jab to keep range until he wants to engage on the mat.
A second round TKO on the Contender Series earned Jamahal Hill (9-0, 3-0 UFC) his UFC contract, from which he earned two victories. Hill had a knockout win over Klidson Abreu turned to a no contest following a positive test for marijuana. He kept his unbeaten streak going in his last bout, finishing Ovince St. Preux in the second round. Hill is a striking specialist with an impressive work rate and volume, using his technical Muay Thai and length to pick apart his opponents, mixing it up with leg kicks and attacks to the body. Though he has gone to decision in almost half of his pro bouts, Hill clearly holds finishing power when he senses vulnerability and decides to sit down on his punches. His offensive grappling is pretty limited, but he has shown an impressive ability to regain his footing when taken down.
This is just about as definitive of a stylistic clash as you can get. Craig is a constant submission threat through the entire bout, while Hill is head and shoulders above Craig on the feet in terms of technique. Both fighters are lanky and strike at range, which will afford Craig little favors in this bout. The constant output and work rate of Hill is simply too much compared to the heavy kicking offensive of Craig, who will need to maneuver this fight to the mat to secure victory. In short, Hill uses his technic striking to score a knockout or decision win, avoiding the takedown entries of Craig.
My Pick: Jamahal Hill via Decision
---
This fantastic PPV card is set to go down on Saturday at 10 PM, with Adesanya and Vettori taking center stage around 1 AM.
There are nine prelim fights before the main card, so tune into Joao Mendes Coelho's breakdown of those bouts, coming shortly to our home page!