After a week off following UFC Vegas 27, the UFC will return to action with another Fight Night event from the Apex facility in Las Vegas. This card suffered its fair share of cancellations, but we made it to Fight Week all the same.
This week, we have a Heavyweight headliner on deck as the hard-hitting Jairzinho Rozenstruik battles Augusto Sakai. The big men will also throw down in the co-main when power puncher Walt Harris takes on the surging Marcin Tybura. The card boasts many other examples of bonafide matchmaking, such as the striker's delight matchup between Santiago Ponzinibbio and Miguel Baeza.
---
Jairzinho Rozenstruik vs. Augusto Sakai (HW)
Jairzinho Rozenstruik (11-2, 5-2 UFC) quickly made a name for himself in the UFC after joining the promotion in 2019, scoring four stunning knockouts in the calendar year. A UFC 249 meeting with Francis Ngannou ended in tragedy, but he rebounded by another knockout victory over Junior Dos Santos last August. A five-round showcase opposite Cyril Gane ended in a twenty minute affair in technical kickboxing that Rozenstruik was sorely on the wrong end of, though his power still presented itself. "Bigi Boy" is a former kickboxer who prefers to keep the fight standing, not yet attempting a single takedown in the UFC to date. He primarily does his work with his hands and snapping leg kicks, primarily headhunting as he has the KO power to end the fight at any second. Rozenstruik's advantages often come from his power and speed, but he did show a lapse in defense against Alistair Overeem, both in his striking defense and limited offensive effort off of his back. The knockout power of Big Boy is something to behold, as he put Allen Crowder down with a jab just seconds into their bout.
Augusto Sakai (15-2-1, 4-1 UFC) brought a four fight win streak into his meeting with Alistair Overeem, but was knocked out by the Dutch veteran in the fifth round. Sakai competed at Bellator for a period then came into the UFC after a brutal knockout on DWTNCS with a debut that ended up being a 3rd round KO against Chase Sherman that showed off his standup talent in a wide variety. 11 of his wins have come by knockout and his Muay Thai striking pedigree gives him the technique and speed to throw shots. At first glance, Sakai looks to have an odd style and swings looping hooks and overhands. On closer examination, Sakai uses this style with a technical purpose in mind. He has a more uncoordinated standup, but he uses this unorthodox style to throw his opponent off their rhythm, while giving him time to find his. He strings together combinations very well and combines power with brilliant footwork and quick footwork and trap setting to make an incredible and entertaining striking style.
Both of these fighters are through and through strikers, making this a must watch Heavyweight main event, where a single punch could mean the end of the fight. This goes double for Rozenstruik, who has deadly KO power in both hands. This somewhat represents a matchup of disclipnes, with Sakai's Muay Thai and Rozenstruk's kickboxing background. Sakai does hold a technical advantage, with a higher striking defense rate and higher strike variation, as Rozenstruik mostly offers boxing and leg kick combos. Sakai will find success in the pocket and clinch with Rozenstruik seeking power strikes from range. As such, this should be a tense striking battle, and I give the edge to Sakai. While Rozenstruik does hold a punching power and remains a knockout threat from bell to bell, I like Sakai to win an contentious striking battle with superior technique and pacing.
My Pick: Augusto Sakai via Decision
Walt Harris vs. Marcin Tybura (HW)
Walt Harris (13-9, 6-6 UFC) had an impressive 2019 run with two devastating knockouts that put Alexey Oleynik and Sergey Spivak to sleep quickly. 2020 was not so kind, losing to Alistair Overeem and Alexander Volkov but second round knockout. "The Big Ticket" has all of his 13 wins coming in by knockout, packing some serious one-punch (or knee) power. Although he doesn't have the greatest volume and is typically lost when a fight goes the distance, his hard-changing aggression and show-closing cannon of a punch make him a dangerous opponent for any Octagon competitor. Standing and trading with Walt Harris is a surefire way to end your night fast. However, Harris is marred by sub-par grappling skills and limited offense off of his back.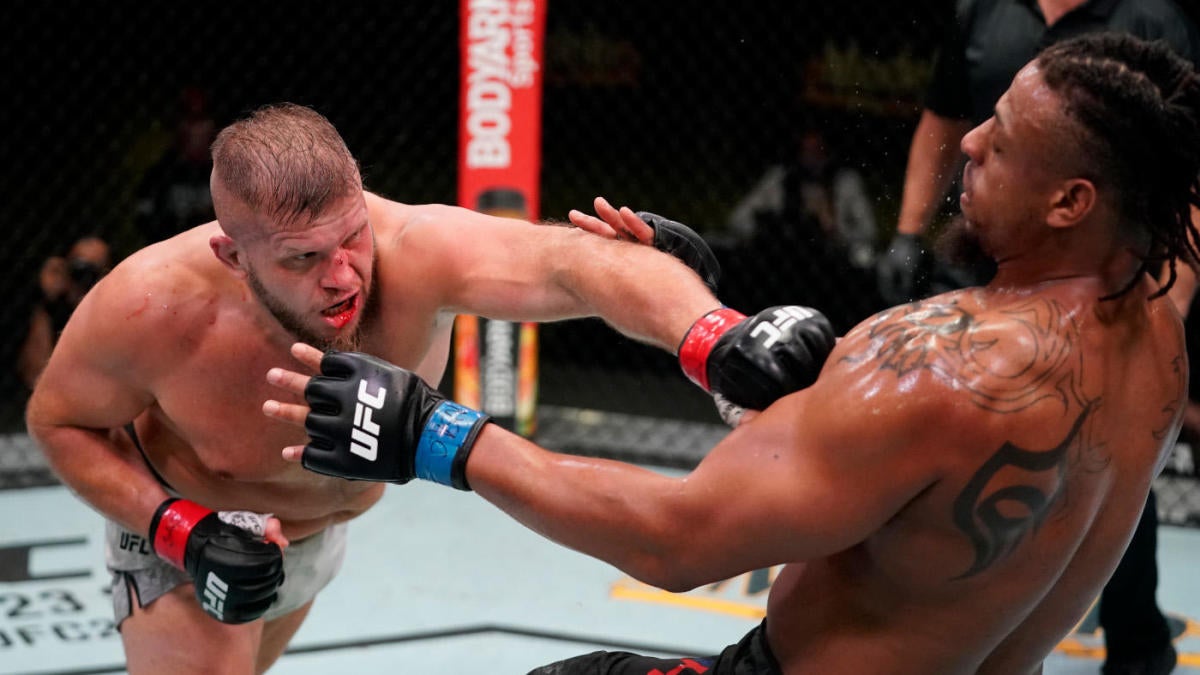 Marcin Tybura (21-6, 8-5 UFC) is on the longest win streak of his UFC career, claiming victory in his last four bouts. He's a well-rounded fighter with a good amount of knockout power and more than substantial wrestling to back him up. His main avenue to victory comes through his ground game and clinch work, controlling his opponent while looking to advance position. He provides serious danger there as well, since he has six wins by submission. On the feet, his varied striking attack and improving volume have shown he can finish or outpoint his opponent. He is most vulnerable on the feet, where his poor head movement leaves him open to the knockout, as he holds four of his losses by KO.
Any of your long term Fight Freaks readers know my opinion on binary fights, and this is most definitely one of them. Harris has undoubtable one punch knockout ability and the explosiveness to take advantage of Tybura's lapses in striking defense. On the other hand, Harris is incredibly limited off his back and Tybura has both the wrestling and grappling advantages to bring the fight there and keep Harris grounded. Tybura has shown a clear evolution within his defense, maintaining a safer distance and keeping a higher guard in recent bouts. Barring a first round knockout (which is certainly not out of the question), Tybura has the cardio and grappling advantages to take over the later rounds for a convincing decision win.
My Pick: Marcin Tybura via Decision
Roman Dolidze vs. Laureano Staropoli (MW)
Roman Dolidze (8-1, 2-1 UFC) made a statement in his UFC debut, flooring Khadis Ibragimov with a knee inside the first round. His last two bouts have not shown the same dominance, trading a win and a loss on the scorecards against John Allan and Trevin Giles, respectively. Dolidze has finished all but one of his pro victories, four coming in by knockout. He has an elite grappling background, being crowned the 2016 ADCC Jiu-Jitsu world champion as well as a love for Combat Sambo. The Georgian is more than happy to accept positions on his back, as he is most deadly from that position with an array of heel hooks and triangles that he likes to attack with. On the feet, he prefers to counter-strike from range, loading up on power shots when his opponent overexposes themself.
A short notice bout gave Laureano Staropoli (9-3, 2-2 UFC) his entry into the UFC, and he shortly claimed two decision wins over Hector Aldana and Thiago Alves. Recent form has not been so kind, as Staropoli has suffered losses to Muslim Salikhov and Tim Means, both by decision. Staropoli is at his best when striking, and can be exploited on the mat. His striking is composed around his length and fundamental Thai boxing, as he does good work from range and in the clinch. I particularly like the Argentinian's jab and footwork, as he keeps range well before setting up his pocket entries. Staropoli can be detained on the mat, as his poor takedown defense and limited submission threat make him easy pickings for a high level grappler.
This is a closely contested matchup on the feet where Staropoli takes home the advantage due to his superior work rate and quick kicking game. He has the striking versatility to tee off on Dolidze's exposed chin, though he will need to remain wary of any power counters coming his way. However, Staropoili is woefully outgunned on the ground, with limited defensive grappling and porous takedown defense. On top of that, Staropoli is moving up to Middleweight in a short notice appearance, while Dolidze made his Octagon debut at Light Heavyweight, and his five inch reach advantage demonstrates the size advantage he will be working with. A contentious start to the bout on the feet brings the fight to the mat, where Dolidze will have little resistance in wrapping up a a submission.
My Pick: Roman Dolidze via Submission
Santiago Ponzinibbio vs. Miguel Baeza (WW)
After more than two years away from the cage, Santiago Ponzinibbio (27-4, 9-3 UFC) made his return back in January. His return bout did not go as planned, as he was knocked out in the first round by Li Jingliang. Prior to that loss, Ponzinibbio was on a seven fight win streak capped of with a knockout over Neil Magny. "Argentine Dagger" is a fearsome knockout artist holding twenty three finishes in his pro career, including seventeen by way of knockout. His striking is based around his pocket entries and long striking, keeping distance and a high defense before unloading with a variety of Muay Thai combos. He fights behind a skilled jab and moves well, setting up his power punches expertly with lead hand combos. Though his wrestling could use some improvement, his grappling skill, as well as his ability to reclaim his footing, keep the bout in his preferred wheelhouse on the feet.
Miguel Baeza (10-0, 3-0 UFC) moved into the UFC following a knockout win on the Contender Series. Since then, he has racked up three straight finishes, last seen securing the first submission win of his career against Takashi Sato. "Caramel Thunder" is a lanky striker who uses powerful straights and quick, snapping leg kicks to stifle his opponent's movement and pick them apart from kickboxing range. As a Brazilian Jiu Jitsu black belt, he also sports great takedown defense as well as an arsenal of defensive jiu-jitsu, though he primarily uses his grappling to keep the fight standing. His kicking has been notably improved as of late, adding to his array of weapons on the feet. However, he can be tagged when his opponent can pressure into the pocket, as Matt Brown showed by rocking him in their bout.
This bout can be best summarized as a striker's delight with a shot at the top 15 likely granted to the winner. As promising as Baeza seems, this a tough stylistic clash along with a serious uptick in competition. Baeza brings a high paced and technical striking style, with a high diversity of strikes best utilized from range. Ponzinibbio matches this well with vicious knockout power and a slick jab he works well behind. The outcome of this bout seems to come down to which Ponz we see in the Octagon come Fight Night. If it's the ring rust version, Baeza has a good shot at another clip for his highlight reel. However, if Ponzinnibio brings a return to form, his comfortability at range and fight changing power can take advantage of Baeza's lackluster head movement.
My Pick: Santiago Ponzinibbio via Knockout
Dusko Todorovic vs. Gregory Rodrigues (MW)
Dusko Todorovic (10-1, 1-1 UFC) earned his way to the big show with a decision victory on the Contender Series. He followed that up by finishing Dequan Townsend in his Octagon debut, knocking him out in the second round with relentless ground and pound. His sophomore appearance saw a reversal of that success, with Dusko being knocked out in the first round. He does his best work standing, utilizing his ridiculous output and striking variety. Though his low hands and lackluster striking defense leave him open to taking his fair share of shots, his head movement and chin durability help keep him out of the way of danger, though he can be found in the pocket. Todorovic has some wrestling chops in his back pocket and a high takedown defense, as well as doing some real damage in the clinch to diversify his attack.
Fans of the Contender Series may recognize the name of Gregory Rodrigues (9-3), who appeared on the most recent season, losing by knockout to Jordan Williams. Since that loss, Rodrigues has picked up two knockout wins of his own and claimed the LFA Middleweight title. Rodrigues has a versatile arsenal with eight finishes, evenly split between knockouts and submissions. He is a lanky striker who brings in a high pace, though he has some defensive lapses. When on the mats, he has stout submission knowledge off his back and from top control, though his wrestling is not on the same level. Rodrigues has an all around offensive arsenal that always entertains the crowd, with heavy power and high level grappling.
This will certainly be a wild match, so I am unsurprised it kept its main card footing after Todorovic's original opponent fell out. This should take place entirely on the feet, with Todorovic sporting the superior wrestling but Rodrigues being the greater submission threat. Even striking, this is still closely contested. Rodrigues has a two inch height advantage and some genuinely fearsome knockout power. Todorovic, while more technical and accurate, has the defensive concerns that Rodrigues could exploit with frequency. However, Rodrigues brings that same weakness in, and Todorovic has the combination striking to fully exploit his issues within a pocket brawl. Full disclosure, this is the bout on the card that I keep going back and forth on. I am almost certainly convinced that the fans get an all-action slugfest, and I lean towards Rodrigues getting his hand raised with his power and grappling ability able to take advantage of Dusko's defensive lapses.
My Pick: Gregory Rodrigues via Knockout
Tom Breese vs. Antonio Arroyo (MW)
Tom Breese (12-3, 5-3 UFC) entered the Octagon back in 2015 but has only had one bout since June of 2016 to present, as a number of physical and mental roadblocks left him sidelined. An October knockout win gave way to a ranked opportunity in January of this year, though Breese was submitted by Omari Akhmedov in the second round. Training out of the world-renowned TriStar gym, Breese began as a jiu-jitsu ace with 6 wins by submission, yet racked up three first-round knockouts after joining the UFC. Breese has incredible boxing and range utilization, but is more than comfortable on the mat as he frequents grappling tournaments like Polaris and GrappleFest.
A submission victory on the Contender Series brought Antonio Arroyo (9-4, 0-2 UFC) into the UFC, but he gave up a unanimous decision to grappling whiz Andre Muniz. Arroyo was subject to numerous fight cancellations, but finally made his way back to the cage opposite Deron Winn, who emerged victorious in a decision. Arroyo has eight finishes to his name, evenly split between knockouts and submissions. His striking is long and technical, and he uses powerful kicks mixed up well to deal damage to his opponent's head, body, and legs. His grappling is most dangerous when he is in top position, but he has sneaky scrambles if he should end up on his back. I am not entirely impressed with his wrestling yet, however, and he also leaves his chin high at times.
This bout brings a lot of questions into it with no clearly discernible way the fight will play out. Breese has slick grappling, but has struggled off of his back in the UFC, as the Allen and Akhmedov defeats showed. That said, he has a threatening submission defense to get past, meaning that Arroyo will struggle to establish consistent top control, especially when factoring in Arroyo's wrestling struggles. To achieve victory, Arroyo will need to find success in the grappling early and often, as Breese holds a massive advantage on the feet. Though Arroyo is composed at range, Breese's combination striking and elite level jab will lead him to a late knockout or decision win.
My Pick: Tom Breese via Decision
---
This card is loaded with twelve bouts at time of writing, so stay tuned to our main page for any upcoming news or Koao Mendes Coelho's breakdown of the prelims!