May has kicked off with a bang, featuring two fun Fight Night cards, the last of which saw Marina Rodriguez dominate Michelle Waterson on the feet for a decision win.
This month's Pay-Per-View offering will be in front of a sold out crowd in Houston, Texas, with the vacant Lightweight title in the balance as Michael Chandler and Charles Oliveira are set battle it out. The co-main event is another Lightweight clash between the all-action Tony Ferguson and the rising Beneil Dariush.
We have five fun scraps to break down, so let's get into it!
---
Michael Chandler vs. Charles Oliveira (LW)
Michael Chandler (22-5, 1-0 UFC) made his long awaited Octagon debut in January after a notable career in Bellator that saw him win and defend the Lightweight title several times. He needed just half of the first round to knock out Dan Hooker in his debut, cementing his status in the rankings. The NCAA Division I wrestler has a persistent ground attack combined with dominant top control and seven submissions to his name. He has a composed yet aggressive striking style with great cardio. "Iron" Mike's knockout power has been on full display as of late, earning vicious knockouts over Sidney Outlaw and Benson Henderson since losing his title to Patricio Pitbull. Chandler is a versatile threat with sixteen career finishes, but has shown issues with his striking defense with leg kicks in particular, though he loves himself a brawl (you MUST watch his bouts against Eddie Alvarez).
A UFC mainstay for almost eleven years, Charles Oliveira (30-8, 18-8 UFC) moved up from Featherweight and going on a tear, currently riding an eight fight winning streak with all but one victory coming by stoppage. "Do Bronx" recently received his Brazilian jiu-jitsu third degree black belt and holds the record for the most submissions inside the Octagon. He is an absolute killer when the fight hits the mat, with oppressive top control, lethal submissions, and slick submissions. He has demonstrated the vast improvement to his striking skill in recent efforts, scoring knockouts over Nik Lentz and Jared Gordon. His standup is based upon his pressure and unorthodox strikes, loving to throw jumping front kicks and spinning attacks as he has no fear of going to the mat. He has powerful low kicks and constant forward pressure, though his cardio has been a concern before.
The odds reflect this bout as nearly a coin-flip fight and I cannot say that I disagree. While Chandler has been a big name at Lightweight for many years, we have still not been shown his full prowess in the UFC and he will have a tough outing against Oliveira here. Both fighters are extremely well-rounded, but each take home their own advantages. The most glaring disparity comes through Oliveira's submission game, where he has a clear edge in finishing ability and grappling transitions, particularly his guillotine. However, Chandler's high level wrestling should give him the ability to dictate where the fight takes place, so long as he doesn't go for any mistimed takedowns. While Oliveira has improved leaps and bounds with his striking offense, he still leaves his chin exposed without significant head movement. That combined with Chandler's constant volume and one shot power grant the American the striking advantage, though I imagine it will be closely contested in the early going. The experience and cardio advantages of Chandler will take over once Charles' early output starts to wane, as I see Chandler capitalizing with a late knockout.
My Pick: Michael Chandler via Knockout
---
Tony Ferguson vs. Beneil Dariush (LW)
Tony Ferguson (25-5, 15-3 UFC) had his twelve fight winning streak inside the Octagon broken by Justin Gaethje and was dominated in his last outing by Charles Oliveira. Tony Ferguson is a well-rounded fighter who is, quite frankly, insane in the best way. He has an unrelenting pace, aggressive striking, and sneaky submissions. "El Cucuy"s striking is composed of an unorthodox style with constant stance switching, superb footwork, and slicing elbows. Ferguson likes to pressure forward and use his relentless pacing and volume to create a relentless onslaught of punishment for his opponent. He also has an high level grappling pedigree coming out of the 10th Planet system and can wing crafty submissions from his back. Ferguson has been on somewhat of a decline in recent bouts with both worsening striking and takedown defense.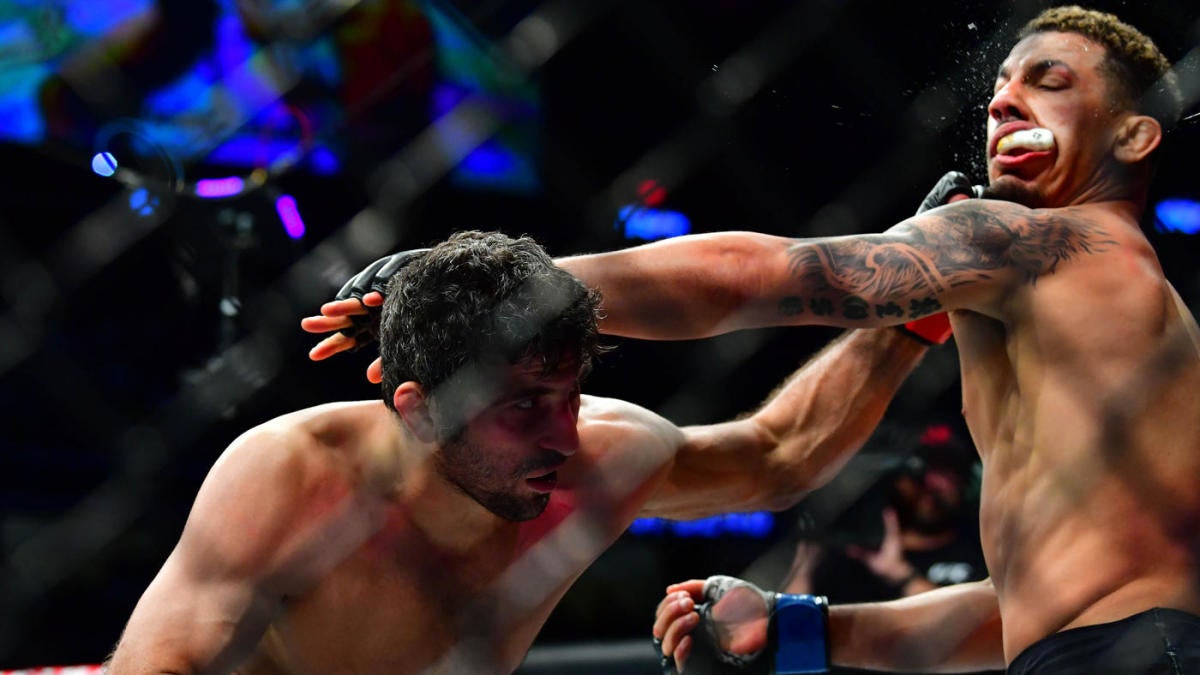 Beneil Dariush (20-4-1, 14-4-1 UFC) reasserted himself in the Lightweight rankings by dispatching Drakkar Klose and Scott Holtzman with stunning KO finishes. His last outing saw him narrowly outpoint Diego Ferreira on the scorecards in their Fight of the Night rematch. "Benny" is an elite grappler with great takedown entries and back takes, securing thirteen finishes with eight by submission. Dariush is another fighter where the blueprint is out there to win for those in the know. He has impressive wrestling, dangerous jiu-jitsu, and a nice strike differential. Now riding a five-fight win streak, his striking has been most notably improving, as Dariush has found success with his power strikes and grappling threat. However, he has been consistently outclassed by fighters who are explosive and athletic, able to land power shots on his exposed chin.
Tony Ferguson is at a crossroads here, and this bout will either mark his resurgence into the title picture or a changing of the guard. Judging by recent outings and now 37 years old, it does appear to be the latter. While he was certainly competitive in he and Gaethje's back and forth slobberknocker, his last appearance against Oliveira saw him utterly dominated on the feet and the mat. Dariush has the grappling transitions and submission prowess to replicate Oliveira's success on the mat against Ferguson, though his ludicrous output and constant volume will challenge Dariush's striking. Ferguson is still tough as all hell, so a close match on the feet interrupted by takedowns and top control will net Dariush a close decision victory.
My Pick: Beneil Dariush via Decision
---
Matt Schnell vs. Rogerio Bontorin (BW)
Two losses put Matt Schnell (15-5, 5-3 UFC) on a bad path in his UFC start, but he turned it around with four straight wins, including two triangle chokes. "Danger" was then knocked out by Alexandre Pantoja, but got back on the right track in January with a decision win over Tyson Nam. Schnell is a well-rounded fighter with slick grappling and fundamental striking, punctuated by his absurd length for the division. He is a killer off of his back with nine submissions, but sometimes lacks the wrestling to back that up. His striking is sound defensively but he has a low accuracy with his strikes and his biggest weakness so far has been his chin.
Rogerio Bontorin (16-3, 2-2 UFC) made his way to the Octagon with a submission on the Contender Series, Though he started off strong with two straight wins, recent efforts have seen him knocked out by Kai Kara-France and dominated by Ray Borg. On the feet, Bontorin has good striking accuracy and kicks, but has poor striking defense and often gets pieced up standing. Luckily, his strong suit is his jiu-jitsu, having successfully scored 11 submissions on his way to the UFC. His wrestling is sufficient enough to get it there and he proved that against a dynamic wrestler in Magomed Bibulatov. Once he is on the back, Bontorin is as hard as any to get off of there.
Every single fight on this main card is so close, and this one is no different. Both fighters in this bout are terrific grapplers, with Schnell being a constant finishing threat off his back and Bontorin taking home the wrestling advantage. Bontorin will likely be able to get Schnell to the mat, but the dangerous triangles and quick transitions of Schnell give him his own opportunities there. Schnell is quite difficult to hold down, so I do not expect him to stay grounded long. On the feet, this fight is all Schnell. Bontorin has some nice kicks and power shots inside the pocket, but his nearly non-existent head movement and poor reads will leave him open to being pieced up on the feet. A close grappling contest will be edged by volume striking for Schnell to get his hand raised in a decision.
My Pick: Matt Schnell via Decision
---
Viviane Araujo vs. Katlyn Chookagian (FLW)
Viviane Araujo (10-2, 4-1 UFC) ran through Talita Bernardo in her Octagon debut, finishing her opponent in the opening of the third round. She has made her permanent home at Flyweight after her Bantamweight debut, winning all but one bout, a decision defeat to Jessica Eye. "Vivi" has fantastic defensive wrestling, as well as stifling top control, putting together crisp combinations on the feet along with speed to dominate her opponent in every area. She holds seven finishes with four coming by submission. Her issue so far has been her pacing and gas tank as she tends to slow down in the third round. Araujo's grappling ability will leave her able to dictate where the bout takes place and she can press her advantage from there with her aggressive striking, averaging almost five significant strikes per minute.
Katlyn Chookagian (15-4, 5-4 UFC) has been firmly rooted at the top of the Flyweight division since its inception. Her first title opportunity against Valentina Shevchenko went poorly, as she was pounded out by the champion in the third round. She has gone 2-1 since, with a knockout loss to Jessica Andrade sandwiching decision victories over Antonina Shevchenko and Cynthia Calvillo. "Blonde Fighter" likes to get her wins in with a high volume striking style and although she doesn't pack the most power she has the overwhelming volume and technique to make every fight a contest on the feet. Her cardio and quick movement combined with rangy kicks and constant pace make her a problem for anyone to deal with. She will hold a five-inch height advantage in this match.
On the feet, this is a closely contested battle between two high volume strikers. Araujo holds the advantage in aggression and boxing, while Chookagian will look to succeed with her range and superior technique, as well as diversity of strikes. The grappling is a much different story, as Araujo has the wrestling to exploit Chookagian's traditionally poor takedown defense and avoid any wayward submission attempts. With that said, Chookagian is difficult to keep down and Araujo will need to frequently close into the pocket to succeed. This is an extremely close bout, as nearly all on this card, but I like Araujo to take the first two rounds with top control and boxing, with Chookagian taking over in the later going to make it narrow on the scorecards.
My Pick: Viviane Araujo via Decision
---
Shane Burgos vs. Edson Barboza (FTW)
Few fighters are as game for a war as Shane Burgos (13-2, 6-2 UFC). "Hurricane" marches forward, forcing a brutal pace for him and his opponents to fight on. His last bout, a Fight of the Night decision defeat to Josh Emmett, displayed Burgos' toughness and insatiable pace, landing 128 significant strikes in three rounds. The cardio and output of Burgos are simply unrelenting, bullying his opponents into submission. Although Burgos is by no means impossible to hit, his striking average of over seven significant strikes per minute provides danger and a scary finishing potential. On the mat, Burgos is dangerous off his back, but sports an 89% takedown defense rate to keep the fight where he wants it. Shane has ten finishes split evenly between knockouts and submissions, most recently knocking out Makwan Amirkhani in the third round.
If you want to know why Edson Barboza (21-9, 16-9 UFC) is so terrifying, just watch his famous wheel kick knockout over Terry Etim. Barboza is a brutal kickboxer. And he is really a KICKboxer, with quite possibly the best kicking game in the UFC currently. Every single leg kick, body kick, or god forbid head kick, cracks off his opponent and you can see the pain in their eyes. He HURTS people with the violent power in his legs. However, Edson's failures have always been known. Though sporting solid takedown defense, he quite frankly fails when trapped on his back. Even when Hooker was entirely gassed and destroyed, he was all over Barboza on the ground. Barboza's other problem is his gas tank and weakness to pressure. As soon as after the first round, his movements get more telegraphed and his hands go down, while he lacks the room to get his kicks off when pressured.
This is a surefire Fight of the Night candidate. Both fighters prefer to duke it out on the feet, and both have the skillset to do so. Barboza brings a definite technical advantage into this matchup, but Burgos comes to play with the much higher volume, as well as a higher striking accuracy. Though Burgos is more threatening on the mat, I do not see the fight going there as both fighters have high takedown defense rates. In this back and forth striking battle, I like Burgos to take the edge. He has the forward pressure to crowd Barboza's kicks and not let him get off with those lethal strikes, as well as the chin and recoverability to withstand any wayward bombs Barboza can land. Burgos' output only goes up as the fight goes on, a clear disadvantage for Edson's cardio concerns. Expect a tense striking battle that sees Burgos' hand raised due to superior volume and forward pressure.
My Pick: Shane Burgos via Decision
---
Eight preliminary bouts accompany the main card, so be sure to check back in on those picks in the coming days!
The main card gets going at 10 PM EST, with Chandler and Oliveira taking center stage around 12:30.