Last week's Fight Night card had some fun stoppages, but was ultimately a disappointing night after two fights, including the main event, ended in anticlimactic no contests.
Hopefully, this week's barn burner of a card can eaae some of those woes. We continue at the Apex for the UFC's stacked March lineup, and this weekend is no different with solid talents and a number of fan favorite fighters making appearances.
In our main event, dangerous veteran Derek Brunson will take on 2020's Breakout Fighter of the Year Kevin Holland in the Middleweight division. Our co-main pits Kiwi standout Brad Riddell against the returning Gregor Gillespie in what promises to be an entertaining Lightweight tilt.
---
Derek Brunson vs. Kevin Holland (MW)
Despite coming in at 37 years of age, Derek Brunson (21-7, 11-5 UFC) has shown himself to be a revitalized fighter since joining Sanford MMA, scoring three straight wins, including a TKO over Edmen Shabazyan. He been kicking it at Middleweight for FOREVER now and was actually the headliner for the first UFC event I saw live. He has elite wrestling and striking with some real power behind it, too, finishing seven of his UFC opponents in the first round. The biggest issue, time and time again, for Brunson has just been his pacing. Instead of using his elite wrestling and striking technique, he often will throw himself into a brawl chasing the finish. However, his recent evolution has displayed a more patient Derek, one who does not charge into the pocket face first and instead exploits his wrestling pedigree, explosiveness, and raw power without sacrificing his defense. The first two fights of his current win streak, decision victories over Elias Theodorou and Ian Heinisch, showed a more developed and patient Brunson that provides much more of a high-level threat.
Kevin Holland (21-5, 8-2 UFC) is getting his first main event showing after a stellar run in 2020 that saw him capture five straight wins. Holland is now riding four straight wins in 2020, most recently scoring a knockout win over Jacare Souza from his back to earn himself the title of Breakout Fighter of the Year. Although losing his debut to a powerhouse in Thiago Santos, Holland has proved more than worthy of his UFC spot and demonstrating the multiple abilities he brings. "Trailblazer" has slick Kung Fu based striking, using tight combinations as well as accuracy and power to finish ten of his opponents by knockout, while also using defensive submissions to finish the fight or keep it standing. He proved his skill as a BJJ artist in that match with GM3 by going toe-to-toe with the black belt all the way to a victorious decision, although his mediocre defensive wrestling and ability to be controlled remain a clear weakness.
I feel that this fight will challenge the way many fans seen Brunson. After over eight years in the UFC, he has been relegated to gatekeeper status, but his recent win streak and stylistic shift give him an opportunity to change that. Holland is absolutely on fire right now with a remarkable streak and has shown some sneaky power and striking skill. Holland holds a clear edge on the feet, as he is an expert at utilizing his range and will be working with a slight reach advantage, giving him the ability to find success at kickboxing range away from the powerful boxing of Brunson. However, the threat of Brunson's wrestling will be extremely tough for him to avoid. Holland's takedown defense is sub-par at best, and while he has some clear skill in scrambling and defensive jiu-jitsu, the superior positioning and control of Brunson will be evident if the fight hits the floor. I expect a close contest on the feet before Brunson starts putting in work with his ground game, pounding out Holland in the latter half of the fight or earning a dominant decision.
Take the Shot: Derek Brunson via Decision
---
Gregor Gillespie vs. Brad Riddell (LW)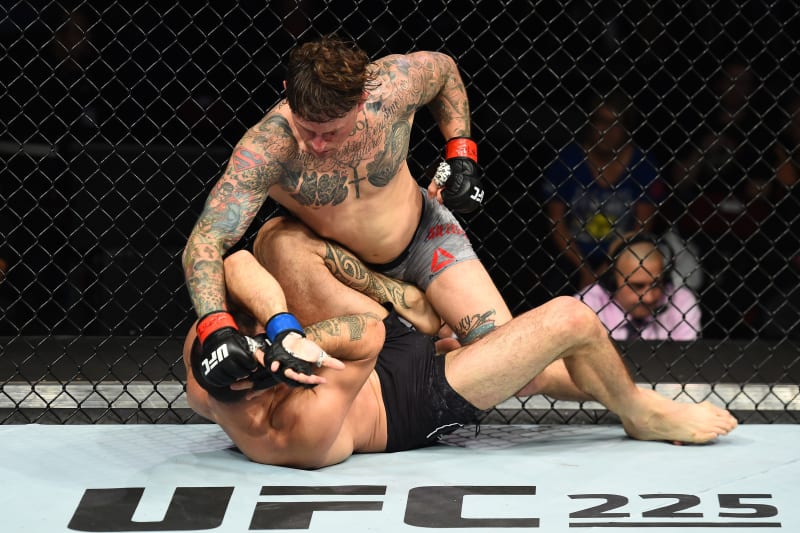 This will be the first appearance for Gregor Gillespie (13-1, 6-1 UFC) since his brutal KO defeat to Kevin Lee back in October of 2019. "The Gift" brings a high-level wrestling base which has expertly transitioned to MMA, scoring an insane average of over seven takedowns per 15 minutes in the cage. He prioritizes position, but can quickly shred through his opponent's guard and hunt for the finish. He has finished eleven of his pro bouts including six by knockout, with all but one of his UFC wins coming before the final horn. Gillespie is no slouch when striking, either, with crisp straights and composed kicks. Still, he is most threatening with his relentless catch-wrestling, utilizing his hellacious ground and pound and slick submissions from top control.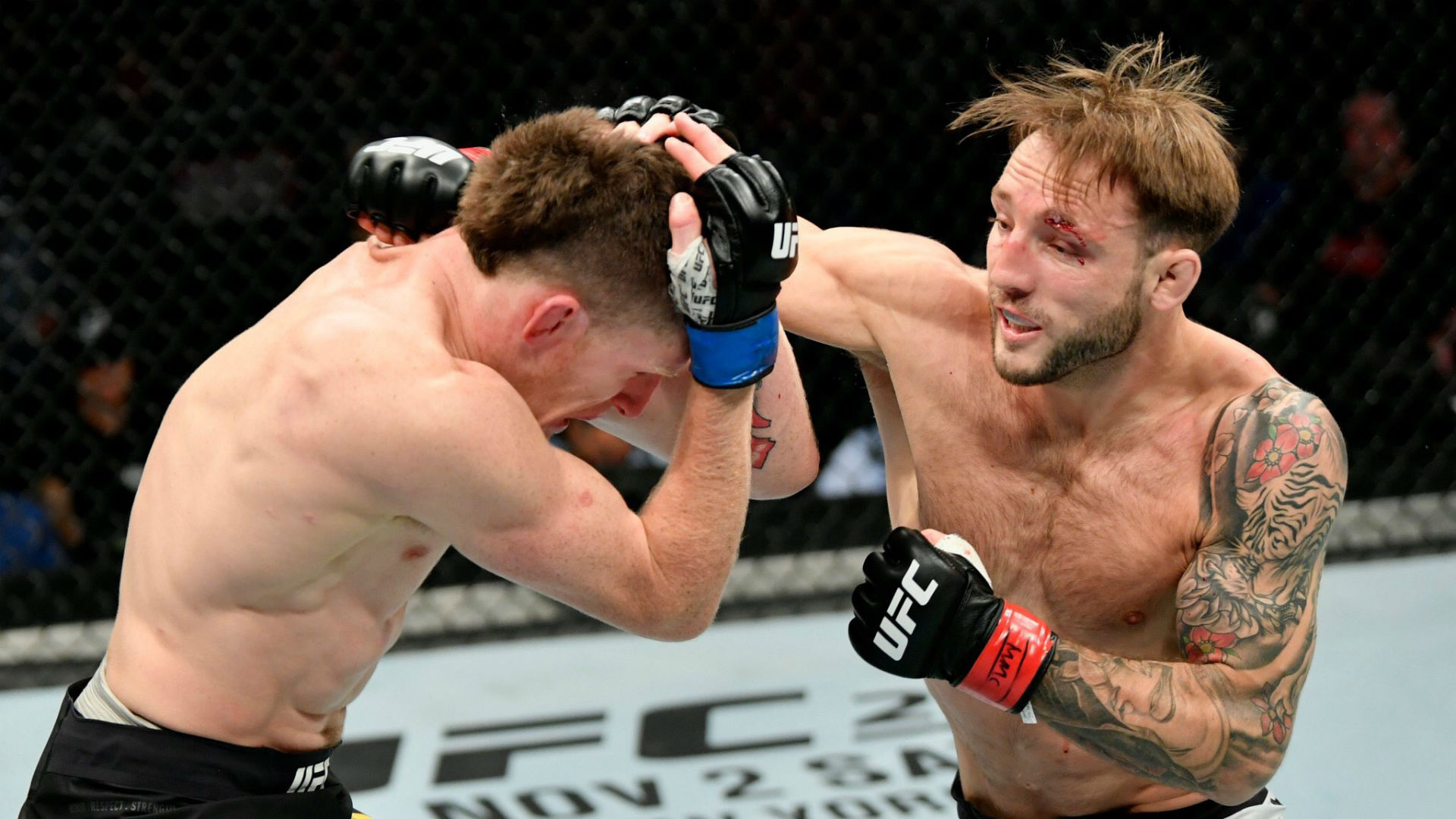 Brad Riddell (9-1, 3-0 UFC) comes out of the uber-talented City Kickboxing gym with training partners like Israel Adesanya and Dan Hooker. "Quake" has elite-level striking based around his eight-point Muay Thai style, also training with the Tiger Muay Thai camp. His high pace striking is punctuated through powerful leg kicks and quick boxing, as well as mixing in kicks and elbows when he can. Riddell put on a Fight of the Night winning performance against Jamie Mullarkey in his UFC debut that showed his ability to brawl at a high pace, not fading even when tagged with several heavy shots. His subpar takedown defense is a large concern in this fight, but Riddell has shown his ability to quickly regain his footing.
The Lee loss was a brutal defeat for Gillespie, stripping him of his undefeated record and UFC win streak. He will look to regain the dominant form that saw many hail him as the next challenger to the Lightweight throne after a lengthy hiatus. Riddell must find some faith in the Lee defeat, where it was shown that Gillespie can be found in the pocket when unable to get his pressure going, but that's a tall order for any fighter. It will be much more difficult for Riddell, who has been taken down a whopping fourteen times in just three UFC appearances. While he has been able to reclaim his footing and return to his striking success in those bouts, the top game of Gillespie is an entirely different beast. His powerful G&P and quick transitions have enabled him to do some serious damage and rapidly reground his opponents if they should try to get back to their feet. Though this is a contentious matchup on the feet, expect the massive wrestling edge of Gillespie to dominate Riddell on the mat and score a stoppage to get back in the win column.
Take the Shot: Gregor Gillespie via Submission
---
Note: This fight has been cancelled after Mayes was not medically cleared. Tuivasa will now fight Harry Hunsucker.
Tai Tuivasa vs. Don'Tale Mayes (HW)
Three straight victories gave Tai Tuivasa (11-3, 4-3 UFC) a shot at Junior Dos Santos and the top of the Heavyweight division, but was on the chopping block after suffering three straight finishes. He came up big with his back against the wall, knocking out Stefan Struve in the first round. "Bam Bam", as the moniker suggests, has some serious power in his hands but also has some style points to back him up, showing in his flying knee KO and brawling style. Tuivasa isn't just a massive power puncher who lumbers around the cage like so many are at 265 pounds, with surprising agility for his physique and clips at a high volume with the gas tank to match it.
Don'Tale Mayes (8-4, 1-2 UFC) managed to earn his UFC contract on his third Contender Series appearance, knocking out Ricardo Prasel in the first round. He stumbled in his UFC start, dropping two submission defeats before picking up a decision win back in November. "Lord Kong" is a hulking fighter, even at Heavyweight, coming at 6'6″ with an 81-inch reach. He is primarily a kickboxer with five finishes to his name, including four by knockout. Mayes does his best work at range utilizing his size advantage, but has shown lapses in striking defense, particularly when pressured.
Expect a striking battle in this match up, as both of these fighters bring in pretty unremarkable grappling skills, particularly Tuivasa. Both fighters also keep up a fairly high pace for Heavyweights, holding significant strike averages of over four per minute. Mayes brings in a size advantage, while Tuivasa has superior speed and a slight technical edge on the feet. Though I believe this bout is closer than the odds have it (where Tuivasa holds at more than a 2-to-1 favorite), the speed and boxing technique of Tuivasa give me confidence in his ability to close the pocket, where his speed and power can exploit the shoddy defense of Mayes.
Take the Shot: Tai Tuivasa via Knockout
---
Adrian Yanez vs. Gustavo Lopez (BW)
A sub-minute TKO on the Contender Series Brough Adrian Yanez (12-3, 1-0 UFC) to the big show, where it took him just over half a round to turn out the lights of Victor Rodriguez with a head kick. Now riding five straight wins, Yanez is primarily a boxer with quick hand speed and crafty combinations. He is a consummate finisher, with nine stoppages including seven by knockout. He has certainly improved his kicking game, with nasty leg kicks and his highlight reel head kick in his last showing. However, his weaknesses come when his opponent can consistently ground him and deny his submissions off of his back, as Miles Johns did in his last career defeat, though Yanez sports solid takedown defense.
Gustavo Lopez (12-5, 1-1 UFC) got back on the winning track after dropping his UFC debut to Merab Dvalishvili, submitting Anthony Birchak in the first round. Lopez is a well-rounded fighter who has finished all but one of his pro wins, with six coming by way of submission. His striking is based upon aggression and pocket boxing, swarming his opponent with powerful hooks. He has top-notch grappling and submission skills and is capable of quickly regaining his footing when taken down, but his takedown accuracy still requires improvement. My chief concern when watching Lopez is his striking defense, as he often leaves his chin exposed when throwing combinations.
I expect to see an all-out war for as long as this fight lasts. Both fighters are extremely confident in their boxing skills and can do serious damage with heir hands. However, when striking, Yanez holds the technique differential, much better fighting at range and utilizing head movement. That seems to be the difference here, as while Lopez is an aggressive fighter, his defense is too worrisome with the heavy hands and accuracy of Yanez. Lopez does have an edge if he can wrangle the fight to the ground, but the takedown defense of Yanez should allow him to pick Lopez apart for another knockout win.
Take the Shot: Adrian Yanez via Knockout
---
Max Griffin vs. Kenan Song (WW)
You can always depend upon Max Griffin (16-8, 4-6 UFC) to bring a fun fight, as he always pushes the pace and hunts the finish. With ten finishes to his name with eight by knockout, "Pain" has a well-rounded skillset that keeps his opponent on their toes. He has been the victim of numerous controversial split decisions, but has shown an evolution in recent fights to avoid that same fate, earning a TKO over Ramiz Brahimaj in his last outing due to an ear injury. Griffin has long striking with a good output and is not one to avoid a scrap, but also mixes it up well with his wrestling. However, his top control is not the most consistent and can allow his opponent to quickly regain his footing. Despite dropping six UFC bouts, he is yet to be finished inside the Octagon.
Kenan Song (16-5, 4-1 UFC) opened his UFC showing well with two knockouts, and though he dropped a FOTN decision to Alex Morono, he got back on the winning track with another two straight wins. Most recently, he scored a one-punch KO over Callan Potter in the first round, the eight knockout of his career. Song is a powerful striker with some nice grappling to back it up, making himself a terrifying hybrid fighter with a chance to finish from all levels. His striking is technical and crisp, punctuated by long straights and quick movement. On the mat, he holds six submission wins, but does not offer much from a wrestling standup and is yet to score a takedown in the UFC.
This is an extremely close bout and I am honestly surprised by Griffin sitting at nearly a 2-to-1 favorite at time of writing. Song has the significantly more powerful striking with the striking defense to back it up. That said, Griffin is great at keeping his opponent on the end of his punches and only coming in close when he needs to, as well as holding a wrestling advantage that spells danger for Song's porous takedown defense. While Song's power is a constant finishing threat, the pace, dirty boxing, and wrestling of Griffin will keep Song on his back foot and net the American the first win streak of his UFC tenure.
Take the Shot: Max Griffin via Decision
---
Cheyanne Buys vs. Montserrat Ruiz (SW)
Cheyanne Buys (5-1) will be making her UFC debut after a dominant decision win on the Contender Series netted her a contract. "The Warrior Princess" does her best work striking, working well at range and keeping a fantastic striking defense that saw her nearly triple her opponent in significant strikes on DWCS. Though she has just one finish in her pro career, Buys is no slouch off her back with competent defensive jiu-jitsu, but has stout takedown defense to keep it on the feet. She works well from all areas, but is best when she can use her output and pacing to chip away at her opponent from kickboxing range.
After Kay Hansen had to withdraw from this bout, Montserrat Ruiz (9-1) got called up to the big show. Ruiz holds five stoppages to her name with three by submission, and can find success any avenue the fight goes. She is primarily a grappler with quality top control and some slick submissions, but has good boxing inside the pocket. My critique of Ruiz comes from her level of competition, as just three of her opponents had more than two pro bouts when Ruiz fought them. Though she is a competent and dangerous fighter, she has a bad matchup here. Buys' success at range and quality footwork will make it difficult for Ruiz to close the distance and open up with her boxing or wrangle the fight to the mat, especially with Buys' quality wrestling defense. I see Cheyanne Buys outworking Ruiz not he feet en route to her first Octagon win.
Take the Shot: Cheyanne Buys via Decision
---
There are six preliminary fights to take care of before we get into this main card, with the likes of Grant Dawson, Roman Dolidze, and Macy Chiasson set to fight. Be sure to check out Coby McKinley's breakdown of the prelims by clicking here.