After a week off, the UFC is back in action with the first event of July in UFC 264, set to go down July 10th on Pay-Per-View. They brought a banger of a card to play with, click here for the full card bout order.
The card is headlined by the trilogy fight between Dustin Poirier and Conor McGregor, with their last meeting at UFC 257 resulting in a second round knockout for "The Diamond". Top ranked Welterweights will duke it out in the co-main when Brazilian Jiu Jitsu World Champion Gilbert Burns faces off with Karate specialist Stephen 'Wonderboy" Thompson. Elsewhere on the card, Heavyweight sluggers Tai Tuivasa and Greg Hardy will trade leather while top ranked Bantamweights seek a convincing bid for contendership.
---
Dustin Poirier vs. Conor McGregor III (LW)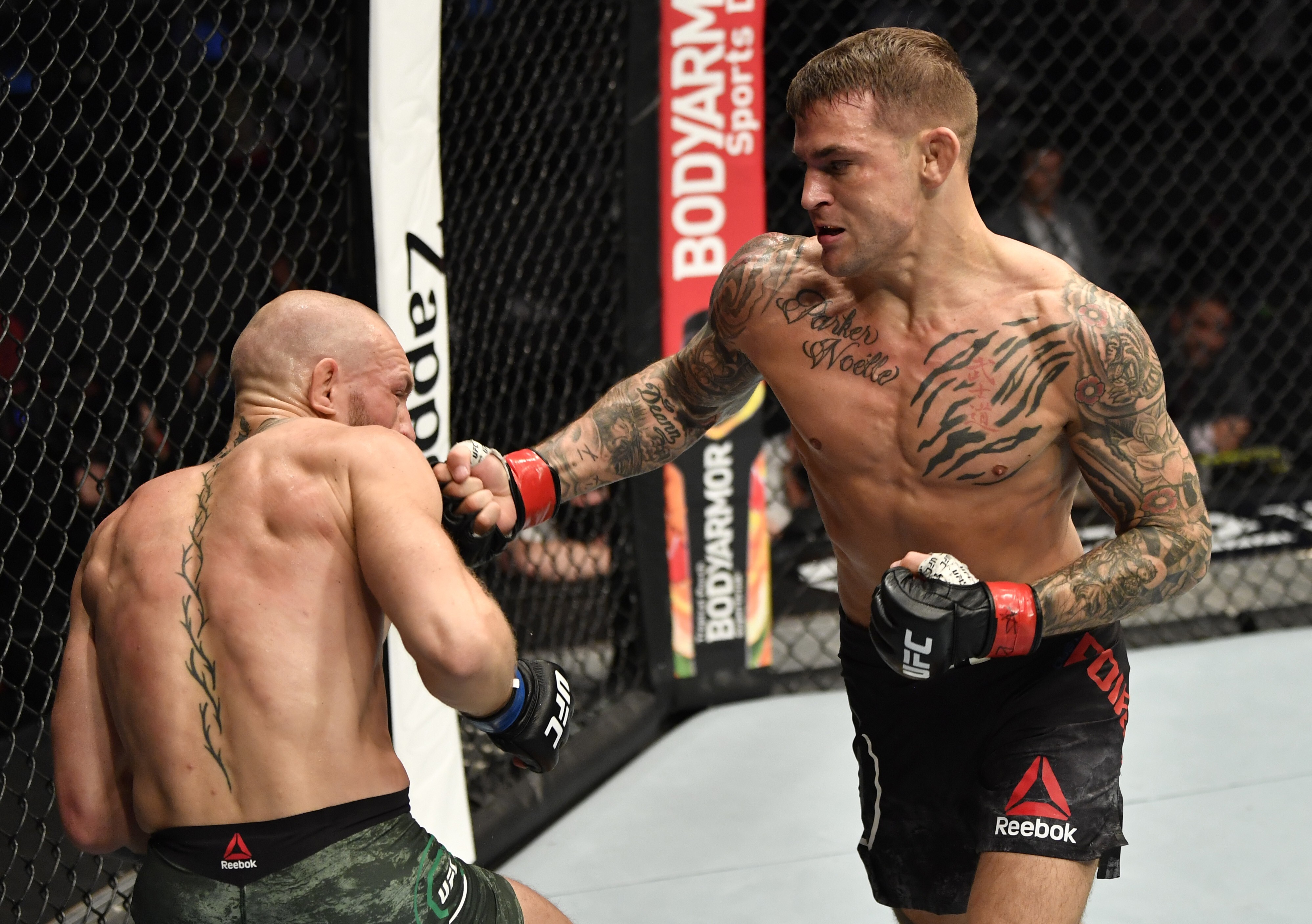 Dustin Poirier (26-6, 19-4 UFC) finally secured Lightweight gold at UFC 236 back in 2019, only to lose his shot at the top once again in a unification bout with Khabib. Subsequent outings against Dan Hooker and Conor McGregor proved more fruitful, earning decision and knockout victories, respectively. "The Diamond" has been practically unkillable since his move to Lightweight, amounting an impressive 11-2 record in the weight class. He has destructive knockout power at this weight, a nice gas tank, and a heavily underrated submission game. Poirier's chief strength comes from his boxing technique and ferocious hand speed, also finding much success with his leg kicks in the last bout with McGregor. He is threatening on the mat with a varied submission threat and a stunning TWENTY finishes over his professional career (mostly inside the UFC). Poirier brings in many years fighting in an elite level, boasting a highly impressive fight IQ and constant striking volume, as well as the jiu-jitsu prowess to find success on the mat.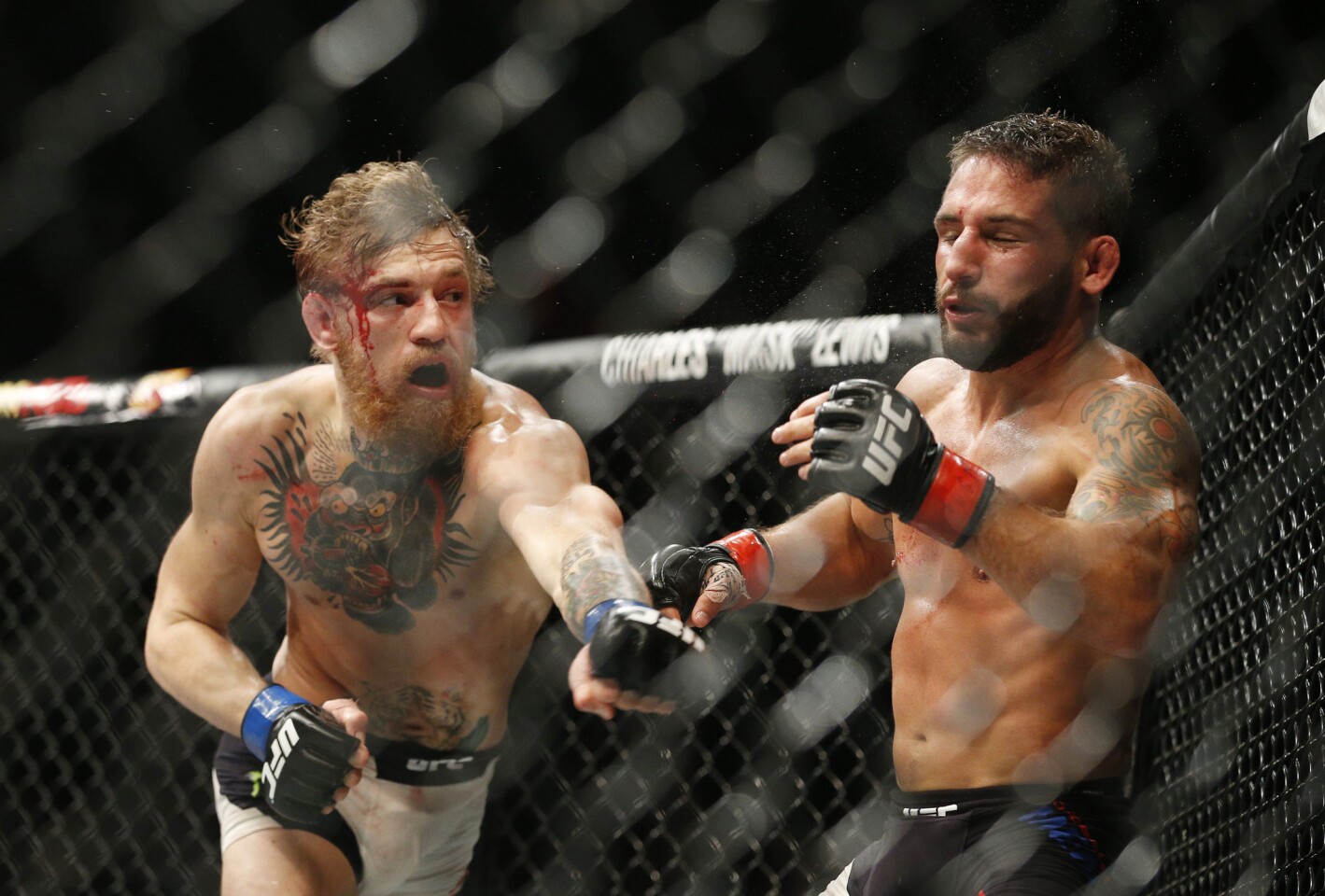 Conor McGregor (22-5, 10-3 UFC) quickly surged to superstardom with his signature confidence, charisma, and knockout power, earning double champ status back in 2016. The knockout artist made quick strides in the UFC, becoming the first double champ only to get dominated in his return fight against Khabib Nurmagomedov. He returned to the Octagon in early 2020 to stop Donald Cerrone inside the first round by knockout, but was unable to get past Poirier in their second meeting, losing by second round knockout. McGregor has massive power in his left hand, aided by his reach and pressure. His iconic karate-like style and movement keep him out of danger while his freakish 74-inch reach allows him to tag his opponent's with his power left. When McGregor fights, you know there is always the knockout potential. His weaknesses remain in his offensive lapses off of his back, along with occasional gas tank concerns.
There has been much made about this trilogy fight, and with the fighters at even money at time of writing, the fight is pretty up in the air right now. The fight should primarily be a striking battle, though Poirier has the advantage in trying to wrangle the fight to the mat. McGregor holds an advantage in the early goings, with his one-shot KO power and fast starts posing a dangerous threat in the opening and second rounds. Poirier keeps the higher volume, particularly if the fight goes into deeper waters. Another weapon of Poirier's that has received much buzz is his leg kicks, which caused a severe issue for McGregor. To find victory, McGregor needs to keep the fight on the feet in his preferred range through the early minutes and try to land a quick knockout, as the superior volume, cardio, and various striking weapons give Poirier the upper hand if the fight goes into deeper waters. I expect the same strong McGregor start of their two previous fights, but Poirier pulling away in the later rounds for a decision or late knockout.
My Pick: Dustin Poirier via Decision
Gilbert Burns vs. Stephen Thompson (WW)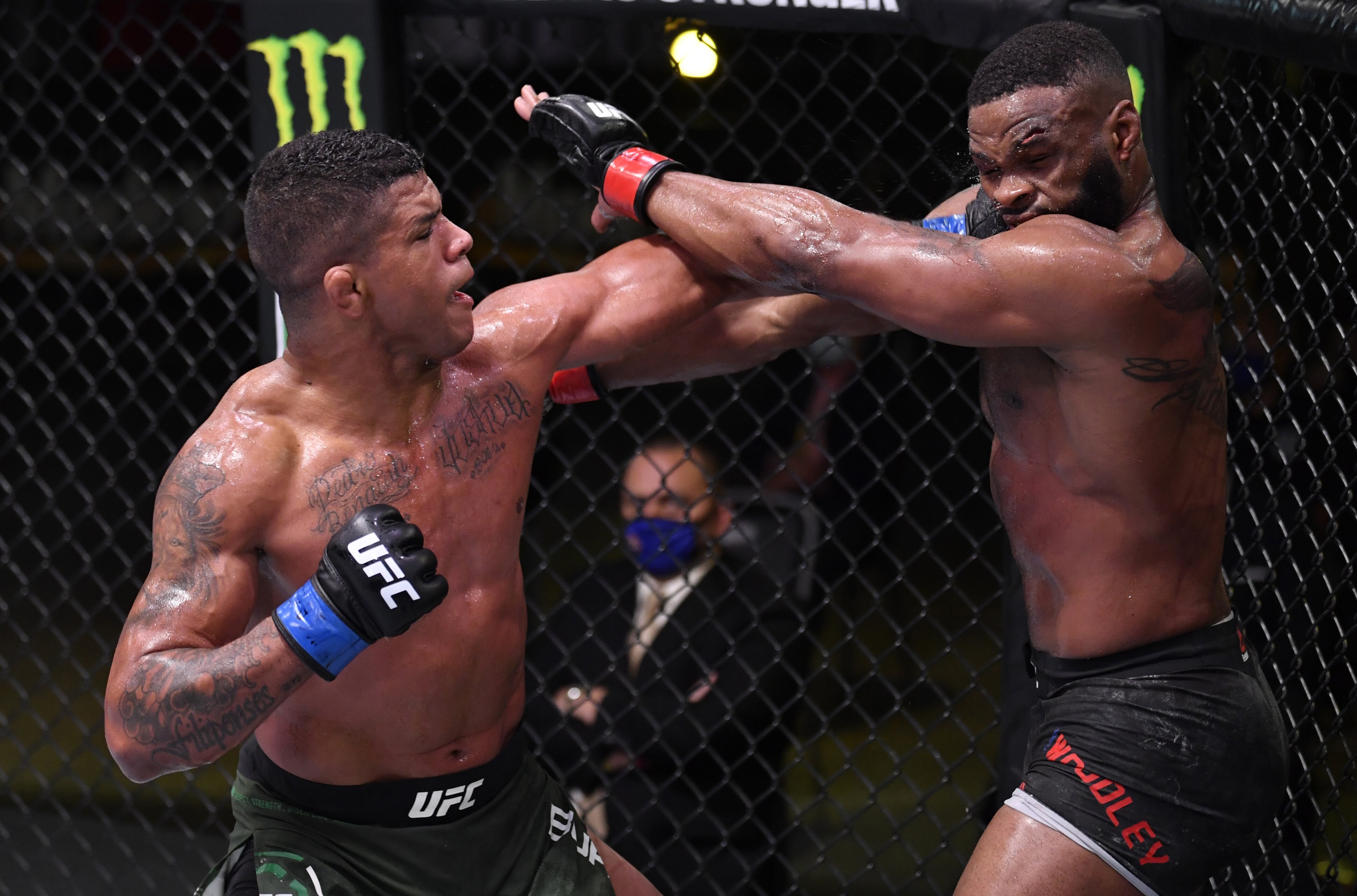 The move to Welterweight has worked wonders for Gilbert Burns (19-4, 12-4 UFC), who amassed four straight wins in the weight class and put a dominant beating on former champion Tyron Woodley before running into Kamaru Usman at UFC 258, who knocked him out in the third round. Putting submission deity Demian Maia to sleep only solidified his danger and skill present in the Welterweight division. Burns has incredible power in his striking, as well as a notorious and dangerous ground game that he has used to dominate strikers and grapplers alike. "Durinho" is a ruthless finisher and remains a threat in all avenues of the fight. In this bout, this chief specialty will be his elite grappling skills and raw strength.
Stephen Thompson (15-4-1, 9-4-1 UFC) rebounded from his first career knockout loss with two decision wins to put his name back in the title picture. "Wonderboy" is a karate specialist with a fantastic kickboxing background as well as holding seven knockout wins in his professional MMA career. His skillful kicks and quick footwork allow him to excel at kickboxing range, keeping a distance with low hands so that he can throw strikes from odd angles. Wonderboy has expert takedown defense and is able to keep the fight in his wheelhouse where his supreme technique and unusual style give him an immense edge. Though Thompson is getting up there at 37 years of age, his speed and precision were on full display in his most recent bout last December, putting a technical striking clinic on Geoff Neal. Wonderboy brings an elite level of kickboxing and karate experience with about as high of a striking pedigree as they come, and the takedown defense to keep the fight standing.
This is a matchup where I really don't want to see either fighter lose, but there's gotta be a winner. Though a powerful threat when striking, Thompson has the movement and technical advantages to pick apart Burns' weaknesses at range. Burns may find success on the feet, but he will need to repeatedly close distance, a difficult task against Wonderboy. The Brazilian holds dominance in the grappling, though Wonderboy is notoriously difficult to wrangle to the mat. I like Thompson to keep the fight on the feet at kickboxing range and pick Burns apart for a late finish or decision win.
My Pick: Stephen Thompson via Decision
Tai Tuivasa vs. Greg Hardy (HW)
Three straight victories gave Tai Tuivasa (12-3, 5-3 UFC) a shot at Junior Dos Santos and the top of the Heavyweight division, but was on the chopping block after suffering three straight defeats. He came up big with his back against the wall, knocking out Stefan Struve in the first round. He has since extended that win streak to two, knocking out Harry Hunsucker in under a minute. "Bam Bam", as the moniker suggests, has some serious power in his hands but also has some style points to back him up, showing in his flying knee KO and brawling style. Tuivasa isn't just a massive power puncher who lumbers around the cage like so many are at 265 pounds, with surprising agility for his physique and clips at a high volume with the gas tank to match it. However, his grappling game has some glaring holes, shown in his submission defeat to Sergey Spivak.
Greg Hardy (7-3, 4-3 UFC) burst onto the UFC scene in 2019 from the Contender Series with both tremendous knockouts and controversial headlines. Although his debut saw him take his first loss over an illegal knee, he has since racked up four victories, including three knockouts. For all of his controversy, we are seeing Greg Hardy quickly progress through his mixed martial arts journey after starting training just nearly three years ago. He is far less reliant on the blitzing style that saw him earn his first three wins by first-round KO and has better movement and gas tank management, displayed in his decision win over Yorgan de Castro. His last fight, a TKO loss to Marcin Tybura, showed his weakness on the mat, though he is a powerful threat on the feet.
There is no secret as to why this fight got a main card slot… both of these Heavyweight sluggers will bring the fight to the center of the cage and throw down until someone is unconscious. Though both are strikers with glaring weaknesses on the mat, their striking styles differ slightly. Tuivasa works primarily with his hands and snappy leg kicks in the pocket, while Hardy finds more success utilizing his size and range. While Hardy has the higher work rate, Tuivasa is more proven in terms of cardio and level of competition. Tuivasa has his weaknesses exposed against superior technical strikers and grapplers, but Hardy is not equipped to exploit either of those deficiencies. At the end of the day, expect a contentious striking battle before Tuivasa closes the show midway through the fight.
My Pick: Tai Tuivasa via Knockout
Irene Aldana vs. Yana Kunitskaya (BW)
Irene Aldana (12-6, 5-4 UFC) has not competed since last October, where she was on the wrong end of a kickboxing clinic from Holly Holm. Prior to that loss, she was riding a two-fight winning streak since dropping a split decision to Raquel Pennington. The Mexican fighter has incredible boxing and next-level brawling skills, as well as the power to end the fight, which she showcased against Ketlen Vieira most recently. She has an amazing skill at defending takedowns but also has some solid defensive submission ability. Still, her key strength lies in her boxing and ability to deal damage inside the pocket.
Yana Kunitskaya (14-5, 4-2 UFC) got pulled up to the big leagues to take on Cris Cyborg for the Featherweight title. Although she lost her title shot, "Foxy" pieced together two straight decision victories before losing to Aspen Ladd. She got back on track in her last two outings, taking home unanimous decisions over Ketlen Vieira and Julia Stoliarenko. Yana has a crisp Muay Thai base with no shortage of powerful kicks and offers a high paced volume, although she takes a few more shots than I would like, which is part of the reason her two Octagon defeats have come by KO. Yana has solid offensive wrestling but struggles to establish top position and avoid the takedown.
This is another fun clash of strikers on the stacked main card. Aldana comes in with a high level boxing background and finds a lot of success in the pocket, as well as bringing in the pure KO power to close the show. On the other hand, Kunitskaya finds success from range with the kicks to the leg and body that Holm used to great success over Aldana. Furthermore, Kunitskaya brings in the more well-rounded approach, with an improving top game, though it may not even come into play with the defensive wrestling of Aldana. I expect a back and forth striking contest that sees Kunitskaya's hand ranged due to superior output from the outside.
My Pick: Yana Kunitskaya via Decision
Sean O'Malley vs. Kris Moutinho (BW)
The hype train of Sean O'Malley (12-1, 4-1 UFC) took a hit following a ground and pound stoppage opposite Marlon Vera, but he got back on track with a knockout over Thomas Almeida in his most recent outing. "Sugar" quickly became a hot prospect after a round one KO on the Contender Series, followed up by two incredibly entertaining decision victories only to be put on the back burner with a USADA suspension. He came back better than ever, finishing Jose Quinonez in the first round at UFC 248 before continuing his journey to stardom with a walk off KO over Eddie Wineland. O'Malley is a rangy striker with surprising power for his skinny frame, only boosted by his spinning attacks and high amplitude shots. He has some nice submission skills off his back, but the ground game is definitely his weakest spot and prefers to pick apart his opponent with accuracy. He has shown difficulty dealing with leg kicks, suffering leg injuries in both the Soukhamthath and Vera bouts.
Kris Moutinho (9-4) is getting his call up to the UFC via a late replacement deal. He comes fighting out of the CES and CFFC promotions in the Northeast, with four stoppages to his name. Moutinho has a variety of weapons and a well-rounded skillset. On the feet, he has nice leg kicks and good boxing, but needs to work on his combination striking. He picked up his first victory by submission in his last fight, winning with an arm triangle choke. His top control is a powerful facet of his game, though his takedown accuracy could be improved.
The UFC had more than a few fighters willing to step in against O'Malley, but that instead elected to go with a fighter out of the regional circuit, and one who's not entirely considered a top prospect. With that said, Moutinho presents some threat to O'Malley with his wrestling attack, though O'Malley has some slick submissions. Ultimately, the striking pedigree and pure knockout power of O'Malley is too much for Moutinho to handle. Moutinho gets cracked early as another addition to the Suga highlight reel.
My Pick: Sean O'Malley via Knockout
---
The card is set to go with twelve bouts at time of writing, so be sure to tune into Joao Mendes Coehlo's breakdown of the prelims!