We have another powerhouse of a Brazil card lined up, which perhaps may be the best fight night of 2020 so far!
The main event features Kevin Lee off his revitalized TriStar campaign and stunning KO of Gregor Gillespie matched up against grappling sensation Charles Oliveira!
Our co-main will without a doubt show world-class grappling between two superstars of jiu-jitsu in Demian Maia and Gilbert Burns!
---
Kevin Lee vs. Charles Oliveira (LW)
Kevin Lee (18-5, 11-5 UFC) tried a move up to Welterweight, but was submitted late in the fight by RDA. He made that up with an absolutely stunning knockout of Gregor Gillespie, proving that his move to TriStar has worked wonders for his game. Lee has technical boxing but his main area of expertise lies in his ground game. "The Motown Phenom" is a collegiate wrestler with a variety of submissions and incredible ground and pound within his repertoire. What I am most interested in seeing is if Lee's KO of Gillespie is a one-off where he found the perfect opening for his savage head kick or if he really is a completely revitalized fighter.
Charles Oliveira (28-8, 16-8 UFC) holds the record for the most submissions inside the Octagon and is an absolute killer when the fight hits the mat. He is on a six-fight win streak, most recently scoring knockouts, the first two KOs of his inside the UFC, over Nik Lentz and Jared Gordon. He has drastically improved his striking and has found skill in utilizing his lengthy reach and precision, but the real strength he has is whenever he can find his opponent's neck.
On paper, this should be Lee's fight. His fantastic wrestling base is useful for both point-fighting and doing damage with his hellacious ground and pound, as well as his submission game. On top of that, his striking is significantly better than that of Oliveira, with his only disadvantage in that realm being the pressure of Oliveira, which tends to make Lee falter. The real killer for Lee is going to be his gas tank. He has significant lapses in his game once the fight hits the third round and opens up many holes in both his striking and submission defense, especially when he is in top control. If Oliveira can use his reach advantage on the feet and his trusty guillotine as wrestling defense, he will be able to find a submission late in the fight.
Take the Shot: Charles Oliveira via Round 4 Submission
---
Demian Maia vs. Gilbert Burns (WW)
Demian Maia (28-9, 22-9 UFC) is the OG submission king, other than being a UFC mainstay for almost 12 years and a title challenger. Maia is a fairly simple fighter. He uses his jiu jitsu to finish the fight at all costs. It has worked wonders for him. His striking isn't the worst, but it is only really used as a means to an end at getting the fight to the mat. In terms of a ground game, Maia is as good as it gets.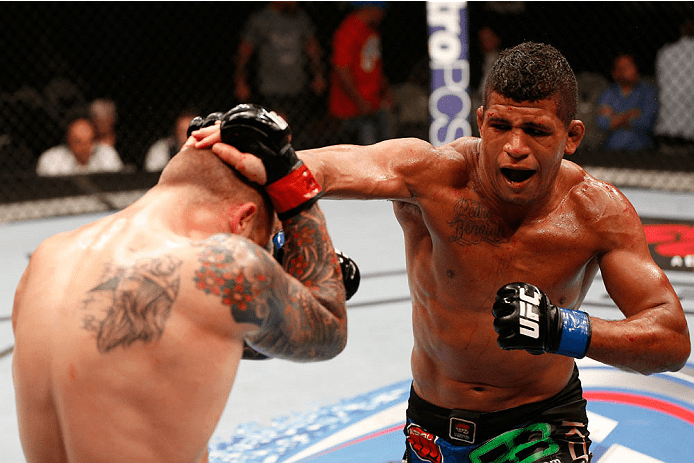 Gilbert Burns (17-3, 10-3 UFC) moved up to Welterweight mere months ago and beat Alexey Kunchenko as a sizeable underdog, then followed it up with a dominant decision over Gunnar Nelson. Burns has incredible power in his striking, as well as a notorious and dangerous ground game that he has used to dominate strikers and grapplers alike. Durinho is a ruthless finisher and remains a threat in all venues.
On paper, this may seem like two grapplers, but it becomes much more interesting when you examine their styles of grappling, corresponded with their striking. Maia is without a doubt the better submission threat, capable of wrapping up chokes from any angle, while Burns is significantly more defensively sound, avoiding chokes and succeeding on points through his control time. When you look at their striking, the advantage wholeheartedly goes to Burns, who has the volume and power that Maia cannot touch, in both technique and firepower. I see a back-and-forth grappling match initiated by Maia that Burns fends off, only to decimate his 42-year-old opponent with his striking.
Take the Shot: Gilbert Burns via Unanimous Decision
---
Johnny Walker vs. Nikita Krylov (LHW)
When you're across the cage from Johnny Walker (17-4, 3-1 UFC), you need to be scared. The Contender Series alum has spent 2 minutes and 50 seconds total inside the Octagon in his wins with each fight ending by KO, each one more devastating than the last. He has the second hardest punching power in the UFC according to the Performance Institute and his heavy feinting style and precision make that even more deadly.
Nikita Krylov (26-7, 7-5 UFC) is always game for an entertaining fight, with all but one of his 33 fights ending in a finish. "The Miner" holds fifteen of those victories in submission and prefers to get things done on the mat, but lacks the technical wrestling game to reliably get it there. He is by no means lost in the striking department, utilizing a karate stance that is incredibly kick heavy to both batter the legs while offering dangerous head kicks. The struggle that doesn't seem to be getting any better for Krylov is his gas tank, due to his quick movement and insatiable urge to throw massive kicks again and again.
Nikita Krylov is by no means a walk in the park, but I don't see him having the skills to avoid the power of Walker. While he has good movement and a solid ability to pressure, he lacks the counter-striking ability that a fighter needs to take advantage of Walker's wild shots and capitalize on his poor defense. Despite Walker earning fourteen victories by KO, he is a jiu-jitsu black belt with stellar takedown defense, along with his usual size advantage, making me find it hard to believe that Krylov will be able to dictate the avenue in which the fight takes place.
Of course, Walker is also moving to GSP's TriStar gym with the aforementioned Lee and training under the world-renowned Firas Zahabi, something that will undoubtedly increase his skill in the cage.
Take the Shot: Johnny Walker via Round 1 Knockout
---
Elizeu Zaleski vs. Alexey Kunchenko (WW)
Elizeu Zaleski (21-6, 7-2 UFC) only recently rose to the top 15 of the UFC despite a seven fight win streak with four of those coming by finish, only to have it taken from him by Li Jingliang. Zaleski is a capoeira fighter who utilizes many flashy kicks and knees, but also has solid jiu-jitsu credentials and an impressive gas tank for his high-amplitude style. Zaleski does tend to become more telegraphed as the fight wears on and struggles with his accuracy, particularly against speedier, more agile fighters. For all his credentials on the mat, he rarely takes the fight there due to his poor wrestling capabilities.
Our co-main of the night's Gilbert Burns recently snapped Alexey Kunchenko's (20-1, 2-1 UFC) twenty fight unbeaten streak. The Russian works mainly as a Muay Thai kickboxer with a few leg kicks to toss out, but has yet to find a finish in the Octagon. He is based well enough to earn decisions, though, with his high volume and 71% striking defense. He keeps a high guard and is a hard fighter to score on, building a well-crafted resume with 13 knockouts, although not having the most one-punch power.
This fight is entirely a question of whether or not Zaleski can get off the accuracy he needs. The thing he has going for him is that his wide stance and long distance that he keeps, in combination with four inch advantages in height and reach, will keep Kunchenko from finding the power shots that he needs, but the speed of the smaller fighter in Kunchenko will make it difficult for Zaleski to land his own bombs. I see his range and distance motivation to outwork Kunchenko in volume as well as power, and if it goes to the mat, Zaleski will be the one taking it there.
Take the Shot: Elizeu Zaleski via Unanimous Decision
---
We have hot lines on all these fighters, so get in as soon as possible.
I'm putting my money on a parlay between Burns, Walker, and Zaleski, followed up by an underdog bet on Oliveira.
Until next time, Freaks.