After a new Flyweight champ was crowned last night in Norfolk, we have two championship matches right on deck out of Las Vegas!
We have The Last Stylebender defending his nearly earned title against divisional boogeyman Yoel Romero, along with former Strawweight queen Joanna Jedrzejczyk trying to earn back her belt from Weili Zhang.
This card has fireworks written all over it.
---
Israel Adesanya vs. Yoel Romero (MW)
Israel Adesanya (18-0, 7-0 UFC) has been nothing but impressive inside the Octagon. His record has 13 KOs on it brought on by his wild and impressive striking. His massive 185 frame gives his 6'4 height a 4-inch advantage over Whittaker along with an 7-inch reach advantage. Adesanya uses amazing kickboxing to dominate his opponents from range and up close, delivering elbows and knees, along with punches down the middle. The Last Stylebender has been absolutely incredible to watch and his cardio has held up, winning a five-rounder against Brad Tavares and Kelvin Gastelum. Adesanya has incredible takedown defense and uses it to keep the fight exactly where he wants it and his striking can give him one punch (or knee/kick/elbow) knockouts with his precision or he can decimate his opponent with a thousand strikes.
Yoel Romero (13-4, 9-3 UFC) has been a mainstay at the top of the UFC Middleweight division, from his two Fight of the Year contenders (and one winner) with the champ Robert Whittaker to stunning knockouts of Chris Weidman and Lyoto Machida. The Olympic silver medalist has incredible wrestling in addition to furious one-shot power. He fights in bursts, standing in almost slow-motion before exploding towards his opponent with supernatural speed and fight-ending power that doesn't fade even when it seems that the Cuban is beginning to falter.
Putting aside the reasonable controversy about Yoel getting another title shot off two losses and numerous times missing weight, this is such a fun fight. Both fighters are incredibly fun to watch with an equally enticing penchant for finishes. That being said, this looks like a match set to validate Izzy's new belt against an always dangerous contender. Yoel's wrestling pedigree is certainly impressive and I find it almost certain that he is able to wrangle the lanky Kiwi to the mat, but I find it just as certain that he is unable to hold Israel there. Although Yoel also has that intense power and crazy bursts of speed, he lacks the accuracy to lands shots at a reliable rate, much less apply the pressure that makes Izzy's defense falter as he tends to lie and wait for an opportunity to explode. That's not to mention that he is almost 43 and although seemingly ageless, that number has clearly affected his game. Adesanya picks his shots carefully until closing the show late in the match.
Take the Shot: Israel Adesanya via Round 4 Knockout
---
Weili Zhang vs. Joanna Jedrzejczyk (SW)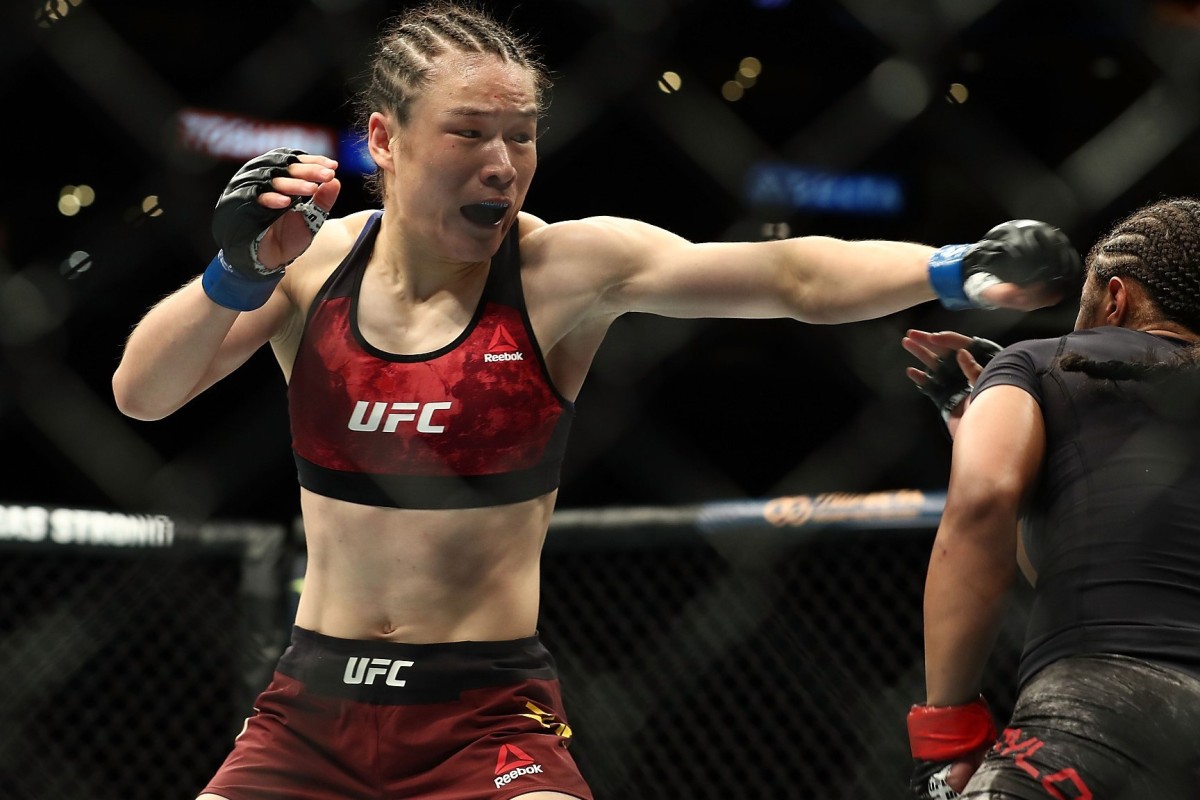 This championship fight and Weili Zhang (20-1, 4-0 UFC) are helping build the UFC market in China. While there is an argument that Zhang was rushed into her title fight, she has not lost a single match of her pro MMA career since her debut, knocking out 10 opponents and submitting another 7. She shut down all those claims by dispatching Jessica Andrade early in the first round, displaying her power and high output Muay Thai striking. She is an incredibly fun fighter who comes in with a warring mentality and a surefire chin, along with strong wrestling and a sizable frame for the Strawweight division.
Former champion Joanna Jedrzejzcyk (16-3, 10-3 UFC) formed the Strawweight division and has been the most dominant champion they have ever seen. She has been on a rough patch since losing the belt, but made a nice turnaround by besting Michelle Waterson in their bout. Joanna is a decision fighter with some of the highest volume you can put out. She mixes up her striking with the best of them, even firing multiple kicks in with her combos.
I feel like this is a fight getting slept on by a lot of people. Both fighters have incredibly high output and both have little wish to take the fight to the fight. If anyone was to attempt a takedown, it would be Zhang, but there is very little chance she is getting past the Pole's ironclad takedown defense. On top of that, Joanna's striking defense and range utilization will make it near impossible for Zhang to land the knees that were able to put Andrade on the mat. This will be a highly entertaining firefight, but one where JJ's superior volume and never ending gas tank return her belt to her waist.
Take the Shot: Joanna Jedrzejczyk via Unanimous Decision
---
Jose Alberto Quinones vs. Sean O'Malley (BW)
Jose Alberto Quinones (8-3, 5-2 UFC) has shown himself well in the Octagon, delivering a number of dominant performances. He has some decent striking, but his main area of expertise is in the wrestling department. He looks to grind out his opponent with a grappling based attack and solid output on the feet, but doesn't have many avenues for a finish if he is down on the cards.
Sean O'Malley (10-0, 2-0 UFC) quickly became a hot prospect after a round one KO on the Contender Series, followed up by two incredibly entertaining decision victories, fighting with a broken leg in his match against Andre Soukhamthath, only to be put on the back burner with a USADA suspension. O'Malley is a rangy striker with surprising power for his skinny frame, only boosted by his spinning attacks and high amplitude shots. He has some nice submission skills off his back, but the ground game is definitely his weakest spot.
I do feel like the hype is influencing the line and O'Malley shouldn't be as high of a favorite, but still the rightful one. He has struggled with takedowns in the past, but his threat of submissions and length have shown he can quickly return to his feet. Against the wrestler in Quinones, he will assuredly want this match to stand on the feet, where he has an incredible advantage. I don't see Quinones able to hold O'Malley down for long and he doesn't pose much of a submission risk, so I think O'Malley will be able to land both the higher volume and more powerful shots for a lopsided decision.
Take the Shot: Sean O'Malley via Unanimous Decision
---
Rodolfo Vieira vs. Saparbeg Safarov (MW)
If you are not tuned into the competitive jiu-jitsu scene, you may not be familiar with Rodolfo Vieira (6-0, 1-0 UFC). "The Black Belt Hunter" is widely regarded as one of the greatest jiu-jitsu practitioners of all time, winning the IBJJF and ADCC World Championships multiple times, as well as championing numerous other BJJ organizations. The former Heavyweight has won has finished all of his six victories, five by submission and has the grappling ability to make even black belts like Oskar Piechota look like they have no place being in there with him, as well as some terrifying power.
Saparbeg Safarov (9-2, 1-2 UFC) recently captured his first Octagon victory by beating Nicolae Negumereanu, a UFC newcomer, in decision, despite numerous fouls and risky point deductions on the part of Safarov. The Russian is primarily a striker with some decent pop in his heads that mixes his striking pretty well with his grappling. I like the drop he is making to 185, as he was a little on the chunky side for a 6'1″ LHW. The fact of the matter remains that even if Safarov is able to land a takedown or outstrike the grappling master, the second that this fight hits the mat, Safarov's poor submission defense will fold.
Take the Shot: Rodolfo Vieira via Round 1 Submission
---
My personal choices for this card is a three-fighter parlay between Vieira, O'Malley and Adesanya, coupled nicely with an underdog play on Joanna Violence. Of course, adding Joanna to that is a riskier, but much more rewarding option.
Until next time, Freaks.