Mexico City hurt my soul…
It was still a profitable night thanks to some choice bets on Carla Esparza and Sergio Pettis, but we had an anti-climactic draw between Askar Askarov and Brandon Moreno, only to be followed by the emotional beatdown of a lifetime when Yair vs. Stephens ended in 15 seconds thanks to an eye poke.
I hope that match gets run back and for all the controversy, it's important to remember one thing. Shit happens in MMA. I don't think Jeremy faked the injury and I don't think Yair tried to poke him in the eye, this stuff just kind of happens sometimes. Let's see it again, boys.
This week we have an incredible European card. Most of these events feature low-level competition but we have many high-level prospects, as well as a Midlleweight matchup between Jack Hermansson and Jared Cannonier that will produce the next title contender!
---
Alessio Di Chirico vs. Makhmud Muradov (MW)
Alessio di Chirico (12-3, 3-3 UFC) came in as a late replacement and is now slated to fight a late replacement. The Italian fighter is well-rounded with not the most power or high quality boxing, but evens the show with his incredible wrestling. He has great top control when he gets in position, but often does struggle getting it to the ground.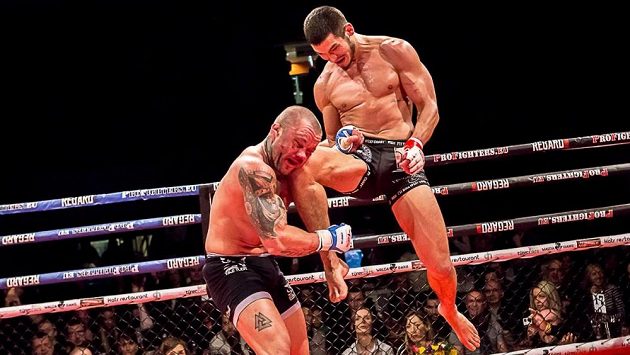 Floyd Mayweather prodigy Makhmud Muradov (22-6) is stepping into the UFC on the heels of an 11-fight win streak. He has relentless striking and is widely regarded as one of the best fighters in the Eastern European scene. The cardio is a big asset to him, but he rarely lets fights go that long with his power.
Di Chirico is certainly more suited to an MMA match with impressive wrestling and the ability to outlast most of his opponents. However, Muradov is simply that much better on the feet. In addition to power, he has amazing movement and cardio and a takedown defense good enough to stuff the journeyman advances of the Italian.
Take the Shot: Makhmud Muradov via Unanimous Decision
---
Alex Oliveira vs. Nicolas Dalby (WW)
The slightly less fun Cowboy, Alex Oliveira (20-7, 9-5 UFC) is riding a two-fight losing streak, most recently capped off by a fight of the night with Mike Perry. Oliveira has dangerous striking and some good power, utilizing an eight-point striking stance heavy on kicks. He also has a great ground game, but has been vulnerable to submissions in the past.
Nicolas Dalby (17-3-1, 1-2-1 UFC) will be returning to the Octagon after a 3-1 streak outside of the UFC, along with one no contest. Inside the cage, his only successful outing was a split decision over Elizeu Zaleski Dos Santos. He is heavily reliant on his wrestling to find victory, with poor volume and not many ways to finish fights.
In striking, this is Cowboy all day. He has the power and technique to change the fight rapidly, along with the ground game to counter wrestle Dalby and avoid compromising posiitons on the mat. Even if Dalby does take down the Brazilian, he doesn't have much skill in subs to exploit Cowboy's biggest hole in his game.
Take the Shot: Alex Oliveira via Round 3 Knockout
---
Mark Madsen vs. Danilo Belluardo (LW)
Silver medalist Olympian Mark Madsen (8-0) has made a good mark in MMA, despite an age of 34 years. He has decent striking with some okay volume and power, but his main skill is in the ground game. He has three submissions, but is more than comfortable holding positions and utilizing control, something I love to see in wrestling-based fighters.
Danilo Belluardo (12-4, 0-1 UFC) fell short in his debut, being knocked out in the second round by BJJ standout Joel Alvarez. Belluardo has nice power and good wrestling, but none of those will be enough to stop the Danish superstar athlete. Belluardo has an awful chin and Madsen certainly has more power than Alvarez, along with a much better ground game. He will be the victor in literally any area this fight goes.
Take the Shot: Mark Madsen via Unanimous Decision
---
Siyar Bahadurzada vs. Ismail Naurdiev (WW)
After a sub-minute KO in his debut, Siyar Bahurzada (24-7, 4-3 UFC) cemented himself a powerful threat, but a three-year layoff and a few losses slowed his climb. He melds his striking well, but has great wrestling to bolster that success on the feet, controlling where he wants to take his victory. All of his Octagon losses have come by decision.
Ismail Naurdiev (18-3, 1-1 UFC) looked like the next big thing when he defeated Michel Prazares after coming in as a massive underdog, but was soundly outwrestled by Chance Rencountre in his sophomore Octagon appearance. "The Austrian Wonderboy" has devastating striking with his unorthodox but defensively sound approach, along with a good wrestling base, but couldn't find his way off his back in his last matchup.
This victor here may very well come by which Naurdiev shows up to fight. If we get the fighter who appeared against Naurdiev, he has the counter-wrestling skills to control the fight and high-output striking to give "The Great" a tough night. However, if his takedown defense can't hold up, we may very well see a disappointing loss lapped by ground time. I'm going to lean with the former and count on his defense, both in striking and wrestling, to win him a hefty decision margin.
Take the Shot: Ismail Naurdiev via Unanimous Decision
---
Marc Diakese vs. Lando Vannata (LW)
Marc Diakese seemed to be on a downward spiral with three straight losses before he came away with a dominant win over Joe Duffy, controlling the Irishman on the feet and the ground with three landed takedowns. Diakese is a power striker who can falter to higher volume, but makes up some of that spread with a furious wrestling capability one would not expect from a dangerous kickboxer of his caliber.
At the time of Lando Vannata's (10-3-2, 2-3-2 UFC) debut, "Groovy" was a 8-0 prospect making a short-notice move to the cage against #3 ranked Tony Ferguson. In their fight of the night appearance, Lando dazed Ferguson, dropping him multiple times before succumbing to a Brabo choke in the second round. After that, Lando was heavily favorited against a few opponents, but is yet to string together two consecutive wins in the UFC, despite his brute power, wrestling, and submission skill.
Although few fighters are as inconsistent as Vannata, he looks to be the play here. He has the same power and creative striking to outwork Diakese, as well as holding a terrifying advantage off his back. The real skill he needs to work with in this match is his speed. If he can avoid the power sprints of Diakese, he has the all-out onslaught to exploit the Brit's flawed ground game.
Take the Shot: Lando Vannata via Round 2 Submission
---
Nohelin Hernandez vs. Jack Shore (BW)
Nohelin Hernandez (9-3, 0-1 UFC) had a short-notice debut against Marlon Vera that certainly did not go his way. The AKA product has well-developed wrestling in addition to some nice volume striking, but he doesn't toss up the most power in exchanges. I thought his counter-wrestling would be a bigger factor, but Hernandez was unable to avoid the takedown of Vera and ended up being choked out in the second.
We have a debut fighter for his next matchup in Jack Shore (11-0). The Welsh fighter has only seen a decision once in his career, landing 4 knockouts and 6 submissions along the way. He doesn't have the most outright power in striking, but makes up for it with mixing in knees and elbows. On top of that, Shore is a wizard on the ground, especially in his scrambling ability.
Prior to Nohelin's matchup with Marlon Vera, I would think he would have a legitimate shot in this match with his wrestling. However, he got entirely outclassed by Vera on the mat and while Vera is a nightmare in terms of jiu-jitsu, he isn't known for great wrestling. Shore has a similar arsenal to Vera and should be able to replicate the gameplan that was used to beat Hernandez, especially on the mat.
Take the Shot: Jack Shore via Round 2 Submission
---
Be sure to enjoy each and every one of these matches and don't forget to check out the main card predictions tomorrow!