Mexico City hurt my soul…
It was still a profitable night thanks to some choice bets on Carla Esparza and Sergio Pettis, but we had an anti-climactic draw between Askar Askarov and Brandon Moreno, only to be followed by the emotional beatdown of a lifetime when Yair vs. Stephens ended in 15 seconds thanks to an eye poke.
I hope that match gets run back and for all the controversy, it's important to remember one thing. Shit happens in MMA. I don't think Jeremy faked the injury and I don't think Yair tried to poke him in the eye, this stuff just kind of happens sometimes. Let's see it again, boys.
This week we have an incredible European card. Most of these events feature low-level competition but we have many high-level prospects, as well as a Midlleweight matchup between Jack Hermansson and Jared Cannonier that will produce the next title contender!
---
Jack Hermansson vs. Jared Cannonier (MW)
Jack Hermansson (20-4, 7-2 UFC) has been on a roll through 2019, shooting from #12 in the rankings up to #5 after soundly beating Jacare Souza. He is now a close #2 on the list for the next contender, perhaps to Paulo Costa after his win over Yoel Romero. Hermansson has a high volume with his elite boxing and some nice power behind his punches. The ground game is what sets him apart, the wrestler has some of the most vicious G&P in the game, apart from Khabib.
Former Heavyweight Jared Cannonier (12-4, 5-4 UFC) is now 2-0 in the Middleweight division. Buuuuuut, to be honest, I don't buy it. His first was a knockout over David Branch, good, who can't knock him out. Second was his "TKO" over Anderson Silva where Silva's knee went out. I didn't even think Cannonier would win that. Still, Cannonier has some nice power, but his game is simply too one-dimensional.
It's pretty easy to tell who my pick is here. Jack Hermansson has devastating top control and can exploit that very weak part of Cannonier's game. Even in a straight up striking battle, Hermansson has the edge BY FAR in volume and can match Cannonier's brute force with accuracy.
Take the Shot: Jack Hermansson via Round 2 Knockout
---
Gunnar Nelson vs. Gilbert Burns (WW)
Conor McGregor training partner and fan favorite Gunnar Nelson (17-4, 8-4 UFC) is a jiu-jitsu expert, with all but one UFC win coming by sub. There's good reason for that. His striking is sort of a karate stance thing, heavy on kicks, but not very threatening in power or volume and is used more as an avenue to his ground game.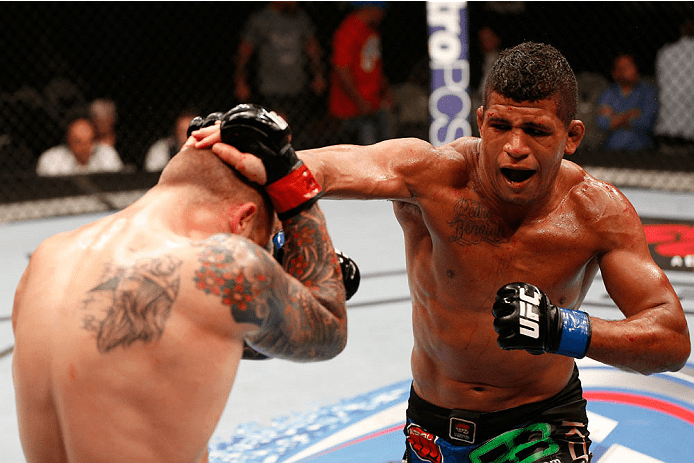 Gilbert Burns (16-3, 9-3 UFC) moved up to Welterweight mere months ago and beat Alexey Kunchenko as a sizeable underdog. Burns has incredible power in his striking, as well as a notorious and dangerous ground game. While his wrestling isn't the most incredibly deadly and he can struggle to finally secure his opponent, Durinho is a ruthless finisher and remains a threat in all venues.
When looking at just the ground games of these two champions of jiu-jitsu, it's certainly a close one. Gunni has got to have the edge, at least a little bit, because of his slightly superior wrestling but Burns is more adept at wrapping up the choke. Still, the striking is where things really change, as Burns is worlds above Nelson in that realm.
Take the Shot: Gilbert Burns via Round 2 Knockout
---
Ovince St. Preux vs. Michal Oleksiejczuk (LHW)
Ovince St. Preux (23-13, 11-8 UFC) has been around forever. OSP is one of the most experienced UFC Light Heavyweights. An extremely well-rounded fighter, OSP can knock you at in a second with kicks and also punches. However, his main strength is his ground game (hence the newly christened OSP choke). OSP has incredibly high fight IQ and fights expertly for a man of his age (37). The most notable advantage for OSP here will be recovery. He can switch his game immediately when he knows he is in trouble.
Someone quickly becoming one of my favorite fighters (POLISH GANG!!), Michal Oleksiejczuk (14-2, 2-0 UFC) has next-level power. "Lord" has incredible striking technique, with amazing defense and a 60% striking accuracy. In addition to that, he has amazing top control and has never been taken down in the UFC. While OSP has a well-versed game and some reach advantages on his side, Lord has an all around game that will hurt OSP before the round ends.
Take the Shot: Michal Oleksiejczuk via Round 2 Knockout
---
Alen Amedovski vs. John Phillips (MW)
With only one bout extending into the second round and all ending in knockout, Alen Amedovski (8-1, 0-1 UFC) was a hot prospect, but got ground out and controlled in the clinch by Kryzstof Jotko. Amedovski has furious knockout power, but with a gas tank still missing a good bit of what is necessary for an elite striker. The problem with Amedovski is also his greatest asset, we don't know all his weapons and skills because he is THAT powerful on the mat.
John Phillips (21-9, 0-3 UFC) was supposedly released from the UFC, but is receiving one last chance here. The Welsh brawler has never made it to decision with a victory, but has a decent chin and an alright gas tank. His main skill is just knockout power but he has poor volume and not good movement. This could be a great fight, but it really seems like a set up for Amedovski.
Take the Shot: Alen Amedovski via Round 2 Knockout
---
Ion Cutelaba vs. Khalil Rountree (LHW)
Ion Cutelaba (14-4, 3-3 UFC) has consistently been one of my favorite fighters in my favorite division. Before coming to the UFC, he has only seen one fight go to the second round. He has unreal power and great wrestling, especially in scrambles. However, his biggest issue has consistently been his gas tank and not wearing himself out.
Despite a brutal elbow KO by the force known as Johnny Walker, Khalil Rountree revitalized his training camp and looked like a born again fighter with a much more technical Muay Thai base in his striking. Rountree's struggles are in his issues of dimension. He is exclusively a striker with poor ground defense, but he does lack brutal power and next-level technique.
Who will win? It comes down entirely to whether Rountree can outlast the cardio of Cutelaba. However, he doesn't have enough speed or any ground game to wear out the violent brawler. His only chance seems to be a lucky shot or outrunning Cutelaba and denying any takedowns. But he won't.
Take the Shot: Ion Cutelaba via Round 1 Knockout
---
Macy Chiasson vs. Lina Lansberg (BW)
After winning the 26th season of TUF, Macy Chiasson (5-0, 3-0 UFC) has been steamrolling her UFC competition. A gigantic Bantamweight at 5'11, Chiasson has serious power and an elite submission game, even though she is yet to attempt a takedown in the UFC. She is yet to have an Octagon battle, extend past the second round, but holds a reliable gas tank and has gone to decision outside the world's most prominent ring.
Lina Lansberg (9-4, 3-3 UFC) recently overcame Tonya Evinger, but to me she didn't show off much. Well, aside from beating the walking punching bag that is Tonya Evinger. At 37, she still has entertaining striking battles, but can be somewhat chinny when matched up against a powerful opponent.
Chiasson simply has too much power and an insane volume to throw at Lansberg. On top of that, she has an amazing submission game, which I see really only being used in defense. Chiasson has a seven inch reach advantage and love to throw down that will undoubtedly go to good use here.
Take the Shot: Macy Chiasson via Round 2 Knockout
---
Check out the prelims picks right here! Don't miss this incredible main card coming on ESPN+!