So how did we do last weekend in the Great White North?
Well, Michel Pereira proved that flips don't do much for the scorecards. Or his own gas tank for that matter. Jimmy Crute wasn't able to get by the top-notch submission game of Misha Cirkunov. That one made me sad as all hell.
In terms of our main event, Gaethje once again proved he has incredible power and a thirst for violence. Talks of Cowboy's retirement came up with this one, but I think that's a bit far-fetched. What isn't, however, is a lower pacing. He has the name value where he certainly doesn't need to come back and fight every three months, especially after brutal KOs. That's a young man's game, Donald.
While the card we had the last weekend delved into some of the higher weight classes, this week we have the lighter weight classes on display, with multiple Flyweight bouts .
Our main event features a Featherweight match for the ages, with Yair Rodriguez off his stunning last-second KO of Korean Zombie, pitted up against knockout artist Jeremy Stephens.
---
Yair Rodriguez vs. Jeremy Stephens (FTW)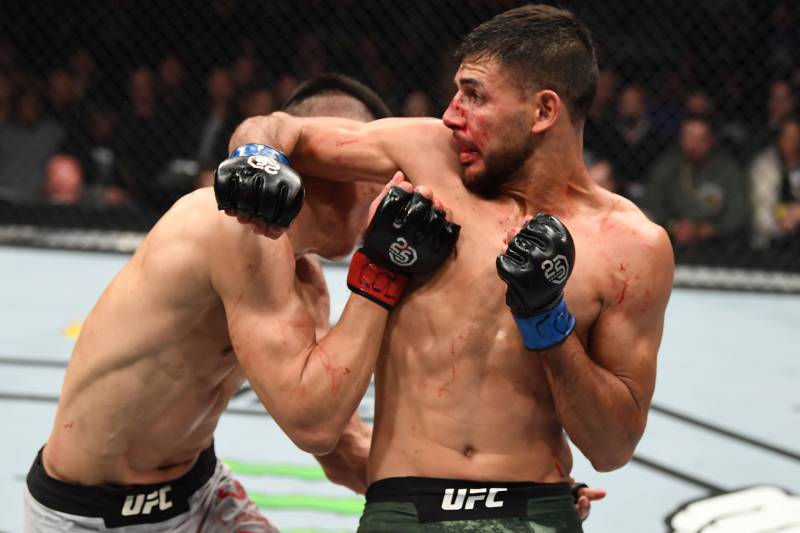 Yair Rodriguez (11-2, 7-1 UFC) stunned everyone with his literal last-second knockout elbow to send Chan Sung Jung to the mat in their Fight of the Year contender, but has not made an appearance since that November. "Pantera" keeps it interesting inside the cage with his wild and unorthodox striking, only benefitted by his length 5'11 frame. He has been to three main events and has become a highlight reel star with his wild power and submission experience.
One of the most dangerous strikers at Featherweight, Jeremy Stephens (28-16, 14-14 UFC) has amassed 19 knockouts in his career. His main skill is his power, as he can be fairly easily outpointed, both in striking and on the mat. That killer blow is going to be a must for Stephens, along with his gas tank.
I do imagine cardio will have a greater effect in Mexico City with such a high elevation. Rodriguez is the fighter who will be aided by cardio and should this go to the floor, it's undoubtedly Rodriguez who will have the edge. The frame for the Mexican along with his kicking heavy game should be more than enough to stop the brawler in Stephens from getting close and landing those power shots. Once his opponent has gassed, this is easily Rodriguez' fight.
Take the Shot: Yair Rodriguez via Round 4 Submission
---
Carla Esparza vs. Alexa Grasso (SW)
After becoming the first Strawweight champion in the UFC, Carla Esparza (14-6, 5-4 UFC) has gone on to become sort of a journeyman for the upper echelon of the SW division. Esparza has dominant wrestling and control on the mat in addition to quality point striking. Like many UFC strawweights, she lacks power in her strikes, but makes up for it with all around control and bell-to-bell onslaught.
Alexa Grasso (11-2, 3-2 UFC) is your typical striker at the Strawweight division. She has incredible boxing and more pop than most, yet not enough to yet land a finish inside the cage. Grasso's Kryptonite has been strong wrestlers that have the ability to control her and while her striking is good enough to beat most of the women at 115, Esparza is yet another wrestler that is a nightmare matchup for her.
Take the Shot: Carla Esparza via Unanimous Decision
---
Askar Askarov vs. Brandon Moreno (FLW)
Askar Askarov (10-0) is one of the newest fighters to be signed after the ressurection of the Flyweight division. "Bullet" has never seen a decision and has had 7 submissions on his record, including the rare twister. Still, he has made it into the fifth round and has impressive cardio and solid striking in addition to his ground attack.
After being cut when it looked like the Flyweights were on the way out, Brandon Moreno (15-5, 3-2 UFC) got resigned by the UFC. Moreno is a jiu-jitsu expert with some good wrestling to back it up, like many Flyweights. His striking is the vulnerable point in his game, where he can be picked apart by points.
These two are pretty close on the ground although I do see Askarov having a big advantage on the feet. Aside from that, Moreno is crafty enough on the mat to keep things competitive as well as avoiding a submission finish. The volume and pressure of Askarov should make the difference.
Take the Shot: Askar Askarov via Unanimous Decision
---
Vanessa Melo vs. Irene Aldana (BW)
After Marion Reneau was forced to withdraw last minute, Vanessa Melo (10-5) will be stepping in as a short-notice replacement. Melo is a Flyweight stepping up a class for her debut and sadly, she doesn't bring much new in. She is mainly a kickboxer without much power, instead relying on volume. She does have some limited wrestling and submission skill, but nothing that sets her apart.
Irene Aldana (10-4, 3-2 UFC) is riding a three-fight winning streak since moving up to Bantamweight, most recently piecing up Bethe Correia before submitting her in the third. The Mexican fighter has incredible boxing and next-level brawling skills, as well as the power to end the fight. She has an amazing skill at defending takedowns but also has good submission ability. Still, her best area is in her boxing and ability to utilize her range and piece up her opponent.
Aldana is simply the better fighter everywhere and this is quite nearly a surefire win for her against an opponent who won't pose many threats to the finish. Aldana will be the heavier and more dangerous fighter through this entire fight.
Take the Shot: Irene Aldana via Unanimous Decision
---
Martin Bravo vs. Steven Peterson (FTW)
Martin Bravo (11-2, 1-2 UFC) looked to be the next big thing when he extended his undefeated streak to 11 in his UFC debut with a round two knockout over Claudio Puelles. Bravo then suffered two defeats, one in a 30-second KO and another in a split decision loss to Alex Caceres. Bravo has high output striking, as well as incredible jiu-jitsu and wrestling in addition.
Steven Peterson (17-9, 1-3 UFC) lost in a split decision to Benito Lopez on DWTNCS, then came into the UFC losing a decision to Brandon Davis. He got a winning record after beating Matt Bessette in another decision. His 17-7 record has 12 finishes, 4 by KO and 8 by submission. His best skills come in the form of his grappling, where his wrestling skill can lead him into submissions. He is more than willing to throw down and has the chin to back it up with 6 of his losses in decision. What looks the best to me is that he is able to take a shot and keep coming. In the words of Snoop Dogg, "He [Peterson] don't give a hot damn!"
This should be a fun one. Both fighters love to brawl and also have a great ground game. Bravo has amazing TDD so if it does head to the mat, I do see him being on top. Although Bravo has some great power, the chin of Peterson makes the difference in the finish, but look for Peterson to get his walking papers after this.
Take the Shot: Martin Bravo via Unanimous Decision
---
Make sure to tune in for this wild main event, along with some of the other absolute brawls!
Don't forget to check out the prelims predictions and as always…
Until next time, Freaks.