So how did we do last weekend in the Great White North?
Well, Michel Pereira proved that flips don't do much for the scorecards. Or his own gas tank for that matter. Jimmy Crute wasn't able to get by the top-notch submission game of Misha Cirkunov. That one made me sad as all hell.
In terms of our main event, Gaethje once again proved he has incredible power and a thirst for violence. Talks of Cowboy's retirement came up with this one, but I think that's a bit far-fetched. What isn't, however, is a lower pacing. He has the name value where he certainly doesn't need to come back and fight every three months, especially after brutal KOs. That's a young man's game, Donald.
While the card we had the last weekend delved into some of the higher weight classes, this week we have the lighter weight classes on display, with multiple Flyweight bouts.
Our main event features a Featherweight match for the ages, with Yair Rodriguez off his stunning last-second KO of Korean Zombie, pitted up against knockout artist Jeremy Stephens.
---
Jose Alberto Quinonez vs. Carlos Huachin (BW)
Jose Alberto Quinonez (7-3, 4-2 UFC) is mainly a decision fighter. He has some decent striking, but his main area of expertise is in the wrestling department. He looks to grind out his opponent and with a substantial 4 inch size advantage, that will go into good use if he can isolate his opponent on the mat.
Carlos Huachin (10-4, 0-1 UFC) made his UFC debut in May to Raoni Barcelos, one of the top prospects at Bantamweight. He was knocked out in the second round and showed that he has some serious holes in the striking department when it comes to the size of his opponents. However, the striker has 8 knockouts and some terrifying power if he can get in close.
Huachin will have some difficulty against any opponent in the Bantamweight divison just based on his 5'4 frame. Quinonez is no different, but he also has an amazing wrestling game to bolster the volume striking. Huachin has never seen victory once the fight goes past the second round and Quinonez will undoubtedly be able to exploit that.
Take the Shot: Jose Alberto Quinonez via Unanimous Decision
---
Polo Reyes vs. Kyle Nelson (LW)
Fan favorite Polo Reyes (8-6, 4-3 UFC) is always one to watch with his incredible brawling and power. However, he has lately proved a bit chinny, getting taken out by Drew Dober back in June. Reyes does have a piston of a right hand and incredible volume, but his ground game has always been suspect.
That's music to the ears of Kyle Nelson (12-3, 0-2 UFC). Although having incredibly poor striking, Nelson has some real ground skill in his wrestling and a few submissions to pat himself on the back with. Still, he has been outclassed in every department inside the UFC, with both losses coming by finish in knockout and submission.
I think Reyes is coming back way too early. Just around four months ago, he suffered a brutal knockout and is now trying to step right back into the swing of things. However, if he can avoid the mediocre wrestling of Nelson, this is his fight to take. Not only does Nelson very rarely offer enough volume, but he struggles to gets good rythym going in his striking or wrestling.
Take the Shot: Polo Reyes via Round 1 Knockout
---
Angela Hill vs. Ariane Carnelossi (FLW)
After a middling stint in the Strawweight division, Angela Hill (9-7, 4-5 UFC) is hoping a move up in weight will aid her in her quest for gold. Hill is a decision fighter with some great brawling, as well as the ability to go to the ground when it is needed, although she is not always successful. She is a hard fighter to outstrike and has decent head movement, but can be beaten by any specialist.
Ariane Carnelossi (12-1) is making her UFC debut coming off a twelve fight win streak and not taking a loss since her debut against recent UFC victor Amanda Ribas. First off, Carnelossi is JACKED. Just look at her. She has serious one-punch power and makes most off her game off of her kickboxing. She does her best work when pressuring and loves to bully her opponent into the cage with immense power. She has had good competition, even just fighting off the regional scene, most recently claiming a knockout win over Ketlen Souza with a body kick.
Even though she's going up against a fighter in a debut, this is a hard step up for Hill. She usually tries to keep the match striking and that's going to be very difficult against a fighter with the brute force and power of Carnelossi. Even Carnelossi's volume is brutal so should Hill try to work towards a decision, that isn't even a given with the crazy output and pressure Carnelossi brings to the table.
Take the Shot: Ariane Carnelossi via Round 2 Knockout
---
Sergio Pettis vs. Tyson Nam (FLW)
Sergio Pettis (17-5, 8-5 UFC) is on a two-fight skid right now, but he has been on the Flyweight leaderboards for some time now. He has not yet seen a finish in all his UFC wins, but he has incredible jiu-jitsu as well as great striking. He likes to do most of his work relying on his defense and feinting on the feet, and few fighters are able to close that gap and out-volume him.
This is a tough draw in a debut for Tyson Nam (16-9). The Bantamweight will be making a drop to Flyweight for his entrance to the UFC against some real killers. He has 9 knockouts, almost all coming in the first round, but I imagine his power will suffer with the weight class drop for the 5'7 fighter. He will have some range on his side here to boost that advantage and will be dangerous as all hell should the match stay on the feet.
This is a rough one for Nam. Not only is he incredibly outmatched on the ground, but the striking defense of Pettis will make it very difficult for him to get off his power shots when and if he still has that power inside the first. Whether Pettis takes it to the mat or looks to pepper his opponent to decision, this is his fight to lose.
Take the Shot: Sergio Pettis via Unanimous Decision
---
Vinicius Moreira vs. Paul Craig (LHW)
I don't even know what to think about this match, but it kind of makes sense in the matchmakers' eyes.
Vinicius Moreira (9-3, 0-2 UFC) has been shut out in the Octagon. After the jiu-jitsu expert got a second-round submission in the Contender Series, he has been brutally knocked out in both his UFC appearances. He has some of the worst striking I have ever seen in my life, and that's not an exaggeration. Still, on the ground, he is a pure killer. He holds every victory in finish, with 8 of those coming from submission.
UFC journeyman Paul Craig (10-4, 3-4 UFC) has also never seen a fight go the distance. In addition, he is also a ground expert with 10 wins closing on the mat. The Scottish fighter is entirely similar to his Brazilian counterpart for all the wrong reasons. He has abysmal standup and will pull guard in seconds to get the fight to the mat.
I have no idea who to really go with here. I don't have much to look at with Moreira, but Craig has not impressed either. In stand-up, this is a grimy fight without much technique, but albeit a battle I would give to Craig for his experience and slightly better striking. On the mat, Craig has the better takedowns and wrestling, but Moreira is amazing off his back. Just like Craig. I'm going with Craig for his experience and better striking, but this is a fight I will stay far, far away from.
Take the Shot: Paul Craig via Round 2 Submission
---
Sijara Eubanks vs. Bethe Correia (BW)
Despite having a mediocre record, Sijara Eubanks' (4-3, 2-1 UFC) only losses have come to Aspen Ladd and Katlyn Chookagian. She mainly works as a wrestler with great top control and ground and pound, but displayed higher level striking in her most recent match against Aspen Ladd. Sarj has some good clip in her punches, but her main forte is on the mat.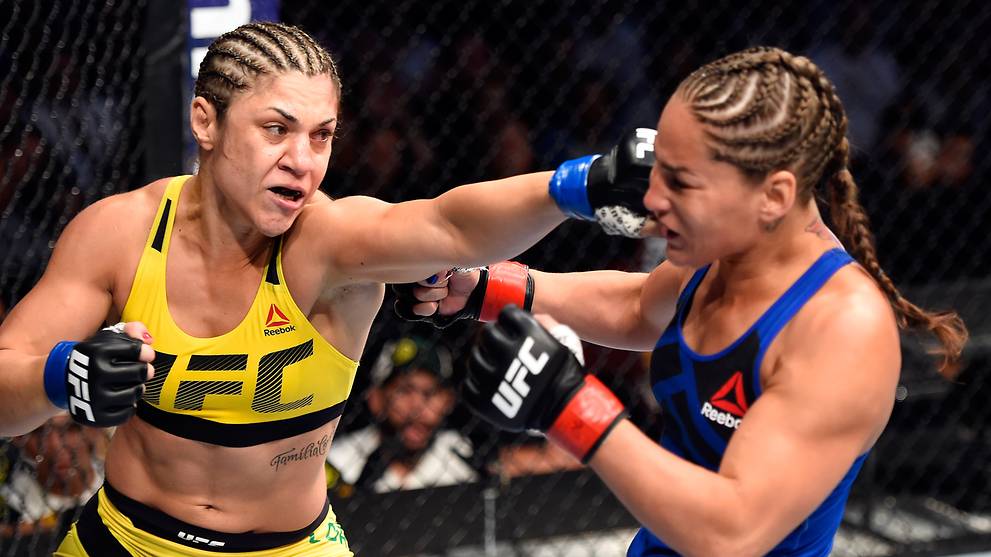 Bethe Correia (10-4-1, 4-4-1 UFC) only has one win since 2014, a split decision over Jessica Eye. Correia is a volume striker, but not with the speed of say, Chookagian or Jedrzejzyck. Instead, she looks to lull her opponents into a brawl and piece them up from the inside, where her 5'4″ frame matters less in a weight class that some, including me, argue is too big for her.
If this happened before Eubanks' match with Ladd, I'm not sure who I would have picked. Bethe has an 85% rate for her takedown defense and can use that easily to keep the fight standing. However, not only did Eubanks display incredible striking in her last match and took the advantage there in many people's eyes, but has the well-rounded game and gas tank to control the whole match.
Take the Shot: Sijara Eubanks via Unanimous Decision
---
Carlos Puelles vs. Marcos Mariano (LW)
Car los Puelles (8-2, 1-1 UFC) is a middling fighter. He has poor striking and not even close to enough volume to get it done there. His area where he does shine, however, is in the ground game. He has incredible submissions, although his wrestling does struggle a bit against higher level opponents. Still, Puelles will be easily able to dominate pure strikers without good enough takedown defense.
A debut came early for Marcos Mariano (6-5, 0-1 UFC) that ended in a quick submission to Lando Vannata. "Dhalsim" even had middling success on the regional scene, proving himself to have some power, but have a massive hole in his ground game that is easy to exploit. He's going up against a BJJ expert and doesn't have enough KO power to change things quickly.
Take the Shot: Carlos Puelles via Round 1 Submission
---
Make sure to check out the main card picks coming out tomorrow!