The world-famous Octagon is heading to New Jersey for a Welterweight match between Colby Covington and Robbie Lawler, but we have to have our vegetables, errr, prelims, before that.
---
Antonina Shevchenko vs. Lucie Pudilova (FLW)
This is a frighteningly simple matchup for a headliner. Antonina Shevchenko (7-1, 1-1 UFC) lost to Roxy Modafferi a few months back,  but will undoubtedly be sticking around due to her elite training (namely her sister). Antonina exists as a volume striker, quite similar to Lucie Pudilova (8-4, 2-3 UFC). However, the volume of Shev is MUCH higher than Pudilova. I have been looking for the first opportunity to get Pudilova out of the UFC because of her horrible ground game, low output, and poor defense. TAKE HER OUT, SHEV!
Take the Shot: Antonina Shevchenko via Unanimous Decision
---
Gerald Meerschaert vs. Trevin Giles (MW)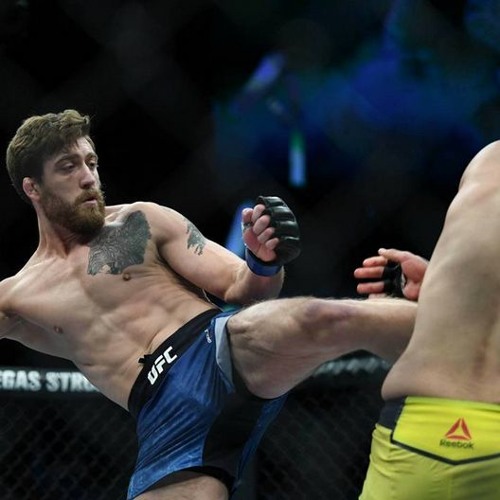 Gerald Meerschaert's (28-11, 4-3 UFC) last two UFC appearances went south, seeing him get taken advantage of on the ground by both Kevin Holland and Jack Hermansson . GM3 does almost all his work in the ground department, racking up 20 victories by submission. However, his striking is damn near disgusting, throwing a low volume with a poor defense to back that up and leaving himself open to way too many shots in return.
Zak Cummings was recently able to submit Trevin Giles (11-1, 3-1 UFC) late in a match assuredly going to Giles. "The Problem" has five wins in each knockout and submission, with his only decision against Ryan Spann. Giles has serious power, along with frightening volume and some of the best technical boxing, leaving him able to defned almost all his opponent's strikes.
The striking for this match is clearly in the advantage of Giles, but his recent loss gives me a little pause in choosing him over a submission expert. While GM3 has many submissions from a variety of positions, he has struggled in being outwrestled and Giles has heavily underrated wrestling and grappling. This should work wonders against the sub game of GM3 and switch things into the environment where Giles wants the fight to take place.
Take the Shot: Trevin Giles via Unanimous Decision
---
Darko Stosic vs. Kennedy Nzechukwu (LHW)
Darko Stosic (13-2, 1-1 UFC) followed up his first-round KO in his debut with a disappointing decision loss to Devin Clark. Stosic is a fighter who fights like a truck, both in his wrestling and pure knockout power. He is a tricky fighter to stand across from, slowly plodding forward before blitzing in with a fury of punches. His wrestling is not the most high-caliber, but he has some skill in the area just to round out his game.
The debut of Kennedy Nzechukwu (6-1, 0-1 UFC) went south against the slick submissions of Paul Craig, tapping to an armbar just before the final bell. Kenny is a hulking Light Heavyweight at 6'5 and an 83″ reach, giving him a five and seven-inch advantage, respectively. He does not pack the most power with that massive frame, and those 4 knockouts on his record mainly come from pure volume and combinations, along with his expert kicking.
Although Kennedy is bringing in such a huge size advantage, I don't see that making a big difference once pressured with the storm of Stosic. In addition, Stosic has some wrestling to back him up. It may not be the best, but the serious lapses in ground game and fight IQ were enough for me to trust Nzechukwu to screw things up.
Take the Shot: Darko Stosic via Round 2 Knockout
---
Claudio Silva vs. Ramazan Emeev (WW)
Claudio Silva took nearly a four-year layoff since he came to the UFC, but has gotten quickly back into it with two submissions over Danny Roberts and Nordine Taleb, two VERY dangerous fighters. The BJJ standout's plan is simple, take his opponent down and finish the show. His striking is low output and very simple, more used as a means to the end of grappling for the Brazilian.
We have yet another Dagestani wrestler in Ramazan Emeev (18-3, 3-0 UFC). The 32-year-old has the same style of Khabib or Makhachev, but without the same level of success. Emeev is dominant once he can get it to the mat and has incredible top control, but has struggled with his takedowns against skilled ground artists. He has incredible stifling ability and amazing striking, with superb defense on the feet and putting on an uncanny amount of pressure to stop his opponent from coming in.
Silva was absolutely dominated by Roberts in the last match when it stayed on the feet. Even going in for takedowns, he was easily reversed and someone with the savvy ground skill of Emeev will likely be able to make short work of that. Although Ramazan is no striker, he is better than Silva in his defense and ability to outstrike his opponent and we have constantly seen a sound wrestling game be the best defense against quality subs.
Take the Shot: Ramazan Emeev by Unanimous Decision
---
Mickey Gall vs. Salim Touahri (WW)
As of right now, the biggest claim to fame for Mickey Gall (5-2, 4-2 UFC) is "that guy that beat CM Punk". Each and every win by Gall has come through in a rear-naked choke and it may surprise you to learn that he is only a brown belt in jiu-jitsu. Still, he is certainly talented in that facet of his game and wastes no time trying to get the fight to the mat. The reasoning for that being that his striking is pure garbage, through and through. He has poor accuracy, volume, power and some of the worst striking defense I have seen. He is certainly a one-trick pony, but the type of pony without the best takedown skills.
Salim Touahri (10-3, 0-2 UFC) is on the wrong side of a two fights, most recently dropping a split decision to Keita Nakamura. His other defeat was to Warlley Alves, in a match where he just coudln't get his striking going. "Grizzly" gets his name from his pawing right, but although his striking may look lazy and uncoordinated, he has serious power and incredible footwork. He does not have the best volume or the best defense, but is worlds above Gall's level.
I really wish Zelim Imadaev hadn't dipped from this one. I don't think Gall is a good fighter and now we are getting a striker/grappler match where neither fighter is an elite in their field. That's putting this fight on the takedown defense of Grizzly, which is very impressive, certainly good enough to block the weak takedowns of Gall. From there, he can easily strike Gall into the dirt.
Take the Shot: Salim Touahri by Round 2 Knockout
---
Scott Holtzman vs. Dong Hyun Ma (LW)
You may not be able to tell from his record, but Scott Holtzman (11-3, 4-3 UFC) has been around for a while. "Hot Sauce" blends his wrestling and striking incredibly well, throwing in consistent takedowns along with a knockout threat at all times. The bane to Holtzman's game has consistently been fighters with better wrestling than he has, and that chalked up to be true at his last match with Nik Lentz.
Dong Hyun Ma (16-9, 3-3 UFC) has been a fan favorite for his love to brawl, but that brawler mentality has since become a problem. His chin has wavered as of late and his mediocre wrestling can't do much to allieve his problems with striking defense. Still, he has real power and is always a threat to finish at any time, with one-shot power and a love to throw down.
Holtzman may not have the furious power and strength that fighters have to put away Ma in the first, like Devonte Smith in their last match, but he pours on the volume. In addition, his wrestling is very good and Ma does not have that stifling ability with his own wrestling that so many have used to find success against Holtzman. Hot Sauce does have real power in his hands and may find a way to finish. Even though Ma is younger by five years, he is much more the elder in MMA age, with that chin and poor defense becoming more and more of a problem the longer he goes.
Take the Shot: Scott Holtzman via Unanimous Decision
---
Hannah Goldy vs. Miranda Granger (SW)
We have a lovely striker/grappler match in a vicious double debut.
Hannah Goldy (5-0) fell short of getting a contract in her Contender Series match but scored a valuable win all the same. She is mainly a striker with good power and does amazing on her front and back foot. She runs a bit much for my liking, but it's worked well for her so far in baiting her opponents to come in close and eat a big one.
The ground specialist in Miranda Granger (6-0) has five wins but choke and only one fight that made it to the second round. The jiu-jitsu specialist quickly rose to fame in the Cage Fury promotion, claiming the title with sub after sub. Her striking is not the best, but she can score a finish from pretty much anywhere, claiming victories by guillotine and armbar, as well as an RNC.
Goldy will need this to stay on the feet to get the win, as she will be quickly put away on the mat, lacking in major ground skill. She should be able to avoid the takedown with her back-pedaling style and power, but if Granger can cut corners, she will easily stop Goldy as she too has some power in her hands. If I see anyone closing the show on the feet, it would be Danger Granger as I think she has better one-shot power, but she has not fought as good talent as Goldy and her gas tank remains unproven. If Granger wins, it's in a sub and I don't see her taking down the defensively sound Goldy.
Take the Shot: Hannah Goldy via Unanimous Decision
---
This is one hell of a way to kick off a card.
Stay tuned for the main card picks at the same time tomorrow and browse for some more MMA content here if you're like me and need more than one card a week!