After a killer weekend in the Great White North, the UFC will make its new home in Newark for a Welterweight match that could define the next title shot! Also present is Volkan Oezdemir against Ilir Latifi and veterans Clay Guida and Jim Miller!
---
Colby Covington vs. Robbie Lawler (WW)
After securing the Welterweight interim title, Colby Covington (14-1, 9-1 UFC) got passed over twice for his title shot, needing a break for an injury. Covington is another in a long line of elite boxers at 170 pounds, but have much better striking than the majority of them, although still not the best volume on the feet and very little power. He is much more of a position fighter, but will take a submission if one presents itself.
Robbie Lawler (28-13, 13-7 UFC) received a controversial loss to Ben Askren in a fight where I thought he put Askren to sleep. Lawler is a power puncher who mainly utilizes his boxing, but can also fire up high kicks if he feels the opportunity. The striking of Lawler is on another level because of his advancing and ability to maximize his own range then dodge his opponent's counters.
Cardio shouldn't be a factor in either fighter, but I don't see this going all the way. Lawler is an expert at defending takedowns and was able to do so against Askren. The problem for Colby is that he has to hamper the power of Lawler for all five rounds if he wants a win, as Colby almost always wins in decision. He opens up wayyyyy too much when rushing for the takedown and I am expecting a brawl from these two pressure fighters going at it. That's bad for Colby.
Take the Shot: Robbie Lawler via Round 1 Knockout
---
Clay Guida vs. Jim Miller (LW)
We have a true battle of vetrans here.
Clay Guida (35-18, 15-12 UFC) most recently grinded BJ Penn to decision in May, delivering Penn the record for most consecutive losses. Guida is a wrestler who loves to brawl, but fires takedowns with the best of them.The 37-year-old still has plenty of fight in him and that Modelo Fighting Spirit (pay me, please), but has given up half of his losses to submissions, often getting trapped in a guillotine when shooting for a takedown.
The skill of Jim Miller (30-13, 19-12 UFC) has been going down over time in my eyes. Although he capped his recent eight fights to 2-6 with a submission over Jason Gonzalez, he still has a lot of holes that have come by his age. His striking has become more loose and exploitable, with his famed grappling coming in less often. Still he is a real submission threat through every moment.
I am giving Guida the striking advantage with his aggression, leaving Miller to throw a takedown and try to get the fight to the mat against Guida. THe Carpenter is comfortable on the ground, but has shown himself open to subs when his back is taken. I don't see that happening here as he doesn't have to compete against a younger and more violent fighter.
I'm staying away from this one.
Take the Shot: Clay Guida via Unanimous Decision
---
Joaquim Silva vs. Nasrat Haqparast (LW)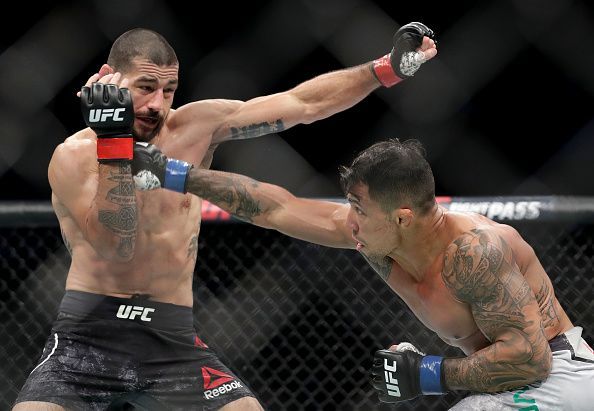 Joaquim Silva (11-1, 4-1 UFC) has made his money as a Muay Thai striker in the Octagon, but is well-rounded enough to offer a threat off the mat too. However, he is unwilling to take the match there and would much rather let his dangerous fists do the talking, boasting 6 knockouts in his career and 2 in the UFC. Silva is the type of dangerous striker that either lands the finish or makes the fight dangerously close on points.
Mini Kelvin Gastelum, otherwise known as Nasrat Haqparast (10-2, 2-1 UFC) arrived in the Octagon riding an eight-fight win streak, finishing every one by knockout. A debut loss followed by two decisions fixed any issues with his gas tank and saw him against a grappling threat. He is a very skilled boxer with incredible footwork who lands punches at an amazing clip. He has a real power threat, but has yet been able to establish it in the Octagon.
This entire match should play out on the feet and could very well end up in a brawl. Silva has the better one-punch power, but Nasrat has the precision and volume to take home a finish with his undoubtable power. It seems that this fight is reliant on the knockout for Silva, as Nasrat will easily outnumber him on points. Still, I see the dominant defense and accuracy making the difference in this fight.
Take the Shot: Nasrat Haqparast via Unanimous Decision
---
Matt Schnell vs. Jordan Espinosa (FLW)
Two losses put Matt Schnell (13-4, 3-2 UFC) on a bad path, but has since come out victorious in his past three, most recently choking out Louis Smolka inside the first round. Schnell is mainly a jiu-jitsu fighter without the best wrestling to back that up. His striking is sound defensively but he has a low accuracy with his strikes and his biggest weakness so far has been his chin.
Jordan Espinosa (14-5, 1-0 UFC) made his debut count against the wrestler in Eric Shelton, proving himself to be a contender at Flyweight. Espinosa has some great submissions, but highlighted his striking in the Shelton match, working his opponent over with volume and precision. He defended each takedown and put his higher rate of striking and power to play in that match. I see that going the same here as he is much better on the feet than Schnell and I don't see it impossible for him to exploit the chin of Schnell. I am still handing the ground advantage to Schnell, but Espinosa's defense should hold up as Schnell does not shoot often.
Take the Shot: Jordan Espinosa via Unanimous Decision
---
Mara Romero Borella vs. Lauren Murphy (FLW)
Italian fighter Mara Romero Borella (12-5, 2-2 UFC) has had a solid stint in the cage so far, only receiving a loss to top-ranked Katlyn Chookagian. The well-rounded fighter is best utilizing her Muay Thai and striking, boasting. a high volume, and impeccable striking defense. She also carries five victories in by submission, most of which coming by armbar and proving herself a threat to finish at all times.
I have not liked anything I have seen from Lauren Murphy (10-4, 2-4 UFC) as of late. "Lucky" came into the UFC on an eight-fight win streak, six of which by knockout. In the Octagon, however, she has proved to collapse under a remotely competent pressure striking or half-decent wrestling game. Even her power has not presented itself and she has barely been able to cinch victories. I mean a split win over Barb Honchak? Come on.
This is kind of a no brainer. I don't see Mara making a run at the title and I don't see her with anything jaw-dropping about her game. Still, she should walk over Murphy from every angle. The only advantage I can see Murphy having is if she gets on top, and her top game is too loose to avoid the armbar from Mara.
Take the Shot: Mara Romero Borella via Unanimous Decision
---
We have some great matches lined up in the cage this week, so don't forget to check out the prelims picks right here!
Until next time, Freaks!