After last week's crazy main event, we get a solid PPV coming at us from Rio down in Brazil. I'm kind of disappointed because I've heard a lot of people trashing this card, but I can't wait. There are amazing prospects along with some of the biggest names the UFC has to offer. Let's kick it off.
Early Prelims
Talita Bernardo vs. Melissa Gatto (BW)
This is so low-level that I'm definitely staying away. Talita Bernardo (6-3, 1-2 UFC) is facing a newcomer in Melissa Gatto (6-0-2). Both fighters have four wins in submission, all from the first round. I'm giving that a wash since both have more submissions off their back and whoever is on top (most likely Bernardo) will know enough to fight off the attempt. Gatto's takedown "skills" and striking are downright disgusting and she has a tendency to get fouled a lot (hence the two draws). Bernardo, who isn't an amazing fighter in any way, should have no problem exploiting Gatto's game.
Take the Shot: Talita Bernardo via Unanimous Decision
Raoni Barcelos vs. Carlos Huachin Quiroz (BW)
Our second match of the night is fairly simple, too. Raoni Barcelos was slated to fight Said Nurmagomedov, but that one fizzled, so in steps Huachin Quiroz (10-3). Quiroz is mostly just a heavy hands fighter. He doesn't have a ton of technique, but he hasn't needed it. All eight of his knockouts have come within the first round. Barcelos is much better and that's why he was deserving of a prospect bout that he previously had. He has elite striking with power along with decent submission chops and the cardio to go through five-rounders multiple times. This is a shoo-in for Barcelos once Quiroz gasses, but Quiroz is a live dog just because of that possible first-round power right.
Take the Shot: Raoni Barcelos via Round 3 Knockout
Warlley Alves vs. Sergio Moraes (WW)
Warlley Alves (12-3, 6-3 UFC) came in hot off the Ultimate Fighter and put up a four-fight streak, while also handing Colby Covington his only loss. Alves has the most dangerous guillotine in the division and is more than happy to wrestle his opponent to a spot where he can snatch it up. His striking isn't the worst but is a bit more winging than I would personally like. He packs some power from those wild punches, but it isn't reliable power.
Sergio Moraes (14-4, 8-3 UFC) most recently lost to Rocco Martin in a decision. The Panther has incredible submissions and has been able to submit even the best fighters. Moraes' striking is not the best and he mainly uses it as a method to get it to the ground where he can use his dominant top game to his advantage. For the striking, I'm going to go with Alves but the ground game is all Moraes. Working from the top won't expose him to Alves' guillotines and he should be able to work in his own game. If Alves has a shot, I see it in a winging right that lands home.
Take the Shot: Sergio Moraes via Round 2 Submission
Luana Carolina vs. Priscila Cachoeira (FLW)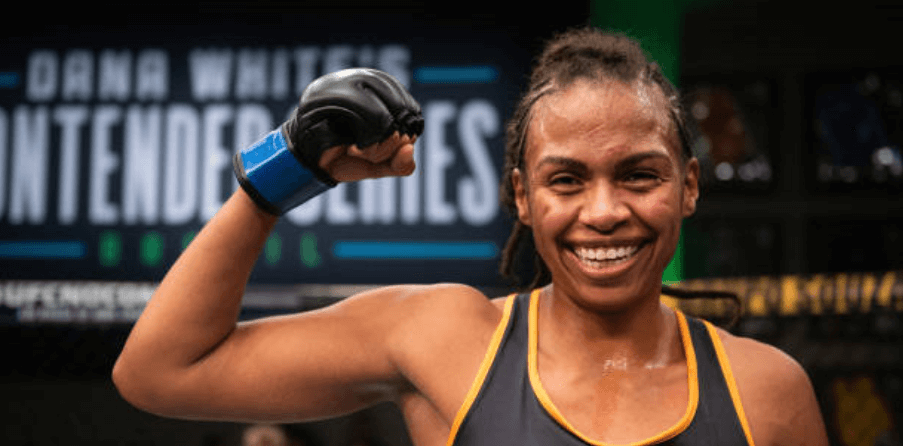 Making her UFC debut here will be Luana Carolina (5-1). She won her contract in DWTNCS with a dominant decision win. Carolina's best area is her stand up and she has two first-round knockouts in her pro career. Her defensive game is fairly sound, but her work off of her back still has not been seen really. Her striking is technical and I like what I've seen, but I haven't seen enough yet to give her the full seal of approval going forward.
Priscila Cachoeira will be making a late notice replacement for Yanan Wu here. Cachoeira was recently beaten in a unanimous decision by Molly McCann. If you remember, I said that Cachoeira is extremely low-level and I stand by that. Her striking is too wild and unfiltered to land on the more technical fighter in Carolina and should Carolina take this to the ground with her wrestling, Cachoeira will have no shot. Look for Cachoeira to take her third Octagon loss and dip.
Take the Shot: Luana Carolina via Unanimous Decision
Prelims
Clay Guida vs. BJ Penn (LW)
So this is a match between two literal fossils. This seems like the easiest prediction on the card to me. Clay Guida (34-18, 14-12 UFC) is always looking for a fight. He has okay striking and a solid submission game. The Prodigy BJ Penn (16-13, 6-11 UFC) has somewhat contaminated his reputation as one of the greatest UFC fighters. He has not won a fight since 2010 and has been absolutely demolished by lower-level fighters, even in his comfort zone on the ground. The difference here is that Guida still fights. Please retire, the both of you.
Take the Shot: Clay Guida via Unanimous Decision
Irene Aldana vs. Bethe Correia (BW)
Irene Aldana (9-4, 2-2 UFC) is coming in off a two-fight winning streak after losing to some of the UFC's best. She is mainly a striker and holds 5 knockout victories. Aldana has great takedown defense and is really well put together on the feet. She has power and a better, if not great, ground game than Correia. The issue for Aldana is her gas tank. While it certainly has been improving in her recent bouts, Aldana tends to wind down in the later rounds and lose that zing on the end of her shots.
Bethe Correia (10-3, 4-3 UFC) has been in the UFC for a good bit. She will be giving up a hefty 5-inch height and 4-inch reach advantage to Aldana. She is used to fighting bigger fighters but has trouble when they are solid strikers, like her last fight against Holly Holm, which ended in a third-round knockout. Correia has fought better talent, it isn't a question. Her only losses have come to Holly Holm, Pennington, and Rousey. However, she lacks any finishing potential and does not have any ground game to really take advantage of Aldana's striking heavy approach. She also lands fewer punches per minute than Aldana does, which is a problem for her decision style.
This is a really close one. Without question, Aldana will take a dominant first round. After that, it's questionable on how it will go. When Aldana gasses, she has a tendency to get lulled into brawls, which is exactly how Correia likes to play. When her gas tank goes, so does her defense and I see Correia being able to exploit that.
Take the Shot: Bethe Correia via Unanimous Decision
Thiago Moises vs. Kurt Holobaugh (LW)
Thiago Moises (11-3, 0-1 UFC) is coming off a debut loss to Beneil Dariush in a decision, in which he looked solid. Moises has good striking and solid power, but his main skill is in the submissions. Moises was the LFA and RFA champion and he has incredible cardio. You might underestimate Kurt Holobaugh (17-6, 0-3 UFC) off his Octagon record, one loss coming back in 2013 and the other two in recent years. That would be a mistake. He has serious power and a solid submission game to back it up. His issue is that his defense is not sound enough to keep it all under wraps and in his own territory. This looks like a setup fight for Moises and I see him with the edge in every area in this fight. He will be very able to take advantage of any and every hole in Holobaugh's game.
Take the Shot: Thiago Moises via Round 2 Knockout
Antonio Rogerio Nogueira vs. Ryan Spann (LHW)
Yet another legacy match. Little Nog (23-8, 6-5 UFC) is a long-time force of the 205-pound division. Even at 42, he has solid power left and a great ground game. Nogueira's biggest issue as of late has been his chin and defense. He has remained too open for big shots from his opponent and content to stand and trade.
Ryan Spann (15-5, 1-0 UFC) is massive for the division. He carries brutal power and a dangerous submission game. He will have a big size advantage against Lil Nog. He has an amazing top game and his right-hand drops more people than his mere 3 knockouts would lead you to believe. Little Nog is best when he is the one pressuring and that will not be the case against Spann, who always comes out ready to fight. If Nogueira looks to stand and trade as he has in his past few bouts, he's in for a rude awakening.
Take the Shot: Ryan Spann via Round 1 Knockout
Main Card
Francisco Trinaldo vs. Diego Ferreira (LW)
40-year-old Francisco Trinaldo (23-6, 13-5 UFC) has been on a down-sloping path recently. He has a solid boxing style striking game, but also can mess around on the ground. Getting up there in age, Massaranduba has become a litmus test for the Lightweight prospects and he will serve that role again here. Trinaldo seems to not be on the same level as of late and his biggest struggles have been against skilled wrestlers. Specialists like Jim Miller are easier for Trinaldo to work his game on, but well rounded (and very dangerous) fighters like Ferreira are his Kryptonite. However, Trinaldo's power is still very much there and will be a factor until the last bell, if it rings.
Diego Ferreira (15-2, 5-2 UFC) has been a threat to the top of the Lightweights for a good bit. His only two losses have come by Beneil Dariush and Dustin Poirier, neither of whom make Ferreira look bad in the slightest with their caliber. Ferreira is a lot of fun to watch. He brings in heavy punches and wild kicks along with incredible wrestling and submissions. Ferreira looks great off the back and on top and I see that as his strong suit in this fight. Ferreira looks to be the more threatening fighter in every position here and I see this as a highlight-worthy performance.
Take the Shot: Diego Ferreira via Round 2 Knockout
Thiago Alves vs. Laureano Staropoli (WW)
My main man Thiago Alves (23-13, 15-10 UFC) is always down for a brawl. He beat Max Griffin in his last bout, which was kind of a robbery, but whatever. He is mainly a striker and a fan favorite for his willingness to stand and trade. His power used to be a staple of his game but without a knockout in over four years, it is becoming evident that the 35-year-old is on his way down. He remains a great bout for anyone and is always willing to throw down, with his takedown defense often keeping it there.
Laureano Staropoli (8-1, 1-0 UFC) will be taking his second UFC fight here. "Pepi" has a developed game and is willing to throw hands along with a nice ground game. When he fights, it's like Mortal Kombat, so this is going to be a very good one. Great matchmaking here. That fact makes it hard to predict, along with an unproven newcomer against a  fading veteran. I think that Staropoli has more finishing power here and a better ground game, but go to a decision and I'm liking Alves. Either way, we will have a war.
Take the Shot: Laureano Staropoli via Round 3 Knockout
Jose Aldo vs. Alexander Volkanovski (FW)
Jose Aldo (28-4, 10-3 UFC) was known for the longest time as the greatest UFC Featherweight ever. After two back to back knockout losses to Max Holloway, he has seemingly lost that title. Still, Aldo is fighting what is said to be his second-to-last fight in MMA in his home nation of Brazil. Aldo is a devastating striker with knockout power and extremely well-done kicking. He is a threat to the last second this fight goes.
Alex Volkanovski (19-1, 6-0 UFC) was down for whatever opponent after this fight was almost canceled. He will get his wish to fight the long-time Featherweight great in Aldo in Rio. "The Great" is a true mixed martial artist. He has incredible striking with some power added in, as his 11 knockouts demonstrate. He has nice movement on the feet and knows when and how to move for the right shot. His best attribute, at least in my eyes, is his freestyle wrestling. Volkanovski has an amazing top game with nice ground and pound and I would argue he is the best wrestler in the division.
Volkanovski's wrestling presents a threat to any Featherweight. The problem for Alex here is that he is fighting someone with the best takedown defense in the UFC. Not to mention one of the most devastating strikers. Volkanovski simply doesn't have the technical striking to get past Aldo's guard and precision punching and his wrestling won't be able to get in. That leaves Aldo free to piece him up for the win.
Take the Shot: Jose Aldo via Round 3 Knockout
Jared Cannonier vs. Anderson Silva (MW)
Jared Cannonier (11-4, 4-4 UFC) is a former Heavyweight and Light Heavyweight. His debut at 185 against David Branch with a quick second round KO. Cannonier looked solid in his Middleweight debut and this looks to be the right weight class for him. For a long time, The Killa Gorilla's weak point was in his ground game, but he has been training on it to round out his game. Still, it proved to be his main problem area against Branch. Cannonier's main strength lies in his power and he has put down much bigger people than Anderson Silva.
I don't know what all there really is to say about Anderson Silva (34-9, 17-5 UFC). The Spider is the most dominant champion in the UFC. He has punishing striking, great jiu-jitsu, quality head movement and champion level cardio. So your question undoubtedly is: shouldn't Silva walk over Cannonier? In his prime, there would be no question. Well, Silva is 44 and his only win since 2012 came in a decision against Derek Brunson. He definitely is not the same fighter that had a 16-fight win streak.
The key to this fight is in Silva's last fight with Israel Adesanya. Silva was looking more like himself, although he will never be what he was as his younger self. He actually had Adesanya hurt multiple times and Adesanya is one tough dog. On paper, Silva takes the edge in everything except for power. Cannonier is all over the power game here and one big shot could cripple the aging veteran. Silva is, at his best, a counter-striker and this fight seems like a fight in front of a home crowd for Silva to come out on top.
Take the Shot: Anderson Silva via Unanimous Decision
Rose Namajunas vs. Jessica Andrade (SW)
Thug Rose Namajunas (8-3, 6-2 UFC) shocked the world with her first-round knockout of Joanna Jedrzejczyk. She verified her belt by winning a decision over Joanna (even though some contest that it was a draw). Prior to that match, she was not known as a striker. Her dangerous jiu-jitsu game has 5 in that column, but her striking has been moving forward in leaps and bounds. It has gotten more technical, but her Muay Thai and overall power is always increasing.
Jessica Andrade (19-6, 11-4 UFC) is easily the most threatening finisher in the Strawweight division. She has 6 knockouts and 7 submissions on her record, the majority of those knockouts coming as a result of her brawling style. She loves to turn a technical fight into an all-out war on the feet and then once that hurts her opponent (which it normally does) she uses her wrestling to dominate on the ground. Andrade is without a doubt the hardest hitter in the 115-pound division and can hurt any fighter with one shot. Her wrestling is on an elite level and she pulls in solid submissions with what might be the best guillotine at Strawweight, but also has no problem going the distance because of her impressive cardio.
Although Namajunas' striking has no doubt been increasing, you're in for a rough night if you want to go into a striking bout with Jessica Andrade. Andrade's power is worlds above Rose's and staying on the feet would be a bad move. However, both fighters have skill on the ground. I would say Rose has better submissions, but Andrade's wrestling and defense are much better. Cardio should not be a factor for either fighter here and I think Andrade's power will prove way too much for Namajunas.
Take the Shot: Jessica Andrade via Round 2 Knockout
I've heard people dissing this PPV, but I'm seriously excited. We have a championship bout with a #1 contender slot at Featherweight, not to mention a ton of legacy matches. We should all be in for a real good time on Saturday.
Until next time, Freaks.