Another week, another glorious UFC card.
This one comes to us from the Great White North, Ottawa specifically. The fights will be on ESPN+ for the entirety and will be capped off with a Lightweight showdown between Raging Al Iaquinta and Cowboy Cerrone. After the recent Interim Lightweight bout, this division is in an incredible place, with one of the most massive rosters out of any division. This match holds serious title contentions going forward.
Our co-main event for the evening is a Middleweight banger with Elias Theodorou, who is looking to break into the Middleweight scene and look to make a run towards the title. Standing in his way is Derek Brunson, a wrestler with devastating knockout power.
In typical fashion, let's jump right in, starting from the bottom.
Prelims
Mitch Gagnon vs. Cole Smith (BW)
Mitch Gagnon (12-4, 4-3 UFC) will be in his first fight in over two years. He has only had one fight since 2014, so ummm, that's a problem. Aside from that issue, he is a solid grappler with 10 submission wins. His striking is subpar and is used mostly as a gateway towards his jiu-jitsu. However, even his jiu-jitsu has holes and his wrestling is downright terrible.
Cole Smith (6-0) will be making his UFC debut after becoming the BFL bantamweight champ. Smith is massive for 135 at 5'11 and will tower over Gagnon. He has a nice ground game and dominant top game and certainly has the wrestling to hold his own on the ground. His striking is not the best, but is better than Gagnon's. If this wasn't just Gagnon's side hobby and only fighting once in the past five years, then I would MAYBE pick him. But he is just throwing red flags at me. I'm going to be staying away from this one, but I think Smith has more ways to win and a better gas tank.
Take the Shot: Cole Smith via Unanimous Decision
Arjan Bhullar vs. Juan Adams (HW)
Arjan Bhullar (8-1, 2-1 UFC) is odd for a Heavyweight. There are plenty of heavy-handed strikers and a few submission artists, but hardly any wrestlers. Bhullar has some power, being a Heavyweight, but his striking isn't the best. Instead, his skills are in his ground game and being able to grind his opponent to a decision. Bhullar competed as a freestyle wrestler in the Olympics before taking his talents to the UFC. He has an oppressive top game that many Heavyweights simply don't know how to beat. His only loss came from the UFC's second-ever omoplata and he has been able to stifle every other opponent, despite being clipped a few times.
His opponent looking to stop that will be Juan Adams (5-0, 1-0 UFC). Adams has finished every single fight by knockout. His UFC debut went to the third round, which was supposedly because Adams had to fight without his contact lenses. Adams has incredible striking and moves very quickly for someone of his size. He is bigger than the average Heavyweight at 6'6 and that puts him 5 inches above Bhullar. Adams puts power and technique together for a combo that is frightening to even the viewer.
This is a tough match to predict. You have a clear advantage on the feet versus a clear advantage on the ground. It's hard to tell the extent of Adams' ground game because of the lack of tape on him because of his finishing ability. I am liking Adams because of his reach and striking caliber. Adams has great head movement and accuracy. His top game is brutal so unless Bhullar is able to get it to the ground without taking a shot, he will have a problem on his hands. And that's a big if.
Take the Shot: Juan Adams via Round 2 Knockout
Kyle Nelson vs. Matt Sayles (FW)
Kyle Nelson (12-2, 0-1 UFC) moved up a weight class for his Octagon debut and was viciously knocked out by Carlos Diego Ferreira. He is a wrestler with a rough standup game. His generalist style worked prior to his debut and even in that fight, he used his wrestling for a convincing performance.
Matt Sayles (7-2, 0-1 UFC) is an elite striker. His lone loss came at the hands of Sheymon Moraes, who is a nightmare in the striking department. Sayles has 6 knockouts with 5 of which coming in the first round. Sayles is a serious threat to anyone against him. He has incredible wrestling but just uses it to keep the fight where he wants it normally. He should have the pressure and power to dismantle Nelson on the feet and avoid the fight going to the ground.
Take the Shot: Matt Sayles via Round 1 Knockout
Nordine Taleb vs. Kyle Prepolec (WW)
Kyle Prepolec (12-5) is stepping in short replacement for his UFC debut. This is a huge mismatch in the favor of Nordine Taleb (14-6, 6-4 UFC). Taleb is a massive Welterweight up against a Lightweight who is stepping up just for his shot in the UFC. I often side with fighters stepping up, but the size and power advantage Taleb has is too big to ignore. I am not even sure Prepolec is UFC caliber, just a native kid needed as a last second swap. Taleb has better striking and MUCH better wrestling and in case you needed any more convincing a better gas tank.
Take the Shot: Nordine Taleb via Unanimous Decision
Vince Morales vs. Aiemann Zahabi (BW)
The first UFC fight for Vince Morales (8-3, 0-1 UFC) was a rough loss to Yadong Song. Morales comes in as a wrestler with 5 knockouts on his record. Although he is announced as a wrestler, his general style leads me to believe that he is better at striking. His striking is nice and he has speed that he brings in, along with very nice movement. I don't think that his wrestling is impressive, especially if he gets on the bottom. Morales would be best to leave this on the feet.
Aiemann Zahabi (7-1, 1-1 UFC) is the reason he should stay on the feet. Aiemann is the brother of the famed coach and his jiu-jitsu is on another level. However, you don't always get to see that because of his powerful and precise striking. Zahabi's lone loss came in a fight he was winning in an impressive fashion, only to fall to a brutal spinning elbow by Ricardo Ramos. On the feet, this is a close match and both fighters have power and accuracy. On the ground, it isn't even a contest. Zahabi is worlds above in his submissions and he can lock one up the second Morales touches the mat.
Take the Shot: Aiemann Zahabi via Round 3 Submission
Sarah Moras vs. Macy Chiasson (BW)
Macy Chiasson (4-0, 2-0 UFC) destroyed Gina Mazany in the first round at UFC 235 giving her the opportunity to jump in early against Sarah Moras (5-4, 2-3 UFC). Moras can boast never being finished, but Chiasson will look to change that. Macy has insane power, a solid ground game, and a gas tank if she needs it. I see Macy and her beautiful Muay Thai taking the edge on the feet and Macy is way too dangerous on the ground for Moras and her weak top game to take advantage of. This fight will end when Macy wants, how she wants.
Take the Shot: Macy Chiasson via Round 2 Knockout
Main Card
Andrew Sanchez vs. Marc-Andre Barriault (MW)
Opening the main card will be Andrew Sanchez (10-4, 3-2 UFC). Sanchez came into the UFC without a single win in decision, but since his stay here, his only matches that end in finishes are his losses. Sanchez's main strength lies in his wrestling as his stand up game is way too wild and uncoordinated and way too easy to predict. Sanchez's downfall normally comes after his gas tank. About halfway through the second round, he significantly slips and his style becomes even more random and his hands are down.
His opponent Marc-Andre Barriault (11-1) will be making his UFC debut here in Ottawa. The TKO champion has 8 wins by knockout and his only loss came in split decision. A look at his record and the 5 first round KOs that he has would make you think that "Power Bar" is just a striker. However, he has a really well put together wrestling and top game to pair with his striking game. Barriault definitely is UFC caliber and is not coming in based exclusively on finishing power, like so many we have seen as of late. Instead, he has a solid five round gas tank and a technical, well-developed game that should translate well into the UFC. Against Sanchez, his striking should be worlds better, although I see a wash on the ground. Barriault is way too hard of a hitter for Sanchez to act so defensively poor against.
Take the Shot: Marc-Andre Barriault via Round 3 Knockout
Walt Harris vs. Sergey Spivak (HW)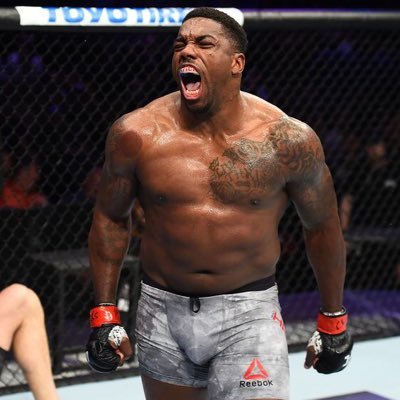 Walt Harris (11-7, 5-6 UFC) has brought all 11 wins in by knockout. Harris is most dangerous in the first round and has brutal stopping power. "The Big Ticket" is certainly quick and can fire off kicks, knees, or elbows whenever he has the opportunity. His speed is actually the most surprising thing when you look at the big man, but he played college basketball and has serious athletic ability. He attacks the body and head well and diversifies his attack. He isn't all power and brings in technical striking. No matter what, Harris is a fun fighter to watch.
Making his UFC debut is Sergey Spivak (9-0). Spivak has never seen a decision or the third round for that matter. Spivak has 4 knockouts and 5 submissions but has not fought high-level competition. Watching his fights, you can see the inexperience and the lack of technical discipline. His takedowns and striking are both fairly bruteish, despite coming in about 20 pounds south of Harris. His gas tank is not usually tested, but when it is, I don't like what I have seen. I think he does not have the defensive game or technical wrestling to get it done against Harris, who has been in much rougher waters.
Take the Shot: Walt Harris via Round 1 Knockout
Brad Katona vs. Merab Dvalishvili (BW)
Brad Katona (8-0, 2-0 UFC) will be looking to continue his undefeated streak here. Katona is a striker who lacks in power but makes up for in sheer volume and speed. Katona is quick and can fire off flurries of punches that look gorgeous on a scorecard. His movement and footwork are very nice, and I would take him in a kickboxing match. But there's also the ground game.
The ground game here is almost definitely won by Merab Dvalishvili (8-4, 1-2 UFC). Merab has had rough matchups so far in the UFC and lost to high caliber fighters in Frankie Saenz and Ricky Simon. Dvalishvili has some of the best wrestling in the division, basically a Bantamweight Khabib. His striking is serviceable, but Katona poses no threat of a knockout. Katona's downright terrible takedown defense will make this an easy fight for Dvalishvili to pound his way to a decision.
Take the Shot: Merab Dvalishvili via Unanimous Decision
Cub Swanson vs. Shane Burgos (FW)
Cub Swanson (25-10, 10-6 UFC) has been a mainstay of the Featherweight division since its creation. Swanson has a striking heavy style that has some power in it, but definitely not the one-punch style of Stephens or Aldo. He has a decent ground game, but it is also where he is the most vulnerable. Swanson has been a testing point of the UFC for a long time, seeing who is worthy of that top title slot. Cub is on a three-fight losing streak which is putting him up against a newcomer to the Featherweights.
Across from Swanson will stand Shane Burgos (11-1, 4-1 UFC). Burgos has done quite well in the cage so far with his only loss coming by knockout to Calvin Kattar. "Hurricane" has a primarily stand up style with quick head movement and speed. He has a submission game, but it is primarily defensive with only landing .55 takedowns per bout. The main issue that I have seen in Burgos' game is his defense. He has a tendency to get clipped and then lose his entire rhythm, then proceeds to get lit up like a Christmas tree. Burgos does have 3 inches of height and 5 inches of reach on Swanson.
The matchup here is really interesting since Burgos' biggest struggle has come against heavy strikers. Even in his first-round submission victory over Kurt Holobaugh, Burgos suffered a rough knockdown after taking too many shots. Swanson has been fighting the best of the best for years. While he may be approaching the downfall of his career at 35, he has a few solid fights left in him. Swanson's striking is too elite for the low defense of Burgos and his ground defense is good enough to avoid any front from Burgos.
Take the Shot: Cub Swanson via Unanimous Decision
Derek Brunson vs. Elias Theodorou (MW)
I've seen Derek Brunson (18-7, 9-5 UFC) in person before and he is just brutal. He fights as a wrestler but also brings incredible pressure and knockout power. Although Brunson is getting up there in age, he is no less dangerous. Even in his fight with Adesanya, he had Israel hurt bad. Brunson is an elite wrestler and has fought the best. Brunson does not always win, but he has been inside the cage with every serious weapon that the Middleweight division has to offer.
First things first, Elias Theodorou (16-2, 8-2 UFC) has the self-proclaimed best hair in the UFC. He also is an elite striker who uses his insane cardio and speed to stay on the outside and use his volume to win a decision. Theodorou does not pack a ton of power and likes to piece his opponent away from range. I don't see Theodorou getting a finish here and Brunson is undoubtedly his hardest challenge yet. That being said, even Thiago Santos could not put The Spartan out.
Brunson seems like the worst possible matchup for Theodorou. Theodorou's style is best against a slow paced fighter who he can use his volume for the scorecards. When pressured, Theodorou comes off the offensive and Brunson pressures like no one else. Even one punch from Brunson can put someone out so if anyone gets a finish, it's him. His wrestling mounts another challenge to take the wind out of Theodorou's sails. However, if Brunson's gas tank goes down, I see Theodorou taking a third round to make this a close fight.
Take the Shot: Derek Brunson via Split Decision
Al Iaquinta vs. Donald Cerrone (LW)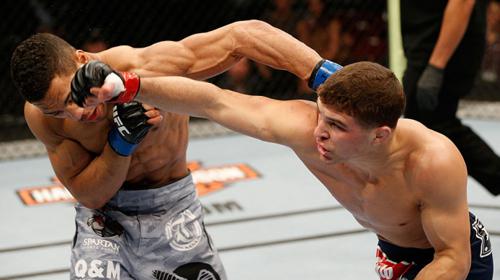 Raging Al (14-4, 9-3 UFC) skyrocketed into relevance after his quick replacement championship bout with Khabib. Iaquinta remains the only fighter to have gone a full five with Khabib, and I credit that to his heart. The man is straight PSYCHO. In the best possible way. He is a striker and a boxer, more specifically. If you want to know what Iaquinta's crazy is, just watch the last minute of his December 2018 fight with Kevin Lee. The dude just hands down marches towards Lee while just yelling. Not words, just straight screaming. It's amazing. Iaquinta has one punch power and solid technique. He obviously has the cardio to last five rounds so he is a serious threat whenever the fight is standing.
Donald Cowboy Cerrone (35-11, 22-8 UFC) has been in the UFC FOREVER. And I truly mean forever. He holds the record for most fights and has spent time in multiple weight classes. At UFC Fight Night 143, the first ESPN+ card, Cerrone brutally knocked out Alexander Hernandez in his return to Lightweight. Cerrone certainly has knockout power, especially with his kicks, as demonstrated by his 10 KO wins, 6 of which came by kick. The best part of Cowboy's game, in my opinion, is his jiu-jitsu. He is incredibly crafty on the ground and can wind up in a dominant position out of seemingly nowhere. Just look at his match with Platinum Mike Perry. That's not to even mention his experience.
When looking at this match from a pure striking element, you have to give it to Iaquinta. However, this is the UFC and it isn't just striking. On the ground, Cerrone has a massive advantage. If this goes to the ground, I see it being a finish or at the very least a dominant round by Cerrone. That combined with his striking, which is certainly on the level of Raging Al, makes a dominant more well-rounded offense than Iaquinta.
Take the Shot: Donald Cerrone via Round 4 Submission
We have plenty of exciting matchups here tonight for us. Be sure to tune into the prelims at 5 PM EST or the main card at 8 PM EST, both on ESPN+.
Until next time, Freaks.