UFC fans around the world have been placed with some stellar Pay-Per-View cards in the past few events, but we will get back to action at the UFC Apex with more Fight Night events this weekend.
The main event is a heavily anticipated Featherweight bout that will determine the next challenger to Alexander Volkanovski's throne, as Max Holloway takes on Yair Rodriguez. There is a fun Heavyweight clash in the co-main between Ben Rothwell and Marcos Rogerio de Lima, and many other fun fights such as a Welterweight clash between Khaos Williams and Miguel Baeza.
---
Max Holloway vs. Yair Rodriguez (FTW)
After Max Holloway (22-6, 18-6 UFC) lost his belt to Alexander Volkanovski in 2019, though he was given an immediate rematch, which he lost in an incredibly controversial split decision last July. He went on to provide one of his most dominant performances in his next outing, absolutely dominating and showboating over Calvin Kattar in a five-round decision. Though he has proved his knockout ability with ten career KO wins, Max doesn't exactly have one-shot power and he doesn't have stellar submission skills, but he kickboxes like no one else can. He just dances in and out of range, never letting his opponent get a shot off. He can work well from both southpaw and orthodox and fires leg kicks too to soften his opponent. What sets Max apart is the cardio and pace that he forces his opponent to try to maintain for five rounds, which is a task few are able to maintain when he takes away their power with his movement and their grappling with his takedown defense.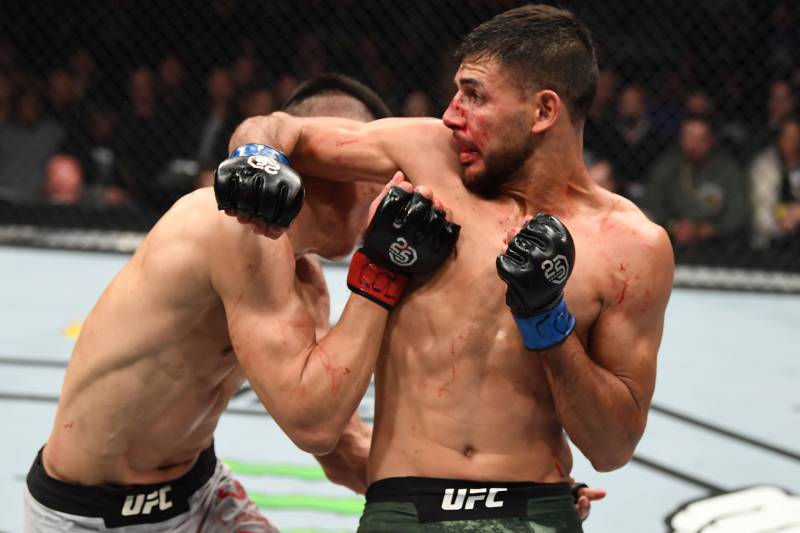 Yair Rodriguez (13-2, 8-1 UFC) stunned everyone with his literal last-second knockout elbow to send Chan Sung Jung to the mat in their Fight of the Year contender, and went on to win a Fight of the Night decision over Jeremy Stephens in the following year. Rodriguez has not graced the Octagon in over two years, dealing with USADA and contract disputes with the UFC. "Pantera" keeps it interesting inside the cage with his wild and unorthodox striking, only benefitted by his lengthy 5'11 frame. He has been to four main events and has become a highlight reel star with his wild striking style and submission experience, along with the power in his high amplitude strikes to quickly close the show.
The fans are in store for a high volume striking affair in this one, as neither fighter is one to back down from a challenge. Though both prefer to fight the same way, they do it with extremely different styles. Holloway is an expert with boxing and range, along with his endless cardio, while Yair has a superior kicking arsenal and an edge in stopping power and strike diversity. Hough Rodriguez holds a higher defensive rate, Max operates with a much higher volume, and his time at the top of the division has shown that does not slow by any means as the fight goes on. expect hat to be the difference maker here, as Max will dominate with his volume and combination striking, though Yair is likely too tough for Holloway to put him away before the final bell.
My Pick: Max Holloway via Decision
Ben Rothwell vs. Marcos Rogerio de Lima (HW)
Ben Rothwell (39-13, 9-7 UFC) returned to the cage after three years last March only to lose to Blagoy Ivanov, but has since won two straight, including a devastating finish of Stefan Struve. Rothwell has POWER. Like not even regular one-shot power. Rothwell, Ngannou, and Derrick Lewis are on this next level of power, where looking at them makes you know you could hit the ground at any moment. "Big Ben" has 27 knockouts proving that and he has also tightened up his ground game in recent matches, putting seven wins in by submission and proving he isn't a one-dimensional fighter. Though he does resemble the stereotypical plodding striker, his improved wrestling and volume helped win him his last victory over OSP by decision. He has some real submission skills, which he showed in his last outing opposite Chris Barnett.
A Light Heavyweight stint with two weight misses sent Marcos Rogerio de Lima (18-7-1, 7-5 UFC) back to Heavyweight, where he has since gone 3-2. His recent fight against Alexandr Romanov saw him submitted with a forearm choke in the very first round, though he got back on track with a decision victory over Maurice Greene. "Pezao" is a dangerous striker with thirteen knockouts to his name. He has furious one-punch power and an advantage in quickness over most Heavyweights, giving him plenty of opportunities to close the gap. He has a clear Kryptonite in defensive grappling, as he can be taken down easily and has quite poor submission defense, with six of his eight losses coming by sub.
This is a fun battle of Heavyweight finishers that is extremely unlikely to go the distance, in my opinion. Both fighters have the one punch KO power Heavyweights are known for, though Rothwell mixes it up with his submission offense. De Lima is definitely the more technical striker on the feet, using superior strike diversity and keeping higher accuracy and strike defense rates. With that being said, Rothwell is much more well-rounded and experienced, with the ground game that can foil the Brazilian's gameplay if he should lean on his ground game. expect a wild striking affair before Rothwell brings it to the mat and ends it with a choke.
My Pick: Ben Rothwell via Submission
Felicia Spencer vs. Leah Letson (FTW)
My Pick: Leah Letson via Decision
Kyle Daukaus vs. Roman Dolidze (MW)
My Pick: Roman Dolidze via Submission
Song Yadong vs. Julio Arce (BW)
My Pick: Song Yadong via Decision
---
The main card action gets going at 7:00 PM EST.