Dana White's Tuesday Night Contender Series (DWTNCS) has returned, bringing with it the next rising stars of the UFC.
Each week, the match winners (mostly) are awarded with a UFC contract. I am personally so happy to get the Contender Series back in action, making Tuesdays a must see for any UFC fans. This week's full card is as follows.
Azamat Murzakanov vs. Matheus Scheffel (LHW)
Diego Lopes vs. Joanderson Brito (FTW)
Victor Altamirano vs. Carlos Candelario (FLW)
AJ Fletcher vs. Leonardo Damiani (WW)
Contract winners are highlighted in gold.
---
AJ Fletcher def. Leonardo Damiani by Knockout (2:24 of Round 1)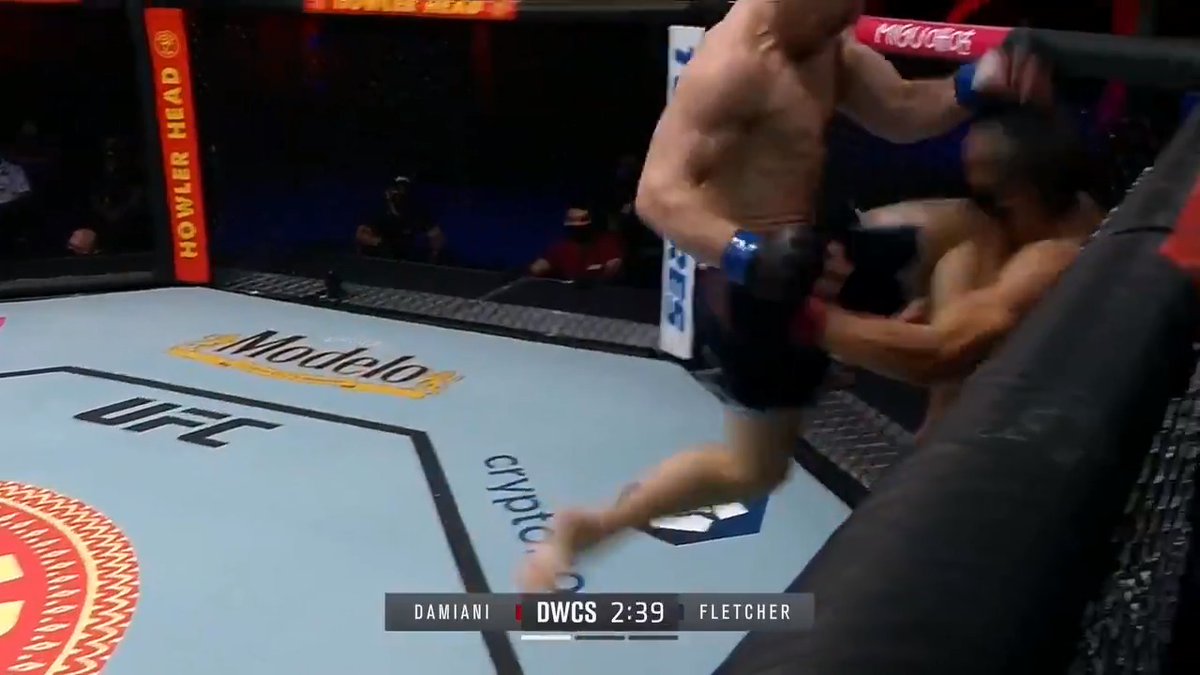 The evening kicked off with an immediate contract, as AJ Fletcher scored a highlight reel knockout for the ages.
From the starting bell, he moved forward with explosiveness, and landed a massive flying knee almost halfway into the bout.
AJ was basically guaranteed a contract from the get-go, and moves his undefeated record to 9-0 with this win. He presents a new threat to the Welterweight division, with eight finishes and a powerful wrestling background.
Victor Altomirano def. Carlos Candelario by Split Decision
Our second match began with a furious pace from the Flyweights. Candelario quickly moved forward with combinations, forcing pocket entries against the lanky Altamarino. He managed to secure significant control time, though Victor attempted to offer up offense from his active guard. The second round saw more of the same, with wild exchanges on the feet before Candelario got the fight back to the mat. Altamarino did regain his footing, and after a back and forth exchange on the feet, Victor had some success. In the third, Altamirano began to pour it on, letting go with his hands and kicks. Though he nearly doubled the significant strikes of Candelario in the third, he was unable to find the finish, and the fight went to the judges' scorecards.
Victor Altomirano now moves 10-1 on a four fight win streak. He has five stoppages, with four by submission.
Note: Carlos Candelario also received a UFC contract for the high paced affair, along with taking the fight on short notice.
Joanderson Brito def. Diego Lopes by Technical Unanimous Decision
This match was an absolute banger; The first round began with a powerful takedown from Brito, who landed heavy ground and pound and rode control for a minute before being caught in a tight armbar from Lopes. Brito survived and took it to the feet, where both fighters landed absolute haymakers on each other's chin. The second round kept that pace, with powerful strikes going both ways, though Brito seemed to have a slight advantage. He once again scored a massive takedown and rode top control for the majority of the round. Lopes kept offering submissions form his back, some of which were almost successful, but Brito kept dominant position and landed incredibly heavy shots. The third round did not last long, as Brito unfortunately landed a damaging eye poke twelve seconds in that ended the fight. The referee took a point from Brito, due to previous warnings, and then the fight prematurely went to the scorecards.
Brito scored the victory, though it certainly was not in the fashion that he imagined. With that said, it was a wild fight and a great performance from the Brazilian against an immensely talented opponent.
He now holds a record of 12-2-1 with no defeats in his past twelve bouts.
Azamat Murzakanov def. Matheus Scheffel by Knockout (3:00 of Round 1)
The fight began pretty slowly, with both fighters pawing with their jabs in the open stance. When they finally began to open up, Murzakanov entered the pocket and unleashed a combo finished with a short right hook that sent Scheffel to the mat. Two follow up shots were landed before Herb Dean stepped in.
This was his seventh career knockout, moving him to a 9-0 record. Azamat was previously signed to the UFC, but was let go following issues with USADA. Now he will bring his aggressive Sambo style to the Octagon, a fun addition to the relatively thin Light Heavyweight roster.
---
We will return next Tuesday with another card, so don't forget to tune in!