After a return to live competition last week at UFC 261, the Octagon will return to the UFC Apex facility in Las Vegas.
We have a fun Fight Night card lined up, with a Light Heavyweight headliner that is sure to produce a brawl in Jiri Prochazka and Dominick Reyes. The co-main event features talented kickboxer Giga Chikadze against veteran Cub Swanson in a striker's delight matchup.
Keep your eyes peeled here, as this card is primed for knockouts.
---
Dominick Reyes vs. Jiri Prochazka (LHW)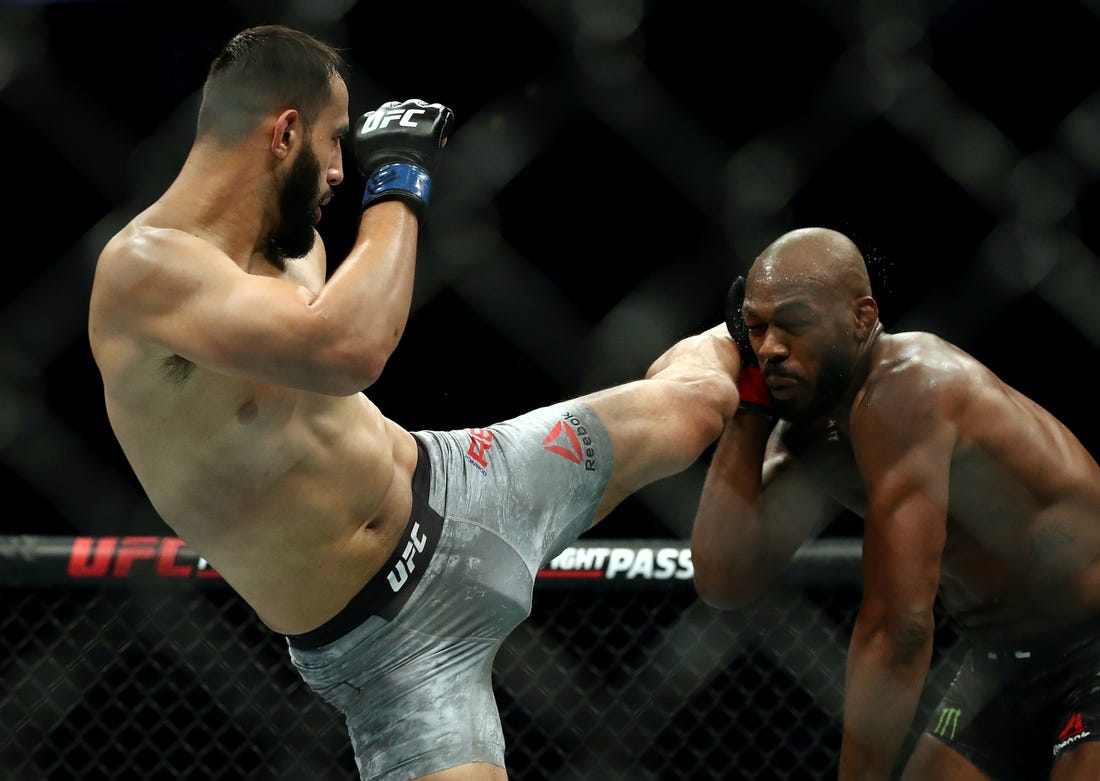 Dominick Reyes (12-2, 6-2 UFC) went undefeated through his first six UFC fights before losing a controversial split decision to Jon Jones and a knockout defeat to current champion Jan Blachowicz. Reyes is a kickboxer with multiple KOs by head kick and solid power in his punches as well. With nine finishes to his name, all inside the first round, he presents a constant danger on both his front and back foot. The key to Reyes' game is the absolute warring spirit and unrelenting volume that practically forces his opponents to fold, relying upon his athleticism and sizable 6'4″ frame. He has some ground skill and two subs on his record, but certainly prefers when the fight is on the feet. Reyes' sound takedown defense has been getting better and better, along with his overall game developing after years in other sports. Dominick's chief skill lies in his athleticism as a striker, able to avoid the takedown and return with his own powerful offense.
Before coming to the UFC, Jiri Prochazka (27-3, 1-0 UFC) cemented himself with a ten fight winning streak with nine of those by KO, and eight of THOSE inside the first round. In his UFC debut, he flattened Volkan Oezdemir with a right hook in the second round to assert himself in the rankings. Before his acquisition by the UFC, Prochazka was widely regarded as one of the best talents outside of the promotion and he has the opportunity to make a jump towards title contention here. "Denisa" has ended a stunning 23 of his 26 victories by knockout and uses his massive 6'4″ frame to stun his opponent with long power strikes. He has an extremely unorthodox style, keeping his hands low and offering no shortage of taunts or feints before firing power shots from his hips. Jiri keeps great distance with his fundamental boxing and jab, but the sole focus of his game is to land power shots. He doesn't throw a crazy volume in his fights, but that is mainly because he only needs one to close the show.
This contest will almost certainly be a striker's delight, as both men come in looking for the knockout. With five rounds of possible action and two powerful strikers, it is highly unlikely that we see the final horn. Jiri has an incredibly unorthodox striking style with low hands and odd striking angles versus Reyes' brute athleticism and snappy kickboxing. Though Reyes does put up his fair share of output with real technique behind it, I see him as woefully outgunned in this bout. Jiri has nearly all the advantages you could think of, with superior boxing, cardio, grappling, and especially power. While Reyes works well at a distance, he will need to get his hands going at a rate we have not yet seen to clip Jiri with his quick head movement. In short, expect an entertaining scrap before "Denisa" floors Reyes for his second UFC win.
My Pick: Jiri Prochazka via Knockout
---
Cub Swanson vs. Giga Chikadze (FTW)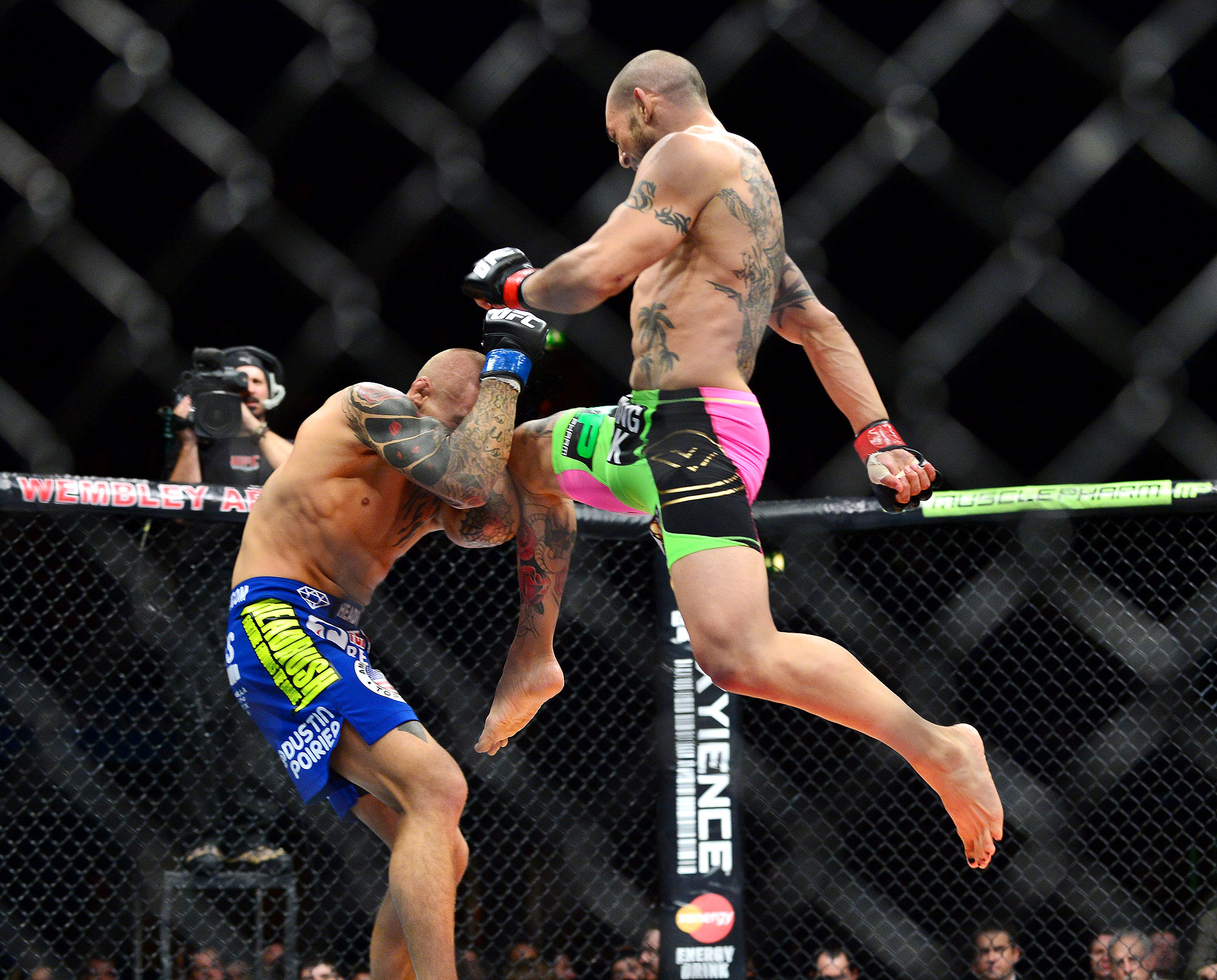 Cub Swanson (27-11, 12-7 UFC) has been a mainstay of the Featherweight division since its inception. He is a true veteran of both the UFC and WEC, with ten "Fight of the Night" encounters in those organizations. His last fight, a second round knockout over Daniel Pineda, showed he still has the finishing ability and killer instinct to stay at the upper echelon of the division. Swanson has a striking heavy style with some real power in it, but is supplemented through his outrageous output and inextinguishable heart. He has a decent ground game, but it is also where he is the most vulnerable, being submitted seven times in his career. Swanson has been a testing point of the UFC for a long time, seeing exactly who is worthy of the step up in competition. The two-fight winning streak he is currently on is the longest consecutive record he has been able to put together since 2017.
An appearance on the Contender Series was not enough to earn Giga Chikadze (12-2, 5-0 UFC) a UFC contract, but he made his way there nonetheless through a short notice opportunity. He has racked up five straight wins, including four in 2020, capped off with a knockout over Jamey Simmons. Chikadze is an elite-level striker who has competed in GLORY Kickboxing, and brings the technique, maturity, and patience of years of elite striking in with him. He is extremely precise and keeps up a high volume, mixing it up to the body and offering a wide variety of shots. "Ninja" has eight stoppages to his name, with seven coming in by knockout. His weakness lies within his grappling, as he can be taken down and controlled by a persistent takedown attack.
Expect this bout to primarily take place on the feet. While he holds a Brazilian jiu-jitsu black belt, Swanson is not much of an offensive wrestler. He has a clear advantage should he wrangle the fight to the mat, but he certainly prefers to sling it out in a brawl. Chikadze is the crisper striker by a fair margin and will benefit from a four-inch advantage in both height and reach. With that said, Swanson presents a higher output and a massive experience advantage. Chikadze will need keep the distance with his kicking game and deny any takedown attempts, but both of those are hard tasks against Killer Cub. This is an extremely close contest, but I expect Swanson to find success on the mat and with his pocket boxing to take home a tense decision victory.
My Pick: Cub Swanson via Decision
---
Ion Cutelaba vs. Dustin Jacoby (LHW)
Ion Cutelaba (15-6, 4-5 UFC) has long been one of my favorite fighters in a fun division, as he is always down for a brawl. Before coming to the UFC, he had only seen one fight go to the second round and he has replicated that success in the world's greatest proving ground, earning three of his four UFC wins by violent first round finish. He has unreal power at Light Heavyweight and great foundational wrestling, especially in scrambles. He has a Greco-Roman and Combat Sambo background and is immensely powerful on the feet and the mat. However, his chief issue has consistently been his gas tank and wearing himself out too early with his surging pressure. If you can withstand a furious first round, you have a good shot to win against Cutelaba.
A dominant decision on the Contender Series brought Dustin Jacoby (14-5, 2-2 UFC) back to the big show, where he made short work of Justin Ledet. From there, he scored a unanimous decision over Maxim Grishin. Jacoby had a UFC stint prior to this run, where he went 0-2. "The Hanyak" has fought in Bellator and Glory Kickboxing, and is an elite striker. He has one-punch power and a solid volume, doing good work with his hands and kicks. His footwork is a key strength, as he moves quicker than most at 205 pounds. He can be controlled on the mat, but my main concern is in relation to his gas tank, as Jacoby fades badly by the third round.
This is a clear candidate for Fight of the Night. While both fighters have clear weaknesses with their gas tank, they are pure finishing threats through the early going and both fight at an insane clip through the early going. Jacoby brings in a technical edge and has more slick striking, with which he will find success in countering Cutelaba. Cutelaba can more than hold his own on the feet, however, as he puts out a higher output than Jacoby. While this fight is extremely close on the feet, Cutelaba holds a massive advantage with his wrestling background, as he can ground the Glory kickboxer if he finds himself in danger. The sheer power and output of Cutelaba combined with his power takedowns should be enough to expose the disappointing durability of Jacoby.
My Pick: Ion Cutelaba via Knockout
---
Sean Strickland vs. Krzysztof Jotko (MW)
A two-year layoff saw Sean Strickland (22-3, 9-3 UFC) return to score a one-sided decision over Jack Marshman, which he followed up with a second round knockout over Brendan Allen. Strickland has a polished and well-rounded skillset, with thirteen finishes to his credit. His striking was most notable in his last bout, as his crisp jab and combination striking worked over the powerful Welshman. He has great wrestling skills as well, amassing an 81% takedown defense rate despite going up against certified killers like Kamaru Usman, Tom Breese, and Santiago Ponzinibbio. What stands out to me about "Tarzan" is his superb defense, cutting angles expertly and rarely leaving his chin able to be found and allowing few opportunities for his opponent to enter the pocket. Fourteen of his wins have come before the final bell, with ten by way of knockout.
Krzysztof Jotko (22-4, 8-4 UFC) went on a downward spiral in 2017-2018, losing three straight bouts. After seeing a sports psychologist, he has rebounded and put together a three-fight winning streak, with all those wins coming by decision. Jotko has looked significantly improved since that losing skid with a revitalized style that has seen him more willing to lean on his wrestling ability, while still having the great movement and speed in striking that keeps him competitive in all areas. Jotko is a workman-like fighter, grinding out his opponent through top position and in the clinch to rack up control time. On the feet, he is technical and precise, though he has had issues with his underwhelming output.
Sean Strickland has been a highly touted prospect since joining the UFC, and the seven years in the Octagon have only improved his potential. The two bouts since his return have shown his high level of technique, and Jotko has a similar level of technique to challenge that. The chief advantage for Strickland appears to be on the feet, where his defense and output can work Jotko over in volume. Jotko will need to score long periods of control time to even the score, which is much easier said than done against Strickland. His takedown defense and footwork can keep him off his back and the cage, respectively, to piece Jotko up on the feet for a clear decision.
My Pick: Sean Strickland via Decision
---
Merab Dvalishvili vs. Cody Stamann (BW)
Merab Dvalishvili's (12-4, 5-2 UFC) Octagon career started off with two controversial losses, but soon gave way to five straight wins, including dominant performances over TUF 27 winner Brad Katona and top prospect Casey Kenney. "The Machine" brings a relentless pace into the Octagon, chaining together precision takedowns and blitzing striking. On the mat, Merab prioritizes the position to rain down ground and pound, effectively seeking to beat his opponent into submission. He averages a freakish 7.71 takedowns per fifteen minutes in the Octagon, and when he does not successfully complete a takedown, he simply shoots for another. His outrageous output is only outdone by his cardio, which he uses to push the pace against his opponent from bell to bell.
Cody Stamann (19-3-1, 5-2-1 UFC) has emerged as a clear prospect in the UFC with a complete skillset. His only UFC shortcomings have been to future title challenger Aljamain Sterling and a defeat in his last outing to Jimmie Rivera. "The Spartan" is a controlling wrestler who has made substantial improvements in his striking repertoire. Stamann keeps a high frequency of takedowns and feinting on the feet to make his opponent insecure, all so that he can secure his takedown and establish top position. His striking is high volume and he mixes up his attack well, scoring six knockouts over his career. Although he is yet to find a UFC finish, his brash striking and violent top control make him entertaining to watch.
This is UFC matchmaking at its finest – two high-octane wrestlers with a high pace and similar skillsets. The main difference on paper is the workmate of Merab, as his onslaught of takedowns is a threat not many are able to avoid. Stamann has his own advantage as well, being in the striking aspect of the fight. His quick hands and clean combinations give him the tools to outpoint Dvalishvili if he is able to avoid this fight turning into a grappling exchange. However, Merab has an insatiable thirst for takedowns, and even a decorated wrestler like Stamann will not give him pause. When on the mat, the persistence and slick transitions of Dvalishvili will overwhelm the American. That combined with his inhuman cardio and pace should earn him the decision nod, though the lines should be closer in my opinion.
My Pick: Merab Dvalishvili via Decision
---
Poliana Botelho vs. Luana Carolina (FLW)
Poliana Botelho came into the UFC with a 33-second knockout over Syuri Kondo, then got submitted 12 seconds shy of round 2 against Cynthia Calvillo. A decision over Lauren Mueller at UFC 236 got her back on track before running into Gillian Robertson, who dominated her on the mat for three rounds. Botelho is a versatile striker with some real clip behind her punches and has amazing footwork. She can mix it up on the mat as well, with some offensive wrestling and exceptional takedown defense. Botelho is best when able to batter her opponent at range with her powerful kicks and quick boxing, though her striking defense is somewhat porous.
With a victory on the Contender Series, Luana Carolina (6-2, 1-1) emerged into the Octagon, landing over a hundred strikes in her debut against human punching bag Priscila Cachoeira. Her sophomore effort was disappointing, as she was submitted by Ariane Lipski in the first round. "Dread" is a striker who relies more on volume than stopping power, but comes to brawl often. She loves to move around the outside using her quick feet to line up precision shots and kicks, where she gets her most devestating shots in. She has a skilled Muay Thai base with a great clinch game. I do have a criticism of her level of competition but her clinic on Cachoeira displayed her ability.
Though the Flyweight division is often considered the weakest in the UFC, this bout should show the highlights of it. Both fighters seek to brawl at kickboxing range with fluid technique. Botelho holds an advantage in strict punching power, while the volume of Carolina will show through in a decision. Carolina has the greater striking acumen, with more precision and a higher defensive rate on the feet. Unless Botelho can consistently wrangle her to the mat, Carolina should output the fellow Brazilian to a decision win.
My Pick: Luana Carolina via Decision
---
The main card for this event gets going at 10 PM EST on ESPN 2, so be sure to tune in.
The prelims go live at 7 PM EST and make sure to check into Joao Mendes Coelho's coverage of those bouts!