For those of you not familiar with ONE Championship, it is one of the premier MMA organizations, based out of Singapore. They feature mixed martial arts events, as well as kickboxing and Muay Thai, making them the perfect one stop shop for combat sports fans.
This week marks the start of their broadcasts on the TNT network, and they have a stacked April lineup with four events and three championships on the line, as well as a plethora of super fights.
This week at the inaugural ONE on TNT card, we have the Flyweight title on the line as pound for pound GOAT Demetrious Johnson looks to earn championship gold against Adriano Moraes. The full card is as follows.
Main Card
Adriano Moraes vs. Demetrious Johnson (135 lb. MMA Title Bout)
Eddie Alvarez vs. Iuri Lapicus (170 lb. MMA Bout)
Rodtang Jitmuangnon vs. Danial Williams (135 lb. Muay Thai Bout)
Lead Card
Tyler McGuire vs. Raimond Magomedaliev (185 lb. MMA Bout)
Rade Opacic vs. Patrick Schmid (265 lb. Kickboxing Bout)
Oumar Kane vs. Mehdi Barghi (265 lb. MMA Bout)
---
Adriano Moraes vs. Demetrious Johnson (FLW)
Adriano Moraes (18-3, 9-3 ONE) won the unified Flyweight title with a five-round decision over Kairat Akhmetov in a rematch of their former split decision. "Mikinho" followed that with a first-round submission over Danny Kingad and though he dropped the title in his next outing in a split decision, he reclaimed it with a decisive decision victory over Geje Eastquio.
Moraes is a well-rounded fighter with a jiu-jitsu background. Holding twelve stoppages, he has submitted nine opponents and has quick reversals as well as dangerous top control. His striking is composed and Moraes fights well behind his jab, using his 5'8″ frame to great success at length. This will be his first appearance since January 2019, suffering multiple scrapped bookings of this bout.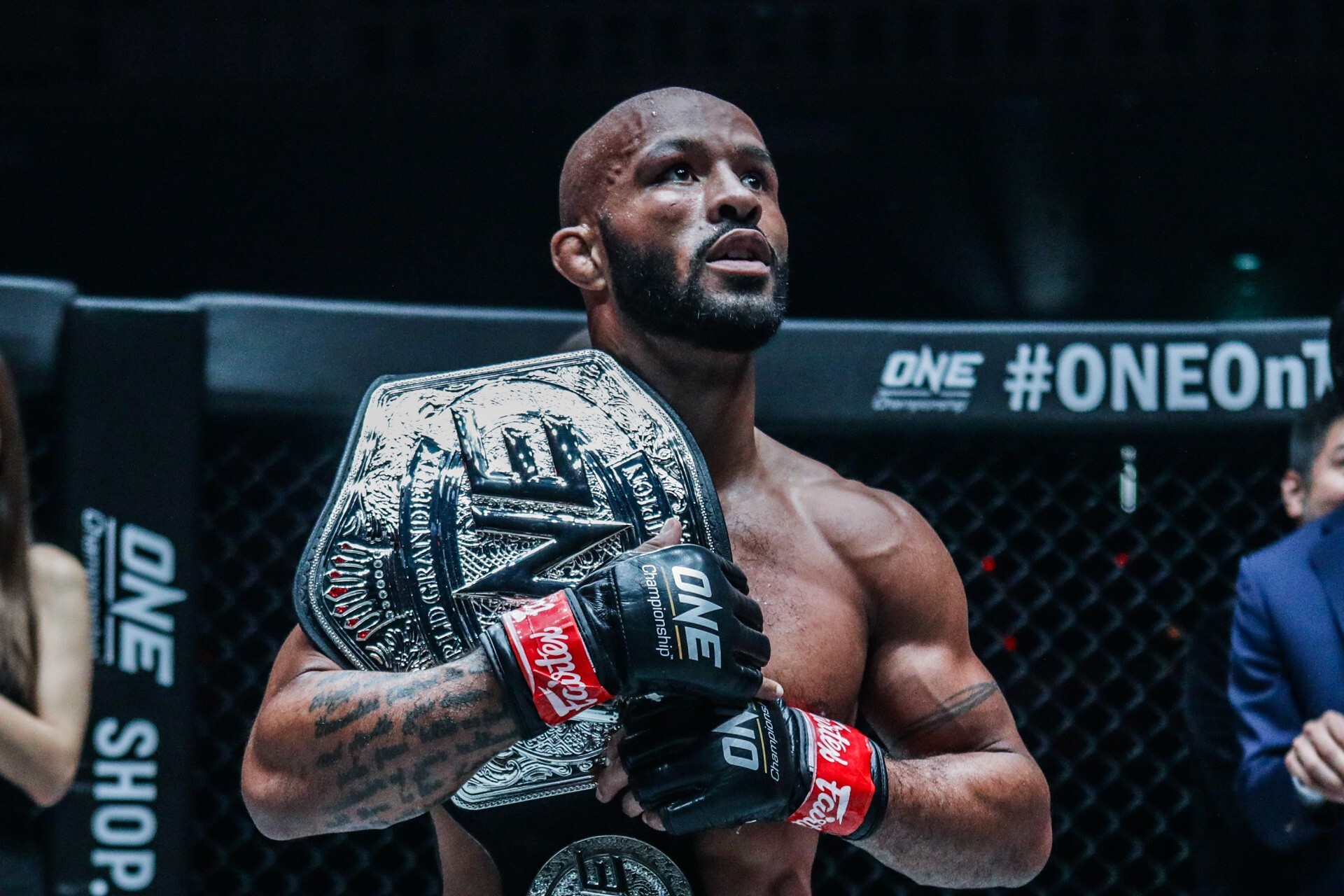 After leaving the UFC for greener pastures, Demetrious Johnson (30-3-1, 3-0 ONE) has found massive success at ONE Championship. "Mighty Mouse" won the Flyweight Grand Prix, securing two decision wins as well as a guillotine submission finish en route to this title shot.
DJ is revered as one of the greatest mixed martial artists of all time and it is not hard to see why. With his lone loss at Flyweight being a split decision against Henry Cejudo, Johnson has been at the top of the game for many, many years now. He has fantastic catch wrestling, diverse and high-paced striking, and a dangerous submission game that has seen him tap twelve opponents.
This has been a highly awaited fight for over a year now, and has been rebooked several times due to COVID-19. We are in sure for a technical masterpiece come Wednesday night, as both competitors bring the action on the feet and the mat. Johnson will likely find success with his wrestling and striking pedigree, with his fast hands and movement being his primary advantage over Moraes. Though DJ may boast the wrestling prowess to take Moraes down, he is a stone cold killer on the mat with a versatile submission offense. On the feet, Moraes is by no means lost either. On top of having slick Muay Thai, he will hold a five-inch height advantage and will look to maximize his range with long strikes. However, I see Johnson being able to close distance with his speed advantage and ground Moraes with top position for a competitive decision victory.
My Pick: Demetrious Johnson via Decision
---
Eddie Alvarez vs. Iuri Lapicus (LW)
Eddie Alvarez (30-7, 1-1 ONE) accompanied DJ from the UFC over to Singapore, part of the iconic trade between the two organizations. Though he got a rough welcome in the form of a Timofey Nastyukhin KO, he got back on the winning track with a first round submission over Philippine standout Eduard Folayang.
Alvarez has been at the pinnacle of almost every major MMA promotion, claiming gold in Bellator and the UFC and has been adored by fans the whole way. "The Underground King" is well-known for his brawling style, with powerful hooks, knees, and kicks. He mixes it up well to the body, but also absorbs his fair share of punishment. He can mix it up with his wrestling and submission skills, but primarily works from top control and can be subdued when put on his back. However, he showed nice reversals in his last bout, using a nice sweep to turn the tide and finish the fight.
Iuri Lapicus (14-1, 2-1 ONE) surged to contention with an undefeated record, only to suffer a first-round knockout to current champion Christian Lee (who will defend his title next week against the aforementioned Nastyukhin) in his last outing. Prior to that, Lapicus scored two rear naked choke submissions to earn himself the title shot opposite Lee, adding to his total of ten submissions.
Lapicus has finished all of his professional bouts, though most of his knockouts come from ground and pound. Lapicus is a relentless grappling threat, constantly chaining together takedowns. He holds a high output from dominant position, combining powerful ground punches and submission attempts to damage his opponent. Even though he is a consummate finisher, Lapicus prioritizes position and will only chase the finish when he is confident.
This fight is fairly binary on paper. Though Lapicus has evolving striking and solid fundamentals, Alvarez holds a clear advantage on the feet and will be looking to replicate Lee's knockout success. On the other hand, Lapicus will be looking to get his wrestling going and contain the wild Alvarez while searching for submissions. The main x-factor within this bout is Alvarez' age and the damage he has taken from a career of many wars. However, he has shown few lapses in recent bouts, despite coming in at 37 years of age. His stout takedown defense will be something to lean on in this bout, as Lapicus will surely be going in for Eddie's hips, but Alvarez holds a takedown defense rate of over ninety percent, giving me confidence he can retain his footing. From there, he can use his punishing striking attack and power to make the night a bad one for Lapicus.
My Pick: Eddie Alvarez via Knockout
---
Rodtang Jitmuangnon vs. Danial Williams (FLW Muay Thai)
Rodtang Jitmuangnon (8-0 ONE) is the current Flyweight Muay Thai title holder and has amassed over 250 Muay Thai wins, competing since youth. His most recent appearance came just over a month ago, winning a decision against Tagir Khalilov.
"The Iron Man" is an elite Muay Thai practitioner, and finds success with his chopping leg kicks and movement. His hand speed is something to behold, rapidly firing punches and cutting angles nicely. Though he is not afraid to engage in the pocket, he is best when fighting behind his jab and using his technique advantage. Rodtang is a powerful kicker and I am especially impressed with the speed and dexterity of his roundhouse kicks.
Danial Williams will be making his ONE debut in this bout. "Mini T" is replacing Jacob Smith in this showing, resulting in this short notice appearance against Muay Thai royalty.
Williams fights out of Australia and has competed in MMA and kickboxing as well, but comes from a family of Muay Thai practitioners. He has composed striking with power and aggression, favoring the knockout blow. He mixes it up well with calf kicks and body shots, but often favors his overhand right.
This is honestly a complete mismatch on paper. While a heavy-handed fighter with many years logged in combat sports, Williams is on the wrong side of the technique differential. Rodtang is a Muay Thai expert and has the ability to succeed in the clinch or at range. Williams prefers to sling it out from the pocket with heavy strikes, but the pure speed and movement of Rodtang will make finding his chin a daunting task. I expect a striking masterclass from the Thai fighter against this short-notice replacement.
My Pick: Rodtang Jitmuangnon via Knockout
---
One fight from the lead card that I would like to highlight is Oumar Kane vs. Mehdi Barghi, the first bout of the night. Kane, better known as "Reug Reug", made waves on the MMA scene in his very first professional bout. The Senegalese wrestler is extremely powerful and explosive, with heavy slams and punishing top control. This is his third pro MMA bout and we will see if the hype behind him is real!
This super fight card will not be one to miss and if you are new to ONE, this is the perfect event to start out at. The main card is being broadcasted Wednesday at 10 PM EST on TNT, so be sure to tune in!