The UFC will host its third event of five inn this stint at Fight Island, headlined by a Bantamweight showdown between number one contender Marlon Moraes and Cory Sandhagen, who has been nothing short of must-watch TV in his UFC career.
---
Marlon Moraes vs. Cory Sandhagen (BW)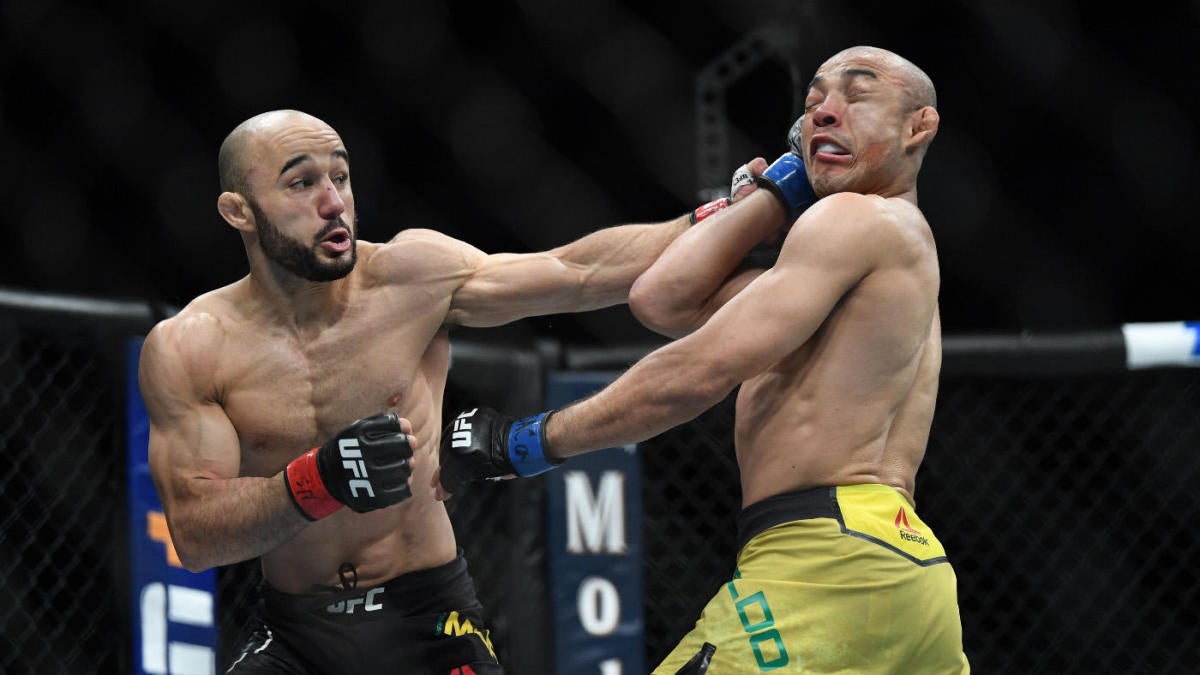 After a split decision loss to Raphael Assuncao in his Octagon debut, Marlon Moraes (22-6, 4-2 UFC) came back with a fire. Two brutal first-round knockouts gave way to an Assuncao rematch, where Moraes put his opponent on his back with a big shot then choked him out, once again inside the first five minutes. Moraes has built his reputation in the UFC as an elite Muay Thai striker and is the hardest hitter at Bantamweight, outside of possibly Cody Garbrandt. On top of that, his experience as the WSOF champ leaves him no stranger to a five-round fight, not to mention his highly touted jiu-jitsu. "Magic" Marlon is an offensive force who can end the fight at any time, from anywhere, but does his best work on the feet.
Few fighters have shown such rapid growth as Cory Sandhagen (12-1, 5-0 UFC). With nearly every fight he seems to have added a new skill to his arsenal, never lacking the elements required to outscramble or outstrike his opponent. He has deceptive power for his lanky frame and is well-rounded enough to secure a submission, but has shown lapses with his own wrestling defense. Sandhagen's striking caliber can be attributed to his movement and precision, constantly switching stance while stalking down his prey before raining hellfire down on them.
Despite all of both fighters' ground skills in this bout, I feel like it will play out primarily on the feet. Moraes has near impenetrable takedown defense while rarely pursuing grappling himself. On the feet, it is an intriguing bout that likely won't last long, as both fighters fight with relentless agression and fight-ending intention. Sandhagen is an interesting puzzle of a striker, but one that I think Moraes will pick apart. His kicks and power hooks are tailor made to blast through Sandhagen's imperfect striking defense and land the more damaging shots. Moraes has the range and striking variety to find Cory's chin, while boasting the leg kicks to stifle his trademark movement. In short, Moraes lands good shots in the first round before rocking the Denver product and finishing him in the second or third.
Take the Shot: Marlon Moraes via Knockout
---
Edson Barboza vs. Makwan Amirkhani (FTW)
If you want to know why Edson Barboza (20-9, 15-9 UFC) is so terrifying, just watch his famous wheel kick knockout over Terry Etim. Or maybe his most recent victory against Dan Hooker, where he brutally damaged Hooker until he collapsed into a turtle ball. Barboza is a brutal kickboxer. And he is really a KICKboxer. Every single leg kick, body kick, or god forbid head kick, cracks off his opponent and you can see the pain in their eyes. He HURTS people. However, Edson's failures have always been known. Though sporting solid takedown defense, he quite frankly fails when trapped on his back. Even when Hooker was entirely gassed and destroyed, he was all over Barboza on the ground. "Junior"'s only escape came because his opponent had nothing left. Barboza's other problem is his gas tank. As soon as after the first round, his movements get more telegraphed and his hands go down.
Makwan Amirkhani (16-4, 6-2 UFC) rebounded from his knockout defeat to Shane Burgos, dispatching Danny Henry with relative ease. "Mr. Finland" is a ground expert with 9 submissions but stunned UFC fans early with an 8-second knockout in his debut, the only knockout on his record. Despite that, he doesn't like to risk it on the feet, keeping distance and shooting for takedowns quickly and repeatedly and doesn't leave much room for striking. The struggle for him time and time again has been his gas tank, which tends to falter if he is forced to strike for too long.
This bout is about as close of a striker vs. grappler matchup as you will get. Amirkhani has the relentless top game and submission ability to make things very difficult for Edson if he can secure the takedown. However, if he cannot ground AND HOLD his Brazilian opponent down, he will be on the wrong end of a striking clinic. I think he will have a lot of difficulty with that, as he is yet to display the type of control to neutralize Edson's getups, instead jumping into risky submissions. I think a contentious first round gives way to domination by the Brazilian, picking Amirkhani apart en route to a late finish.
Take the Shot: Edson Barboza via Knockout
---
Ben Rothwell vs. Marcin Tybura (HW)
Ben Rothwell (38-12, 8-6 UFC) returned to the cage after three years in March only to lose to Blagoy Ivanov, but has since won two straight, including a devastating finish of Stefan Struve. Rothwell has POWER. Like not even regular one-shot power. Rothwell, Ngannou, and Derrick Lewis are on this next level of power, where looking at them makes you know you could hit the ground at any moment. "Big Ben" has 27 knockouts proving that and he has also tightened up his ground game in recent matches, putting 6 wins in by submission and proving he isn't a one-dimensional fighter. Though he does resemble the stereotypical plodding striker, his improved wrestling and volume helped win him his last victory over OSP by decision.
Marcin Tybura (19-6, 6-5 UFC) has become a sort of gatekeeper for the UFC's top 15 in the Heavyweight division. He's a well-rounded fighter with a good amount of knockout power and more than substantial wrestling to back him up. His main avenue to victory comes through his ground game and clinch work, controlling his opponent while looking to advance position. On top of that, he has 6 wins by submission and is never far from finishing a fight. Though not the most entertaining in terms of output, his varied striking attack and expert ground game have shown he can finish or outpoint his opponent.
Most Heavyweight fights tend to be blistering finishes or fifteen-minute snoozefests with little output. This unfortunately looks to be the second. Though Big Ben sports quite a bit of fight changing power, he does not have the quick combinations to take advantage of Tybura's rudimentary boxing. Unable to find the Pole's chin, Rothwell will find himself on his back, whether it be in the clinch or on the mat. "Tybur" grinds out another decision win through control and ground and pound.
Take the Shot: Marcin Tybura via Decision
---
Markus Perez vs. Dricus du Plessis (MW)
Markus Perez (12-3, 2-3 UFC) parlayed his first round submission over top ranked Middleweight Ian Heinisch into a UFC contract, but has since traded wins and losses. "Maluko" has finished nine of his pro wins, six by submission. Perez comes in with a kung-fu and jiu jitsu background, using powerful kicks and basic boxing in his standup, though lacking in his pocket defense. On the mat, Perez has a fantastic top game and back control, but lacks the wrestling pedigree to consistently find himself on top.
After Rodolfo Vieira withdrew, Dricus du Plessis (14-2) will be stepping in for his UFC debut. Du Plessis comes in as the EFC Middleweight champion in South Africa, as well as formerly holding the KSW strap. Du Plessis comes in with a kickboxing background, mixing up his combos extremely well. "Stillknocks" has finished each of his pro wins, with the majority (9) coming through submission. His grappling is solid and he notably has great submission defense, but is often happy to keep the fight on the feet.
I am really intrigued by this fight, as it could play out in a multitude of ways. Both fighters have well-rounded skillsets, but I favor the striking of du Plessis here. His hands are much crisper and although Perez's kicking game is certainly threatening and adept, his boxing and particularly defense inside the pocket can be exploited here, especially by someone like du Plessis who can also succeed at kicking range. I see Perez as the more likely one to take the fight to the ground, though his wrestling is too rudimentary to get past his opponent's vicious guillotine and takedown defense against the cage. If nothing else, Perez has proved incredibly durable, so I see du Plessis taking home his first decision win.
Take the Shot: Dricus du Plessis via Decision
---
Tom Aspinall vs. Alan Baudot (HW)
Tom Aspinall (8-2, 1-0 UFC) came though with his UFC debut in spades, knocking out Jake Collier less than a minute into their bout. The Brit has finished all of his wins with six by way of knockout. He has professional boxing experience and a BJJ black belt to bolster his resume as well, in addition to all his wins coming in the first round. Aspinall has impressed me with his composure inside the cage, as well as quick movement for his hulking 6'5″ frame. Even on the mat, the Brit often holds the edge in technique with dangerous submissions off his back.
Alan Baudot (8-1) will be making his UFC debut in a short notice opportunity after Sergey Spivak was forced out of his bout. Baudot has spent most of his career on the Japanese regional scene, with all but one of his wins coming by knockout. "The Black Samurai" has spent his career at 205 pounds and will take the step up here, but his sizable 6'4″ frame does not put him at any natural disadvantages. He primarily utilizes his boxing with clean leg kicks, but sets up crisp jabs to his heavy overhands. Baudot will likely try and strike with Aspinall, something that will likely go against him, as Aspinall's developed boxing can do all of Baudot's own skills better.
Take the Shot: Tom Aspinall via Knockout
---
Youssef Zalal vs. Ilia Topuria (FTW)
Though just on the UFC roster for a little over eight months, Youssef Zalal (10-2, 3-0 UFC) has churned through all his opposition in convincing decisions. "The Moroccan Devil" holds seven finishes on his resume, including five submissions. He mounts a high-volume grappling attack and is very quick in transitions and scrambles. His striking is well-developed and improving, as he uses quick movement around the outside combined with his ripping low kicks and popping jab. Even just looking at Zalal's UFC tenure, he has displayed all the notions of a top prospect, with threatening submissions as well as powerful striking and a competent awareness of gas tank and pacing.
Ilia Topuria (8-0) will be making his UFC debut in this short-notice slot. The Georgian has competed on the European regional circuit, securing wins in the venerable Cage Warriors and Brave CF promotions. Topuria is a grappler by trade, with a jiu-jitsu and Greco-Roman wrestling background. He has high amplitude takedowns and quick back takes, finishing all but one win by submission. His striking still has a ways to go, however, as he often fails to string together combos and present a threat when unable to secure the fight on the mat. The latter is too high a concern for me against someone much more proven and well-rounded like Zalal, who can piece his way around the outside for a late finish or another dominant decision win.
Take the Shot: Youssef Zalal via Decision
---
Stay tuned to our home page to check out the prelims predictions, highlighted with a bout between Tom Breese and Octagon newcomer KB Bhullar!