The Octagon will return to the UFC Apex for the second time, this time housing the 250th PPV card, with the Women's Featherweight title on the line between the GOAT Amanda Nunes and the Canadian grappler, Felicia Spencer.
Adorning our predictions for tonight are two contender bouts in the Bantamweight division as well as two hot prospects you MUST keep your eye on.
---
Amanda Nunes vs. Felicia Spencer (FTW)
Amanda Nunes (19-4, 12-1 UFC) has been one of my favorite fighters for a long time and it's truly incredible to see her finally get the recognition she deserves. Not to mention that she's the best (and only true) double champ, as she is the first one to defend her original belt, and now, her second. "The Lioness" is as violent of a striker as they come, as shown by her brutal knockouts of Ronda Rousey, Raquel Pennington, and Cris Cyborg. Although Nunes began her MMA career training in karate and boxing at only 4 years old, she has an underrated submission game that is well-respected in the jiu-jitsu world. Nunes is incredible on the feet and has shown almost no holes in her game, fighting well off her front and back foot, as well as impeccable striking defense and movement.
Now with three impressive showings behind her, Felicia Spencer (8-1, 2-1 UFC) is getting a crack at the gold after defeating the rest of the skimpy Featherweight division. "Fee-Nom" is a wrestler-grappler, holding four of her victories by submission. Spencer is somewhat lacking in output on the feet, but fires accurate shots with a good clip on them. Still, Spencer's goal will be to drag the fight to the mat at all costs.
It's hard to disagree with the massive odds against Spencer. She displayed an impressive chin and toughness against Cris Cyborg, but was still nearly tripled when it came to significant strikes. Her finishes over Megan Anderson and Zarah Fairn don't do much to boost my confidence, as their respective grappling accolades don't come close to Spencer's, or even Nunes', for that matter. Whether Nunes blitzes Spencer from the get-go or picks her apart while denying her shots, I see this ending the same way.
Take the Shot: Amanda Nunes via Round 3 Knockout
---
Raphael Assuncao vs. Cody Garbrandt (BW)
Raphael Assuncao (27-7, 11-4 UFC) came over from the WEC when the promotions merged and has been hunting for gold ever since, only giving up wins at Bantamweight to former champ TJ Dillashaw, Marlon Moraes, and Cory Sandhagen. Assuncao has a killer ground game with an impressive array of finishes, however he does not have the wrestling in his back pocket to get it there. Instead, he relies on point-striking with his excellent defense, avoiding 70% of the strikes that come his way.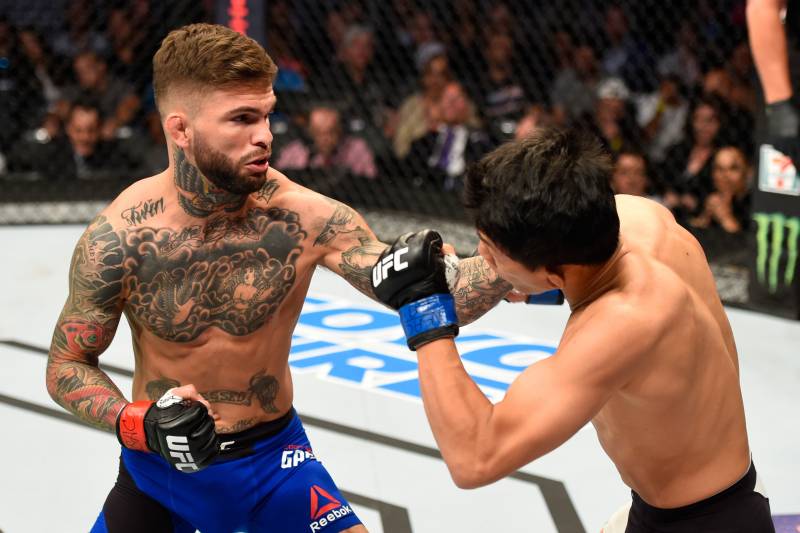 Cody Garbrandt (11-3, 6-3 UFC) is now on a three-fight losing skid. After losing his belt to TJ Dillashaw after an excellent performance against Dominick Cruz, Garbrandt got rocked again by Dillashaw and again by Munhoz. Now he's back though and looking to bring back the fire that pushed him to the top of the Bantamweight division. Garbrandt isn't really well-rounded and essentially simple. He moves at hummingbird speed but with a gorilla punch behind it. He knows that quite well and is skilled at keeping his opponent right where he wants them.
Many have lost faith in Cody after the last two years and it's hard to keep it when you hear him talking about how he sees red in the cage. His fight IQ desperately required restoration and after a year away from the cage, he claims to have found it. With Cody's 100% takedown defense rate and speed, he should have no issue picking apart Assuncao en route to finish, so long as he holds that composure.
Take the Shot: Cody Garbrandt via Round 2 Knockout
---
Cory Sandhagen vs. Aljamain Sterling (BW)
Few fighters have shown such rapid growth as Cory Sandhagen (12-1, 5-0 UFC). Every fight he seems to have mastered a new discipline, never lacking the elements required to outscramble or outstrike his opponent. He has deceptive power for his lanky frame and is well-rounded enough to secure a submission, but has shown lapses with his own wrestling defense. Sandhagen's striking caliber can be attributed to his movement and precision, stalking down his prey before raining hellfire down on them.
One of the hottest talents currently at Bantamweight is Aljamain Sterling (18-3, 10-3 UFC), who last outworked Pedro Munhoz in a barn burner to win a decision. "Funkmaster" is an unorthodox striker with a brutal specialty in his kicks.  His striking defense is well put together, highlighted by his movement around the outside and utilization of his range. Sterling's greatest area of strength comes from his ground game. He has expert scrambling and grappling, although not the most consistent on takedown attempts.
I believe that the key to this match lies in Aljo's willingness and success in grappling. Sandhagen has been taken down at least once by every single Octagon opponent he has had, but he fought off a BJJ master in Assuncao his last time out. I think that Sandhagen's length and consistent pressure will weaken Aljo's onslaught of kicks, as well as keep him out of any submission trouble by providing a size that Bantamweights simply are not used to fighting.
This is a close one. Keep that in mind.
Take the Shot: Cory Sandhagen via Unanimous Decision
---
Sean O'Malley vs. Eddie Wineland (BW)
The Suga Show is back after only two PPVs!
Sean O'Malley (11-0, 3-0 UFC) quickly became a hot prospect after a round one KO on the Contender Series, followed up by two incredibly entertaining decision victories, fighting with a broken leg in his match against Andre Soukhamthath, only to be put on the back burner with a USADA suspension. He came back better than ever, finishing Jose Quinonez in the first round at UFC 248. O'Malley is a rangy striker with surprising power for his skinny frame, only boosted by his spinning attacks and high amplitude shots. He has some nice submission skills off his back, but the ground game is definitely his weakest spot and prefers to pick apart his opponent with accuracy.
A true UFC veteran is Eddie Wineland (24-13, 6-7 UFC), who has been around since the WEC was bought by the UFC and was fighting in the WEC since 2006. Still only 34 years, Wineland is looking to right his two-fight losing streak and show people why he has been a mainstay of the Bantamweights for such a long time. Eddie is such a beloved fighter and became a champion because of his fast and powerful striking, giving him 14 wins by knockout. Although holding more than a few losses, Wineland has only been knocked out thrice and tends to only be beaten by fighters who use wrestling or a volume-based style to win a decision.
At first glance, this comes off as an immediate "passing of the torch" kind of fight and the odds reflect that, but that doesn't mean this isn't going to be a firefight. Both Wineland and O'Malley have the power to close the show in an instant and both like to fight with that goal in mind. O'Malley range and arsenal of kicks should be more than enough to keep the significantly smaller Wineland away from his brutal step-in hooks and power shots, all to set up Suga's power.
Take the Shot: Sean O'Malley via Unanimous Decision
---
Alonzo Menifield vs. Devin Clark (LHW)
Alonzo Menifield (9-0, 2-0 UFC) plowed into the UFC with an eight-second KO on the Contender Series, only to rattle off two more first round KOs against Vinicius Moreira and Paul Craig. Menifield throws dangerous power, and even a small hook can end the night quickly for his opponents. He does still show the signs of a growing power puncher though, and his gas tank is his greatest weakness, should the fight be extended that long.
Human UFC litmus test Devin Clark (11-4, 5-4 UFC) has traded wins and losses in his time in the promotion. His control-based wrestling front takes center stage in his victories, as he is yet to earn a finish in the UFC. His striking is primarily a setup for the takedowns, as Clark seeks to dominate the fight from bell to bell and grind his opponent down. Clark's primary issue is his lack of immediate danger compared to others in the Light Heavyweight division, lacking the explosive power or finishing chops to quickly turn the tide when losing.
I like Devin Clark as a test for Menifield, but I'm ready to see Menifield against a striker. Both Moreira and Craig were elite grapplers, and while Clark poses a threatening game plan to Alonzo's gas tank with his control, he doesn't have the striking acumen to command the respect of Menifield on the feet. That, along with Menifield's terrific takedown defense, should end the fight early.
Take the Shot: Alonzo Menifield via Round 1 Knockout
---
I recommend a parlay between Nunes, O'Malley, and Menifield to maximize those sure-fire plays and two straight bets on Sandhagen and Garbrandt to keep things interesting.
Until next time, Freaks.