We have a fun card this week, if a little low-profile, coming out of New Zealand. The AU region has become a hotspot for MMA, especially with the likes of Israel Adesanya and Alexander Volkanovski winning belts.
Their teammate at City Kickboxing, Dan Hooker, will be taking on the Irish Dragon, Paul Felder, in a Lightweight contender bout sure to be fireworks.
---
Paul Felder vs. Dan Hooker (LW)
Paul Felder (17-4, 9-4 UFC) is a lot more than a color commentator. He is a powerful striker with some of the deadliest clinch work in the UFC, with three straight knockouts by elbows in the clinch. At distance, he's no world-beater, but uses good boxing and range control. Inside the close distance is really where he does his best work. "The Irish Dragon" has some okay wrestling to get behind, but that really isn't his main forte and seeks to keep the fight standing.
Dan Hooker (19-8, 9-4 UFC) returned from a brutal beating to Edson Barboza to outwork Raging Al Iaquinta to a decision I thought Al wouldn't last to. "The Hangman" was on a four-fight tear before Barboza, finishing each win over equally dangerous competitors like Gilbert Burns and Jim Miller. The lanky Kiwi loves his knees against wrestlers and packs some good power, along with bringing an arsenal of defensive submissions to play with. Despite looking lanky (which he is), Hooker has incredible power and precision to absolutely dust people.
This is going to be such a fun match. Felder will be looking to close the distance and find his power shots from the clinch, while Hooker will try to keep the range up and utilize his leg kicks and body shots to set up the finishing blow. Hooker is a new test for Felder, a fighter who switches stances and utilizes great footwork, relying on accuracy more than flinging their most dangerous attacks in rapid succession, like Perry and Barboza. I find the range and power of the Kiwi to be the difference maker so long as his gas tank holds up, since neither fighter will likely take it to the mat.
Take the Shot: Dan Hooker via Round 3 Knockout
---
Jimmy Crute vs. Michal Oleksiejczuk (LHW)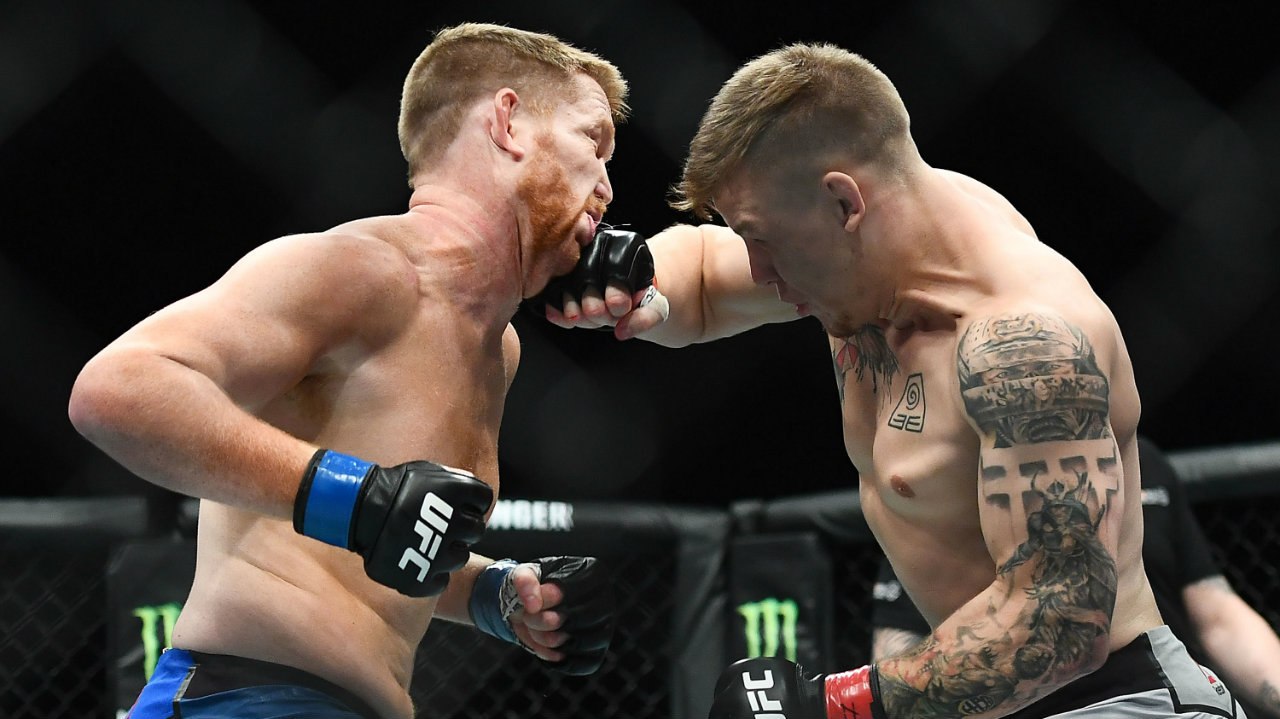 Jimmy Crute (10-1, 2-1 UFC) came in hot off the Contender Series and racked up two finishes before succumbing to a submission of the year contender to Misha Cirkunov. The 23-year-old Crute is primarily a kickboxer who utilizes his incredibly quick kicks and punches to fire off shots, relying more on accuracy than all out strength. "The Brute" has some nice grappling and sneaky scrambling skills, but would rather stand and bang. The key hole in his game is in his pacing. Crute does well when he is dictating the pace and not lulled into a brawl, where he can be tagged or taken to the mat.
Michal "Lord" Oleksiejczuk (14-3, 2-1 UFC) returned to competition after his USADA suspension with a fire, dispatching Gian Villante and Gadzhimurad Antigulov early in the first. He was then bullied by the size and superior grappling of OSP. Lord (yeah, I ain't typing out all that again) is a punishing striker who feints and moves with intense speed and pressure, almost exclusively relying on his boxing. His weak point is assuredly the ground game, where he earned two of his three losses and struggling against Saint-Preux.
The underdog in Crute has a shot if he can get it to the mat, but the Pole's takedown defense and pressure seem specifically made to undo the ranged kicking of Crute. Another thing that I see Crute struggling with is his lack of combos, instead firing accurate shots one by one. That doesn't help against Lord, who surges forward in a flurry until his opponent drops or he is somehow pulled to the mat by superior size. Against Crute, I will take the former option for a speedy finish.
Take the Shot: Michal Oleksiejczuk via Round 1 Knockout
---
Magomed Mustafaev vs. Brad Riddell (LW)
After two and a half year away from the sport, Magomed Mustafaev (14-2, 3-1 UFC) returned to the cage last April with an emphatic knockout over Rafael Fiziev. Mustafaev fights with the spin heavy, kicking style of other Dagestani non-wrestlers like Zabit and Said, but what makes the difference for him is his power and accuracy. Mustafaev is a polished striker with every victory coming by finish, ten of those by way of knockout. Mustafaev has evident holes in his ground game, but is a true force in the stand up not to be trifled with.
Brad Riddell (7-1, 1-0 UFC) comes out of City Kickboxing just like Hooker and has similar success in his standup. He put on a Fight of the Night winning performance against Jamie Mullarkey at UFC 243 that showed his prowess in striking and brawling, but was evidently clipped with a few too many shots. Riddell has some sub-par wrestling, but makes his money in the striking.
Although Riddell put on a strike clinic against Mullarkey and more than doubled the significant strikes landed, he was too easily hit. That spells bad news up against the knockout power of Mustafaev. The redeeming factor for Riddell is his wrestling, but I find it unlikely that he will seek that avenue, much less have the expertise to control the former Welterweight.
Take the Shot: Magomed Mustafaev via Round 2 Knockout
---
There you have it.
The picks for this week are all slight favorites at time of writing, so my suggestion would be any variation of parlay to maximize output on the close lines.
Or single bets for some less risk.
Until next time, Freaks.