Copenhagen hurt.
I mean it was a 50/50 night in terms of predictions, but it hurt me inside.
One of my favorite prospects and LHW bruiser Michal Oleksiejczuk ended up being choked out by the infamous OSP choke, while headliner Jack Hermansson was knocked out by ferocious G&P from the Killa Gorilla.
The latter actually shakes things up nicely in the Middleweight division. Jack Hermansson still has a brutal arsenal and great skills, but Cannonier showed up in a major way. He showed he has more than just brute power, going after the lead leg of Hermansson along with demonstrating great fight IQ and avoiding the threat of the mat against the superior grappler. He is quickly becoming one of the top prospects at Middleweight.
This week, we have a long-awaited match to unify the Middleweight title between streaking sensation and interim belt holder Israel Adesanya and one of my personal favorite fighters, the Reaper himself, Robert Whittaker.
---
Robert Whittaker vs. Israel Adesanya (MW)
It's been a rough path for Robert Whittaker (20-4, 11-2 UFC). Despite being undefeated at Middleweight, constant injuries have had him sidelined and severely damaged his credentials in there. The Reaper has incredible kickboxing with amazing combinations and seperation strikes, along with nice volume. He does well from almost every area and can pressure or counter-strike with the best of them.
Israel Adesanya has been nothing but impressive inside the Octagon. His record has 13 KOs on it brought on by his wild and impressive striking. His massive 185 frame gives his 6'4 height a 4-inch advantage over Whittaker along with an 7-inch reach advantage. Adesanya uses amazing kickboxing to dominate his opponents from range and up close, delivering elbows and knees, along with punches down the middle. The Last Stylebender has been absolutely incredible to watch and his cardio has held up, winning a five-rounder against Brad Tavares and Kelvin Gastelum. Adesanya has incredible takedown defense and uses it to keep the fight exactly where he wants it and his striking can give him one punch (or knee/kick/elbow) knockouts with his precision or he can decimate his opponent with a thousand strikes.
For all Adesanya's success, I think a lot of holes were severely exploited in his Gastelum fight. He really struggled to put off a high enough volume when he was pressured and has a worrying tendency of fading to his left when he is put against the cage. Why is that worrying? Watch Whittaker fight and you will inevitably see that right high kick that Adesanya is setting himself up for here.
Take the Shot: Robert Whittaker via Round 3 Knockout
---
Al Iaquinta vs. Dan Hooker (LW)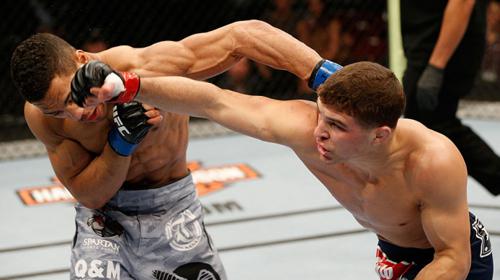 Raging Al (14-5, 9-4 UFC) skyrocketed into relevance after his quick replacement championship bout with Khabib. Iaquinta remains the only fighter to have gone a full five with Khabib, and I credit that to his heart. The man is straight PSYCHO. In the best possible way. He is a striker and a boxer, more specifically. If you want to know what Iaquinta's crazy is, just watch the last minute of his December 2018 fight with Kevin Lee. The dude just hands down marches towards Lee while just yelling. Not words, just straight screaming. It's amazing. Iaquinta has one punch power and solid technique. He obviously has the cardio to last five rounds so he is a serious threat whenever the fight is standing.
Dan Hooker (18-8, 8-4 UFC) is coming off a brutal beating to Edson Barboza, where he fell to his knees after simply not being able to take anymore. "The Hangman" was on a four-fight tear before that, finishing each win over equally dangerous competitors like Gilbert Burns and Jim Miller. The lanky Kiwi loves his knees against wrestlers and packs some good power, along with bringing an arsenal of defensive submissions to play with. Despite looking lanky (which he is), Hooker has incredible power and precision to absolutely dust people.
This match should be a striker's delight. Iaquinta has some good wrestling, but even if he looks for it the defense of Hooker should be more than enough. Iaquinta's best chance in here is to point-fight. He has the much better volume and well-rounded style, but Hooker is too dangerous in striking and if Iaquinta tries to take this to the mat, the tight guillotine of the Hangman will be too much to handle.
Take the Shot: Dan Hooker via Round 3 Submission
---
Tai Tuivasa vs. Sergey Spivak (HW)
After losing his undefeated record to Junior Dos Santos, Tai Tuivasa (8-2, 3-2 UFC) is looking to step back into contention. Tuivasa gained massive hype, especially in his native land of Australia for his wild knockouts and equally wild personality. "Bam Bam", as the moniker suggests, has some serious power in his hands but also has some flash in him, which undoubtedly granted him those two first round KOs. Tuivasa isn't just a massive power puncher who lumbers around the cage like so many are at 265 pounds, but has surprising agility for his physique and clips at a high volume with the gas tank to match it.
Making his UFC debut is Sergey Spivak (9-1, 0-1 UFC). Spivak has never seen a decision or the third round for that matter. Spivak has 4 knockouts and 5 submissions but has not fought high-level competition. Watching his fights, you can see the inexperience and the lack of technical discipline. His takedowns and striking are both fairly bruteish and rely almost entirely on his strength. Sergey simply doesn't have the skill to exploit Tai's defense and nowhere near the striking caliber to fight back against Tai's power.
Take the Shot: Tai Tuivasa via Round 1 Knockout
---
Luke Jumeau vs. Dhiego Lima (WW)
I am a little confused why this is on the main card with killers like Jake Matthews and stars from down under like Megan Anderson and Nadia Kassem who could make a name off this spot, but nevertheless.
Making his first appearance since February 2018 is Luke Jumeau (13-4, 2-1 UFC). "The Jedi" is primarily a volume striker without a single UFC fight not going the distance. He does have 5 KOs and another four submissions, but we haven't seen more than an ounce of Luke's ground game yet, aside from him having great defense and landing a singular takedown.
Dhiego Lima (14-7, 3-5 UFC) has been pretty much the UFC test caliber fighter. He's another decision fighter who is pretty susceptible to heavy hitters, but makes up for it with his wrestling. He has a dominant and grounding style to control the match, but not many venues to finish.
To me, this sounds like a grimy fight that will ultimately be a low-output point battle, or an all-out war for the ages. I'm leaning towards the former. Lima makes the difference in his fight with the grappling and the defense of Jumeau has been nothing short of stellar. But to complicate things, Lima has put up the slightly higher volume in recent events and slightly gotten an advantage through that. I'm going with Luke for his slightly more technical boxing, but this match is hard to predict for all the wrong reasons.
Take the Shot: Luke Jumeau via Unanimous Decision
---
Holly Holm vs. Raquel Pennington 2 (BW)
Holly Holm (12-5, 5-5 UFC) shot to stardom after that knockout over the once queen of the UFC, with one of the most stunning head kicks ever seen in the Octagon. If Nunes is the most violent striker, Holm is the most technical. She has a long and credentialed career in both boxing and kickboxing and that has given her 8 of her victories in MMA by knockout, almost all with brutal kicks. She trains at the notorious Jackson-Wink MMA camp with none other than our headliner Jon Jones, and that has clearly worked wonders for her career.
Since defeating Miesha Tate, Raquel Pennington (10-7, 8-4 UFC) has been on a two-fight skid, dropping her title shot against Nunes and a subsequent matchup against Germaine de Randamie. "Rocky" is a jack of all trades, master of none with good boxing and a built wrestling game but without the power to finish fights or submit her opponent. However, she uses incredible control and pacing, as well as great striking defense to tangle on the feet.
The recipe for beating Pennington is out there. If you can stuff her takedowns and have good enough striking, you're pretty much in the clear. Holm's constant movement and style make her a tough draw and she should easily be able to work Rocky over on the feet with volume, as well as having better power. While I give the wrestling advantage to Pennington, Holm has AMAZING takedown defense, as well as the submission chops to get a finish if she finds the opportunity. Either way, we will almost certainly have a brawl between these two contenders in what will be a fun and fast-paced match.
Take the Shot: Holly Holm via Unanimous Decision
---
Money bags coming right at you!
Check out both of our prelims card picks right here!