What happened in Abu Dhabi?
We had an impressive 10 for 12 record on this night, aside from the tie between Zubaira and Lerone Murphy. And what a night it was!
Khabib looked entirely dominant once again, despite Poirier finding a touch more success on the mat than some of Khabib's more striking heavy former opponents. In another light, Paul Felder came in with the upset in a great standup battle.
This week we have an amazing card out of Canada, all topped off by a Lightweight battle between two of everyone's favorite sluggers, Justin Gaethje and Cowboy Cerrone.
Before that, we have tons of new prospects, including two fighters fresh off this season of the Contender Series along with some FFF favorites like Jimmy Crute and Louis Smolka!
---
Todd Duffee vs. Jeff Hughes (HW)
After more than four years away from the cage, Todd Duffee (9-3, 3-2 UFC) will be making his way back into the Octagon. Duffee is the definition of a fighter who lives and dies by the sword, with every win AND every loss by knockout, normally inside the first round. The gas tank is the biggest problem for Duffee, but he has a simple solution: don't let the fight take that long.
Jeff Hughes (10-2, 0-1 UFC) had a first round knockout on the Contender Series that brought him to the Octagon, but he fell short in split decision to Maurice Green for his debut. Hughes has solid striking that he mixes up well with kicks. However, he doesn't have the most power and has half of his wins in decision. To bolster that chance, his wrestling has significantly improved, but also not much finishing skill there.
This is a dicey match. Lucky for Duffee, time off isn't the biggest problem when your main attribute is raw power. Still, that's not all that Duffee's game is as he has incredible takedown defense. That makes the question of this match revolve around can Duffee land his power shots or can Hughes use better cardio to make his way to a decision.
Take the Shot: Todd Duffee via Round 1 Knockout
---
Louis Smolka vs. Ryan MacDonald (BW)
Louis Smolka (15-6, 6-6 UFC) came into the Octagon with a string of losses that got him released. After growing a lot after his time off from the UFC he came back with a massive victory. He has cleaned up his gas tank concerns and his ground game will be his main advantage. I think he is very underrated and has a lot of potential going forward. He did falter to an triangle from Matt Schnell, but he remains an incredible finisher and entertaining prospect.
The UFC debut for Ryan MacDonald (10-1, 0-1 UFC) went south fast against Chris Gutierrez, where he was picked apart by the striking of Gutierrez. Ultimately, he seems well rounded and has a solid endurance and ability to keep the fight where he wants it. The issue with me for MacDonald is that he tends to not hold any defense. While I'm hoping he has worked to remedy this, that will be an issue against someone with as good striking as Gutierrez.
For me, almost every advantage in this match goes to Smolka. He has the better power, combinations, submissions, gas tank. Most importantly, the defense. MacDonald can't block a punch to save his life. Thank god he's not fighting Ngannou.
Take the Shot: Louis Smolka via Round 2 Knockout
---
Cole Smith vs. Miles Johns (BW)
As a massive underdog against Mitch Gagnon, Cole Smith (7-0, 1-0 UFC) came through, using his own wrestling to control the fight and even lay some serious work in on the feet. In that match, he had an incredible 72% striking defense, a figure sure to help him in the future.
Miles Johns (8-0) is a fucking savage, in the words of bossman Dana White himself. Fun-size Yoel has incredible wrestling, but his power and boxing really surprised me in his Contender Series match, where he dropped his opponent on numerous occasions. Wrestling is really the name of the game for Johns though, as he fought off every takedown from his jiu-jitsu credentialed opponent and then put in his own work.
This is kind of a set up match for Johns. He is pretty much going up against the same opponent that he was able to best in the CS. Johns simply has better wrestling and the more dominant power to threaten a finish.
Take the Shot: Miles Johns via Unanimous Decision
---
Kyle Prepolec vs. Austin Hubbard (LW)
Kyle Prepolec (12-6, 0-1 UFC) made his first UFC walk against Nordine Taleb on the last card headlined by Cowboy. The Canadian striker showed out well despite being matched against a man regarded by many as a massive Welterweight. Now that he is returning to his natural weight class we will get to see how he matches up there. Prepolec has 7 knockouts and good combinations, but a somewhat one-sided game although carrying a few submissions off his back.
Fellow striker and replacement fighter Austin Hubbard (10-3, 0-1 UFC) took the short straw against Davi Ramos, but survived until the final bell with the world-class jiu-jitsu fighter. The issue for me was that even though he was in a striker vs. grappler match, he got pieced up on the feet as well. Hubbard mainly has decisions in his background and uses volume and quick movement to get there.
This should actually be a really entertaining fight as we have two strikers who love to stand and bang and are both desparate for their first Octagon victory. Just glancing at prior opponents and single UFC match, I have to lean with Prepolec's venture into the 170-pounder territory. On top of that, he has the better wrestling and much more developed power and technical striking.
Take the Shot: Kyle Prepolec via Unanimous Decision
---
Michel Pereira vs. Sergey Khandozkho (WW)
Now this is a real high octane Welterweight scrap between two really fun fighters.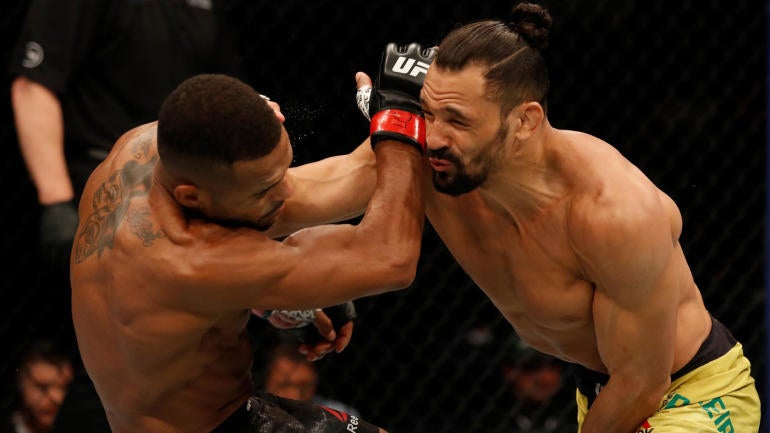 Michel Pereira (22-9, 1-0 UFC) made headlines even on the regional scene with his wild striking style, complete with spin kicks and superman punches and everything else you could ever imagine. The hype behind him only got larger when he knocked out Danny Roberts in his debut in just over a minute. The gameplan to beating Demolidor is simple. All you have to do is wait for him to gas, which he will do, sometimes even in the first round.
A wild and fun fight with Rostem Akman gave Sergey Khandozkho (27-5, 1-0 UFC) a win inside the UFC. "Honda" did well with counters and clipping his opponent with power shots, but showed some issues when he is being pressured. On top of that, his ground game was tremendously exposed and even a semi-decent wrestler will be able to get the drop on Sergey.
Although Pereira doesn't have the most technical wrestling game, he does have 6 submissions and some amount of ground skill, although I don't see it even touching the ground. Pereira will without question attack Sergey in the way that Akman did and look to subdue the rangy fighter with pressure. It all depends on if Sergey can survive the onslaught and return fire when the gas tank fails. He was able to get hit too easily in the last fight, so I'm taking Demolidor.
Take the Shot: Michel Pereira via Round 1 Knockout
---
Brad Katona vs. Hunter Azure (BW)
Despite being a massive favorite and widely regarded as an up and comer in the sport, Brad Katona (8-1, 2-1 UFC) was thoroughly bested by the grappling of Merab Dvalishvili in thei last match. Katona works mainly as a volume boxer, but has incredible movement and fight IQ on display. His ground game was really exposed against Dvalishvili and is now a huge hole.
Despite only being a pro since 2017, Hunter Azure (7-0) came in hot to the Contender Series, besting Chris Okon to earn a UFC contract. He has a fantastic wrestling base and used unrelenting leg kicks to weaken his opponent, making Okon slip a few times from the powerful legs kicks. When this fight was standing, Azure showed an incredible explosive ability as well as quick speed and head movement to avoid big shots when his opponent pressured.
The wrestling of Azure alone makes me more than willing to pick him in this matchup. That's not to mention his speed and movement on the feet and pure volume. He also has great submission skills and is also fighting out of the MMA Lab in my very own Phoenix, Arizona. I like everything I have seen from Azure and the first instance of his top control will be more than enough to take the wind from Katona's sails.
Take the Shot: Hunter Azure via Round 2 Submission
---
Chas Skelly vs. Jordan Griffin (FTW)
Chas Skelly (17-4, 6-4 UFC) has cemented himself as an entertaining brawler on the feet with D1 wrestling to back it up. On top of that, he has been able to secure 10 submissions in his pro career, along with three knockouts. While he has demonstrated overall skill, he is an easy fighter to outwork with volume in a fight and has trouble consistently landing takedowns.
After a first round submission in the Contender Series, Jordan Griffin lost his debut in a decision to Dan Age after being floored by the wrestling of Ige. "The Native Psycho" will look to show his skills here against the late replacement newcomer. Griffin is an offensive force in every area, holding 5 knockouts with his power and another 8 submissions. Despite spending his match with Ige on his back, Griffin fired off no shortage of submission attempts but was still unable to close the show.
The bane of Griffin's game is a wrestler. He has good submission attempts off his back, but those can be easily stifled by a half-decent wrestler. While he will have many opportunities on the feet, I don't see him being able to get past that wrestling as that slowed down both his amplitude and power.
Take the Shot: Chas Skelly via Unanimous Decision
---
We have such a fun night here in Vancouver, but don't forget to check out the main card picks to start raking in that cold, hard cash!