As always, let's start with what went down in Uruguay.
Aside from Veronica Macedo's upset submission over the submission expert Viana and two razor thin decisions, with one an incredible fight between Perry and Luque, we went unscathed and netted a massive profit.
Shevchenko showed up in dominant fashion again to few people's surprise, but we also had some incredible performances by debut fighters in Cyril Gane and Raphael Pessoa, who I am excited to see more from.
Our weekly showout of the UFC is about to end with UFC 241 being the final stop on this wild ride we have. Luckily, we have a killer card to send things off on with a Heavyweight rematch between DC and Stipe along with Nate Diaz's return against Anthony Pettis and plenty more!
*Quick note: Card order might not be perfect, but this order was what was presented by UFC last weekend. I pride myself on getting these picks out before everyone else 🙂
---
Brandon Davis vs. Kyung Ho Kang (BW)
The 1-3 Featherweight record of Brandon Davis (10-6, 2-3 UFC) was cut to a close when he dropped to 135 pounds and submitted newcomer Randy Costa in the first round. "Killer B" showed some real issues at Bantamweight, getting tagged repeatedly, although by a hard hitter in Randy Costa. He doesn't have much power, instead swarming with volume. Although he scored a submission in his last fight, Davis is not a talented grappler and would certainly do best to keep the fight standing here.
Kyung Ho Kang (15-8, 4-2 UFC) has become a sort of litmus test for the Bantamweights as to whether you can truly compete with the big boys. "Mr. Perfect" is a dangerous wrestler, complete with the submissions to match. He is a hard fighter to take out striking, as he moves in and out well, along with picking the right shots to get in close. Once he has a hold of you, the fighter is pretty much over, as he can isolate the position then look for a finish from there.
Nothing like a good striker vs. grappler matchup. At this point, I wouldn't even pick Killer B against a striker because of his chin. Luckily for him, Kang doesn't have much power. He does have incredible wrestling, something Davis has struggled with consistently, so I find it unlikely he will get a win. His only real chance is to block every takedown and with a mere 57% defense rate, that isn't likely.
Take the Shot: Kyung Ho Kang via Round 1 Submission
---
Manny Bermudez vs. Casey Kenney (BW)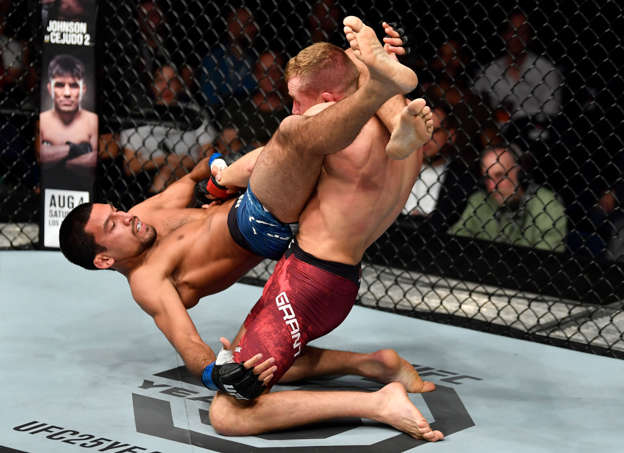 NOT the brother of Dennis Bermudez, Manny Burmudez (14-0, 3-0 UFC) is a master of submissions. He is particularly dangerous off of his back and has absolutely zero problems with pulling guard or giving up the position. The aptly named "Bermudez Triangle" has 5 triangles and 4 guillotines on his record, making him a real nightmare to try to take down. His striking is competent, but reliant on kicks and range-finding jabs to time an entry to the ground.
Casey Kenney (12-1-1, 1-0 UFC) had a short notice draw against Ray Borg and was placed as a massive underdog. He was able to find a split decision win, although incredibly controversial. Kenney took that win by throwing a massive volume of shots, as well as getting his own wrestling game going against the ground specialist in Ray Borg. He has well put together combos, but not much power, instead relying on points to get a decision win.
Although Bermudez's wrestling is not very impressive, he doesn't need it. He would much rather have his opponent take him to the ground where he can find a submission that way off of his back. The rangy Bantamweight is hard to strike on and utilizes his range well, so striking is also difficult. The way for Kenney to win is really slowly piece up Bermudez on the feet without getting wild and making a slip where Bermudez can take advantage. I don't believe the wrestler will want that, as his willingness to exchange on the mat almost cost him the fight numerous times in the Borg match.
Take the Shot: Manny Bermudez via Round 2 Submission
---
Drakkar Klose vs. Christos Giagos (LW)
Drakkar Klose (10-1, 4-1 UFC) has been on a nice run since joining the ranks of the UFC, only dropping a decision loss to David Teymur. Klose has great striking and mixes up his shots well with nice combinations, along with a great judo base. Klose does his best work in a brawl and is often stifled when he is pressured. The Teymur loss came as a result of Klose's opponent refusing to engage with him and not letting Klose get off his ridiculous output and striking, which leads to his judoka background.
After a 1-2 stint in the UFC, Christos Giagos (17-7, 3-3 UFC) returned to mount decision victories over Damir Hadzovic and Mizuto Hirota after a loss to Charles Oliveira. Giagos has some technical boxing, but not the most power, landing the 7 knockouts on his record against low competition or with sweeping overhands. Giagos needs takedowns to secure the victory in most of his matches and has the wrestling background to get it there, averaging 2.93 takedowns in his UFC career.
In the striking game, Giagos often looks to brawl and find an opportunity to land a massive shot. Klose loves those types of exchanges and can mount impressive volume, as well as having the upper hsnd in power in this match. Klose's judo background also lends him the ground advantage in many of his matches, an advantage he will have here. While Giagos shoots more often, many of his takedowns are stuffed and he has incredibly poor ground defense himself.
Take the Shot: Drakkar Klose via Unanimous Decision
---
Devonte Smith vs. Clay Collard (LW)
After coming in off an underdog finish on the Contender Series, Devonte Smith (10-1, 2-0 UFC) has finished two Octagon opponents, Dong Hyun Ma and Julian Erosa, both inside the first round. He is a frightening striker with intense power, only boosted by his constant moving. He darts in and out of range, (think Max Holloway), to set up his power shot. He is hard to find counters on and really picks apart his opponents, pressuring them until they lean a little too far in and puts the lights out on them.
Clay Collard (17-8, 1-3 UFC) will be returning to the Octagon as a short notice replacement after John Makdessi was forced out of his bout with Smith. Collard had severe difficulty in the cage. Although having some heavy hands of his own, he lacks the volume or striking defense to put that to good work. He mainly relies on his wrestling, but was often unable to keep his opponent down. After a 3-1 stint on the regional scene, he is stepping up to the big show for another crack at it.
While I was excited for the Makdessi clash, this is also a good test for the rising Smith. We have never seen his ground game tested in there. However, there's good reason for that. Smith's pressure and constant threat of a finish makes it difficult for his opponents to find there way in and going for a takedown forces them to open themselves up to the power of Smith. Maybe a good wrestler could perhaps find their way inside, but the poor wrestler and striker in Collard will wind up with a big headache come Sunday morning.
Take the Shot: Devonte Smith via Round 1 Knockout
---
This is a card that starts great and only gets better. Check out the prelims picks right here, and the main card soon to follow!