The Lone Star State will be home for a Welterweight showdown between Leon Edwards and Rafael Dos Anjos!! We are also gifted with a hammer of a match between Alexey Oleinik and Walt Harris, as well as the always controversial Greg Hardy vs. Juan Adams!
Rafael Dos Anjos vs. Leon Edwards (WW)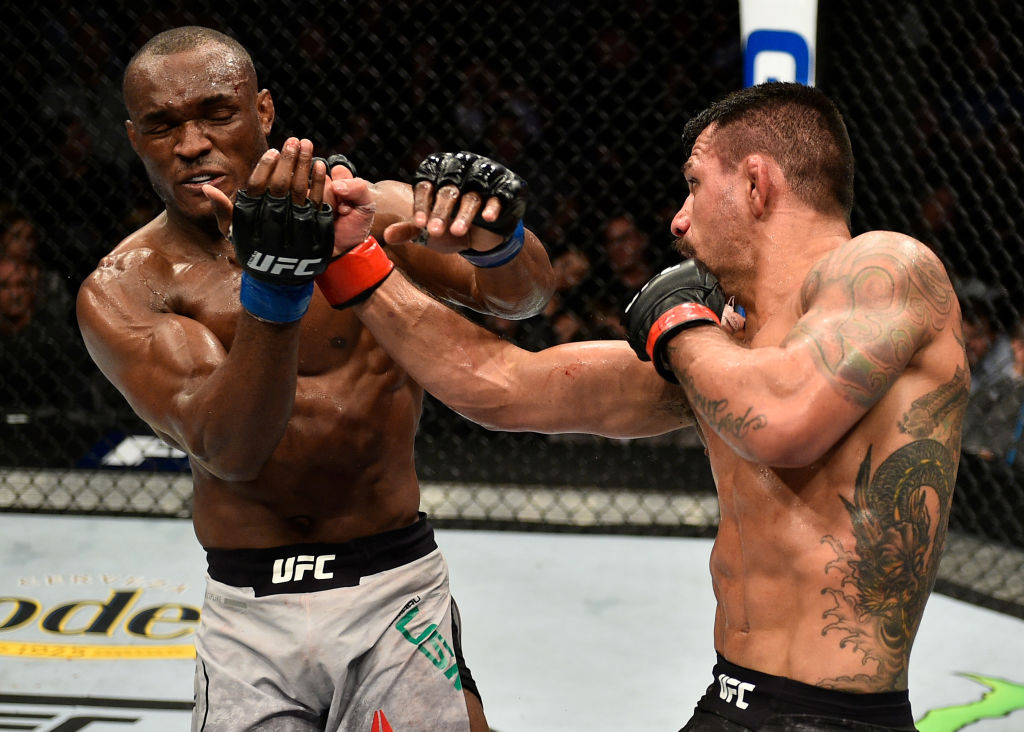 Rafael Dos Anjos (29-11, 18-9 UFC) is certainly keeping active, coming off a fourth-round submission of Kevin Lee merely two months ago. RDA has amazing striking, great jiu-jitsu, and the cardio to keep those elements of his game going as long as needed. He has gone to many five-round decisions and can easily keep that pace, but I think his submission skills are seriously underrated, having taken home 10 wins with various subs in his arsenal. The former Lightweight champ has been able to be out-wrestled, but it looks that he will take home the ground advantage here.
The Brit Leon Edwards (17-3, 9-2 UFC) is riding a nine-fight win streak, most recently besting submission expert Gunnar Nelson. In that fight, he was able to beat Gunni at his own game and even outwrestle Gunnar, in addition to the striking clinic he put on. Edwards has durable wrestling, but his best foot lies in striking and his skill at drawing a match into his best territory. "Rocky" doesn't have the best power, but will look to utilize a four-inch advantage in reach and six inches in height.
Aside from a knockout loss to Eddie Alvarez, RDA has only really been bested by wrestlers. Edwards was able to fend off Gunnar Nelson, an elite in the ground game. He showed a grappling ability that wasn't seen beforehand, which was highlighted by Edwards' incredible scrambling ability. In striking, it's hard to beat Leon. He walked over Vicente Luque AND Barbarena, two fighters with ruthless striking. He puts up a powerful volume and an amazing ability to slow down the striking of his opponent. His massive size advantage will help offset the defense of RDA, and his kicks will only rack up the numbers for the win.
Take the Shot: Leon Edwards via Unanimous Decision
---
Alexey Oleinik vs. Walt Harris (HW)
Just three months ago, Alexey Oleinik (57-12, 6-3 UFC) was violently KO'd by the knees of Alistair Overeem. "The Boa Constrictor" has an amazing submission game, without a doubt the best at Heavyweight. He will pull guard and do whatever it takes to get the fight to the ground, but doesn't have the best success with takedowns. His striking is very limited, almost exclusively arcing punches telegraphed from miles away, but on the ground the show can easily be closed.
Walt Harris put the debuting Sergey Spivak to sleep quickly two months ago in under a minute. "The Big Ticket" has all of his 12 wins coming in by knockout. Although he doesn't have the greatest volume and is lost when a fight goes the distance, he packs power and a show-closing cannon of a punch. Standing and trading with Walt Harris is a surefire way to end your night fast.
Three months of recovery time after a knockout like that is ludicrous. Especially at 42 years of age, there is no way Oleinik is ready to party already and that's entirely disregarding the power of Harris. Oleinik has been out of the cage just two weeks longer than Harris and he suffered a brutal KO with one of the world's deadliest strikers. While Oleinik will try to pull guard and find a way to close the fight, Harris' aggression and power should make this fight a quick one when he finds the chin of the aging Russian.
Take the Shot: Walt Harris via Round 1 Knockout
---
Greg Hardy vs. Juan Adams (HW)
Greg Hardy (4-1, 1-1 UFC) burst onto the UFC scene this year with both tremendous knockouts and controversial headlines. Although his UFC debut saw him take his first loss over an illegal knee, he made it up with a first round knockout over Dmitry Smoliakov in late April. Hardy is a knockout artist in every sense of the word, finishing all of his wins, both professional and amateur, in one round KOs. His debut saw him struggle against wrestling and a gas tank, but Hardy brings both power and his former NFL star athleticism in as powerful weapons for every match.
Greg Hardy hater and fellow Contender Series alum Juan Adams (5-1, 1-1 UFC) won with a third-round TKO in his debut but lost a decision to Arjan Bhullar in his second match back in May. Adams has been campaigning for this match for a while, using both his performance and the, and I quote, "FuckGregHardy" hashtag on Twitter. Adams does his work as a striker, using incredible precision and volume to put his opponents out. Although he doesn't have the one-shot power of Hardy, Adams has technical boxing for days and four years of college wrestling to back him up.
If Juan was to use his wrestling, we may see a Crowder like result against Hardy, hopefully without the DQ. However, he is yet to really use his wrestling and although he is a big guy, he has struggled to keep people down. In addition, he was dominated by wrestling against Bhullar and was unable to show his usual strengths when being pressured and wrestled into the ground. No one pressures like Greg Hardy, who although showing a better pace and cardio since his debut, still comes in heavy with a blitz and a forward pressure few can rival. On the feet, few can handle the power of Hardy and once his striking train leaves the station, it's hard to stop.
Take the Shot: Greg Hardy via Round 1 Knockout
---
James Vick vs. Dan Hooker (LW)
The Texecutioner James Vick (13-3, 9-3 UFC) is riding two losses after mounting a four-fight winning streak. The biggest issue for the massive Texan has been his chin and ability to take punches, struggling when heavily pressured. He has good striking and utilizes his 6'3 frame well, as well as having a nice submission game. His submissions are mainly defensive and have come when he is taken to the ground, not having much takedown savvy or overall wish to go to the mat.
Dan Hooker (17-8, 7-4 UFC) is coming off a brutal beating to Edson Barboza, where he fell to his knees after simply not being able to take anymore. "The Hangman" was on a four-fight tear before that, finishing each win over equally dangerous competitors like Gilbert Burns and Jim Miller. The lanky Kiwi loves his knees against wrestlers and packs some good power, along with bringing an arsenal of defensive submissions to play with.
Having a shit chin is an issue that does not get better with time. That does not bode well for Vick, whose striking style and defensive lapses leave him open to the close shots and overhand right that Hooker has power in. He also won't be able to use his frame to keep Hooker off of him, as he only has one inch in the reach department. The finishing expert in Hooker will pound away at Vick with leg kicks and body shots before closing the show.
Take the Shot: Dan Hooker via Round 2 Knockout
---
Francisco Trinaldo vs. Alexander Hernandez (LW)
40-year-old Francisco Trinaldo (23-6, 13-5 UFC) has been on a down-sloping path recently. He has a solid boxing style striking game, but also can mess around on the ground. Getting up there in age, Massaranduba has become a litmus test for the Lightweight prospects and he will serve that role again here. Trinaldo seems to not be on the same level as of late and his biggest struggles have been against skilled wrestlers. Specialists like Jim Miller are easier for Trinaldo to work his game on, but well rounded (and very dangerous) fighters like James Vick and Kevin Lee are his Kryptonite. However, Trinaldo's power is still very much there and will be a factor until the last bell, if it rings.
Alexander Hernandez (10-2, 2-1 UFC) was unproven and doubted when making his UFC debut against Beneil Dariush. He silenced everyone with a 42-second knockout in that match and followed it up with a decision over Olivier Aubin-Mercier before getting knocked out in the second by Cowboy Cerrone. "The Great" brings pressure and a sense of urgency with him in every fight, using his striking as a way to get inside and build on his wrestling game.
In his match with Olivier Aubin-Mercier, Trinaldo struggled heavily with the wrestling and short-range power OAM threw at him. Hernandez is able to utilize that same style, with the wrestling threat and power combinations that can seriously mess up Trinaldo's game. Trinaldo struggles when he is pressured and that is the name of Hernandez' game.
Take the Shot: Alexander Hernandez via Unanimous Decision
---
Andrei Arlovski vs. Ben Rothwell (HW)
Ahhh, this match would have been music to my ears around 5 years ago.
Former champ Andrei Arlovski (27-18, 16-12 UFC) in on the skid of skids, having only won two of his last eleven bouts. The 40-year-old showed up well against Augusto Sakai, making the fight a split decision by landing good shots and showing people why he became the champ in the first place. Despite dropping so many fights as of late, Arlovski is still a true fighter. He has incredible speed with his hands and can unload a good deal of volume, as well as having a dangerous overhand right that he has favored a lot in his recent matches.
Ben Rothwell (36-11, 6-5 UFC) returned to the cage after three years in March only to lose to Blagoy Ivanov. Rothwell has POWER. Like not even regular one-shot power. Rothwell, Ngannou, and Overeem are on this next level of power, where looking at them makes you know you could hit the ground at any moment. "Big Ben" has 27 knockouts proving that and he has also tightened up his ground game in recent matches, putting 6 wins in by submission and proving he isn't a one-dimensional fighter.
Ben Rothwell and his unusual style usually slow the fight down, making it a plodding Heavyweight match that makes you drowsy just before he unloads that cannon. Arlovski just simply does not fight that fight and his hand speed and volume he unloads can seriously undo all the slow-paced movement Rothwell uses to get his power shots lined up. Both fighters have some ground game, Arlovski with his wrestling and Rothwell with submissions, but I don't see either one coming into play much. I foresee a plodding match that goes to Arlovski's volume.
Hopefully, Arlovski will finally lay down those gloves with a win here.
Take the Shot: Andrei Arlovski via Unanimous Decision
---
This is a great night of fights, almost all with potential to shake up the rankings! Don't forget to tune in and as always, check out my prelims picks!
Until next time, Freaks!