The UFC is traveling to South Carolina for a fun fight card, highlighted by a match between Renato Moicano and the Korean Zombie. If you remember the Russia card a couple months back, this one will be similar. There aren't a ton of profile matches, but all of these will be crazy and a ton of fun to watch!
Renato Moicano vs. Chan Sung Jung (FTW)
I love how this match is between two fighters who never use their real names in Renato "Moicano" Carneiro and "The Korean Zombie". But I digress.
Anyways, Renato Moicano (13-2, 5-2 UFC) lost to a second round flurry of punches by Jose Aldo in February. Before that, his only loss was to Brian Ortega and Moicano is still a promising contender at Featherweight. He is as well rounded as they come with his crisp boxing and some of the best submission skills the UFC has to offer. Although having never secured a knockout, Moicano has stunned many opponents with his precision and dropped quite a few on his way to the top of the Featherweight division.
When you're on a card with The Korean Zombie (14-5, 4-2 UFC) your chances of a FOTN bonus go wayyyy down. In typical zombie fashion, Jung marches forward and can eat any shot and keep on swinging. If you watch his fight at first, it may seem he might just be mindlessly plodding forward without any game plan. In fact, Zombie has good fight IQ and knows which shots are the best for him. He has powerful hands and impressive jiu-jitsu, securing 8 of his pro wins by submission.
This is a close match. On the feet, there are two crisp boxers who love to trade with their opponent. While Zombie has the advantage in knockout power, Moicano and his variety of kicks offer the same issues Yair Rodriguez gave him in their match last fall. On the ground, Moicano is incredibly skilled on top and can work in a submission from wherever after he gets his opponent flattened out. However, Zombie's defensive jiu-jitsu is highly underrated. I mean, this crazy manimal got the only twister in UFC history. (Google that one kids, it'll hurt your neck just looking).
In striking, I give Zombie a heavy advantage. His pressure starts out early and only gets more difficult to deal with as the fight progresses, making his opponent tired and unable to deal with the ruthless onslaught he throws at them. That's not to mention that Moicano has never gone a full five rounds before, while that's pretty much all Zombie does. The advantage Moicano has is in his submissions, but that advantage is hard to use when Jung uses his guillotine and wily limbs to fling up armors, triangles, and everything in between at you. AT the very least, Zombie will be able to keep it on the feet with those and use his power and pressure to outdo the volume Moicano brings.
Take the Shot: Chan Sung Jung via Round 4 Knockout
John Lineker vs. Rob Font 2 (BW)
Just a few weeks ago, John Lineker (31-9, 12-4 UFC) lost an extremely close decision to Cory Sandhagen. "Hands of Stone" gets his name from his brutal power and elite boxing, using volume, cardio, and those killer hands to pound his opponent to victory. Although Lineker isn't entirely lost on the ground, he does have the most skill in his striking and he would do best to keep it there again in this match. The 5'3 frame of Lineker is worrying at first glance, but it wasn't a problem in the Sandhagen fight and definitely won't be a problem here against his opponent who is much smaller in comparison to Sandhagen.
Rob Font (16-4, 6-3 UFC) lost the first match to Lineker in decision after being soundly outstruck and having any takedowns of his denied. He will have to change up his gameplay to secure a victory this go around. Font has solid striking and has power to boast, but to stand and trade here would end up on the canvas. The submission and wrestling game of Font will need to be in high demand for him to secure a win by pressuring his opponent and blocking those hammers from clipping him.
Lineker is an elite Bantamweight, even after almost 40 fights. The 28-year-old still has game in him and his striking is second to none here. On the feet, Lineker holds the upper hand in power and volume. On the ground, I can see Font with a small edge, but he simply isn't a good enough ground technician to avoid the outcome that befell him in their first match.
Take the Shot: John Lineker via Unanimous Decision
Bryan Barbarena vs. Randy Brown (WW)
Honestly, who can forget that absolute battle between Luque and Bryan Barbarena (14-6, 5-4 UFC) in February. Anyone watching that learned one thing in particular: Barbarena has a CHIN on him. He took all of Luque's punches and only went down in the last ten seconds of the third after eating a massive Luque knee. "Bam Bam" is a brutal striker. He has 10 knockouts and a frightening stopping power that will drop his opponent real quick if they get too aggressive.
Randy Brown (10-3, 4-3 UFC) is another fighter who does not excel in any one area, but rounds out his gameplay to tango in any area with his opponent. "Rude Boy" has five wins by knockout and 3 in submission and is no doubt a threat at all spots. His striking is sort of Muay Thai-ish and is accurate, but lacks volume and the one-shot power that Barbarena brings to the table.
Brown's biggest advantage is his ground game. He isn't anything crazy on the mat, but he has more skills than the pure striker in Barbarena. His takedowns still aren't the best, though, and clinching up with Bam Bam ends top hurting. Brown does have 3 inches in height and 6 in reach over Barbarena, but I don't see that coming into account once these guys get close. Barbarena loves to brawl and is truly a fighter's fighter. All the technical gameplans and efforts to draw in his opponent from Brown become useless when Barbarena gets into that brawl he loves so much.
Take the Shot: Bryan Barbarena via Round 2 Knockout
Andrea Lee vs. Montana De La Rosa (FLW)
After switching between LFA and Invicta, Andrea Lee (10-2, 2-0 UFC) came into the UFC and secured two decision victories. She used a karate-based volume striking style to win on the feet. On top of that, she has wrestling and submission skills that have been able to urge her to victory along with four sub victories. Lee works best when she is the aggressor and can fight on her terms.
Montana De La Rosa (10-4, 3-0 UFC) is pretty much the Flyweight submission goddess. She has 8 wins by submission and every one of her UFC wins has ended with her opponent tapping. On the feet, De Le Rosa is serviceable and can certainly handle herself with a skilled jab and some nice kicks. The element that I have issue with is the takedowns she uses. She has difficulty securing her opponent on the mat and has been able to exploit her opponent's willingness to grapple.
Lee should be able to control the action on the feet and work her volume over. However, De La Rosa works best at forcing her opponent to come in and get close. Lee has had issue when she is unable to use her range and fighting someone so long as De La Rosa who masters her own range will be a problem. As soon as Lee tries to go in close, Montana will reverse the position and go to work.
Take the Shot: Montana De La Rosa via Round 3 Submission
Alessio di Chirico vs. Kevin Holland (MW)
Italy's own Alessio di Chirico (12-2, 3-2 UFC) has been pretty successful so far as a mixed martial artist, blending different styles together to make a well-rounded game. "Manzo" has done well against fighters who also use that blended style, relying on his wrestling and power to lend him victories. His best area is definitely his ground game, as he doesn't piece combos together super well, but they do enough to get the job done.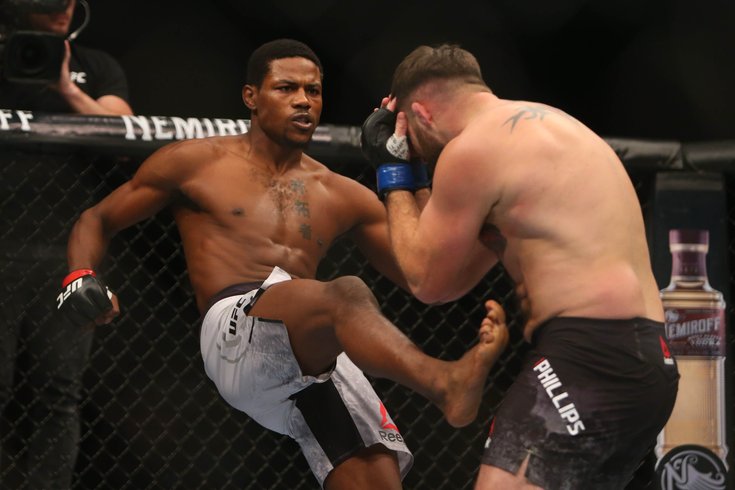 Kevin Holland (14-4, 2-1 UFC) beat Gerald Meerschaert is what was almost entirely a grappling match a few months ago. Although losing his debut to a powerhouse in Thiago Santos, Holland has proved worthy of his UFC spot and demonstrating the multiple abilities he brings. Holland has good striking, using combinations as well as power to finish 6 of his opponents in knockout, while also using defensive submissions to finish the fight or keep it standing. He proved his skill as a BJJ artist in that match with GM3 by going toe-to-toe with the black belt all the way to a victorious decision.
Although di Chirico has been successful against non-specialist fighters, Kevin Holland is a different beast altogether. On the feet, he has the more technical game, using his boxing and range expertly. Alessio's advantage would be on the offensive ground game, but Holland has an amazing guillotine as well as a number of submission attempts off the back. Di Chirico will have to use a dominant position instead of desperately looking for a quick finish to win, and his gas tank has always made that difficult.
Take the Shot: Kevin Holland via Unanimous Decision
Ashley Yoder vs. Syuri Kondo (SW)
Ashley Yoder (6-4, 1-3 UFC) was on a three-fight streak of losing every match, but a split decision over Amanda Bobby Cooper put her back on track. "Spider Monkey" is mainly a striker, but has four wins with an armbar, proving her a threat anytime she is on her back. However, that has seemed to be her only defense on the ground and that is just how she was beaten in those three losses: with her opponent outstripping and then dominating on the ground.
Syuri Kondo (6-2, 1-2 UFC) has always made for an entertaining fight, getting into vicious brawls in almost every appearance. She is more than willing to take a shot to dish one out, and while that can be problematic against the dangerous strikers she has fought in the past, Kondo's judo-based gameplans work best when she can bully her position and use her all-out war of striking to ride her way to a decision.
I'm fairly certain Kondo's job here is to send Yoder out of the UFC. She has the exact style Yoder should lose to: nonstop striking and a position based top game that can stifle Yoder. The only factor that would give Yoder the victory is if she can land that armbar she loves, but although Kondo is no worldbeater, I see her being able to avoid it.
Take the Shot: Syuri Kondo via Unanimous Decision
I'm excited for this. Make sure to tune in Saturday night and get back on the UFC train because after this break we've had, there isn't another stop for months! Make sure to check out the predictions for the prelims and as always:
Until next time, Freaks.