It's good to be back. This week the UFC is coming out of Greenville, South Carolina, headed by what will certainly be a banger in Korean Zombie against Renato Moicano. Before we dive into that tomorrow, we have a juicy 6-fight prelims, headlined by Dynamite Dan Ige and the surging Kevin Aguilar.
Dan Ige vs. Kevin Aguilar (FTW)
Dan Ige (11-2, 3-1 UFC) is hot off a first round win over Danny Henry in March. "Dynamite" made his way to the UFC off of the Contender Series and has a well-rounded game. His wrestling and submissions have given him a lot of success, but don't forget about his power. Before submitting Henry in the last match, Ige dropped him with a heavy right. Ige has a punishing top game when he wrestles and a ruthless drive whenever he gets the back. The only loss he suffered was his debut against Julio Arce where he was soundly outboxed to a decision.
Kevin Aguilar (17-1, 2-0 UFC) came into the UFC after an insane war on the Contender Series. Aguilar is a boxer who is as good as they come with amazing combinations and striking, plus a power that has earned him 10 knockouts. The "Angel of Death" most recently overcame the wrestling of Barzola by stuffing pretty much every takedown attempt and then piecing him apart to get his victory.
Ige's only Octagon defeat came from Arce who resisted his takedowns and pieced him apart. Aguilar has that exact same path to victory and he executed it perfectly against Barzola. I actually think Barzola is the better wrestler over Ige and Aguilar should be able to use that plan to land volume and power shots for a victory.
Take the Shot: Kevin Aguilar via Unanimous Decision
Matt Wiman vs. Luis Pena (LW)
A UFC veteran since 2006, Matt Wiman (16-7, 10-5 UFC) will be poking his head out of the woodwork for the first time in almost five years. "Handsome" does solid work in the clinch and he likes to tire out his opponent and use his wrestling. 5 of his wins have come through in submission and he is certainly credentialed on the mat. His striking is alright, but does not boast much power and Wiman instead likes to use that clinch work and wrestling to dictate the pace and set himself up for a submission or position-based win. Wiman will be giving up 5 inches in height and 8 in reach here.
Well thankfully, Luis Pena (6-1, 2-1 UFC) is going back up to Lightweight. The 6'3 fighter tried to cut down to 145 in his last fight and failed miserably. Aside from dumb weight cut decisions, Pena is a seriously impressive fighter. He won TUF Season 27 but lost in decision to Mike Trizano. "Violent Bob Ross" has 4 of his wins by submission and uses his long and incredibly flexible frame to secure submissions in some of the weirdest ways you'll ever see. In terms of striking, Pena has crisp boxing and a fair bit of power, but doesn't always take full advantage of combinations and kicks.
I feel like this is a set up match for Pena. Wiman will have undoubtable ring rust because of not fighting since 2014 which will be a problem against someone with the weird and unorthodox style of Pena. Violent Bob has an extraordinary ability to find ways out of compromising positions and someone with such a type A fighting style like Wiman only leaves him with more opportunities to pull out those odd positions. I think Wiman's layoff and will to lean on his comfortable spot of wrestling will leave him open to a classic crafty Pena submission.
Take the Shot: Luis Pena via Round 1 Submission
Allen Crowder vs. Jair Rozenstruik (HW)
I feel bad for Allen Crowder (10-3, 1-1 UFC). Despite showing that his biggest weakness is his chin, the UFC has repeatedly thrown him up against the heaviest hitters they can find. He got knocked out by Justin Willis, and although everyone at 265 pounds can make you go night-night, Willis is not one of the hand cannons of the division. After that, they gave him to Greg Hardy, but Crowder got lucky with a DQ victory. "Pretty Boy" has gotten his success because of his ability to mix his abilities, using striking along with wrestling to get the job done.
The heavy hitter facing Crowder here will be Jairzinho Rozenstruik (7-0, 1-0 UFC). "Bigi Boy" makes his money as a knockout artist, finishing all but one of his professional fights in brutal knockout. His UFC debut was no different as he finished off Junior Albini early in the second round. Still, that's Albini, one of the weakest fighters in the UFC Heavyweight division, so Rozenstruik's level of talent remains to be seen. Another element of his game entirely untested is his ground game, which could be exploited.
The path to victory for Crowder is the same as in the Hardy fight: use his wrestling to get the fight away from danger. The issue is that Crowder has a worrying tendency of getting hit, which is a huge problem from someone with the strength and force of Jair. However, Jair's skill level in opponent's is honestly abysmal and even the raw athleticism of Crowder could wear him out. If he can avoid the heavy shots, he should be able to work into a victory.
Take the Shot: Allen Crowder via Round 3 Knockout
Molly McCann vs. Ariane Lipski (FLW)
Liverpool's Molly McCann (8-2, 1-1 UFC) righted her UFC record with a decision over Priscila Cachoeira in an absolute war. "Meatball" does her best work on the feet with her boxing and brawler style. The Cachoeira fight is definitely worth a watch if you want to just see two girls pound each other's eye sockets in and highlight the brawling nature of both women there. In terms of technical boxing, McCann has some power but lacks the combinations and precision to boost her into the next level.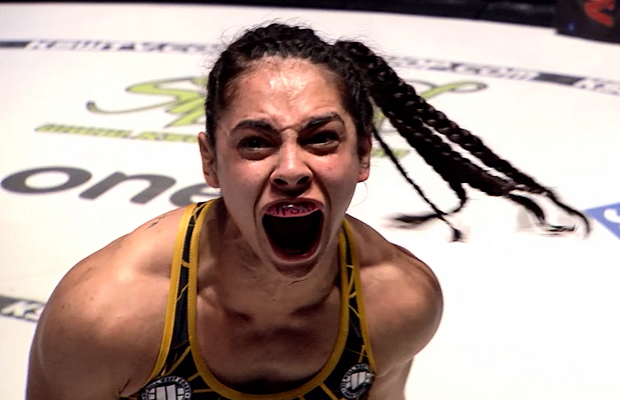 Ariane Lipski (11-4, 0-1 UFC) came into her UFC debut as one of the biggest female prospects but lost in decision to Joanne Calderwood in January. "Violence Queen" is an incredibly successful kick boxer with serious one-punch power. After a poor switch to MMA resulting in a 2-3 record in her first five fights, she put on a 9-fight win streak that got her into the world's biggest MMA promotion. On top of her kickboxing, Lipski has a serviceable ground game on top and on her back that has provided her with two submissions and some ground beatings that hurt me just watching.
This is a match isn't even close to me. Lipski has the advantage in technical striking, power, and even the ground if it does go there. The issue I have found in her game is when she is pressured, but McCann simply can't put up the level of pressure to throw the Violence Queen off her rhythm. This should get the hype train back on track.
Take the Shot: Ariane Lipski via Round 3 Knockout
Deron Winn vs. Bruno Silva (MW)
Once again, we have another dreaded D-D-D-DOUBLE DEBUT!!! Deron Winn (5-0) has been a long-time pupil of Daniel Cormier and it shows. Between the four first round ground and pound finishes, elite wrestling, and stout (even a tad chubby) frame make Winn every bit the embodiment of the Heavyweight champ. Winn has been fighting top rung competition for a while now, competing in Bellator and beat vet Tom Lawlor at the Liddell Ortiz III card on Golden Boy. Much like Cormier, The three-time NCAA All-American gets things done with his wrestling and it has proved entirely dominant to this point.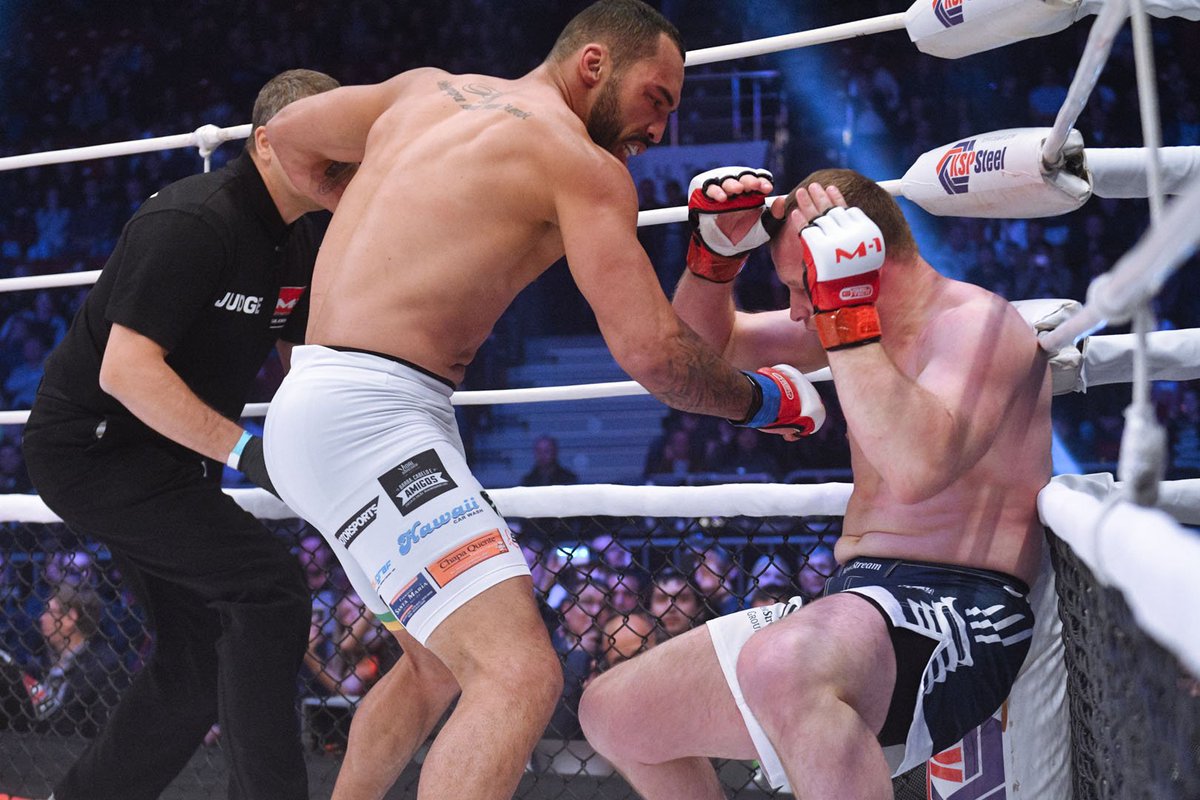 Bruno Silva (19-6) is our other debuting fighter and this one hails from Brazil. "Blindado" is a striker with brutal stopping power, finishing 16 of his fights with knockouts. Silva has a killer right hand and loves to throw a flying knee whenever he has the chance. Silva became the M-1 champ last June and defended it once. On the feet, Silva is as dangerous as they come, but his weakness is on the ground, taking all of his losses (except one DQ) by submission.
If 2018 taught us anything about MMA, it's the importance of wrestling. While Winn may not be a submission threat, he is a ground specialist as good as they come. With that being said, Winn gives up an enormous 7-inch (or 5, depending on your source) height advantage. However, Winn is used to being the smaller man in the cage and his wrestling acumen will either wear out or finish the pure striker.
Take the Shot: Deron Winn via Round 2 Knockout
EDIT: BRUNO SILVA HAS BEEN INJURED! UFC IS CURRENTLY LOOKING FOR A REPLACEMENT!
Andre Ewell vs. Anderson dos Santos (BW)
Andre Ewell (14-5, 1-1 UFC) is coming off a submission loss to Nathaniel Wood last December, which followed his controversial split decision win over Renan Barao. "Mr. Highlight" is a jack of all trades, but master of none with decent BJJ/wrestling and 7 knockouts to boost his record. Ewell's skill in the sport comes from his 5'11 frame at 135 pounds, which is absolutely ludicrous.
Anderson dos Santos (20-7, 0-1 UFC) lost his debut in decision to Nad Narimani in a striking bout. "Berinja" has 12 wins in submission but was unable to take advantage of that in the Narimani match. Instead, he was picked apart on the feet. Dos Santos has a nice chin on himself but his defense leaves too much able to clip him right in the noggin.
The size advantage here is the kicker. It leaves Ewell with an easy way to box his opponent out and work him there. ADS doesn't have very good skill when going for takedowns and his best chance seems to be grabbing a guillotine if Ewell shoots. Either way, Ewell has an easy path to outbox and outwrestle his opponent.
Take the Shot: Andre Ewell via Unanimous Decision
This is shaping up to be a lot of fun. Make sure to check in at the same time tomorrow to get the FFF predictions for the main card!
Until next time, Freaks.