Must-watch UFC.
This was one of the greatest cards ever and I am just the happiest man on this entire planet right now. I cannot believe how great this was. We had a barnburner in Ferguson vs. Cerrone and two championship matches and agghhhhhhhh!
Marlon Moraes def. Henry Cejudo by Round 3 Knockout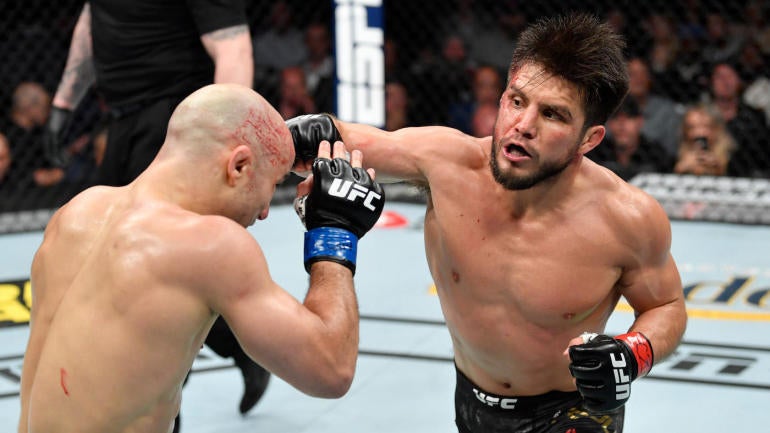 This makes me sad. Moraes was dominating Cejudo int hat first round and despite going the full twenty-five minutes many times before, he ran out of energy about halfway through the second. It really was disappointing for me as Marlon is one of my favorite fighters but not much can be said. This wasn't a chance blow or a controversial decision. Cejudo won this one through pure skill. While I definitely don't see him as the undisputed P4P best, he is getting up there in my eyes.
As for the future of Cejudo, I sincerely hope he will be the first double champ (aside from Nunes at UFC 239 next month) to defend both belts and cement their place. However, if he dreams of going up to 145, he really will get ended. He is too small and no matter how much growling he does aweigh-ins he won't bribe the 7-inch gap Holloway has on him. Do us all (and yourself) a favor, Henry, and truly dominate at 125 and 135 and prove your greatness.
Valentina Shevchenko def. Jessica Eye by Round 2 Knockout
Another day, another brutal beating from Shevchenko. She ENDED Jessica Eye early in the second round with one of the cleanest head kicks to ever occur in MMA. Eye was lying on the mat for a few long minutes before finally giving up and I was worried. There really is no threat to Shevchenko at this weight class and she will hold the belt until Nunes maybe decides she wants a third belt to add to her collection.
Tony Ferguson def. Donald Cerrone by Round 2 Doctor Stoppage TKO
This match was just what everyone hoped for, even though it got ended too quickly. El Cucuy added to his list of bloodied victims by thrashing Cerrone in the second round and showed that usual Ferguson style. I don't know what more there is to say about Ferguson. He is the most proven and well-rounded fighter who always puts on a show, yet he is still not being given the title shot he deserves.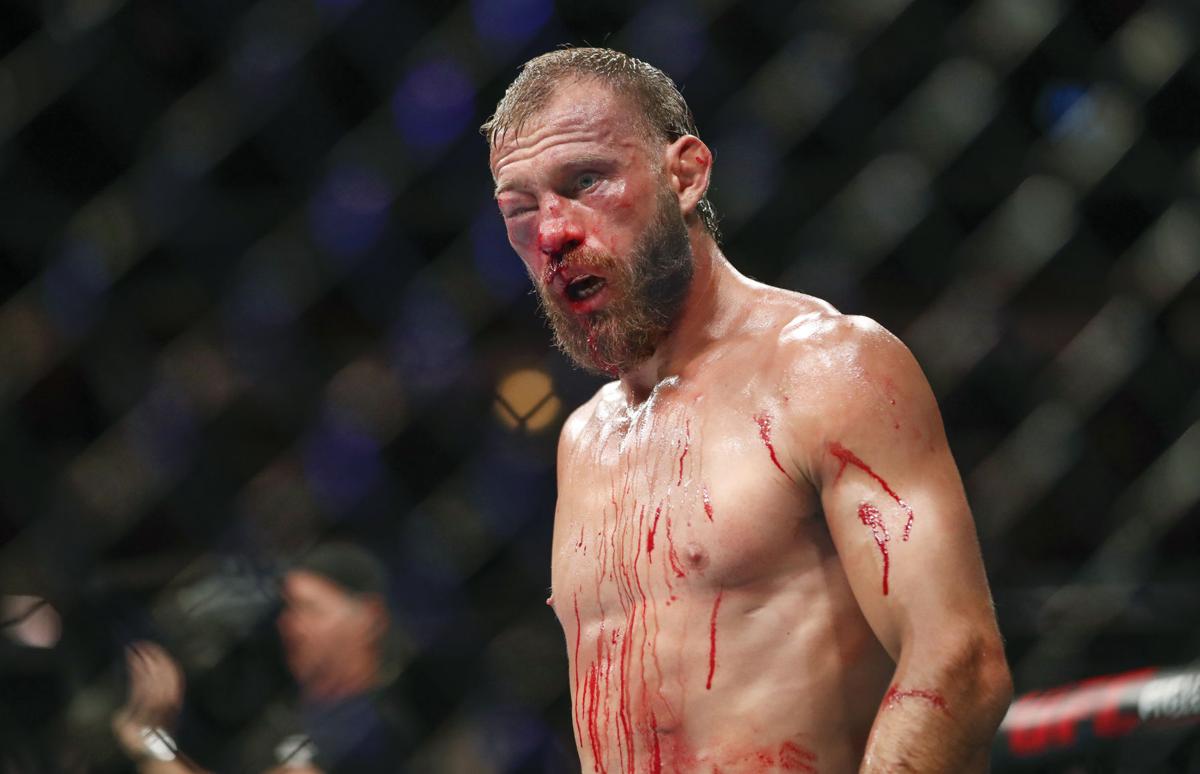 This fight was somewhat controversial, though, with Tony throwing a blatant shot after the bell to end the second round. Ultimately, it got discarded with a  warning but Cowboy blowing his nose sent his face and eye completely off the grid. There are some who are saying Cerrone quit and he obviously knows not to do that, but I think it was just the absolute beating he was handed by Ferguson that put him a bit off his rocker.
The argument now goes to whether or not there should be a rematch. While that would no doubt be entertaining and one hell of a fight (again), there is no need. Cerrone got worked over and dominated and bar a lucky head kick, he was getting a loss. El Cucuy deserves his title shot and it better come soon.
Petr Yan def. Jimmie Rivera by Unanimous Decision
This was such a great matchup. Almost every round followed the same pattern with Rivera slightly outdoing Yan in terms of punches landed then Yan dropping Rivera in the last seconds but not doing enough damage to close the show. Eventually, Yan came out victorious and is only drawing to the hype, despite not even leaning on his wrestling for this match.
Although Aljo put on one hell of a showing, I believe that Yan is the biggest threat to *sigh* Cejudo's title. Raphael Assuncao, where you at?
Blagoy Ivanov def. Tai Tuivasa by Unanimous Decision
Once again, we saw that grinding ability of Ivanov that lulls every fight into a decision. Both fighters were so horribly out of energy by the third round that there wasn't't much happening but Tuivasa was not entirely outgunned. Instead, it was a close match slightly won by the volume of Ivanov, which is a puzzle very few Heavyweights see with the likes of Ngannou and Lewis dropping people in seconds.
I like Ivanov because of this capability to trick his opponent into the type of match he wants, but I don't see him ever becoming the next level of fighter that could challenge for the belt. He simply isn't exciting or possess enough skills (at least that he uses) to become a truly extraordinary fighter. Those qualities are absolutely a necessity with the superhuman atop the HW division and unless he uses his Sambo or a better cardio gameplay, he won't become a champ in the UFC.
Tatiana Suarez def. Nina Ansaroff by Unanimous Decision
I feel like this match actually dropped some of the hype surrounding Suarez. In the first two rounds, she showed that same dominating style that got her to where she is now. The third round showed a gassed Suarez who was outclassed in striking when she could not land those takedowns. We haven't seen a Suarez who has been beating in any aspect yet because of how dominant and one-sided every fight is the second that she gets her hands on her opponent, but now there is room to worry about the depth of Suarez, especially in a five-rounder.
With the rumors of Andrade fighting Waterson circling, we may get to see another match before Suarez goes for the title which will hopefully give her the opportunity to round out her game. If she does go for the title ext, she will have serious issues. Once her cardio failed her, she got hit A LOT. That's a serious issue for pretty much anyone who is going against Andrade. Ansaroff also showed a good part of her game in that third, so this loss doesn't really hurt her, but she will need to step up her danger level if she hopes to become the next contender.
Aljamain Sterling def. Pedro Munhoz by Unanimous Decision
This was a fun one and it showed the caliber of Sterling. I thought that Sterling's striking was formidable in prior matches and the power of Munoz would force him into an ill-fated takedown but Sterling has improved even from his match with Rivera from a few mere months ago. His technique and kicking has become a weapon that still doesn't have a lot of power, but does throw off such an unorthodox style that really trips up his opponent.
Munhoz looked good, but he just didn't have an answer for the volume and length of Sterling and it showed. It's sad to say, but I see him falling into Jacare territory, where he beats up and comers but can't break into that elusive contender spot.
Alexa Grasso def. Karolina Kowalkiewicz by Unanimous Decision
This match was purely striking and Grasso simply getting the higher volume. KK's defense continues to be a problem and although I found a few issues in the bias of commentary this evening, the remarks on this match were dead on. Any striker worth their snuff will be able to find KK's lapses in defense and although she has heart that no one can fault her for, that isn't enough in this elite organization.
While Grasso looked impressive here and had much better kicking incorporated into her boxing game, I feel like she still will be lacking against an opponent with a ground game. She does show promise and the Mexican fighter has the makings of a contender for the stacked 115 lbs. division.
Calvin Kattar def. Ricardo Lamas by Round 1 Knockout
How about Calvin Kattar? This guy is top notch and has ran through every opponent who merely dreams of striking with him. He only looks to be getting better and I am hoping for a jump in competition with his next match. Yair Rodriguez, anyone?
Yan Xiaonan def. Angela Hill by Unanimous Decision
This was a certified banger. Both fighters used their brawling styles in every sense of the word but ultimately, the power and drive of Xiaonan got the job done. Angela Hill's knack for getting fights nice and close remains the same, as shown by the all-around 29-28 scoring, but I stand by my earlier remarks on Hill.
I really like the gameplay that both fighters brought to play with here. This is the type of match that only sends both fighters forward in the rankings and that is especially true for Xiaonan, who has shown her improving technique and all-around game that has marched her closer and closer to the top end of the division.
Darren Stewart def. Bevon Lewis by Unanimous Decision
This was the worst fight of the night. Lewis looked to have the upper hand technically but neither fighter was able to pull the trigger until the last ten seconds. Each fighter was horribly gassed, despite doing practically nothing. Unless there is a remarkable turnaround in both of their games, I don't see either fighter with a promising future.
Eddie Wineland def. Grigorii Popov by Round 2 Knockout
The path to victory for the veteran here came through his boxing and pressure. Popov has incredible Muay Thai and his kicking game was a serious problem for Wineland but he rocked him in the second round and then put him away.
While I don't think that Wineland will be a title contender ever again, I am sure that we have many incredible fights from Eddie in our future. Popov, I'm not sure about him. He didn't seem to have many factors on his side other than good defense and kicking but he will have another chance to prove himself again.
Katlyn Chookagian def. Joanne Calderwood by Split Decision
I disagree with the result here and not just because I picked Calderwood. JoJo outstruck Katlyn and she took her down three times. The only area Chookagian had the advantage was the head strike volume and for some ungodly reason, the power.
The implication with this match is that the winner (Katlyn) gets to fight next for the title. I don't know why that should happen. If Chookagian fights Valentina, the same thing will happen that happened to Eye tonight, minus Eye's wrestling.
How about this?!?
I am going to watch this again next weekend with another break until our next fight night we have, but don't worry. We have a new season of the Contender Series along with  my predictions coming to you nice and early next weekend.
Until next time, Freaks.