First things first. As you can probably tell by the title, some things are changing with the way we do our predictions over here at FFF. Most notably, I'm going to be splitting my predictions into three posts for main event cards (numbered UFCs like 238) and two posts for Fight Nights. The reason for this is that I felt like I wasn't as accurate for the ones I hadn't spent as much time on in the earlier fights of the night, not to mention that this should also let me get all these posts out earlier, especially on weeks where there isn't a card the weekend in between. The other change is we will now be going from the top down instead of the bottom up. Other than that, expect the same content as before, just with more thought and time put in!
After a decent card last weekend in Stockholm, we have been gifted an amazing card from the MMA gods. This one is coming to us from Chicago and is headlined by the Bantamweight title fight between Flyweight champ Henry Cejudo and Marlon Moraes, along with a Flyweight championship between Valentina Shevchenko and Jessica Eye. Of course, who can forget the people's main event between Tony Ferguson and Cowboy Cerrone?
Henry Cejudo vs. Marlon Moraes (BW)
Henry Cejudo (14-2, 8-2 UFC) took the championship belt from Demetrious Johnson with a split decision still contested to this day, but he followed it up with a vicious knockout in the first minute of TJ Dillashaw's shot at taking Flyweight gold. Now it is Cejudo's turn to try and become a double champ. Cejudo moved into MMA after winning the gold medal at the Olympics for wrestling. Evidently, that transfer has gone well and Cejudo used his fantastic wrestling base as a method to build up his striking, which was demonstrated in that powerful knockout of TJ. For the most part, Cejudo works towards the decision and volume strikes and wrestles his way there.
After a split decision loss to Raphael Assuncao in his Octagon debut, Marlon Moraes (22-5, 4-1 UFC) came back with a fire. Two brutal first-round knockouts gave way to an Assuncao rematch, where Moraes put his opponent on his back with a big shot then choked him out, once again inside the first five minutes. Moraes has built his reputation in the UFC as an elite Muay Thai striker and is the hardest hitter at Bantamweight, outside of possibly Cody Garbrandt. On top of that, his experience as the WSOF champ leaves him no stranger to a five-round fight, not to mention his highly touted jiu-jitsu. "Magic" Marlon is an offensive force who can end the fight at any time, from anywhere, in any way.
Cejudo's wrestling and pace could get him the leg up in a decision. However, he is going up against someone in Moraes who can break him at any moment. Cejudo has never fought someone who hits as hard as Marlon and that's just a fact. Will Cejudo's power go up with the increase in weight? Probably. But his chin? Nope. In terms of striking, this is pretty even by the numbers with Moraes' power being the massive advantage for him. On the ground, Cejudo will look to take the edge but Moraes has solid defense and a killer squeeze especially from that guillotine he loves. I'm sure we will see at least one of those as his defense against the inevitable takedowns of Cejudo.
This looks like a close on when you factor in the increase in weight for Cejudo. The issue is that Cejudo may have a will to stand and trade after that KO he just had. He just can't do that with Marlon Moraes because he will put you to sleep.
Take the Shot: Marlon Moraes via Round 1 Knockout
Valentina Shevchenko vs. Jessica Eye (FLW)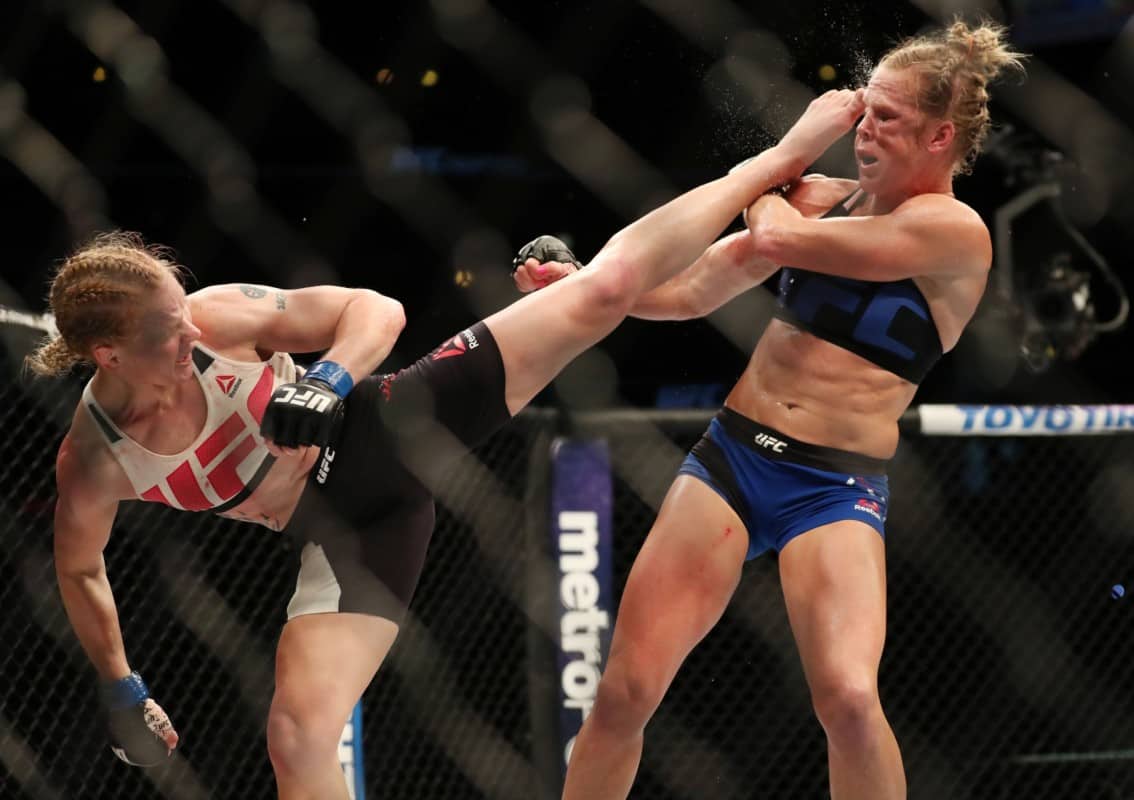 So here we have the biggest favorite of the entire night. Valentina Shevchenko (16-3, 5-2 UFC) recently won the Flyweight belt after cruising to a unanimous decision over Joanna Jedrzejzyck, who is often referred to as the most technical striker the UFC women's divisions have ever seen. "Bullet" is truly an incredible striking with punishing Muay Thai and battering kicks and punches. On top of that, she has wrestling, which I didn't expect from here. In fact, she has more wins by submission than anything else. Shevchenko is truly an elite and losing two matches to Amanda Nunes is nothing to scoff at.
Jessica Eye (14-6, 4-5 UFC) is coming in as a massive underdog, coming in near +780 at the time of writing. Eye is yet another decision fighter, who peppers her opponent with shots to get the decision win. After an 1-5 record in the Octagon, she has since come back to make a 3-0 run at Flyweight and put herself in line for this shot at the title. She beat Chookagian in a split decision back at UFC 231 by using her punches and kicks to beat her opponent at middling range.
For the past two weeks, I have been scouring tape of both fighters looking for any way Eye can win this. I really don't see anything other than a lucky power shot, but Eye doesn't have any power. Shevchenko strikes at a higher rate, punches harder, and absorbs fewer strikes, as well as having more types of strikes she uses in the form of kicks, elbows and the like. Then there is also the ground game. Bullet shoots for takedowns and more often than not gets them. On top, she has ruthless ground and pound as well as a vast array of submissions under her repertoire. Eye has nothing in terms of a ground game. Shevchenko will easily solidify her belt after a few rounds of pounding before the ref steps in.
Take the Shot: Valentina Shevchenko via Round 4 Knockout
Tony Ferguson vs. Donald Cerrone (LW)
I'm so happy that El Cucuy is back. Tony Ferguson (24-3, 14-1 UFC) has an 11-fight winning streak inside the Octagon and had to take a mental health break from the sport after his Fight of the Year bout with Anthony Pettis. Tony Ferguson is just insane. He has the best cardio in the sport and there are tales of him training for 8 hours on end. "El Cucuy" or The Boogeyman is as well-rounded as they come with amazing striking where he will switch stances, fire kicks, body shots, and wild elbows on top of those usual, boring punches that everybody uses. He also has amazing submissions and can wing crafty submissions from seemingly anywhere.
It seems like Cowboy Cerrone (36-11, 23-8 UFC) is on that same level of crazy as Ferguson. About a month ago, he was in a 5-round decision fight against Al Iaquinta which by no means is an easy recovery. That being said, it was an incredible performance where he didn't take much damage and improved Dad Cerrone's record to 3-0. With that match against Iaquinta, he showcased his striking. While I did not have serious doubts, it was an expert showcase. As I said in Cerrone's fight against Al, he has seriously underrated jiu-jitsu and it has come through for him many times over.
I love that we are having this fight but I hate that there has to be a winner. Both of these fighters are well loved and so much fun to watch, but at least we get to see it go down in what will undoubtedly be glorious fashion.
What has made Tony Ferguson so great is not like Khabib, where he entirely dominates or Gaethje with wild finishes. Instead, Ferguson always brings the fight and keeps going with everything he has in there. He does have a tendency to get hit but has shown time and time again that he can take the shot and survive. Ferguson's movement and fight IQ is out of this world and he brings a pressure that no one else can replicate. I think that relentless pressure and striking will give him the edge on the feet and on the ground, Tony can pull a D'arce from anywhere, so I give him a slight advantage there as well.
Take the Shot: Tony Ferguson via Unanimous Decision
Jimmie Rivera vs. Petr Yan (BW)
Jimmie Rivera (22-3, 6-2 UFC) will be looking to make a turnaround after his loss to Aljamain Sterling three months ago. "El Terror" is a volume striker who uses multiple flurries of punches to propel himself to victory. After five straight victories in the Octagon, Rivera fell to the dreaded kicks of Marlon Moraes. He got off the losing streak with a victory over the quick John Dodson. Rivera has impressive defense and striking, but does not necessarily pack the power to get the finish.
Many see Petr Yan (12-1, 4-0 UFC) as the future Bantamweight champion. The Russian native has good reason to deserve this commendation. "No Mercy" lives up to his name with forward pressure, technical striking, and wrestling. Despite having some knockout punches that he is more than able to throw, Yan is a wizard on the ground and loves to dominate his opponent. Really, the best way to describe his style is just No Mercy — he wants to give his opponent as little room as possible.
Rivera is a difficult challenge for anyone and there is a reason he is at the top of the BW ladder. His striking is accurate and defensively sound which makes him hard to hit and beat once you get to the decision. However, Rivera's losses have come against high-pressure fighters and wrestlers. Yan is both.
Take the Shot: Petr Yan via Unanimous Decision
Tai Tuivasa vs. Blagoy Ivanov (HW)
After losing his undefeated record to Junior Dos Santos, Tai Tuivasa (8-1, 3-1 UFC) is looking to step back into contention. Tuivasa gained massive hype, especially in his native land of Australia for his wild knockouts and equally wild personality. "Bam Bam", as the moniker suggests, has some serious power in his hands but also has some flash in him, which undoubtedly granted him those two first round KOs. Tuivasa isn't just a massive power puncher who lumbers around the cage like so many are at 265 pounds, but has surprising agility for his physique and clips at a high volume with the gas tank to match it.
Blagoy Ivanov (17-2, 1-1 UFC) is also a fellow victim of JDS, but in his Octagon debut. Being the combat samba world champion, Ivanov has great wrestling but has not yet completed a single takedown inside the UFC. Instead he has relied on his power, which granted him 6 knockouts in his career. I think that "Baga" really is an incredible wrestler in a division with so few ground specialists. If he mixes in that proven game, h mounts a threat, but has yet been able to pull the trigger.
On the feet, this goes to Tuivasa. He has both the power and the volume to get himself a knockout or a clear decision on the feet. However, Ivanov has a chin on him and can eat a punch and keep moving forward. On the ground, Baga would have the clear advantage but I just haven't seen anything from him in the Octagon that makes me think he would look to go there. Plus, Bam Bam has nice, if not severely tested, takedown defense and is the much faster fighter here.
Take the Shot: Tai Tuivasa via Unanimous Decision
This card is a dream come true. I'm counting down the seconds. Make sure to head back and check out my early prelims picks here, or the good ol' standard prelims shown to us on ESPN.
Until next time, Freaks.