Well, anyone who said that this wouldn't be a good event can shut the hell up forever.
Viviane Araujo def. Talita Bernardo by Round 3 Knockout
So Viviane Araujo came in as a late replacement for Melissa Gatto. She is normally a Strawweight fighter who stepped up 20 pounds (what do I say?) and dominated Bernardo. She had Talita's number from the first second on the feet and although Araujo has some nice submissions of her own, her striking really came out in show. She is looking to step back down to Strawweight, which I don't like. I do think 135 is a bit large for her, but she looks like a perfect Flyweight in my eyes and then all that beautiful knockout power wouldn't go to waste.
Raoni Barcelos def. Carlos Huachin by Round 2 Knockout
So Barcelos dominated Huachin, just like everyone thought. His striking was more accurate and had a much better ground game. This match didn't show me anything new for Barcelos. It did show me that Huachin is dangerous, but not anytime soon after that beating he was just handed.
Luana Carolina def. Priscila Cachoeira by Unanimous Decision
This match was soooo low-level. I don't like either fighter going forward and that's if Cachoeira stays in the UFC. Big if.
Clay Guida def. BJ Penn by Unanimous Decision
Well, BJ looked BETTER, I guess. Still bad, but better. He should have retired back in 2010.
Warlley Alves def. Sergio Moraes by Round 3 Knockout
I'm not sure what to say here. This wasn't a fight as much as it was a training camp for Alves to work on his striking. I guess good on Moraes for lasting to the third?
Thiago Moises def. Kurt Holobaugh by Unanimous Decision
This was a fun one. On the feet, it was a real contest where their technique and striking was matched. For some reason, Holobaugh kept going straight to the ground and that's where Moises was an absolute machine. Moises was all over him, advancing positions and ground and pounding Kurt's face into the mat.
I really like Moises going forward and seeing his well-rounded game here was very promising for his future in the UFC. As for Holobaugh's future, I'm not sure there will be one with an 0-4 Octagon record.
Ryan Spann def. Antonio Rogerio Nogueira by Round 1 Knockout
Okay, Little Nog, back to the hospital with you. This just reinforced my thinking. Spann is an animal within the first round, but he needs to work on his game after that point. And Nog needs to retire, too.
Irene Aldana def. Bethe Correia by Round 3 Submission
What a performance from Irene Aldana! She showed her technical striking against someone who has been boxing with the best of the best and was looking good out there. She had Correia tagged a couple times and when she clipped Correia and Bethe went for a takedown, she snagged a belly-down armbar to get the finish. Aldana is certainly promising. Her game looks to only be getting better against the best of the best and I'm really excited to see her back in the Octagon.
Correia proved her skill at making every fight as close as she possibly can. She went to her typical brawling style and I'm sure she would have won a decision if it had only gone there. However, it didn't and Correia will always have a huge weak spot in her ground game. I don't see another big run for Correia and I think she will fade into that gatekeeper slot for the Bantamweights.
Laureano Staropoli def. Thiago Alves by Unanimous Decision
I loved what I saw from Staropoli here. He had a wild and varied style, similar to Holloway, that keeps his opponent unable to really peg him down. If you watch his tape, you know that. What I was somewhat unsure of was his pedigree on the ground. He was able to land a couple takedowns and hold control against Alves, but that still looks to be the aspect of his game that he will need to work on the most. Staropoli will be a fun, fresh face for the Welterweights for a good bit.
Alves is another who needs to retire. He just doesn't have any of his former knockout power and in this match, it was just disappointing to watch him get worked over by one of the young bucks. It was apparent that the announcers were biased because Alves got completely destroyed in there. Take the high road out, my friend, instead of the BJ Penn method.
Alexander Volkanovski def. Jose Aldo by Unanimous Decision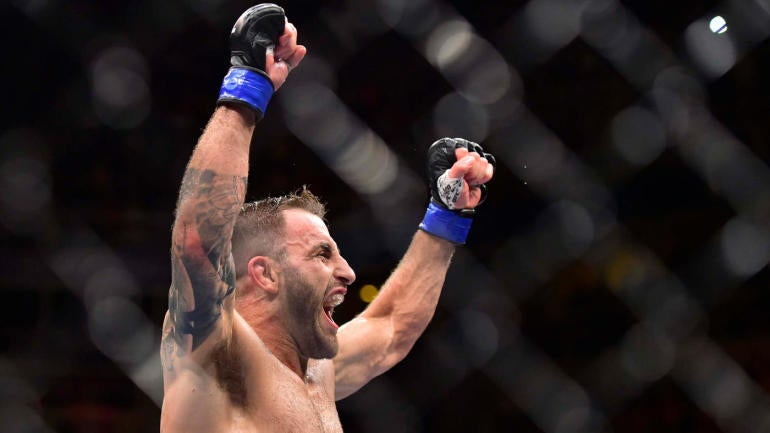 So apparently Aldo didn't want another title shot or to even fight. Honestly, this performance reminds me of TWood's back in March where it just wasn't at all representative of what they can do. The difference here is that Woodley got dominated, while Aldo didn't even seem to put forward any of his typical style or gameplan. Whenever a fighter is looking towards retirement, it's not a solid bet. I need to start taking my own advice.
Volkanovski looked solid here. He had solid boxing and I'm sure that his power is still there – knocking out Aldo is a feat very few can do. His wrestling got blocked by Aldo, but duh. Volkanovski poses a new style and interesting challenge for Holloway and it will be interesting to see how he goes forward with that.
Jared Cannonier def. Anderson Silva by Round 1 Injury
Come on, Andy. Just retire.
Jessica Andrade def. Rose Namajunas by Round 2 Knockout
Wow. Just wow. I'm not gonna lie, at first I was worried for Rose. The way Andrade slammed her down on her neck made me think she might have actually broken her neck. It was scary. Prior to that, Rose was piecing up Andrade using her technical boxing and range. Credit to Andrade, her fight IQ showed up and she altered her tactics to give her the edge. First, she tried to make the fight a brawl then used Rose's kimura attempt against her and slammed her down.
This was crazy. This should show everyone just how dangerous Andrade really is. She's an absolute tank. That being said, her technique needs some work, especially because of her size. I think that she certainly has the possibility to become a dominant champion should she round out her striking just relying on power.
The question does beg, does Rose deserve another shot? I would argue no. Sure, she was winning the fight up to that point, but that's the beauty of MMA. By that logic, then Derrick Lewis deserves no respect because that's his whole style. It's what makes the UFC so crazy unpredictable and fun. I think that if Rose was to beat another contender (how about Michelle Waterson?) then by all means, but on the merit of her one title defense and 13 months without defending, I say she needs to prove herself again.
Well, this was a great night. Feel free to check out my predictions and see how I matched up. We have yet another amazing Fight Night next weekend coming at us from Rochester. I'll be here on Wednesday with my predictions.
Until next time, Freaks.