The UFC travels to Long Island, New York this weekend with a stacked Fight Night card currently set for twelve bouts.
In the main event, top five Featherweights will trade when Brian Ortega meets Yair Rodriguez. Michelle Waterson and Amanda Lemos will fill the co-main event in a Strawweight clash of fan favorites.
---
Brian Ortega vs. Yair Rodriguez (FTW)
Brian Ortega (15-2, 7-2 UFC) made his return to the Octagon in October 2020, claiming a dominant decision win over the Korean Zombie after not appearing in the cage for nearly two years. After coaching a season of TUF opposite Alexander Volkanovski, Ortega lost a Fight of the Night decision to the current champion. "T-City" is a jiu-jitsu prodigy with a specialty off of his back, snatching up seven pro wins in submission. His boxing fundamentals saw improvement over his UFC career, handing Frankie Edgar his first stoppage defeat prior to his Fight of the Night effort against Max Holloway. Ortega keeps up a good volume in his striking and manages distance well, but has proven to be quite hittable, especially against opponents with a reach on him. Ortega is a well-versed finishing threat, with potent offense in every avenue of the fight, though his defense has shown some holes.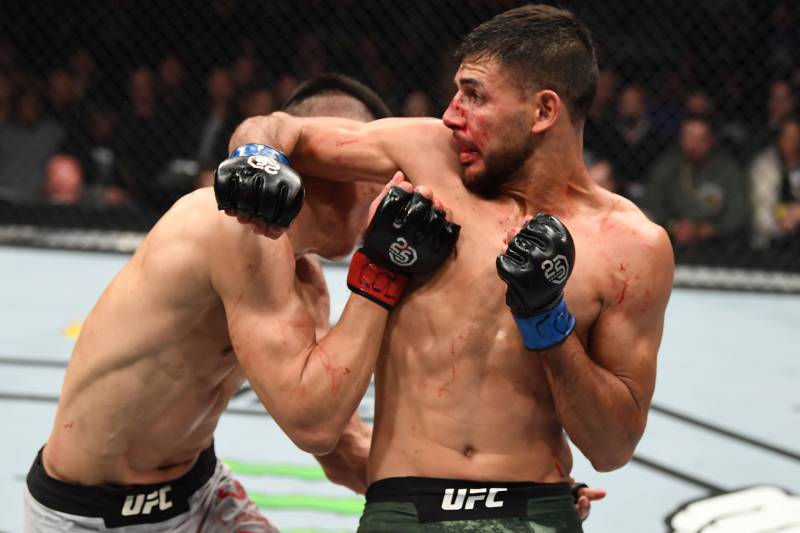 Yair Rodriguez (13-3, 8-2 UFC) stunned everyone with his literal last-second knockout elbow to send Chan Sung Jung to the mat in their Fight of the Year contender and went on to win a Fight of the Night decision over Jeremy Stephens in the following year. After not gracing the Octagon in two years, Rodriguez returned to put on a Fight of the Night war opposite Max Holloway, though he lost on the scorecards. "Pantera" keeps it interesting inside the cage with his wild and unorthodox striking, only benefitted by his lengthy 5'11 frame. He has been to four main events and has become a highlight reel star with his wild striking style and submission experience, along with the power in his high amplitude strikes to quickly close the show, as he showed in his brutal knockout of the Korean Zombie.
On a card stacked with matchmaking bred for wars, our main event pits two of the most exciting fighters in any weight class against each other. Brian Ortega is a finisher in every sense of the word, with an inhuman toughness. Rodriguez is an artful striker, with an aggressive pace and frightening kicks. On the feet, I give Rodriguez a slight advantage. Ortega has made improvements in his counters and defense, but I still find the volume and technical acumen of Rodriguez to hold a slight edge. On the mat, it's a totally different story. Ortega is a ruthless grappler who landed takedowns on the legendary defense of Max Holloway and Volkanovski. With Yair's key weakness being on the mat, as shown by Frankie Edgar, I see Ortega finding dominance from top position. Expect a barn burner on the feet before Ortega takes the fight to the mat and closes the show.
My Pick: Brian Ortega via Submission
Michelle Waterson vs. Amanda Lemos (SW)
Michelle Waterson (18-9, 6-5 UFC) got back on the winning track by defeating Angela Hill in a controversial decision, previously dropping decisions to former champions Carla Esparza and Joanna Jedrzejczyk. She then lost her next bout opposite Marina Rodriguez, being outstruck on the feet. "The Karate Hottie" has a high-output karate striking style, as well as nine career submissions on her resume. Though her offensive wrestling presents an area where she can improve, she has slick top control and sticks to her opponent like peanut butter to jelly. Her rangy striking attack works well with her submission offense, proving her a threat wherever the bout goes. Her primary weakness comes from the number of strikes she absorbs when entering the pocket, as her punches and kicks work best from a kickboxing range.
After losing her UFC debut in 2017, Amanda Lemos (11-2-1, 5-2 UFC) returned in 2019 with a vengeance, rattling off five straight wins. Among those victories are three first-round finishes, two of them being vicious knockouts. She could not defeat Jessica Andrade in her first main event opportunity, losing via first-round submission. Lemos is a punishing Muay Thai striker with a variety of weapons in her arsenal, though her quick counters are especially dangerous. She operates at a 58% accuracy and averages over five significant strikes per minute, putting an aggressive pace on her opponents. She is no slouch on the mat, however, with stout takedown defense and two submission victories, as well as holding some offensive grappling in her back pocket. Lemos is an offensive machine, though her cardio has shown room for concern.
I am excited to see how Lemos looks here, coming off a loss to a divisional staple in Jessica Andrade. Lemos has proved an all-action fighter, aggressive on the feet and the mat. Lemos holds a clear edge on the feet, with impressive range management and heavy power for the division. While I see Waterson with an edge in grappling, Lemos' 88% takedown defense figures to make that a non-issue, giving the Brazilian the ability to decide where the fight plays out. Even against Andrade, Lemos found success on the feet, showing her striking pedigree. Although her gas tank needs work, I expect Lemos to dominate on the feet for a knockout victory.
My Pick: Amanda Lemos via Knockout
Li Jingliang vs. Muslim Salikhov (WW)
Li Jingliang (18-7, 10-5 UFC) got back into the win column back in January, knocking out Santiago Ponzinibbio in the first round in his best performance to date. The success did not last, as Li succumbed to a Khamzat Chimaev submission inside the first round last October. "The Leech" has an entertaining style, waiting for his opening and then unloading with power combinations. He holds thirteen career finishes, including eight by way of knockout. Though his volume has been a concern at times, he has fight-changing power and deadly precision to instantly end the fight, as he did just last year opposite Elizeu Zaleski dos Santos. He brings in capable groundwork as well, with five of his twelve finishes ending in submission, as well as powerful wrestling entries. He is 4-1 in his past five fights, only dropping a decision to challenging grinder Neil Magny.
After being submitted in his UFC debut, Muslim Salikhov (18-2, 5-1 UFC) rebounded with five straight wins, including two brutal KO finishes of Ricky Rainey and Nordine Taleb. Most recently, he defeated veteran Francisco Trinaldo in a decision. "The King of Kung Fu" fights with his namesake style, bouncing around the outside of the cage while reading his opponent. He keeps a busy left hand to mask his power rights and spinning kicks because when he loads up, he does it with precision and deadly intention. In his last fight against Laureano Staropoli, the Dagestani demonstrated an improved sense of grappling, landing three takedowns on the Argentinian. Salikhov's Achilles' heel at the moment seems to be his gas tank. After a round or two of unloading high-amplitude shots, his volume and movement falter and he becomes increasingly easier to hit.
We have fantastic Welterweight matchmaking on display in the featured bout, with two underappreciated gamers on display. Jingliang has become a fan favorite over the past few years, with devastating knockout power and a love for wild striking brawls. Salikhov is criminally underrated, primarily due to his strength of schedule (or lack thereof). The Russian has the superior striking technique, especially defensively, as he manages range masterfully. On the mat, Salikhov also takes the advantage, with quick trip takedowns and excellent defense. I expect Salikhov to find success on the defensive lapses of Jingliang, mixing in takedowns for a decision victory.
My Pick: Muslim Salikhov via Decision
Matt Schnell vs. Su Mudaerji (FLW)
Two losses put Matt Schnell (15-7, 5-5 UFC) on a bad path in his UFC start, but he turned it around with four straight wins, including two triangle chokes. "Danger" was then knocked out by Alexandre Pantoja but got back on the right track in January with a decision win over Tyson Nam. He is on a two-fight skid, suffering a decision loss to Rogerio Bontorin before being caught in a Brandon Rooyval guillotine. Schnell is a well-rounded fighter with slick grappling and fundamental striking, punctuated by his absurd length for the division. He is a killer off of his back with nine submissions but sometimes lacks the wrestling to back that up. His striking is sound defensively but he has a low accuracy with his strikes and his greatest weakness to this point has been his chin.
After going 1-1 at 135 pounds in the UFC, Su Mudaerji (16-4, 3-1 UFC) dropped down to Flyweight. He is undefeated since, with two victories including a 44-second knockout of Malcolm Gordon. "The Tibetan Eagle" is a powerful striker with a massive frame for the division, standing at 5'9″. With thirteen of his pro wins coming by knockout, Mudaerji is someone to watch out for on the feet, with technical Muay Thai. His wrestling is stout defensively, though he struggled in his submission loss to Louis Smolka.
While Schnell is somewhat well-rounded, his issues with striking defense make this a fight where he will need to grapple. Su holds a clear edge on the feet, in both technique, power, and defense. Schnell is a workhorse on the mat and can latch onto a submission from anywhere. However, his wrestling chops lack, and I expect Su's defense to hold up. If this fight stays standing, it will not take long for Su to put Schnell's lights out.
My Pick: Su Mudaerji via Knockout
Shane Burgos vs. Charles Jourdain (FTW)
Few fighters are as game for war as Shane Burgos (14-3, 7-3 UFC). "Hurricane" marches forward, forcing a brutal pace for him and his opponents to fight on. He found himself on a two-fight skid after Fight of the Night defeats to Josh Emmett and Edson Barboza, losing the latter by third-round knockout. He rebounded with a decision victory over Billy Quarantillo, once again showing his abilities to excel in a barnburner. The cardio and output of Burgos are simply unrelenting, bullying his opponents into submission. Although Burgos is by no means impossible to hit, his striking average of over seven significant strikes per minute provides danger and scary finishing potential. On the mat, Burgos is dangerous off his back but sports an 89% takedown defense rate to keep the fight where he wants it. Shane has ten finishes split evenly between knockouts and submissions, most recently knocking out Makwan Amirkhani in the third round.
After a poor debut against Desmond Green, Charles Jourdain (13-4-1, 4-3-1 UFC) secured a huge upset, knocking out Doo Ho Choi in the second round of their Fight of the Night brawl. He went 1-1-1 before finding himself on his current two-fight winning streak, most recently claiming a submission victory over Lando Vannata. Jourdain boasts a high striking rate and one-shot power, although he struggles with his defensive grappling. Jourdain has proven no stranger to a slugfest with performance bonuses for fights against Doo Ho Choi, Josh Culibao, and Marcelo Rojo.
I am expecting nothing short of a stand up war here. Both fighters like the swing it out in the pocket, and while Jourdain brings in the more flashy attacks, Burgos holds a better volume. Burgos without a doubt holds the edge in level of competition and gas tank, meaning he will look better the longer the fight goes. While Burgos is more proven, his striking defense lacks and his durability has come into question. Jourdain has the chance for a knockout, but I expect Burgos to wear the Canadian down for a decision victory.
My Pick: Shane Burgos via Decision
Lauren Murphy vs. Miesha Tate (FLW)
Lauren Murphy (15-5, 7-5 UFC) rode a five-fight win streak, including a knockout of Mara Romero Borella, into an April title fight opposite Valentina Shevchenko, who finished her in the fourth round. "Lucky" is a skilled striker with powerful hands and adept usage of eight-point striking. She strikes laterally and is incredibly precise when leading the dance, but has shown openings to be tagged when she strings together combos. Although Murphy showed poor defense to wrestling in her early Octagon career, she has been more offensive on the mat as of late. She has nine finishes on her resume, with eight of those wins coming via knockout. Her jiu-jitsu has shown the most improvement on the mat, with her first career submission coming in her fight last September opposite Lilya Shakirova.
Miesha Tate (19-8, 6-5 UFC) made her successful return to the Octagon last July, being the first person to finish Marion Reneau. She lost a five-round decision in her next outing to Kelten Vieira with a back-and-forth striking affair. Prior to that, she had not been seen in five years' time, retiring after a decision defeat to Raquel Pennington back in 2016. This loss came just one fight removed from losing her title to Amanda Nunes. She has competed against top names in the division like Ronda Rousey, and Nunes, also capturing the title with a last-chance submission against Holly Holm. "Cupcake" is most comfortable on the mat, using her adept wrestling and quick submission attempts to constantly threaten the finish. She has ten across her career, with seven of those coming by submission. 
Tate is certainly at the tail end of her career, so I am surprised at the change in weight class. However, Flyweight is a division Tate's frame fits better, along with a easier path to the title. Frsh off her title defeat, Murphy is an apt test to see how Tate will stand up, with the combination striking to find success on the feet. Howveer, Murphy's weakness lies on the mat, where Tate holds a clear edge in wrestling and grappling ability. Along with her newfound size advantage, I expect Tate to edge out contentious striking exchanges with stints of top control for a decision victory.
My Pick: Miesha Tate via Decision
---
The show kicks off early on Saturday, with the prelims beginning at 11 AM EST!