After a month off, the UFC got back to action last weekend with a top notch FIght Night card. Our first Pay-Per-View of 2022 is in store this Saturday, with a thirteen bout fight card set to go down.
In our main event, Heavyweight champion Francis Ngannou will face off against interim titleholder and former teammate Ciryl Gane, while Brandon Moreno looks to make his first title defense against Deieveson Figueiredo in their trilogy.
---
Francis Ngannou vs. Ciryl Gane (HW)
Francis N'Gannou (16-3, 11-2 UFC) is a scary, scary man. Following two straight defeats, he has rebounded with four straight KO finishes, all inside the first round, demolishing Jairzinho Rozenstruik in just twenty seconds. That led to a rematch with Stipe Miocic, who Ngannou brutally knocked out in the second round. Apart from having the hardest recorded punch in human history, Ngannou is a prolific finisher with all wins coming by stoppage, as well as holding an underrated grappling game with five submissions on his record. While he doesn't like to take it to the ground, he is surprisingly capable there. However, the main forte of "The Predator" is his violent power and ability to stop a fight at any second. In fact, each of his Octagon fights has been getting shorter and shorter. Ngannou is a finishing machine and his only losses are when a fight goes the distance. A five rounder with two heavy hitters makes me find it highly unlikely this goes there.
Ciryl Gane (10-0, 7-0 UFC) has quickly surged through the UFC rankings after just becoming a pro MMA fighter three years ago. After joining the UFC in 2019, he tore through three straight opponents in five months, but then suffered forced inactivity due to injury and COVID-19. After three more wins, he won the interim title over Derrick Lewis in July, finishing the veteran brawler in the third round. "Bon Gamin" is an elite striker with quite a bit of skill on the mat as well. He brings in a professional kickboxing and Muay Thai background and has remarkable speed and technique for the Heavyweight division. His clean Muay Thai offensive is devastating, as he utilizes all eight striking points, attacks the head and body, and works in expert combinations. He has proved he has all the requisite champion-level skills as well, having gone the distance successfully to prove his gas tank while showing sneaky submission skills over Raphael Pessoa and Don'Tale Mayes.
Once again, the Heavyweight title is offered on a precipice that could tip either way. Ciryl Gane is the most technical striker the Heavyweight division has seen in quite some time, and he has the fight IQ and defensive skills to boot. On the other hand, Francis Ngannou is a superhuman whose hands literally hold the weight of cars moving full speed. Much has been made in this matchup about the pair's previous training together, but I estimate that claim will not hold water as the pair duke it out amongst opposite coaching teams years removed from prior training clashes. Gane's striking relies upon his range dictation, and the explosiveness and pressure of Ngannou is well-suited to provide a new challenge. After a lackadaisical feeling out process, expect Ngannou to find the kill switch early.
My Pick: Francis Ngannou via Knockout
Brandon Moreno vs. Deiveson Figueiredo 3 (FLW)
Though he was cut in the 2018 Flyweight purge, Brandon Moreno (19-5-2, 7-2-2) scored a win on the regional circuit to vault himself back into the world's leading MMA promotion. He claimed UFC gold at UFC 263, choking out Figueiredo in their rematch. Moreno has a well-rounded style, with a love for scrapping on the feet as well as talented grappling in his back pocket. As a striker, Moreno finds most success through his boxing, with a high volume and not discriminating with his attacks to the head and body. His scrambling is his highlight on the mat, quickly cutting angles and using his high takedown defense to decide where he wants the fight. "The Assassin Baby" has scored fourteen finishes in his pro career, with eleven by way of submission. Moreno has a massive frame for the division, coming in with a 5'7″ height and two-inch advantages in both height and reach in this bout.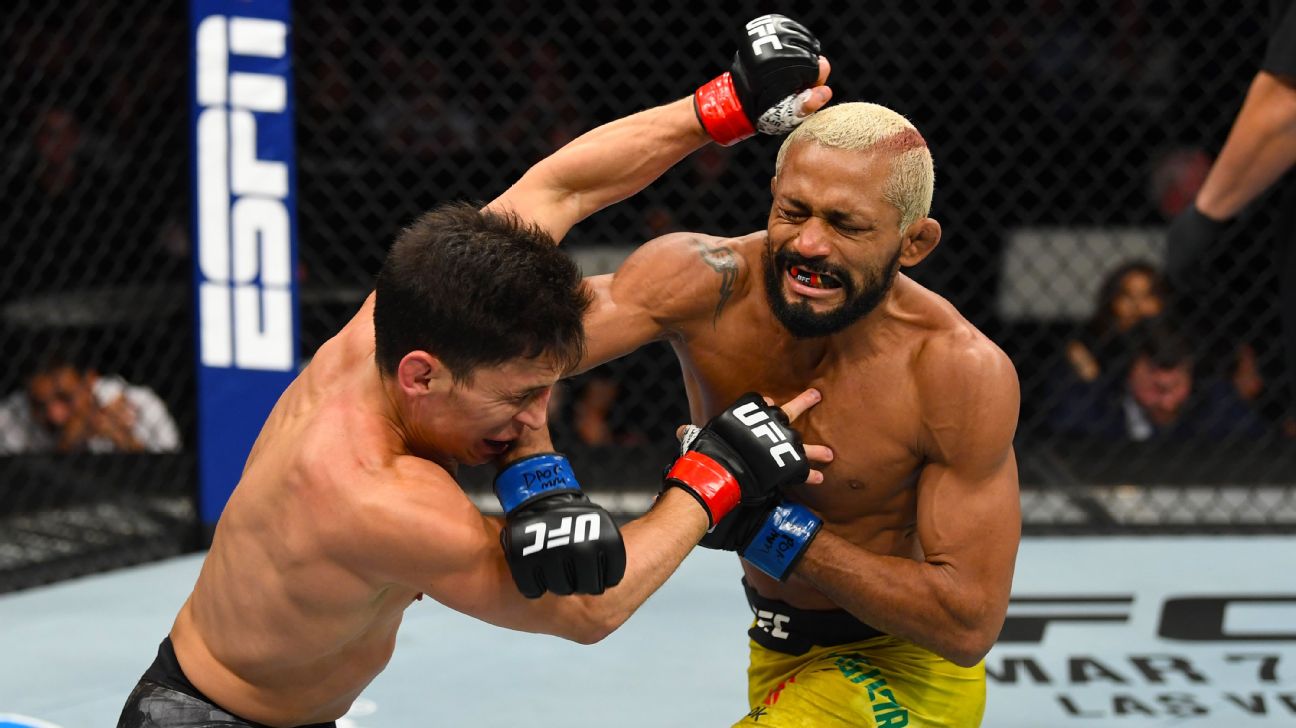 Deiveson Figueiredo (20-2-1, 9-2-1 UFC) made a quick turnaround following a first round submission over Alex Perez, getting right back into it by facing Brandon Moreno on the following Pay-Per-View. That bout saw the two scrap it out in a Fight of the Year contender, ending in a draw and necessitating a rematch, which Moreno won. "Deus de Guerra" is a finisher in every area, with 16 stoppages and nine coming by knockout. His striking is his main forte and he utilizes a long, odd, and almost karate style stance to set up his power punches. His guard is a little low and outstretched, but his hand speed and concrete chin do more than enough to shore up those concerns. Even on the mat, Figueiredo has a number of crafty submissions in his repertoire, with his iron tight guillotine earning four of those seven.
This is a compelling firefight that we could get many things out of. However, I find myself leaning towards Moreno this time after their second outing. Figgy came out with a much more patient approach, and Moreno's crispy boxing worked him over as Moreno was allowed to dictate range. You can expect Figueiredo to give a better contest in this match, though the durability and pace of Moreno will allow him to once again take over down the stretch. I see another back and forth war that Moreno edges on the scorecards.
My Pick: Brandon Moreno via Decision
Michel Pereira vs. Andre Fialho (WW)
Michel Pereira (26-11, 4-2 UFC) made headlines even on the regional scene with his wild striking style, complete with spin kicks and superman punches and everything else you could ever imagine. "Demolidor" is an entertainer at heart and throws a full variety of strikes, scoring sixteen stoppages over his career including ten by knockout. Pereira uses his long frame and size advantage for the weight class to unload power strikes from kickboxing range, holding a high defense. On the mat, Pereira is a BJJ black belt, excelling with his explosion but can be worn down by oppressive top control. He has shown gas tank concerns, but did show improved patience in recent efforts in his last two decision victories.
This fight was moved from last week's Fight Night card, due to COVID-19 protocols. Andre Fialho (14-3) is stepping up to the UFC on short notice, but he has certainly earned his keep, as he has competed in Bellator, PFL, and UAE Warriors. At present he is coming off of four straight knockout wins in 2021, stemming from a first round KO over UFC veteran James Vick. Fialho is a punishing bruiser, but his lackluster volume can cost him. However, his forward pressure and one shot capability poses a tough test for the surging Pereira. I expect striking volume and versatility to win out the judges for Pereira.
My Pick: Michel Pereira via Decision
Cody Stamann vs. Said Nurmagomedov (BW)
Don't let the Nurmagomedov name fool you, this is a striker vs wrestler matchup, and Said is the striker. He offers a number of wild, spinning attacks and has serious one-shot power, resulting in first round knockouts over Ricardo Ramos and Mark Striegl. However, his takedown defense has been exploited before, and the relentless wrestling transitions of Stamann will tear through that. Barring an early KO, expect Stamann to work top control for a decision win.
My Pick: Cody Stamann via Decision
Rodolfo Vieira vs. Wellington Turman (MW)
While the Anthony Hernandez loss still looms large, Vieira displayed a much more patient approach in his last matchup. Once again, his elite level grappling remains his strong suit, here faced off with another grappler in Wellington Turman. Turman's lone Octagon victory remains a close win over Sam Alvey, and his promotional tenure has seen his struggle when unable to get his top control and pressure going. I see Vieira taking advantage of Turman's sub-par wrestling defense and snatching a quick submission.
My Pick: Rodolfo Vieira via Submission
---
There are eight prelims fight leading up to the main card action, set to go down at 10 PM EST on PPV!