After a somewhat underwhelming PPV card on paper delivered in spades last weekend, we are back on the Fight Night grind.
Our main event this week features a Heavyweight collision as Curtis "Razor" Blaydes takes on fan favorite slugger Derrick Lewis, with top ranked Bantamweights taking center stage in the co-main as Ketlen Vieira dukes it out with Yana Kunitskaya.
---
Curtis Blaydes vs. Derrick Lewis (HW)
Note: This bout has been rescheduled from November. Seeing as my prediction stands, I am going to be using the almighty power of copy and paste here.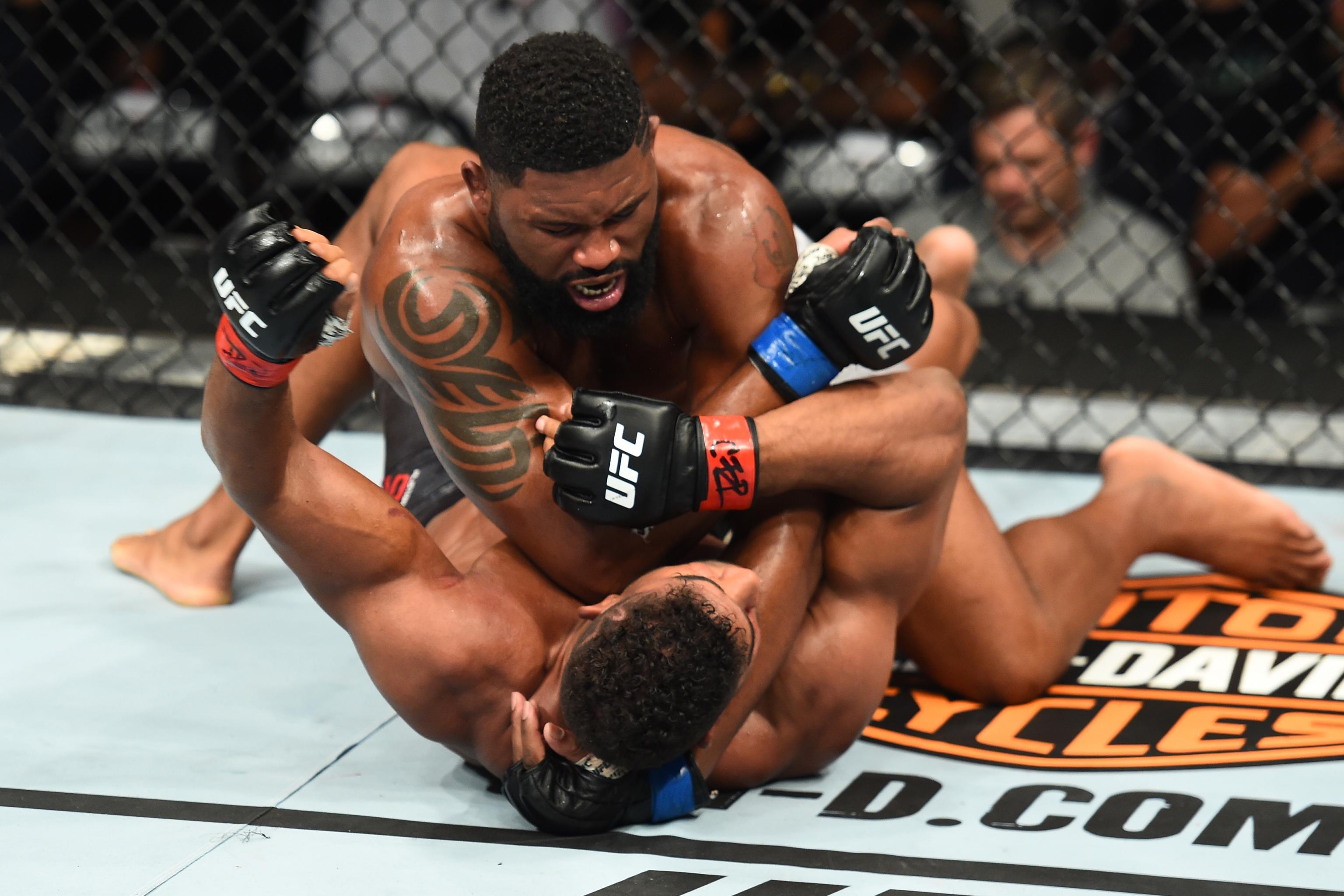 If not for one fighter, Curtis Blaydes (13-2, 8-2 UFC) would be near undeniable for a title shot right now. After a second round doctor stoppage to Francis Ngannou in his UFC debut (not bad, right), Blaydes went on to win five fights straight under the UFC banner, with three of those being knockouts. He was stopped inside of a minute by Ngannou, but has rattled off three straight victories, toting two straight by knockout. Blaydes is a wrester by trade, who is masterful on controlling position while inflicting damage with his hammerfists and elbows. Prior to his recent fight against JDS, I thought that JDS would deny all Blaydes' takedowns and then use his boxing to clinic Curtis. I was right in one sense, as they did not touch the mat, but Blaydes finished the Brazilian striker in the second round, adding feints and head movement into his striking arsenal.
Following his title shot defeat to Daniel Cormier and a subsequent loss to JDS, Derrick Lewis (23-7, 14-5 UFC) scored two decision victories, showing considerable improvements in his grappling and cardio. From there, "The Black Beast" went on to finish Alexey Oleinik in the second round to tie the all-time KO record. Lewis is one of the few fighters on the UFC roster who cuts to the 266-pound limit and is shown through his style. He hits incredibly hard and while he is a slower fighter without much of a ground game, he can end the fight with one good shot. Just ask Alexander Volkov, who was destroying him until the very last minute of their fight.
Once again, Lewis is in a style matchup against an elite grappler. Lewis without question hits much harder, but does not have many advantages from there. His volume is outdone by Blaydes and he is seriously outgunned in wrestling, where his defensive strategy essentially add up to "powering back up." Though Lewis is dangerous from bell to bell, his limited defensive options and unreliable gas tank will ensure Blaydes has all the tools to put on a masterclass.
Take the Shot: Curtis Blaydes via Knockout
---
Ketlen Vieira vs. Yana Kunitskaya (BW)
Ketlen Vieira (11-1, 5-1 UFC) surged into the UFC with four straight victories, including a second-round submission over Octagon vet Sara McMann. Vieira comes in with a jiu-jitsu and judo background which serves as her primary method of attack inside the cage. "Fenomeno" holds six finishes on her pro resume, four by submission, as she seeks to secure top control and work into submissions from dominant positions. Her striking is composed with a high volume, but her accuracy and middling defense make the ground game her best avenue to victory.
Yana Kunitskaya (13-5, 3-2 UFC) got pulled up to the big leagues to take on Cris Cyborg for the Featherweight title. Although she lost her title shot, "Foxy" pieced together two straight decision victories before losing to Aspen Ladd in December. Yana has a crisp Muay Thai base with no shortage of powerful kicks and offers a high paced volume, although she takes a few more shots than I would like, which is part of the reason her two Octagon defeats have come by KO. Yana has solid offensive wrestling but struggles to establish top position and avoid the takedown.
This is a pretty fun stylistic clash between striker and grappler. Kunitskaya's aggressive and versatile striking game has the opportunity to open up the apparent holes in Vieira's work on the feet, but her lackluster takedown defense seems to be what will do in her in. Vieira's mauling top control and high percentage takedown accuracy ensure she will find success if she can wrangle the fight to the mat – a task not too difficult opposite Kunitskaya. Yana's openings will come if she can close the distance on the feet and load up on power shots, but this will become increasingly difficult over the course of the bout.
Take the Shot: Ketlen Vieira via Decision
---
Charles Rosa vs. Darrick Minner (FTW)
Recently claiming a close decision over Kevin Aguilar, Charles Rosa (13-4, 4-4 UFC) has an incredibly polished ground game, boasting as elite of an armor as you can have as well as impressive skill at finding chokes from the mount. Rosa fights on the back foot, throwing kicks to control range and set up the takedown. Although not the most threatening in terms of power, he is willing to pull guard to get into the arena of his choosing. In his bout with Aguilar, Rosa proved that he has the versatile striking and range management to find victory on the feet.
Darrick Minner (25-11, 1-1 UFC) missed out on his UFC shot after a submission defeat to Herbert Burns on the Contender Series, but found his way back through a short notice opportunity against Grant Dawson. Though he was met with a second round d stoppage, he rebounded against TJ Laramie, closing the show with a guillotine choke in under a minute. Minner is a finisher through and through, as twenty three of his pro fights ended before the final bell, with all but one coming by way of submission. Though he has found himself on the other end of the submission equation in eight of his defeats, his iron tight chokes and near endless submission attempts make him a dangerous fighter.
Looking at this on paper, Rosa seems to hold nearly every advantage. He is a slick grappler who works well from top and bottom position, as well as skillful wrestling entries. He is much more proven on the feet, with a diverse switch stance style and adept utilization of range. Minner's submission threats are a danger to any opponent, but Rosa's own experience on the mat can rival that and he showed fantastic submission defense opposite Bryce Mitchell. So long as he does not get lackadaisical in the guard of Minner, Rosa should have no issue using his top control and lengthy striking to earn a decision win.
Take the Shot: Charles Rosa via Decision
---
Alexey Oleinik vs. Chris Daukaus (HW)
Alexey Oleinik (59-14-1, 8-5 UFC) is a submission specialist and aside from Fabricio Werdum, who he most recently defeated, is one of the best grapplers at the 206+ division. Oleinik has 46 wins by submission and don't let his record fool you. Although he only has eight knockouts in his 59 wins, he has dropped people with big shots and led into submissions. He has the Heavyweight power and although he is somewhat of a small heavyweight, his speed and technique have kept him in the game for 20+ years.
After claiming gold in the CFFC, Chris Daukaus (10-3, 2-0 UFC) got the call up to the UFC over last summer. He wasted no time after joining the world's premier organization, scoring two first round knockouts over Parker Porter and then-undefeated Rodrigo Nascimento. Typically weighing in around 230 pounds with the full knowledge he could make the LHW limit, Daukaus prefers to have the speed and movement advantage against most plodding Heavyweights. Having finished all but one win including eight by knockout, Daukaus is primarily a striker with solid takedown defense, but can be caught in the pocket when he opens up on combinations.
I think that this bout will be telling of Oleinik's future in the sport. Though sporting some decent counter-wrestling, Oleinik's submission savvy and relentless takedown entries seem tailor made to exploit Daukaus' gameplay. However, at 43 years old with his last four defeats all coming by knockout, the durability and defense of Oleinik are weaknesses now far too glaring to ignore. Unless Oleinik can drag Daukaus to the mat early and often, I am predicting another early finish for Daukaus.
Take the Shot: Chris Daukaus via Knockout
---
Nassourdine Imavov vs. Phil Hawes (MW)
Though a scrapped Contender Series bout put him on the waitlist, Nassourdine Imavov (9-2, 1-0 UFC) made his way to the Octagon in a short notice appearance to soundly outstrike Jordan Williams to a decision. Imavov is a well-rounded fighter who mixes up his striking and wrestling well, often using top control to score a victory. "The Russian Sniper" is a versatile finisher as well, netting seven finishes with four coming in submission. At 6'3″, he is most comfortable striking when he can keep it at range, using clean straights and quick kicks to pick apart his opponent before closing range and securing the takedown.
Phil Hawes (9-2, 1-0 UFC) made good on his second Contender Series opportunity, dispatching Khadzimurat Bestaev in brutal fashion. His UFC debut was no different, as he needed just eighteen seconds to knock out Jacob Malkoun. "Megatron" has a high level wrestling background with powerful top control, complimented by ferociously heavy hands that have netted him seven career knockout. He has shown solid boxing fundamentals and range utilization, entering the pocket well with power hooks or takedowns. Hawes lives and dies by the sword, as he has never seen a third round in victory or defeat. Hawes' aggression and raw power are only hampered by his gas tank, which leaves him vulnerable when unable to secure a finish.
This is an exciting matchup between the raw athleticism and power of Hawes versus the cleaner technique of Imavov. The Russian's crisp and lengthy striking can hold him competitive on the feet, but the insane power and explosiveness of Hawes seems to simply be too much. Imavov will not have his wrestling to lean on if unable to dictate the range of this match, as Hawes' stellar NCAA background ensure he can hold the fight on the feet. Imavov's best course of action comes in weathering the early storm of Hawes and draining his gas tank, but I expect Megatron to make a statement with another powerful KO.
Take the Shot: Phil Hawes via Knockout
---
Note: Some sources list the bout between Andrei Arlovski and Tom Aspinall as a main card fight. Check out the prelims predictions to see the breakdown of this bout.
The prelims have no shortage of fun bouts either, with fun fighters such as Nate Landwehr, Drakkar Klose, and Chas Skelly in competitive bouts, so make sure to check out Coby McKinley's breakdown of the prelims coming to you shortly!