A stellar return to the UFC Apex shined through in a ferocious KO courtesy of Alexander Volkov, who put an emphatic stop to Overeem's "last title run". We will keep it going at the Apex facility for the first PPV of the year staged out of Las Vegas, and it figures to be a fun night.
In our main event, Gilbert Burns will challenge Kamaru Usman for the Welterweight strap in a rebooking of their scrapped bout in July. In the co-main, hyped prospect Maycee Barber will face off against a fellow striking specialist in Alexa Grasso.
---
Kamaru Usman vs. Gilbert Burns (WW)
Kamaru Usman (17-1, 12-0 UFC) will be looking to defend his title for the third time and put an emphatic hold upon the Welterweight division with another controlling win here. "The Nigerian Nightmare" is coming off fourteen straight victories and had been nothing but dominant up until his war for the ages with Colby Covington, where Usman proved he has the finishing skills when it counts. Usman is a wrestler by trade and seeks to establish dominant position and rack up control time all while delivering ferocious ground and pound. He is by no means lost on the feet, however. His high defense and stalking jab, as well as front kick, help him establish range with his 6'0″ frame so as not to absorb power strikes from the pocket.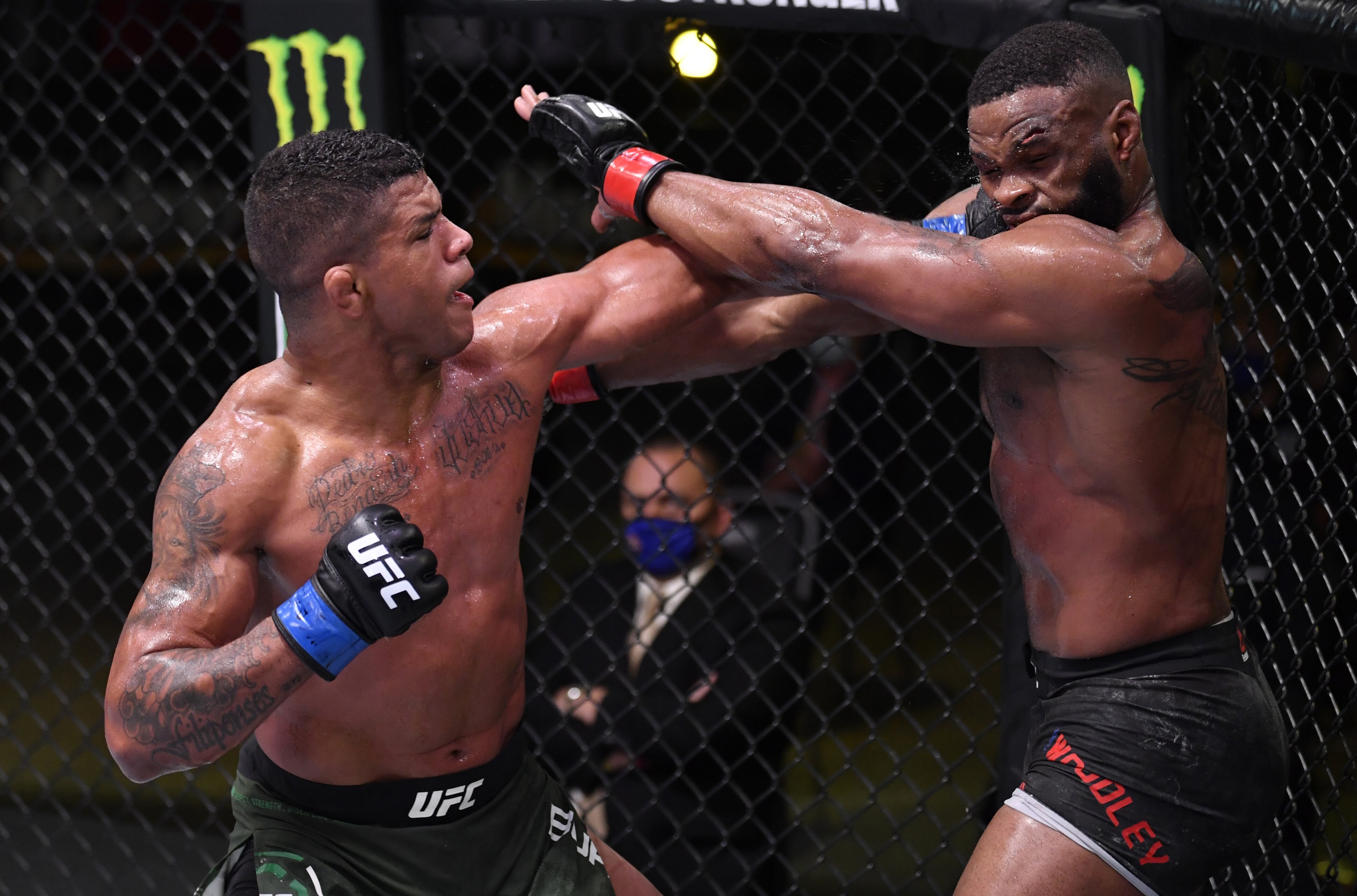 The move to Welterweight has worked wonders for Gilbert Burns (19-3, 12-3 UFC), who has amassed four straight wins in the weight class and most recently put a dominant beating on former champion Tyron Woodley. Putting submission deity Demian Maia to sleep only solidified his danger and skill present in the Welterweight division. Burns has incredible power in his striking, as well as a notorious and dangerous ground game that he has used to dominate strikers and grapplers alike. "Durinho" is a ruthless finisher and remains a threat in all avenues of the fight.
In the eight months that have passed since their first meeting was scrapped, this match has only gotten increasingly more difficult to predict. Both competitors are well-rounded and powerful, with competitive specialties. Usman's grueling clinch work and top control play well into Burns' close range power and expert jiu jitsu, while Usman's relentless pace and uncompromising gas tank are always a tough puzzle to solve. To me, the result of this bout comes down to how well Usman can utilize his wrestling. If he is able to maintain position and stay out of danger in Burns' guard, he has all the tools to win a decision using his typical gameplay of control. That said, Burns' guard is well above average, as the multiple-time BJJ world champ has maybe the best armbar in the UFC as of right now and quick scrambling skills. Even if Burns cannot find the submission there, but is at least threatening enough to hold the match on the feet, he will be able to take away Usman's main threat and mix the fight up himself. Of course, there are many intangibles to this fight as both competitors are long-time teammates, but the offensive threat and grappling specialty of Burns have him poised to be Usman's first UFC loss with a finish.
Take the Shot: Gilbert Burns via Submission
---
Maycee Barber vs. Alexa Grasso (FLW)
The hype train behind Maycee Barber (8-1, 3-1 UFC) screeched to a halt when she suffered a torn ACL and a the first loss of her career to Roxanne Modafferi a year ago. The twenty-two year old has finished every one of her UFC victories, as well as her Contender Series entry, by technical knockout. She has great striking when pressuring forward with powerful accuracy, as well as savage ground and pound work. "The Future" has okay wrestling, but can be limited when secured on her back. Her striking defense still has a few holes to shore up, as she can get picked apart when her trademark pressuring isn't able to take hold.
Alexa Grasso (12-3, 4-3 UFC) made good on her Flyweightx debut by defeating Ji Yoen Kim in a dominant decision win. The Mexican Grasso has incredible boxing and more pop than most, yet not enough to yet land a finish inside the UFC. Her striking is mixed up well and Grasso does a fantastic job piecing together combos while keeping her head movement going. She has scored four finishes across her pro career, all of them being knockouts. Grasso's Kryptonite has been strong wrestlers that have the ability to control her and can weather her chopping hooks and quick kicks.
This is an extremely close bout and the betting lines reflect that. Grasso has incredibly sharp hands and is yet to be on the losing end of the significant strike differential in a single one of her UFC fights. That said, her middling takedown defense and grappling have been a consistent Achilles' heel for her. While Maycee has a real clip in her strikes and is quite dangerous when pressuring, but will need to mix it up in this bout if she wants to get back in her winning stride. If she is able to floor Grasso early in the match, her heavy top control and ground and pound will open avenues for a finish, but she will need to fight smart. Despite the injury sustained in her last bout, I believe Barber has the tools to get the match done so long as she can work in her top control.
Take the Shot: Maycee Barber via Decision
---
Kelvin Gastelum vs. Ian Heinisch (MW)
Though he is now sporting three straight losses, Kelvin Gastelum (16-6, 10-6 UFC) remains a top name and promising contender for the Middleweight division. His Fight of the Year with current champion Israel Adesanya and narrow split decision with Darren Till still showed his abilities well, even though they may not be favorable when looking at his record. Gastelum is primarily a boxer who utilizes his hand speed and footwork to enter the pocket and unleash power spots. His prestigious wrestling background primarily serves to keep the fight on the feet for him, where he has his patience and timing to exact punishment, landing a knockdown in every Middleweight tilt except for his past two bouts opposite Till and Jack Hermansson.
Ian Heinisch (14-3, 3-2 UFC) broke a two-fight losing streak with a destructive first-round KO of Gerald Meerschaert. He has seven finishes, five by knockout. "The Hurricane" brings in a diverse offensive arsenal, with powerful bursts on the feet and a proven ability on the mat. In terms of offensive wrestling, Heinisch isn't the best, but he has the scrambling ability of a Flyweight and is difficult to hold down. His striking is powerful and he utilizes that eight-point striking style to great success, using his timing and footwork to nail crucial shots.
This will be a telling bout for Gastelum's UFC future, as he is in desperate need of getting back in the win column. While he has been on a downslope in recent fights, this is a stylistic matchup that he has all the tools to handle. While Gastelum's wrestling has not been much of an offensive threat in a while, he still sports a solid takedown defense and the scrambling skills to keep up with Heinisch. On the feet, Gastelum holds the advantage by a wide margin. His crisp boxing and light footwork will dance circles around Heinisch's bullish striking and winging overhands. Expect Gastelum to get back on the right track in dominant fashion through a wide decision or late KO.
Take the Shot: Kelvin Gastelum via Decision
---
Jim Miller vs. Bobby Green (LW)
Though Father Time has clearly been catching up to Jim Miller (32-15, 21-14 UFC), two straight finishes in 2019 and an underdog submission over Roosevelt Roberts proved he still has plenty of gas in the tank. "A-10" is an elite grappler with eighteen submissions to his credit, and also mixes it up nicely on the feet. As he has aged; however, his striking has become more loose and exploitable, with his famed grappling coming in less often. Still he is a real submission threat through every moment when he can get the bout secured on the mat.
Bobby Green (27-11-1, 8-6-1 UFC) made the most of his 2020 campaign, netting three decision wins before finding himself on the wrong end of a controversial decision defeat to Thiago Moises. Green is a Strikeforce veteran who has been going up against the best competition for nearly the entirety of the career. "King" has 17 finishes on his record with nine by submission, though he has not earned a stoppage victory since 2013. Green is a well-rounded fighter who has been historically difficult to take down to the mat, as he is primarily offensive on the mat when in top position. He has clean boxing which has been on display in his recent bouts, although he overexposes when stringing together his combinations.
This is a poor stylistic match for Miller and although he has a fellow veteran on his hands this time around, he will have difficulty getting his game into place. Miller has been even more reliant on his grappling to get the win in recent fights and although he is still certainly dangerous, Green has all the tools to have a field day with him. Green's stellar takedown defense and much more slick boxing technique will help him sprawl and brawl his way to another decision win.
Take the Shot: Bobby Green via Decision
---
Julian Marquez vs. Maki Pitolo (MW)
Julian Marquez (7-2, 1-1 UFC) will be returning to the cage after over two years off following a split decision defeat to Alessio di Chirico. "The Cuban Missile Crisis" made his way to the UFC with a head kick knockout of recent standout Phil Hawes on the Contender Series. Marquez is a technical and well-paced counterstriker who can also find success in a brawl, utilizing a variety of shots to pick apart his opponent. Though his wrestling leaves something to be desired, he has dangerous submissions as well, securing his first UFC win by choking out Darren Stewart. All of his wins have come by finish with five by knockout.
After moving up to Middleweight, Maki Pitolo (13-7, 1-3 UFC) scored a KO win on the Contender Series to earn himself a UFC contract. He failed to replicate that success in his debut against Callan Potter, but got back on the winning track with a finish of Charles Byrd. He has since been unable to replicate that success, being choked out by Darren Stewart and dropping a decision to Impa Kasanganay. "Coconut Bombz" is a power puncher with devastating hooks, truly finding his mark when able to open up against the cage. Pitolo also has three submission wins on his record, but has limited offense off of his back.
Though there is the X-factor of how Marquez will look after a very lengthy layoff opposite the hyper active Pitolo. That said, this is a stylistic match that Marquez has a clear upper hand in, both on the feet and the mat. Marquez is a rangy and powerful striker and on average absorbs strikes at a far lower rate than Pitolo. On the mat is where Marquez holds the highest advantage. Though he's not much of an offensive wrestler, Pitolo's paltry takedown defense and relative ineptitude off of his back are seriously dangerous factors up against someone with the submission savvy of the Cuban.
Take the Shot: Julian Marquez via Submission
---
The main card gets going at 10 PM EST on Pay-Per-View, with Usman and Burns taking the stage around 12:30.
Be sure to check into Coby McKinley's breakdown of the prelims, coming out shortly!