Well it's been a long and hard ride, but we have reached our final UFC event of 2020. The world's largest MMA promotion is sending the year off with a banger, with a fifteen bout fight card at time of writing.
Though the highly anticipated original main event between Khamzat Chimaev and Leon Edwards has been postponed to January 20th, we have a number of high profile bouts adorning the card. Our main event features two technical and powerful strikers as Stephen Thompson and Leon Edwards throw down in the Welterweight division. In the Bantamweight division, former FTW champion Jose Aldo will take on the rising Marlon Vera. Other names featured are the always controversial Greg Hardy, former Lightweight champ Anthony Pettis, and the surging Khaos Williams!
Let's get into these six fantastic main card bouts!
---
Stephen Thompson vs. Geoff Neal (WW)
Stephen Thompson (14-4-1, 8-4-1 UFC) rebounded with a Fight of the Night victory against Vicenete Luque following his first KO loss to Anthony Pettis. "Wonderboy" is a karate specialist with a fantastic kickboxing background as well as holding seven knockout wins in his professional MMA career. His skillful kicks and quick footwork allow him to excel at kickboxing range, keeping a distance with low hands so that he can throw strikes from odd angles. Wonderboy has expert takedown defense and is able to keep the fight in his wheelhouse where his supreme technique and unusual style give him an immense edge. Though Thompson is getting up there at 37 years of age, his speed and precision were on full display in his most recent bout last October.
Geoff Neal (13-2, 5-0 UFC) came into the UFC off the Contender Series and has built a good bit of hype behind his name with a series of dominant performances. Neal is an explosive kickboxer, who uses well-timed pocket entries mixed with serious power to finish the job. "Handz of Steel" is able to succeed at keeping the fight on the feet with his ability to avoid takedowns, holding an impressive takedown defense rate of 92%. He banks on his southpaw stance, featuring a left high kick and powerful left cross, using his lighting-quick movement and defense to dictate the fight on the feet.
We are set up for a truly elite striking battle that I am thrilled got promoted to five rounds, (though disappointed at lost main event between Edwards and Chimaev). Both strikers are extremely technical, but Neal forces a pace that will play well into Thompson's counter striking and give us an entertaining bout. Neal's success to this point has come from his ability to make reads on his opponent timing and base his pocket entries off that. He will not find that same success against Thompson, who excels at counter striking and has a brilliant fight IQ. In addition, Wonderboy's experience in five round bouts give him an advantage over Neal, though Neal's cardio does appear up to the test. As both fighters will want to keep this bout on the feet, Wonderboy's trademark style and high fight IQ will give him another striking clinic victory.
Take the Shot: Stephen Thompson via Knockout
---
Jose Aldo vs. Marlon Vera (BW)
Featherweight GOAT and King of Rio Jose Aldo (28-7, 10-6 UFC) is now riding three straight losses, two of those coming in his new home of Bantamweight. That said, that was to the best of the best in Marlon Moraes and current champ Petr Yan, and he showed himself well in both losses. Aldo utilizes great fundamental Muay Thai boxing, with great counter reads and great speed. His dangerous leg kicking game, demonstrated recently against Yan, still remains a danger for anyone looking to come into the cage. Aldo presents fantastic combos along with ferocious body striking and power, making him a dangerous contender at all times on the feet. His ironclad takedown defense gives him the ability to control where the fight takes place, and that is often on the feet.
Marlon Vera (18-6-1, 10-5 UFC) has long been beloved by hardcore fans and it isn't hard to see why. "Chito" has an amazing submission game along with heavy hands for the division, earning seventeen finishes and six by knockout. Vera is a dangerous fighter to take on for anyone with his pressure and offensive capabilities. Every loss of his is in a decision and it has come when fighters are able to weather the storm and return fire at a higher rate. The biggest issue for Chito Vera is his gas tank, but he has displayed consistent improvement in that realm, as well, going the full fifteen minutes with Song Yadong.
This is a great test for both fighters, as it will show whether Aldo still can compete with the top of the division and how Vera will fare against a future Hall of Fame. If Aldo shows up anywhere close to the form of his last fight with Yan, this win is his for the taking. His takedown defense should thwart any of Vera's takedown entries, while his legendary boxing can give him the edge on the feet. Though Vera is incredibly tough and will no doubt come to sling blows in the pocket, I don't see him getting past the superior technique and power of Aldo on the feet.
Take the Shot: Jose Aldo via Decision
---
Michel Pereira vs. Khaos Williams (WW)
Michel Pereira (24-11, 2-2 UFC) made headlines even on the regional scene with his wild striking style, complete with spin kicks and superman punches and everything else you could ever imagine. "Demolidor" is an entertainer at heart and throws a full variety of strikes, scoring sixteen stoppages over his career including ten by knockout. Pereira uses his long frame and size advantage for the weight class to unload power strikes from kickboxing range, holding a high defense. On the mat, Pereira is a BJJ black belt, excelling with his explosion but can be worn down by oppressive top control. He has shown gas tank concerns, but did show improved patience in recent efforts against Diego Sanchez and Zelim Imadaev.
Khaos Williams (11-1, 2-0 UFC) made the most of a short notice opportunity, knocking out the heavily favored Alex Morono inside the first minute. From there, he flattened Abdul Razak Alhassen with the first punch he threw just last month. "The Oxfighter" has composed Muay Thai striking, holding seven finishes with five by knockout. Williams puts an exciting pace on his opponent, trying to wear them down with an onslaught of output and precision. Williams brings along decent pacing and has some wrestling in his back pocket, successfully going the distance four times in his professional career.
This matchup is going to be wild straight from the starting bell. Khaos Williams has demonstrated twice now that he needs just seconds to end a fight, but his record also proves that he has sufficient experience going the distance and has the opportunity to exploit Pereira's pacing issues. Pereira's explosive tendencies and high amplitude striking could find the chin of Khaos when he enters the pocket, but Williams also has a near freakish 77-inch reach, allowing him to use his composed jab and stay active even within Pereira's preferred range of combat. However, his best success will come when he can surge in close, and I expect he finds the chin of his opponent once again.
Take the Shot: Khaos Williams via Knockout
---
Marlon Moraes vs. Rob Font (BW)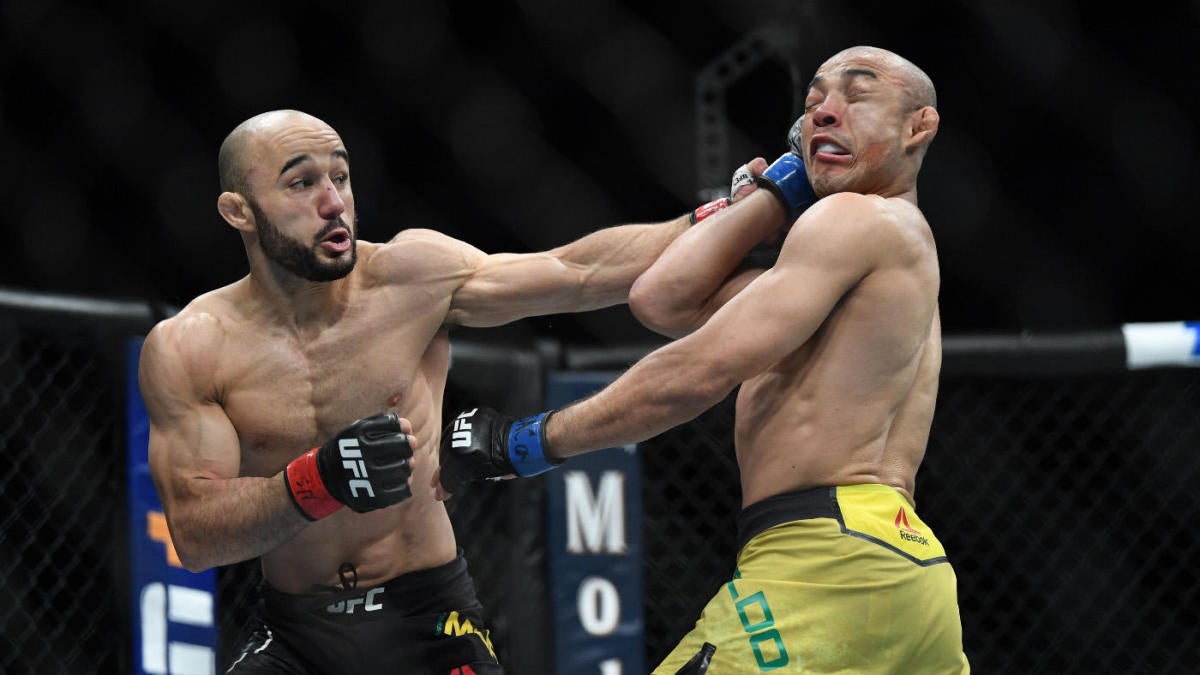 After losing his shot at the title to Cejudo, Marlon Moraes (23-7-1, 5-3 UFC), came back with a split decision win over the aforementioned Aldo, but was stopped in the second round by Cory Sandhagen earlier this year. "Magic" has built his reputation in the UFC as an elite Muay Thai striker and is one of the hardest hitters at Bantamweight. On top of that, his experience as the WSOF champ leaves him no stranger to a five-round fight, not to mention his highly touted jiu-jitsu. "Magic" Marlon is an offensive force who can end the fight at any time, from anywhere, but does his best work on the feet at distance, utilizing his powerful kicks and quick combos.
Rob Font (17-4, 7-3 UFC) will be making his first Octagon appearance in a little over a year, last winning a Fight of the Night decision against Ricky Simon. Font has a well-rounded skillset and is a finisher of his own, stopping eleven of his pro bouts inside the distance and seven by knockout. On the feet, Font likes to pressure forward and use feints to judge his opponent's timing, using a diverse arsenal of strikes (I particularly like his sneaky quick right high kick) and not discriminating to the head. However, Font can be found inside the pocket when he is not able to use his quick footwork. In addition, he has the wrestling to drag the fight to the mat if desired and a number of submissions in his pack pocket.
This fight will almost certainly be fantastic, as both of these fighters have technical Muay Thai striking and keep an aggressive pace. In addition, Moraes' adept takedown defense and Font's so-so offensive wrestling should keep this on the feet, but I doubt either of these sluggers will be upset by that. In order to succeed in this bout, Moraes will need to take advantage of Font's openings at distance and unload with his power shots. While he has the precision and bursting combos to exploit that in the first half of the fight, his output consistently dwindles when he is unable to find the knockout shot. Font has the boxing technique to outwork Moraes from distance and evade his power bombs en route to a decision.
Take the Shot: Rob Font via Decision
---
Gillian Robertson vs. Taila Santos (FLW)
Gillian Robertson (9-4, 6-2 UFC) overworked Poliana Botelho on the mat over fifteen minutes in her most recent match, earning a decision win. Robertson has seven finishes on her resume and likes to have her fights on the mat, taking six of her wins in submission. "The Savage" has the wrestling to get it there, and is even willing to pull guard to make the fight a grappling match. That said, her striking is somewhat low-output and she takes a lot more punches than she can dish out, especially when she can't get her pressure off.
Taila Santos (16-1, 1-1 UFC) emerged in the UFC after a victory on the Contender Series, outworking Estefani Almeida to a decision. After dropping a split decision in her debut, she rebounded with a well-rounded performance over Molly McCann in July. Santos does her best work in the striking with her Muay Thai, offering a powerful kicking game. She has a clean switch kick, as well as skilled grappling from top control and two submissions. The criticism I have of Santos comes from her level of competition. Up until the Almeida fight on DWCS, she had not fought an opponent with more than five fights, much less five victories. Still, she offers skilled striking and aggressive grappling, just maybe not as much finishing ability as the ten knockouts on her record may suggest.
If this bout was to take place entirely on the feet, I would give Santos a clear edge, both in finishing ability and technique. However, as with any Robertson fight, that is unlikely to take place. Her willingness to pull guard and relentless takedown efforts based off her pressure striking consistently give her opportunities to drag the fight to the mat and she holds a clear advantage there. Though she has lost fights by relinquishing position to utilize her slick jiu jitsu off her back, Robertson has shown more aptitude for position in recent bouts and her transitions and reversals display her ability to regain control. I see the relentless grappling efforts of Robertson giving her control time on the mat before a submission in the second.
Take the Shot: Gillian Robertson via Submission
---
Marcin Tybura vs. Greg Hardy (HW)
Marcin Tybura (20-6, 7-5 UFC) has become a sort of gatekeeper for the UFC's top 15 in the Heavyweight division. He's a well-rounded fighter with a good amount of knockout power and more than substantial wrestling to back him up. His main avenue to victory comes through his ground game and clinch work, controlling his opponent while looking to advance position. He provides serious danger there as well, since he has six wins by submission. On the feet, his varied striking attack and improving volume have shown he can finish or outpoint his opponent.
Greg Hardy (7-2, 4-2 UFC) burst onto the UFC scene in 2019 from the Contender Series with both tremendous knockouts and controversial headlines. Although his debut saw him take his first loss over an illegal knee, he has since racked up four victories, including three knockouts. For all of his controversy, we are seeing Greg Hardy quickly progress through his mixed martial arts journey after starting training just nearly three years ago. His last fight, a second round knockout against Maurice Greene, demonstrated a sweet spot between his bullrushing charges for the knockout and a more tentative and technical point fighting style. He is far less reliant on the blitzing style that saw him earn his first three wins by first-round KO and has better movement and gas tank management, recently displayed in his decision win over Yorgan de Castro.
This will be a stiff test for Hardy, who has not yet been matched up against an opponent who really has the skills to test his takedown defense. He has displayed some pretty solid defensive wrestling, but without serious grappling training, it is more than likely he will be subdued once secured on his back and his gas tank has come into question before. That said, Hardy does have an avenue to victory, as Tybura has displayed some durability issues, but he has the experience and consistent ground attack to wear Hardy down and take over the longer the fight goes. I see Tybura utilizing his clinch and top control for a late submission or decision win.
Take the Shot: Marcin Tybura via Decision
---
The Welterweight bout between Anthony Pettis and Alex Morono has been adjusted to the featured preliminary bout.
---
Check out Coby McKinley taking his first crack at the prelims predictions! Otherwise, I will see you on Saturday for the Fights to Make!