We are set up for our final Pay-Per-View of the year to go down inside the UFC Apex facility of Las Vegas and after a groundbreaking year in mixed martial arts, the UFC's final PPV will be no different, featuring a number of budding prospects as well as a star-studded cast for the evening.
Our main event features the Flyweight championship on the line, as Deiveson Figueiredo will look to make a three-week turnaround after his first-round destruction of Alex Perez last month against top contender Brandon Moreno, a Mexican scrapper known for his diversity of strikes and entertaining style. In our co-main, Tony Ferguson makes his return following UFC 249 against Charles Oliveira, an Octagon veteran who looks to be in his best shape yet.
---
Deiveson Figueiredo vs. Brandon Moreno (FLW)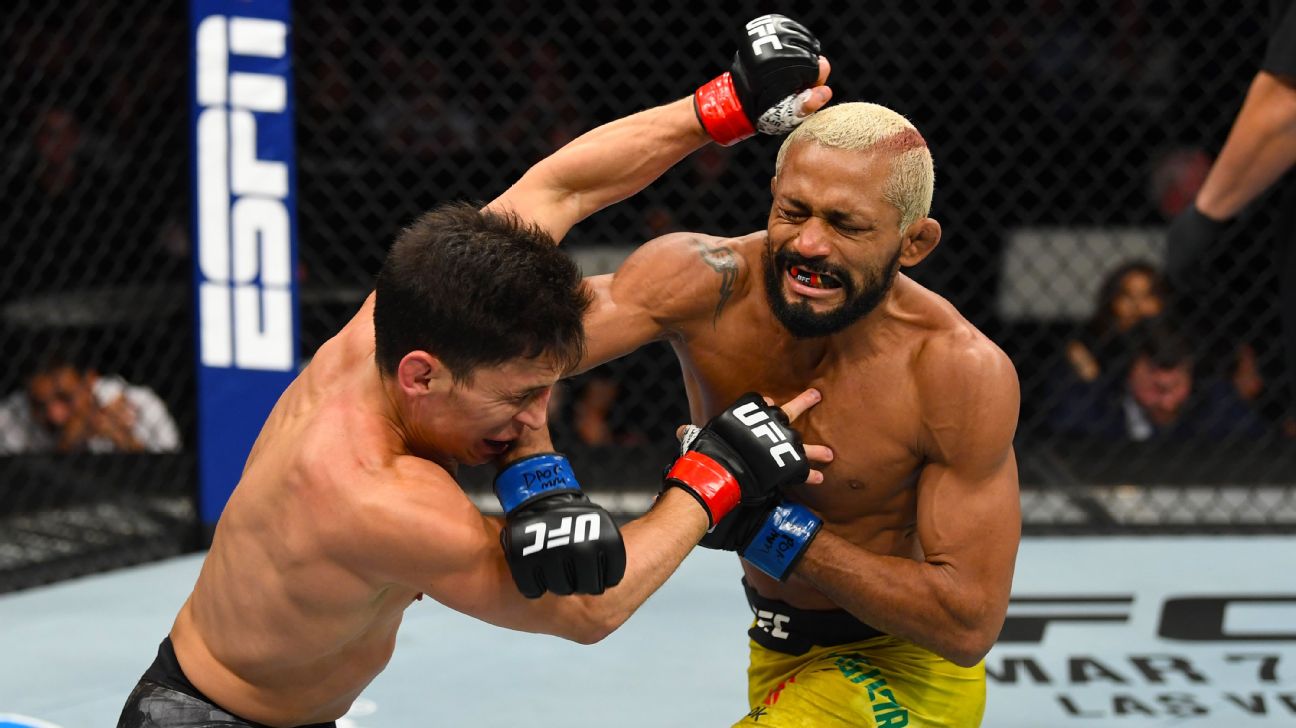 Deiveson Figueiredo (20-1, 9-1 UFC) will be looking to make a quick turnaround and secure his second title defense after a first round submission over Alex Perez just three weeks ago. "Deus de Guerra" is a finisher in every area, with 16 stoppages and nine coming by knockout. His striking is his main forte and he utilizes a long, odd, and almost karate style stance to set up his power punches. His guard is a little low and outstretched, but his hand speed and concrete chin do more than enough to shore up those concerns. Even on the mat, Figueiredo has a number of crafty submissions in his repertoire, with his iron tight guillotine earning four of those seven.
Though he was cut in the 2018 Flyweight purge, Brandon Moreno (18-5-1, 6-2-1) scored a win on the regional circuit to vault himself back into the world's leading MMA promotion. He has since been nothing short of impressive, racking up a 3-0-1 record since rejoining the UFC last fall. Moreno has a well-rounded style, with a love for scrapping on the feet as well as talented grappling in his back pocket. "The Assassin Baby" has scored thirteen finishes in his pro career, with ten by way of submission.
Moreno has a similar path to victory as Perez last month, with his advantages lying in cardio and scrambling. He has the wrestling to slow down Figgy, but he needs to establish clear top control beforehand. That is a tough task against Figueiredo, whose scrambling and defensive jiu-jitsu leave avenjes for the finish as well as reestablishing him on the feet. Though Moreno has the warring spirit and fight IQ to give Figgy a test, his love for brawls on the feet is dangerous against a fin fisher of Figueiredo's caliber, who only needs one precision shot to close the show. I see these two in a high-paced firefight until Figueiredo puts him away in the second round.
Take the Shot: Deiveson Figueiredo via Knockout
---
Tony Ferguson vs. Charles Oliveira (LW)
Who doesn't get excited when El Cucuy steps in the cage? Tony Ferguson (25-4, 15-2 UFC) had his twelve fight winning streak inside the Octagon broken by Justin Gaethje after his bout with Khabib Nurmagomedov was once again cancelled. Tony Ferguson is simply insane. He has the best cardio in the sport and there are tales of him training for 8 hours on end. "El Cucuy" or The Boogeyman is as well-rounded as they come with amazing striking where he will switch stances, fire kicks, body shots, and wild elbows on top of those usual, boring punches that everybody uses. Ferguson likes to pressure forward and use his insane pacing and volume to create a relentless onslaught of punishment for his opponent. He also has an amazing grappling pedigree coming out of the 10th Planet system and can wing crafty submissions from seemingly anywhere.
Charles Oliveira (29-8, 17-8 UFC) is now riding a seven fight winning streak with every victory coming by finish. "Do Bronx" holds the record for the most submissions inside the Octagon and is an absolute killer when the fight hits the mat. He has demonstrated some of his striking skill as of late, scoring knockouts over Nik Lentz and Jared Gordon. His standup is based upon his pressure and unorthodox strikes, loving to throw jumping front kicks and spinning attacks as he has no fear of going to the mat. His grappling transitions and skilled trip takedowns allow him to take the fight to the mat if he needs and he is threatening in top control just as much as off of his back.
This is assuredly going to be a fantastic bout because of how similar these fighters styles are. They both have deadly chokes on the mat, as well as unorthodox striking based upon pressure. The difference maker in this bout seems to be Ferguson's pacing. While we have seen Oliveira gas out in the latter half of five round fights, Ferguson thrives when he is able to drag his opponent into deep waters. On top of that, Oliveira has hurt badly on the feet because of bis strike absorption and while Tony also absorbs his fair share of strikes, his iron chin enables him to excel in the higher volume exchanges. I do believe that Oliveira holds an edge in the grappling, but Ferguson's 10th-Planet hyper-active style off his back and escapes will allow him to dictate where the bout takes place. I am expecting a back-and-forth exciting firefight, but one that Ferguson will take over in the later rounds.
Take the Shot: Tony Ferguson via Decision
---
Renato Moicano vs. Rafael Fiziev (LW)
Renato Moicano (14-3, 6-3 UFC) made a successful entrance into the Lightweight division with a submission over Damir Hadzovic in under a minute. This broke his two-fight losing streak that saw him knocked out by both Jose Aldo and the Korean Zombie. Moicano is about as well rounded as they come with his crisp Muay Thai and slick submission skills. He has fantastic grappling and transitions, but his wrestling can be underwhelming at times. Thankfully, his striking is expert as well, based around crisp fundamentals and range utilization. Although having never secured a knockout, Moicano has stunned many opponents with his precision and dropped quite a few on his way to the top of the Featherweight division.
Kyrgyzstani Rafael Fiziev (8-1, 2-1 UFC) emerged in the UFC with a perfect 6-0 record, only to have it quickly ended by a Mustafaev spinning kick. "Ataman" has since rebounded with two decisions over Alex White and Marc Diakese, proving he has the chops for the world's top organization. As the striking coach at the renowned Tiger Muay Thai camp, Fiziev is about as elite of a Muay Thai striker as you can get, moving forward while hopping and feinting to provide no shortage of looks for his opponents. Fiziev has fantastic head movement and shot evasion, but can really on that too much at times. His grappling is primarily used to keep it on the feet, but he has shown glimpses of offensive skill there, but there isn't much tape on that with five of his wins coming inside the first round.
This is a terrific scrap between two fighters just outside of the Lightweight top 15. I say that because for all of Moicano's tremendous grappling skill, Fiziev brings in the superior wrestling to keep it on the feet. That leaves this two talented Muay Thai specialists to bang it out on the feet, and though Moicano has some real stand up skills and a polished jab, I give Fiziev a clear edge there. Unless Moicano can establish his range early, the powerful kicks of Fiziev will quickly rack up damage, particularly against the Brazilian's lackluster body defense. In short, Fiziev and Moicano throw down until Fiziev puts his opponent away with a powerful shot.
Take the Shot: Rafael Fiziev via Knockout
---
Kevin Holland vs. Jacare Souza (MW)
Kevin Holland (20-5, 7-2 UFC) is continuing his activity with another short-notice showing after being booted out of his main event slot opposite Jack Hermansson due to COVID-19. Holland is now riding four straight wins in 2020, most recently earning a slam (T)KO over Charlie Ontiveros. Although losing his debut to a powerhouse in Thiago Santos, Holland has proved worthy of his UFC spot and demonstrating the multiple abilities he brings. "The Trailblazer" has good Kung Fu based striking, using combinations as well as power to finish nine of his opponents in knockout, while also using defensive submissions to finish the fight or keep it standing. He proved his skill as a BJJ artist in that match with GM3 by going toe-to-toe with the black belt all the way to a victorious decision, although his mediocre defensive wrestling and ability to be controlled remain a clear weakness.
Ronaldo "Jacare" Souza (26-7, 9-4 UFC) has been a part of the Middleweight division since when it came over from Strikeforce. Although he is now 41 years old, he is still a wrecking ball of power and submission ability. After many striking matchups, some seem to forget that Jacare is one of THE BEST grapplers in the UFC, no questions about it. His expert submission skill is bolstered by his wrestling skill, though he can be outdone by takedown specialists. He also has a wildly entertaining and brawling striking style (check out his fight with Chris Weidman). The issue with Jacare seems to be his willingness to stand and trade. He has a tendency to get hurt by punches and that problem will only get worse as Father Time comes chasing.
It seems that there are two likely outcomes to this bout, reflected in the close betting lines. Firstly, Holland could use his more technical striking to capitalize on Jacare's worsened speed and durability. On the other hand, Jacare could use his elite grappling and entangle the primarily defensive ground artist. I find the latter more likely, primarily based off of Holland's lackluster takedown defense. He has been consistently outmuscled, particularly in the clinch and on the mat, and that is too worrying a fact to ignore when facing the suppressive grappling of Souza.
Take the Shot: Jacare Souza via Submission
---
Junior Dos Santos vs. Ciryl Gane (HW)
After amassing three straight wins after his failed title shot, Junior Dos Santos (21-8, 15-7 UFC) now has lost three straight, all by knockout. "Cigano" is an elite boxer still carrying the skills and power that has kept him at the top ranks of the Heavyweight division for many years. His powerful low kicks and hand speed have kept him at the upper echelon of the division, with his stellar takedown defense forcing a striking battle. JDS still has the superb footwork and striking diversity that saw him realize a UFC championship, but the fact remains that his last six defeats have all come by knockout and his durability is now a serious concern.
Cyril Gane (6-0, 3-0 UFC) tore through the Heavyweight scene in Quebec in MMA after transitioning from professional Muay Thai, before joining the UFC in 2019. From there, he tore through three straight opponents in five months, but has suffered forced inactivity due to injury and COVID-19. "Bon Gamin" has speed, power, and incredible technique, but is still relatively green with only six pro bouts to his name. There are still some unknowns about him, but I have loved what I have seen, as he utilizes all eight striking points, attacks the head and body, and does expert combinations. He has addressed quite a few of those unknowns in his Octagon tenure, going the distance successfully to prove his gas tank while also scoring two submissions to shore up concerns about the striking specialist's grappling.
It seems the UFC has finally decided to toss a bone to Gane after the number of cancellations in the past year. He is getting a real step up in competition here, as well, taking on a former champion. This is also a test for JDS as well, as a fourth straight defeat could spell the end of his Octagon tenure. That said, both fighters have a shot to win as they will almost certainly come to sling it out on the feet. The two striking specialists have very different styles, however, and Gane's lanky kicks and pristine jab pose danger for the boxing range JDS excels in. With decreased agility and a suspect chin, JDS will not be able to hold up to the precision or striking variety of Gane. Although this is heavyweight and JDS does have power and technique to capitalize on entering the pocket, I see Gane picking him apart for a late knockout or decision win, vaulting the Frenchman up the rankings.
Take the Shot: Cyril Gane via Knockout
---
Be sure to check back tomorrow and see the prelims predictions written up by Chris Carpenter!