This month's PPV event went down this weekend, scoring big wins for the FFF crew and all following our picks!
This week, we are on ESPN with a Heavyweight showdown, as Curtis Blaydes and Derrick Lewis will lock horns for what SHOULD be a title eliminator if not for the logjam in the Heavyweight title picture.
Though the card has taken a hit (which has become common) due to injuries and COVID, we are set to trek on with 11 bouts!
---
Curtis Blaydes vs. Derrick Lewis (HW)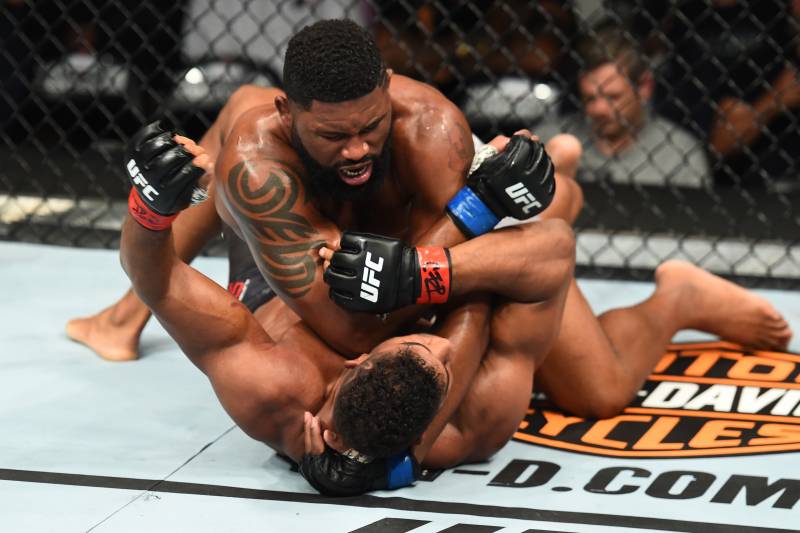 If not for one fighter, Curtis Blaydes (13-2, 8-2 UFC) would be near undeniable for a title shot right now. After a second round doctor stoppage to Francis Ngannou in his UFC debut (not bad, right), Blaydes went on to win five fights straight under the UFC banner, with three of those being knockouts. He was stopped inside of a minute by Ngannou, but has rattled off three straight victories, toting two straight by knockout. Blaydes is a wrester by trade, who is masterful on controlling position while inflicting damage with his hammerfists and elbows. Prior to his recent fight against JDS, I thought that JDS would deny all Blaydes' takedowns and then use his boxing to clinic Curtis. I was right in one sense, as they did not touch the mat, but Blaydes finished the Brazilian striker in the second round, adding feints and head movement into his striking arsenal.
Following his title shot defeat to Daniel Cormier and a subsequent loss to JDS, Derrick Lewis (23-7, 14-5 UFC) scored two decision victories, showing considerable improvements in his grappling and cardio. From there, "The Black Beast" went on to finish Alexey Oleinik in the second round to tie the all-time KO record. Lewis is one of the few fighters on the UFC roster who cuts to the 266-pound limit and is shown through his style. He hits incredibly hard and while he is a slower fighter without much of a ground game, he can end the fight with one good shot. Just ask Alexander Volkov, who was destroying him until the very last minute of their fight.
Once again, Lewis is in a style matchup against an elite grappler. Lewis without question hits much harder, but does not have many advantages from there. His volume is outdone by Blaydes and he is seriously outgunned in wrestling, where his defensive strategy essentially add up to "powering back up." Though Lewis is dangerous from bell to bell, his limited defensive options and unreliable gas tank will ensure Blaydes has all the tools to put on a masterclass.
Take the Shot: Curtis Blaydes via Knockout
---
Anthony Smith vs. Devin Clark (LHW)
Anthony Smith (33-16, 8-6 UFC) is stepping in on late notice here, hoping to right his two-fight losing skid in what will be his 50th pro fight. "Lionheart" is no stranger to the knockout, with 18 wins in that fashion on his record. Two of his LHW wins came through knockouts within the first two minutes of the match. On top of dangerous striking, Smith has great submission potential, although not always carrying the wrestling threat to get it there. Smith has shown issues with his pacing and striking defense, but always presents a dangerous offensive threat, particularly in the first two rounds.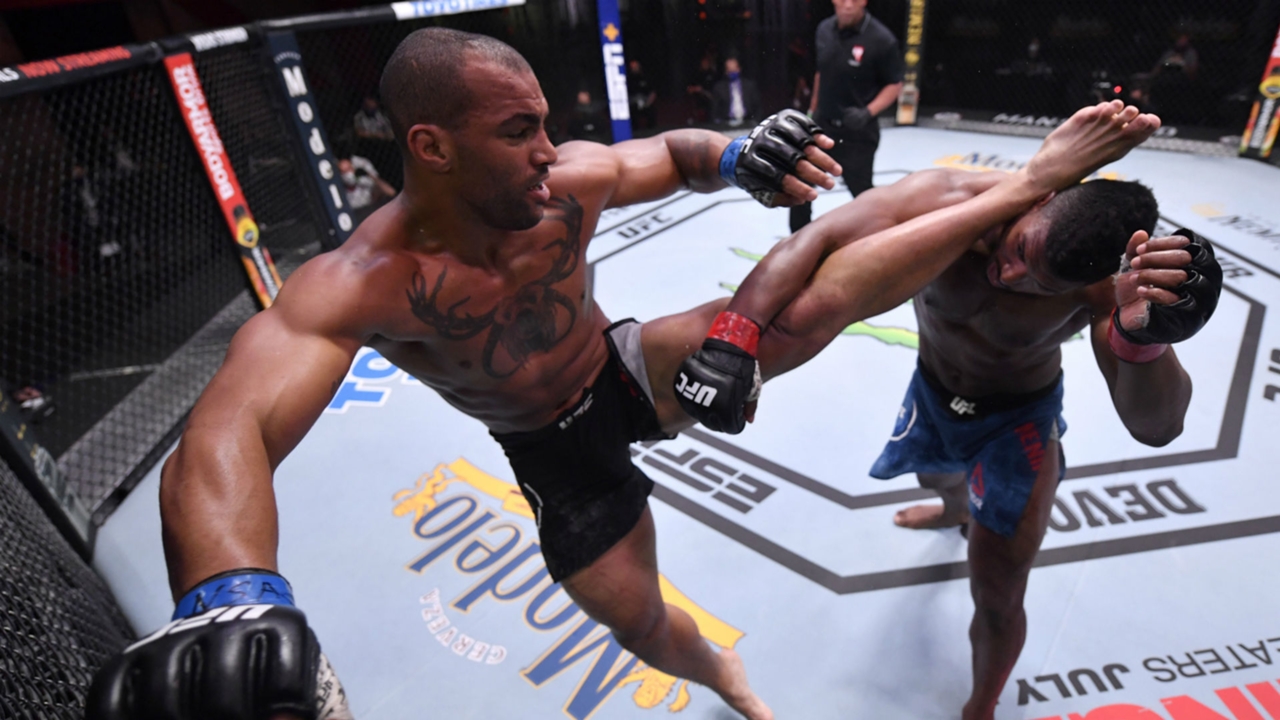 Now riding a two-fight win streak, Devin Clark (12-4, 6-4 UFC) is looking to push himself into the rankings with a win over a former title challenger. His control-based wrestling front takes center stage in his victories, as he is yet to earn a finish in the UFC. His striking is primarily a setup for the takedowns, as Clark seeks to dominate the fight from bell to bell and grind his opponent down. "The Brown Bear" has shown some striking improvement in recent bouts, hurting Alonzo Menifield in their back-and-forth battle. Clark's primary issue is his lack of immediate danger compared to others in the Light Heavyweight division, lacking the explosive power or finishing chops to quickly turn the tide when losing.
Devin Clark has a similar path to victory as in most of his bouts. If he can withstand the early burst and finishing threat of Smith and get his control time going, he has all the tools to add another decision win to his resume. While the latter seems quite possible, as Smith's takedown defense is nothing to write home about, him surviving is. While Smith has shown defensive holes in his striking, particularly against larger opposition, he has a smaller and more susceptible opponent here, as Clark has been finished in all of his Octagon defeats. In short, Smith damages Clark with his power striking to get back on the winning track.
Take the Shot: Anthony Smith via Knockout
---
Josh Parisian vs. Parker Porter (HW)
After an unsuccessful run on The Ultimate Fighter, Josh Parisian (13-3) earned his UFC contract with his second Contender Series win this August. Parisian has great movement and footwork for a Heavyweight and prides himself on his creativity, shown by his spinning backfist KO of Greg Rebello in his first DWCS showing. Holding ten wins by knockout and all but one victory inside the distance, Parisian has proved his ability to close the show and exploit the lumbering movement of his Heavyweight counterparts. He uses his leg kicks expertly to assist him in this, further slowing his opposition to open up for his power strikes.
Parker Porter (10-6, 0-1 UFC) will be looking for his first Octagon win after suffering a first-round knockout to Chris Daukaus. A professional since 2011, Porter has a varied attack, with his eight career finishes split evenly between knockouts and submissions. His 6'0″ frame does leave something wanting at Heavyweight, where he traditionally gives up a size advantage and is outworked in the striking when unable to bully his way into the pocket or clinch. Porter's poor leg kick defense and size discrepancy will be overexposed here, as Parisian will carry nearly every advantage on the feet, holding more size, speed, and power.
Take the Shot: Josh Parisian via Knockout
---
The Flyweight bout between Amir Albazi and Zhalgas Zhumagulov has been cancelled.
---
Miguel Baeza vs. Takashi Sato (WW)
After a KO win on the Contender Series, Miguel Baeza (9-0, 2-0 UFC) has extended his undefeated record with two knockouts, adding to his career total of seven. "Caramel Thunder" is a lanky striker who uses powerful straights and quick, snapping leg kicks to stifle his opponent's movement and pick them apart from kickboxing range. He also sports great takedown defense as well as an arsenal of defensive jiu-jitsu, primarily used to keep the fight standing. His kicking has been notably improved as of late, adding to his array of weapons on the feet. However, he can be tagged when his opponent can pressure into the pocket, as Matt Brown showed.
Takashi Sato (16-3, 2-1 UFC) most recently stunned with a TKO inside the first minute. over late replacement Jason Witt, getting back on the winning track after a third-round submission defeat to Belal Muhammad. "Ten" holds thirteen finishes, eleven by way of knockout. This is due to his high level Muay Thai and boxing, utilizing a hopping karate stance. Sato likes to pop his jab out there, teasing his opponent into the pocket before unloading with his power left hand. His huge weakness remains his grappling, where he often has difficulty mounting any offense or fighting his way back to the feet when his takedown defense does not hold up.
This is going to be a fun but technical scrap between two powerful strikers primarily known for their knockout abilities. I imagine Baeza as more likely to take it to the floor, but that's only if he is unable to find his range on the feet. Sato should give him plenty of opportunities to do so. On top of operating with a four-inch reach disadvantage, Sato was hurt by the long striking of Ben Saunders, and a much-faded "Killa B" at that. Baeza outworks the Pancrase product to a decision, staying at range and capitalizing on the defense of Sato.
Take the Shot: Miguel Baeza via Decision
---
Spike Carlyle vs. Bill Algeo (FTW)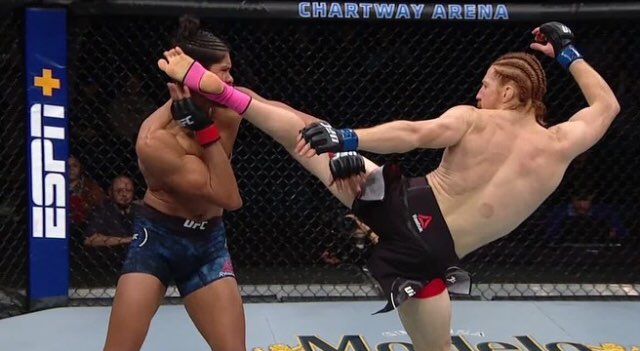 A short-notice replacement bout against Aalon Cruz made Spike Carlyle (9-2, 1-1 UFC) an immediate prospect, when he TKO'd the Contender Series alum in a minute and a half. He failed to replicate those efforts against Billy Quarantillo, though, losing a close decision. "The Alpha Ginger" brings a unique personality and unique style with him when he fights, throwing no shortage of stance switches and feints while lining up precision power strikes. He prefers to dance in and out of range, but showed some clear danger in the clinch with the Cruz fight. Along with his five knockouts, Carlyle also has three submissions on his record, and has a terrific grappling background to bolster his dangerous striking.
Bill Algeo (13-5, 0-1 UFC) got the short straw in a decision on the Contender Series, but earned his shot at the big show in a late-notice bout against veteran Ricardo Lamas. He lost in a narrow decision, earning a Fight of the Night bonus for his efforts. "Señor Perfecto" is an entertaining fighter to watch, as he holds nine finishes with six by submission and is always looking for a brawl on the feet. His bouts always compete at a relentless pace, as Algeo is capable of mixing it up with his ground game or relying on his scrapping nature. Though his grappling is top-notch, his wrestling is not on the same level.
I love the placement of this bout as the main card opener since it will almost assuredly end up being a terrific scrap. Carlyle starts with serious aggression and explosive striking, especially in his kicking arsenal. In addition to that, he also holds the wrestling edge over Algeo and will have the opportunity to do serious damage with his suffocating top control. Algeo, on the other hand, has the constant pacing to drag Carlyle into deep waters if he can withstand the early onslaught. I think Carlyle will get it done whether or not he can find the finish, however. His explosiveness and power spell serious problems for Algeo's porous striking defense, while his dominant top control should subdue the sneaky grappling transitions of the Philadelphian.
Take the Shot: Spike Carlyle via Submission
---
There you go, Freaks.
I will see you on Saturday for the Fights to Make following the event!