Our PPV return to the UFC Apex facility in Las Vegas is set up to be a good one, as we have both the men's and women's Flyweight titles on the line as Deiveson Figueiredo defends his title for the first time against Alex Perez, while the seemingly unstoppable Valentina Shevchenko will duke it out with Jennifer Maia in the co-main event.
---
Deiveson Figueiredo vs. Alex Perez (FLW)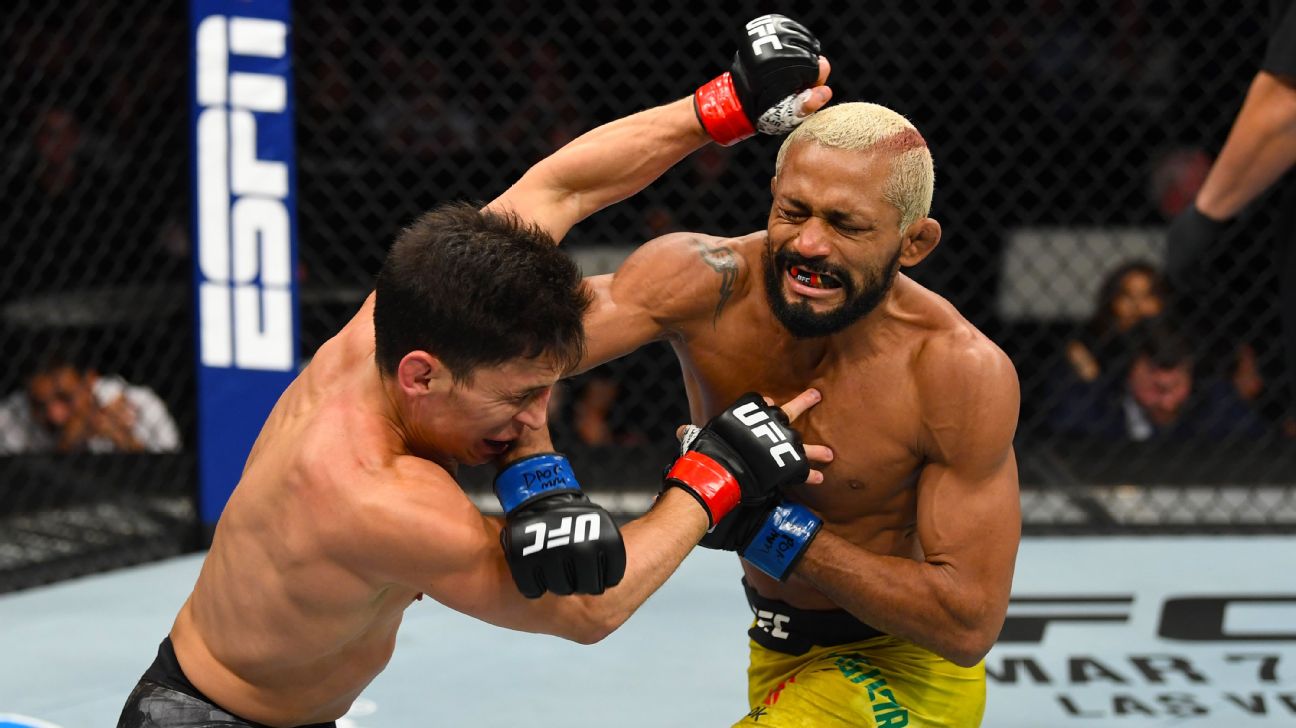 Deiveson Figueiredo (19-1, 8-1 UFC) officially claimed the Flyweight title with a first round submission over Jospeh Benavidez in July, after missing weight in February and finding himself unable to claim the belt. "Deus de Guerra" is a finisher in every area, with 16 stoppages and nine coming by knockout. His striking is his main forte and he utilizes a long, odd, and almost karate style stance to set up his power punches. His guard is a little low and outstretched, but his hand speed and concrete chin do more than enough to shore up those concerns. Even on the mat, Figueiredo has a number of crafty submissions in his repertoire, with his iron tight guillotine earning four of those seven.
After Cody Garbrandt was forced out of this bout due to a torn bicep, Alex Perez (24-5, 6-1 UFC) was pulled up from the undercard. Perez made his way into the UFC through the Contender Series with a first-round submission. He followed that up with three straight victories before succumbing to the aforementioned Benavidez. He was most recently seen finishing Jussier Formiga (who handed Figueiredo his lone defeat) in the first round with leg kicks, his fourth Octagon stoppage and twelfth overall. Perez has a fantastic wrestling game and quickly improving standup, using great range management and power shot placement, as well as the obvious powerful leg kicks. On the mat, Perez tends to favor position, but will jump on a submission if it presents itself.
I was hoping this bout would come to fruition after Figgy won the title and I'm glad it came to be, though disappointed at the cost of losing Garbrandt. Both fighters have avenues to victory, as Figueiredo looks to holds the advantage in the striking as well as holding a threat on the mat with his dangerous defensive jiu-jitsu. However, Perez could exploit the Brazilian's porous takedown defense and drain his gas tank, something we have seen done before. However, I do not think he will have that opportunity. For all of Perez' crisp striking, he is too easy to lull into trading power shots, as Alexandre Pantoja did to some success, but that is a much more deadly game to play against Figueiredo. That combined with Figgy's superior footwork and surging pressure will result in another early stoppage for the God of War.
Take the Shot: Deiveson Figueiredo via Knockout
---
Valentina Shevchenko vs. Jennifer Maia (FLW)
Since capturing the Flyweight title against Joanna Jedrzejczyk, Valentina Shevchenko (19-3, 8-2 UFC) has been nothing short of dominant, defending her title three times and scoring two stoppages. "Bullet" is truly an incredible striker with punishing Muay Thai and battering kicks and punches. On top of that, she has wrestling, which I imagine will be the difference maker here. In fact, she has more wins by submission than anything else, but has avenues to finish wherever the fight goes. Shevchenko is truly an elite and losing two incredibly close matches to Amanda Nunes is nothing to scoff at.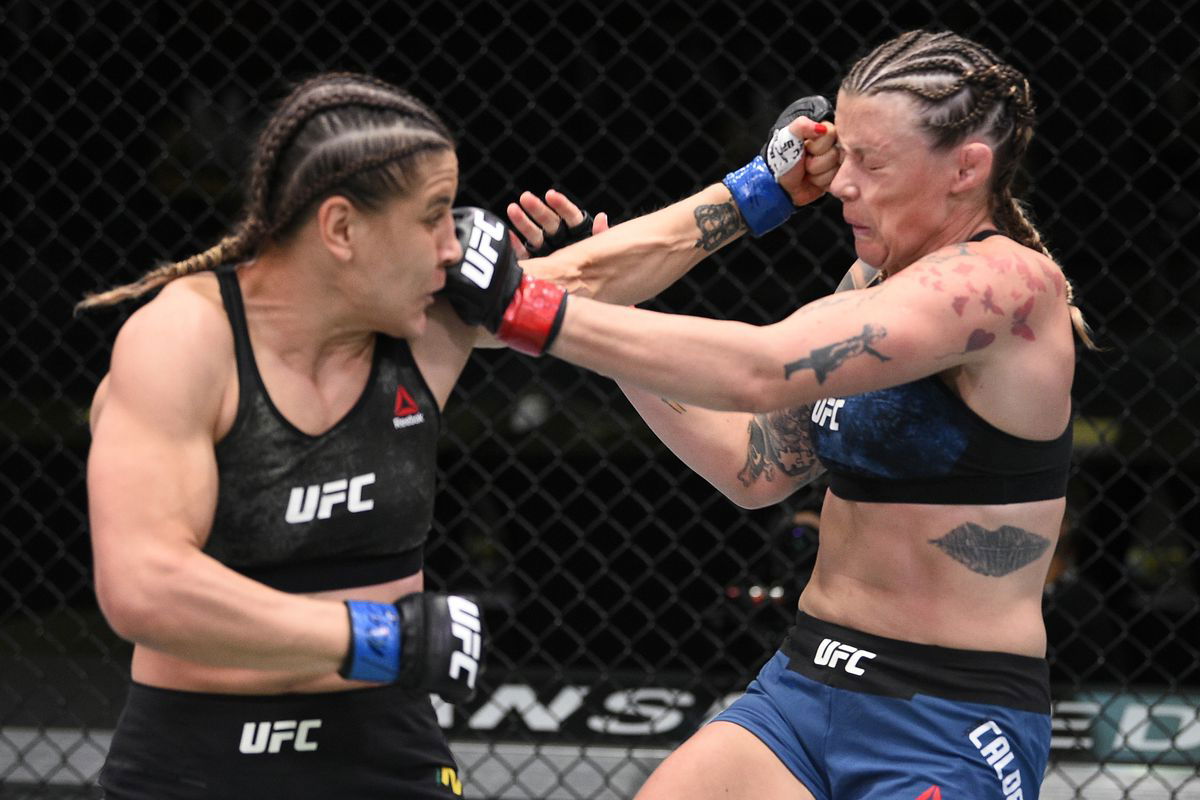 Jennifer Maia (18-6-1, 3-2 UFC) snuck into the title picture with an armbar finish of the next-in-line Joanne Calderwood. The former Invicta champion has composed striking and keeps distance well with her jab, as well as boasting a dangerous submission game off her back (obviously). However, she lacks the wrestling to get it there and often relies on her scrambling or even pulling guard to get it on the mat. She is by no means lost on the feet, though, as her quick hands and leg kicks keep her competitive when striking.
With no disrespect to Maia, it is not hard to see why the odds are so lopsided. While her striking is indeed composed and rapidly improving, it is no match for the Muay Thai veteran's diverse arsenal. On top of that, Shevchenko's newfound wrestling prowess will easily control the Brazilian, so long as she can stay out of any submission traps. I see Shevchenko scoring another defense with a striking clinic en route to a dominant decision or late knockout.
Take the Shot: Valentina Shevchenko via Decision
---
Mike Perry vs. Tim Means (WW)
You know you're in for a fun fight whenever Platinum Mike Perry (13-6, 7-6 UFC) steps in the cage. He has power in his boxing, a warring style, and one of the best chins in MMA, hanging until decision with power punchers Alan Jouban and Santiago Ponzinibbio. Perry looked tremendous in recent efforts against Mickey Gall and even his defeat to divisional powerhouse Vicente Luque, utilizing his boxing and really showing a dramatic improvement in his ground game. He defended almost every takedown and when he did find himself on the mat, he hopped up real quick. Perry will never be a top contender but you know exactly what you're going to get and it's always gonna be fun.
Tim Means (30-12-1, 12-9 UFC) made his first UFC appearance back in 2012 and has cemented himself as a veteran in the process, though he has failed to string together a meaningful win streak. "The Dirty Bird" is an entertaining Muay Thai striking who throws a variety of strikes from a number of odd positions. He also brings in underrated grappling ability, holding five of his 24 finishes in submission. His love for the brawl has become somewhat of a detriment in recent years, as his chin has showed durability concerns.
The main card slot for this bout is no surprise, as this will end up in a brawl no matter who comes out victorious. Means has a more unorthodox style and more versatile skillset, while Perry's slick boxing and constant pressure in the pocket are his greatest weapons. The latter will be most telling here, as Perry's ability to stick inside boxing range and swing haymakers keeps him competitive from bell to bell. That goes double against the chin issues of Means, as he has a vulnerability when unable to keep his preferred range. Though I am somewhat nervous about his repeated choice of corner (or lack thereof), he showed up in a patient effort against Gall while also displaying his power.
Take the Shot: Mike Perry via Knockout
---
Katlyn Chookagian vs. Cynthia Calvillo (FLW)
Katlyn Chookagian (14-4, 7-4 UFC) has been firmly rooted at the top of the Flyweight division since its inception. Losses to Jessica Andrade and Shevchenko sandwich victories over Joanne Calderwood and Jennifer Maia, proving her clear capacity for contention in the division. "Blonde Fighter" likes to get her wins in with a high volume striking style and although she doesn't pack the most power she has the overwhelming volume and technique to make every fight close. Her cardio and quick movement make her a problem for anyone to deal with.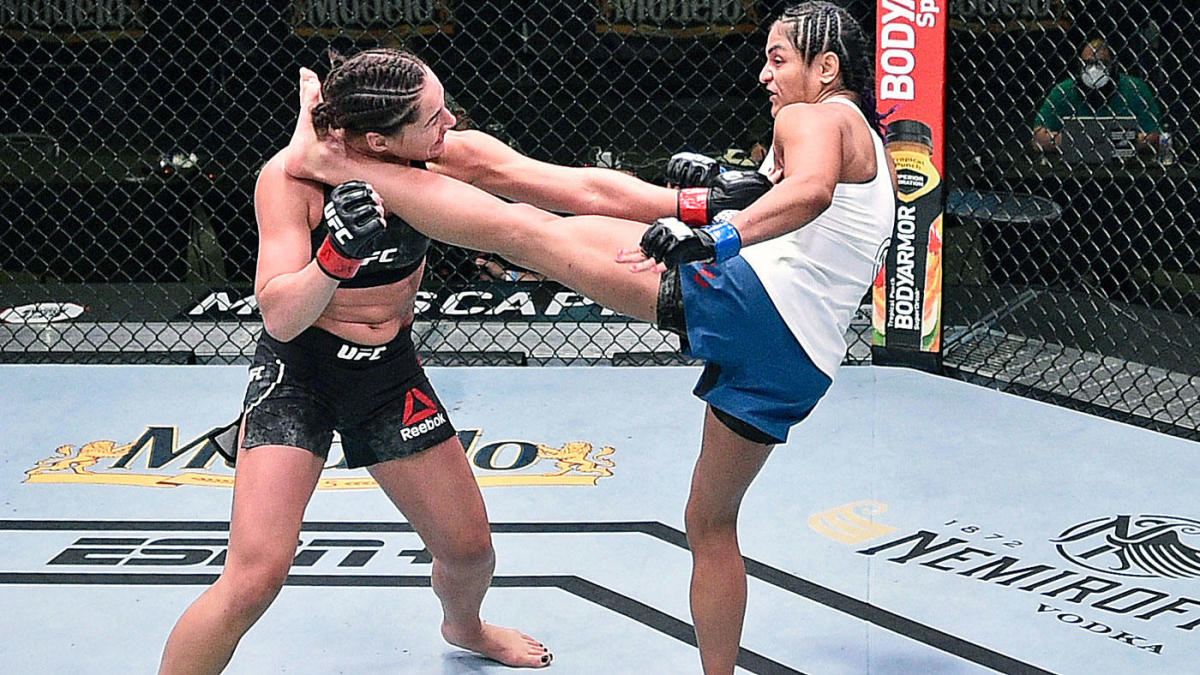 Cynthia Calvillo (9-1-1, 6-1-1 UFC) most recently made her successful debut at Flyweight, working over Jessica Eye in a five-round decision. Calvillo has been up against UFC competition since her second professional bout where she defeated Gillian Robertson and her lone defeat comes to former champion Carla Esparza. She is a grappling technician with aggressive control and little space given to her opponents, as well as three RNC finishes in the UFC. However, her striking has made significant improvements, as she was able to use her jab and distance control well before opening up with her wrestling and control time against Eye.
This seems like a great test for both fighters for their place in the growing division. Chookagian's volume striking and kick-heavy attack will test the pocket entry ability of Calvillo, whereas Cynthia will hold a clear and emphatic advantage on the mat. I believe the more drastic advantage of Calvillo will make the difference here. She has more than enough wrestling chops to expose the wrestling holes in Chookagian's game and while Katlyn does have slick defensive grappling, neither that nor her volume assault will be able to make the difference once Calvillo is firmly rooted in top position.
Take the Shot: Cynthia Calvillo via Decision
---
Mauricio Rua vs. Paul Craig 2 (LHW)
UFC veteran and former Light Heavyweight champion Mauricio "Shogun" Rua (27-11-1, 11-9-1 UFC) has always been a fan favorite since the days of PRIDE because of his brutal power and legendary bouts with Lyoto Machida and Dan Henderson. While Shogun is no longer the same killing machine that he was in his payday, he is very much still a dangerous and capable opponent with some of the best Thai boxing in the sport. Although he may not have the same one-punch annihilation capabilities as his younger self, he still is a competitive fighter with KO ability and controlling wrestling in his back pocket.
Paul Craig (13-4-1, 5-4-1 UFC) is a finisher in every sense of the word, claiming each of his thirteen wins by finish and all but one by submission. "Bearjew" is coming off a first-round submission over fellow ground specialist Gadzhimurad Antigulov, securing his fifth performance bonus with a triangle. He is willing to pull guard to get the fight to the mat and has an incredibly dangerous guard off his back, earning multiple bonuses for last-second submissions, including a submission over the Uber-talented Magomed Ankalaev. When striking, Craig exploits a Kung-Fu style and has shown improvements as of late, using his kicks, long frame, and improving jab to keep range until he wants to engage on the mat.
Their first fight ended in a draw and both fighters scored a win at the same card in July to set up this rematch. The first bout saw Craig handle Shogun in the striking, even rocking the former champ momentarily. Rua's success came through in his wrestling and Craig's acceptance of position on his back. After the war Shogun took in his last bout against Lil Nog and Craig's rapid improvements, I can't see it going much better for the veteran this time around. Craig was able to use his range and kicking offense to exploit Shogun's long-ago cracked chin and while I doubt he will find a knockout, he has more than enough opportunity to win the stand-up battle. Shogun's continually increasing reliance upon his wrestling does not exactly bode well, as working in Craig's guard is basically playing with fire.
Take the Shot: Paul Craig via Submission
---
There you have it, Freaks.
Check back tomorrow to see Chris Carpenter's picks on the prelims. Also, be sure to give us a follow on Twitter (@film_fight) for notifications on new posts and breaking information!