The UFC is surging through towards the end of the year with events almost every weekend until the holidays and this weekend is no different!
Our main event pits a Lightweight clash between short notice competitor Paul Falser and former champion Rafael Dos Anjos, returning to the division after some time at Welterweight. Our co-main features a Welterweight clash between two devastating power punchers in Abdul Razak Alhassen and Khaos Williams that is will almost assuredly land a finish.
Note: As has come to be the norm during these pandemic times, the bout order is not final and may be changed prior to or on fight day. This main card will likely also include a bout with Daniel Rodriguez, who the UFC is searching for a new opponent for after Bryan Barbarena was forced to withdraw.
---
Paul Felder vs. Rafael Dos Anjos (LW)
Proving himself to be truly game at all times, Paul Felder (17-5, 9-5 UFC) stepped in on five days notice for a five round bout against a former champion. "The Irish Dragon" is a striker with excellent dirty boxing and powerful clinch work, amassing three KOs by elbows inside the clinch. He has clean leg kicks and good range control at distance, but really does his best work when brawling inside the pocket, cutting great angles on his shots. Though he has some decent grappling and defensive wrestling, Felder is looking to keep the fight standing and exchanging blows or mauling his opponent against the fence.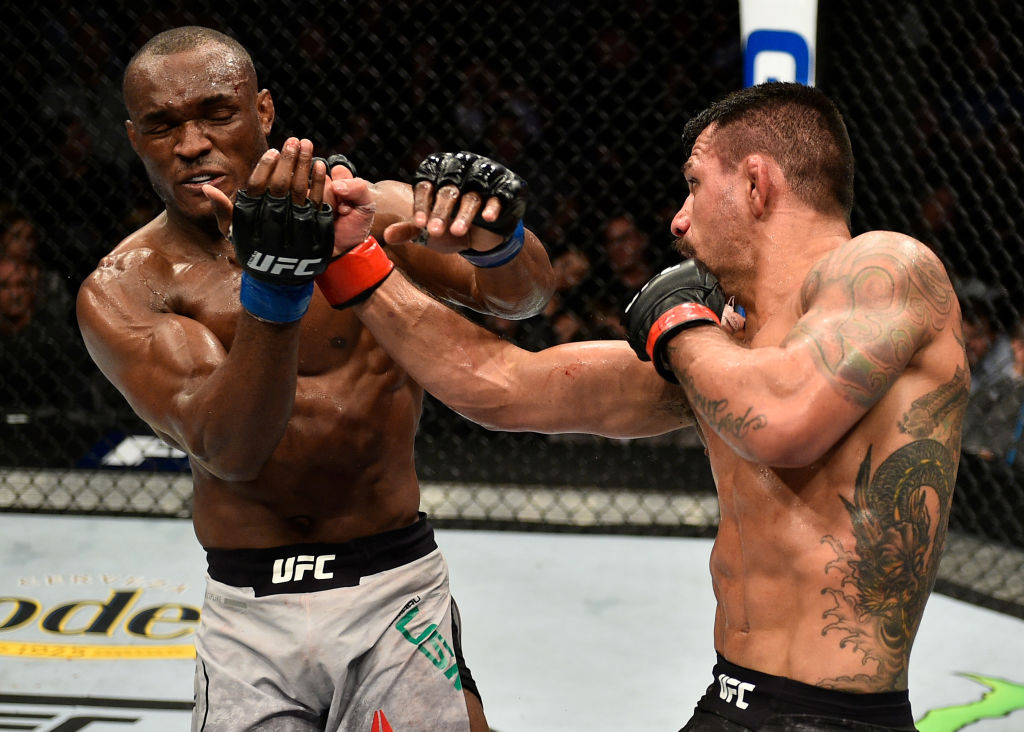 Rafael Dos Anjos (29-13, 18-11 UFC) is making his return to the Lightweight division where he secured gold after going 1-4 in his last five bouts. RDA has amazing striking, great jiu-jitsu, and the cardio to keep those elements of his game going as long as needed. He has gone to many five-round decisions and can easily keep that pace, but I think his submission skills are seriously underrated, having taken home 10 wins with various subs in his arsenal. He is able to control position on the mat or finish the fight, as well as having slick boxing and leg kicks.
This is a fantastic bout and I have immeasurable respect for both competitors for accepting this match on short notice. Both fighters have clear paths to victory and that is reflected within the relatively close betting line. Felder will be looking to keep it on the feet and in the clinch, outmuscling RDA and using his superior striking. Dos Anjos does certainly have the striking caliber to compete on the feet with the Irish Dragon, but he holds a massive edge in the grappling. He has both the wrestling skill to exploit Felder's so-so takedown defense, as well as the grappling ability to control Felder once secured there. Although RDA has not had the best run in his recent bouts, he was lined up against skilled wrestlers who could avoid his control, which Felder will have difficulty doing. I see RDA outworking an early effort from Felder for a late finish or competitive decision.
Take the Shot: Rafael Dos Anjos via Decision
---
Abdul Razak Alhassen vs. Khaos Williams (WW)
Abdul Razak Alhassen (10-2, 4-2 UFC) surged towards contention in 2018, but came out on the wrong side of a Fight of the Night decision against Mounir Lazzez. "Judo Thunder" has ferocious knockout power, ending every single one of his victories by first round knockout, last demolishing my personal favorite fighter Niko Price. On top of his one punch ability to end fights, he has fantastic judo credentials and does serious damage when able to establish top control. The downside to his power is a brawling style that leaves him liable to counters when swinging haymakers, although no one has been able to finish Alhassen, with his lone defeats coming in contentious decisions where he was nearly able to finish his opponents.
Khaos Williams (10-1, 1-0 UFC) made the most of a short notice opportunity, knocking out the heavily favored Alex Morono inside the first minute. Though he exploded in a flurry in that opening bout when he saw Morono hurt, "The Oxfighter" has composed Muay Thai striking, holding six finishes with four by knockout. Williams puts an exciting pace on his opponent, trying to wear them down with an onslaught of output and precision. Williams also has good pacing, successfully going the distance four times in his professional career. That will likely be a factor in this bout if he can survive the onslaught of Alhassen.
This will be a pure firefight as long as it lasts. Both fighters look to brawl from the get-go, and while Khaos Williams does hold an edge in technical striking, particularly from range, he does not avoid a chance to sling it out in the pocket. That does not bode well against a fighter with the raw power and brash style of Alhassen, who manages to find a way into the pocket against everyone at one point or another. I think we see a fantastic one-round war where Alhassen guns down the Oxfighter early.
Take the Shot: Abdul Razak Alhassen via Knockout
---
Julian Marquez vs. Saparbeg Safarov (MW)
Julian Marquez (7-2, 1-1 UFC) will be returning to the cage after nearly two years off following a split decision defeat to Alessio di Chirico. "The Cuban Missile Crisis" made his way to the UFC with a head kick knockout of recent standout Phil Hawes on the Contender Series. Marquez is a technical and well-paced counterstriker who can also find success in a brawl, utilizing a variety of shots to pick apart his opponent. Though his wrestling leaves something to be desired, he has dangerous submissions as well, securing his first UFC win by choking out Darren Stewart. All of his wins have come by finish with five by knockout.
Saparbeg Safarov (9-3, 1-3 UFC) recently captured his first Octagon victory by beating Nicolae Negumereanu, a UFC newcomer, in decision, despite numerous fouls and risky point deductions on the part of Safarov. The Russian comes in with a Combat Sambo background and powerful top control, but is no stranger to a scrap as well. His striking is pretty sloppy, but still powerful, as he is rarely afraid of interactions on the mat. I like the drop he has made to 185, as he was a little on the chunky side for a 6'1″ LHW and will likely have more success using his strength against similar sized opposition. Though Safarov has an edge in wrestling and control, his openings on the feet are readily available and too predictable against a striker like Marquez, who will pick apart the sloppy striking of the Russian so long as he can remain on the feet.
Take the Shot: Julian Marquez via Knockout
---
Eryk Anders vs. Antonio Arroyo (MW)
Eryk Anders (13-5, 5-5 UFC) is coming off a loss to Krzysztof Jotko, interrupting a two-fight win streak include a performance bonus winning knockout of Vinicius Moreira. Anders is a supremely athletic fighter with a college football background, which he has transferred into explosive and skilled pacing. "Ya Boy" has good power striking and he obviously has good cardio, as well as wrestling offense he can mix in. Anders' footwork and speed are very impressive for his size as well.
A submission victory on the Contender Series brought Antonio Arroyo (9-3, 0-1 UFC) into the UFC, but he gave up a unanimous decision to grappling whit Andre Muniz. Arroyo has eight finishes to his name, evenly split between knockouts and submissions. His striking is long and technical, and he uses powerful kicks mixed up well to deal damage to his opponent's head, body, and legs. His grappling is most dangerous when he is in top position, but he has sneaky scrambles if he should end up on his back. I am not entirely impressed with his wrestling yet, however, and he also leaves his chin high at times.
This is an incredibly close bout that I recommend going tentative on if you are a bettor. Anders comes in with clear edges in experience and his ironclad takedown defense will potentially help him avoid the dangerous top pressure of Arroyo. Still, on the feet, he looks to be dropping some technique to the Brazilian. His spacing and powerful kicks will deal some real damage if Anders cannot shut down Arroyo's range and dictate the pacing. Furthermore, although Arroyo may not have the wrestling to drag Anders down, I don't see Ya Boy doing too much offensively with his own wrestling. Arroyo uses his Muay Thai and kicks to claim a tense decision over the Octagon veteran.
Take the Shot: Antonio Arroyo via Decision
---
Brendan Allen vs. Sean Strickland (MW)
A first-round submission on the Contender Series gave way to a UFC contract for Brendan Allen (15-3, 3-0 UFC), with which he has racked up three straight Octagon wins, including two finishes. Despite only being a jiu-jitsu brown belt, Allen has morphed BJJ beautifully into his MMA game and much prefers to get the fight to the ground. For good reason, too. He does have aggressive striking, pressuring forward and throwing heavy shots, which he used to knock down Kyle Daukaus in his last bout. However, he has displayed some pretty poor defense when striking, so he prefers to roll on the mat using his top-notch scrambling ability and reversals to find his way to the finish.
Sean Strickland (21-3, 8-3 UFC) returned from a two year layoff just two mere weeks ago, where he captured a dominant decision over Jack Marshman. Strickland has a polished and well-rounded skillset, with thirteen finishes to his credit. His striking was most notable in his last bout, as his crisp jab and combination striking worked over the powerful Welshman. He has great wrestling skills as well, amassing an 81% takedown defense rate despite going up against fighters like Kamaru Usman, Tom Breese, and Santiago Ponzinibbio. What stands out to me for "Tarzan" is his superb defense, rarely leaving his chin able to be found and allowing few opportunities for his opponent to enter the pocket.
I am glad we could get Allen a quick turnaround after Ian Heinisch was forced to pull out of their scheduled bout last week. His high accuracy power striking and heavy scrambling offensive on the mat make him always entertaining to watch and he will have a game opponent here. As usual, predicting an Allen fight primarily comes down to whether he will be able to turn the fight into the grappling bout he chooses, and that goes double for this bout. Strickland's range management and much superior technique on the feet will leave few openings for Allen to implement his power shots and mediocre takedown efforts. The latter will be particularly evident, as Strickland will be able to dominate exchanges on the feet if Allen cannot subdue him.
Take the Shot: Sean Strickland via Decision
---
There you have it, Freaks.
Check back soon for the prelims picks, and don't forget that the Contender Series keeps on trucking tonight!