I would like to take a quick second to brag on behalf of both myself and prelims predictions author Chris Carpenter, as we went 11-0-1 on our combined picks last week.
The UFC's return to Las Vegas is here and looks to be the venue for the rest of our 2020 campaign.
We are set up for a good one here, as Anderson Silva will be making his last appearance inside the cage before retirement against TUF 17 runner up Uriah Hall.
---
Uriah Hall vs. Anderson Silva (MW)
Uriah Hall (15-9, 8-7 UFC) came into UFC fans' eyes with a lot of hype, stemming from his spinning hook kick KO on The Ultimate Fighter. He has since failed to replicate consistency inside the cage, but always brings thunderous knockout power and fight-changing ability. He has the type of one punch power that has resulted in thirteen knockout wins, but he can be outdone with volume and technique. "Primetime" does have a very linear path to victory, but it's a dangerous line for his opponents to tread. Look no further than his bout with Bevon Lewis, where he scored a devastating third-round KO after being clearly down on the scorecards.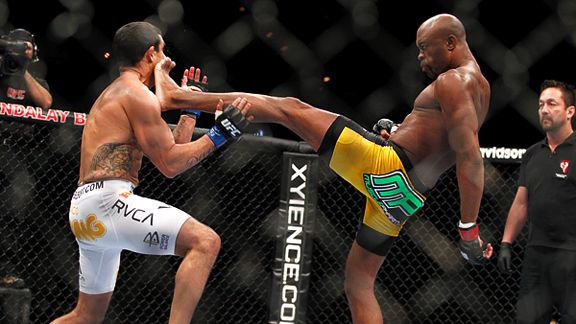 Middleweight GOAT and future Hall of Famer Anderson Silva (34-10, 17-6 UFC) has made it clear this will be his final bout in a storied career. The Spider is one of the most dominant champions we have ever seen in the UFC. He has punishing striking, great jiu-jitsu, quality head movement and champion level cardio. So your question undoubtedly is: shouldn't Silva walk over Hall? In his prime, there would be no question. The fact of the matter remains that we are well past that date, seeing as Silva is 45 years old and his only win since 2012 came in a decision against Derek Brunson. He definitely is not the same fighter that had a 16-fight win streak and made every opponent look completely outclassed.
That's not to say that the Brazilian legend is without avenues to victory, as his head movement and striking technique is still stellar and he does not have a shattered chin or heavily exposed weaknesses like many veterans. Yet still, Silva has looked significantly slower and less agile in recent years following his suspension due to a doping violation. He does hold one distinct advantage over Hall, as Silva is no stranger to a five-round contest, whereas Hall's only main event ended in a first-round knockout defeat. Given Hall's subpar volume and less technical base, Silva has a clear gameplay to win this fight, but I just don't see it happening. His speed and trademark head movement, while still definitely capable, are not what they were and leaves him too open to the raw power and explosiveness of Hall.
Take the Shot: Uriah Hall via Knockout
---
Bryce Mitchell vs. Andre Fili (FTW)
After a unsuccessful stint on Season 27 of The Ultimate Fighter, Bryce Mitchell (13-0, 4-0 UFC) has racked up four straight wins in the UFC, including 2019's Submission of the Year when he tapped Matt Sayles with a twister. "Thug Nasty" is a grappling expert with lightning quick transitions and the ability to stick to his opponent's back. His striking is a little rudimentary and low volume, often keeping range with kicks. Although he does not sport the best wrestling proficiency, Mitchell is not unhappy on his back either, as he can submit his opponent or use his scrambling to claim dominant position.
Andre Fili (21-7, 9-6 UFC) is an Octagon veteran fighting out of Team Alpha Male who has gone up against some of the Featherweight division's best in Max Holloway, Calvin Kattar, and Yair Rodriguez.. On the feet, Fili is always game for an entertaining brawl, as he comes forward with pressure and a variety of kicks. He has scored twelve finishes in his pro career, nine by way of knockout. "Touchy" Fili's wrestling is another weapon of note, as he has controlling top position that is always in his pocket. For example, he was able to ground Charles Jourdain in his last bout to eek out a split decision after being knocked down. When Fili is in the cage, you know you are in for an entertaining bout.
This is a tough fight and great test for the budding star in Mitchell. He has proved himself to be something special on the mat, outworking fellow ground experts Charles Rosa and Bobby Moffett. His striking is not seen often, as he seeks to turn every bout into a grappling match, and has been quite successful at it to this point. I do not see any reason why this bout will be different. While Fili does have superior striking and knockout power, he is more than willing to tango on the ground with Mitchell, not sporting the defense to keep the specialist off of him. I see Fili taking top control and tapping to a submission from Mitchell's killer back game.
Take the Shot: Bryce Mitchell via Submission
---
Makhmud Muradov vs. Kevin Holland (MW)
Stepping into the UFC with an eleven-fight win streak to his name, Makhmud Muradov (24-6, 2-0 UFC) has racked up two wins, including a KO of Trevor Smith that earned him a performance bonus. Muradov is a Floyd Mayweather prodigy, in fact, he is the only MMA fighter endorsed by the boxing great. As you would expect, he does most of his work with his hands, and has sixteen knockouts on his resume. On the feet, "Mach" is fairly fundamental, but mixes up his entries into the pocket with the speed of Featherweights. On top of this, he has displayed an improving ground arsenal and has exceptional takedown defense, but looks a little lost when off his back.
Kevin Holland (19-5, 6-2 UFC) is continuing his activity with another short-notice showing, now riding three straight wins. Although losing his debut to a powerhouse in Thiago Santos, Holland has proved worthy of his UFC spot and demonstrating the multiple abilities he brings. "The Trailblazer" has good Kung Fu based striking, using combinations as well as power to finish nine of his opponents in knockout, while also using defensive submissions to finish the fight or keep it standing. He proved his skill as a BJJ artist in that match with GM3 by going toe-to-toe with the black belt all the way to a victorious decision, although his defensive wrestling and ability to be controlled remain a clear weakness.
I am so excited for this matchup, as it is a delightful clash of striking styles. Muradov has the more fundamental striking with impeccable footwork, while Holland has the more unorthodox and diverse arsenal on the feet. I do not think we see this match find its way to the floor, since Muradov's superior wrestling somewhat cancels out the defensive jiu-jitsu of Holland. I believe that the difference makers in this fight will be who can establish their range and speed. Mach has the cleaner boxing combos and likely the speed advantage, but he will need to break through the five-inch reach advantage of Holland. I think the striking experience will pay off for Muradov, but I am expecting a close and competitive bout here.
Take the Shot: Makhmud Muradov via Decision
---
Greg Hardy vs. Maurice Greene (HW)
Greg Hardy (6-2, 3-2 UFC) burst onto the UFC scene last year from the Contender Series with both tremendous knockouts and controversial headlines. Although his debut saw him take his first loss over an illegal knee, he made it up with a first round knockout over Dmitry Smoliakov in late April. Since then, we have seen massive developments in Hardy's game, most notably in his pacing and defense. He is far less reliant on the blitzing style that saw him earn his first three wins by first-round KO and has better movement and gas tank management, most recently displayed in his decision win over Yorgan de Castro.
Maurice Greene (9-4, 4-2 UFC) was riding a three-fight UFC win streak before getting finished in his next two bouts, but overcame some adversity from Gian Villante to secure a third-round submission. Greene is a massive man standing at 6'7, but his only size advantage here will be two inches of height against the former NFL star. He possesses sneaky submissions off his back, but Greene can also get the job done with his professional kickboxing background. "The Crochet Boss" showed off that technical kickboxing in his decision over Hughes and KO of Albini, whose base is entirely boxing.
I came out of Greene's last bout with the aforementioned Villante very disappointed. Greene was dropped and very nearly finished by the aging veteran, who is no longer at the top of his game. His typical size advantages will also not be of use here, as Hardy matches up pretty evenly. Greene undoubtedly holds the more varied attack, but with regard to his poor takedown skills and Hardy's competent TD defense, those deadly submissions likely won't be a factor. That leaves him stuck on the feet with the athletic Hardy, who will be able to easily enter range on the Crochet Boss and land his power shots, while also possessing the better speed to get out of trouble.
Take the Shot: Greg Hardy via Knockout
---
Bobby Green vs. Thiago Moises (LW)
Bobby Green (25-10-1, 6-5-1 UFC) has made the most of his 2020 campaign, netting three decision wins over the past four months. Green is a Strikeforce veteran who has been going up against the best competition for nearly the entirety of the career. "King" has 17 finishes on his record with nine by submission, though he has not earned a stoppage victory since 2013. Green is a well-rounded fighter who has been historically difficult to take down to the mat, as he is primarily offensive on the mat when in top position. He has clean boxing which has been on display in his recent bouts, although he overexposes when stringing together his combinations.
Thiago Moises (13-4, 2-2 UFC) is coming off a win over veteran Michael Johnson, earning a second-round heel hook finish after being soundly outstruck in the first round. Moises has capable kickboxing and solid power, but his main skill is in the submissions. Moises was the LFA and RFA champion and he has incredible cardio that has been well displayed in five-rounds bouts. His Octagon career has shown his lapses in striking and poor movement when backed up against the cage and he often lacks the takedown chops to force it into the grappling arena, but is more than capable off of his back.
If I was predicting this fight five months ago, I may be leaning in the complete opposite direction here. However, Green's 2020 run has been nothing short of remarkable as he has came out victorious with several entertaining showings, most recently dominating Alan Patrick after a FOTN-bonus winning rematch with Lando Vannata. Green's boxing has been on point and he has mixed in his takedowns fantastically, all while displaying much better fight IQ than in previous years. I see Green working Moises over on the feet and from top position to earn another decision win.
Take the Shot: Bobby Green via Decision
---
Stay tuned to our home page to catch the prelims predictions, done by Chris Carpenter, who banked an impressive 5-0-1 on his picks last week!
I'll see you on Saturday for the post-fight breakdown and fights to make.