September's PPV was an absolute showstopper in the UFC's return to Fight Island, as we crowned two new champions.
We have our first of three Fight Island "Fight Night" cards on ESPN+, with our first one headlined by former champion Holly Holm against rising knockout artist Irene Aldana. Though not the strongest card in terms of name value after the second cancellation of Santos vs. Texeira due to COVID-19, there is a pack of hot prospects to keep an eye on, as well as three former champions!
---
Holly Holm vs. Irene Aldana (BW)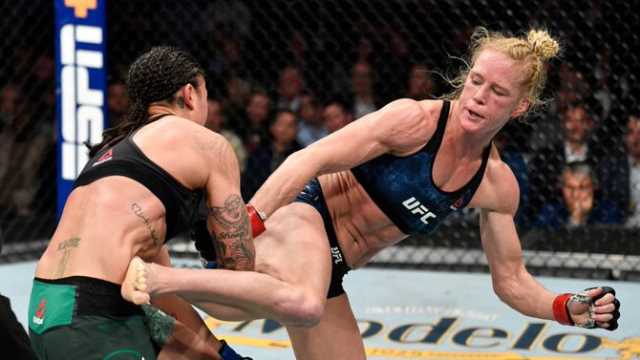 Holly Holm (13-5, 6-5 UFC) shot to stardom after that knockout over the once queen of the UFC in Ronda Rousey, with one of the most stunning head kicks ever seen in the Octagon. If Nunes is the most violent striker, Holm is the most technical. She has a long and credentialed career in both boxing and kickboxing and that has given her 8 of her victories in MMA by knockout, almost all with brutal kicks. She trains at  Jackson-Wink MMA camp with none other than the infamous Jon Jones, and that has clearly worked wonders for her career. She prefers to stick to the outside of the cage, working down her opponent with her jab and teep kicks, as well as boasting fantastic clinch work.
Irene Aldana (10-4, 3-2 UFC) is riding a two-fight winning streak since dropping a split decision to Raquel Pennington. The Mexican fighter has incredible boxing and next-level brawling skills, as well as the power to end the fight, which she showcased against Ketlen Vieira most recently. She has an amazing skill at defending takedowns but also has good submission ability. Still, her best area is in her boxing and ability to deal damage inside the pocket. 
We are in for a treat of a striking battle here, as Aldana will look to close the distance and work over her volume, while Holm will seek to control the clinch and distance exchanges. I like Holm's route more. On top of facing the significantly better competition, she has much more experience in martial arts and a proven ability to last five rounds. The latter will be her greatest weapon against Aldana, who has shown lapses later in her fights and loses the sting off her punches. Holm works the outside of the cage and corrals Aldana into the fence for five rounds.
Take the Shot: Holly Holm via Decision
---
Yorgan de Castro vs. Carlos Felipe (HW)
Yorgan de Castro (6-1, 1-1 UFC) has proven his close range power and unnerving fight-changin ability, with excellent dirty boxing and ferocious leg kicks from multiple angles, which he used to finish Alton Meeks en route to a UFC contract on the Contender Series. From there, he knocked out Justin Tafa in a POTN-bonus earning performance but subsequently dropped a decision to Greg Hardy. De Castro's success comes from his ability to close range into the pocket against larger competition, as well as limiting their mobility.
After a decision defeat to Sergey Spivak in his UFC debut, Carlos Felipe (8-1, 0-1 UFC) will look to rebound against a fellow striker. "Boi" holds six stoppages on his record, all by way of knockout. Felipe is primarily a boxer, occasionally using leg kicks and knees, but primarily letting his hands do the work. He has clear one-shot power, but showed difficulty putting combinations together as well as subpar takedown defense. This match is likely to be either an early knockout or low-volume slopfest, but I like de Castro to take the win home with the former, utilizing his more diverse striking and speed for an late KO.
Take the Shot: Yorgan de Castro via Knockout
---
Germaine de Randamie vs. Julianna Pena (BW)
Germaine de Randamie (9-4, 6-2 UFC) will go for the UFC Bantamweight title that has eluded her for ages, despite her only Octagon losses being to the double champ Amanda Nunes. Fighting out of AKA, de Randamie is one of the few who does not boast a wrestling gameplan, instead using the world-class ground fighters there as a means to boost her game. She is incredibly difficult to take down, though has difficulty recovering her footing once grounded.. Even outstriking Holly Holm is an impressive feat, one de Randamie did without any problems. She packs power but has such great defense few can get by her.
Julianna Pena (9-3, 5-1 UFC) successfully made her return to the Octagon after almost two and a half years, defeating former Flyweight champ Nicco Montano. Her only loss in the UFC came to Valentina Shevchenko, which isn't looking like a bad loss at this point. Pena is a grappler, who excels on the mat and can bully almost anyone with her mat pressure and high tier grappling. On the feet, she isn't the best. She just shuffles forward with a high guard and little head movement, looking to clinch her opponent or take the fight down. However, she packs a good bit of power, though ultimately relying on her grappling.
This is a fantastic clash of styles, one that I believe will see the striker prevail. Although GDR was grounded by Nunes in both of their bouts, she was not without success in their matches on the feet and had an astonishing 88% takedown defense before that bout. Pena is not a takedown artist of that caliber, often accepting clinch work, where de Randamie's Muay Thai background and stellar frame will have no issue taking control. When she can separate is where she will find the most success, as she will be able to expertly capitalize on Pena's lower striking output and poor defense.
Take the Shot: Germaine de Randamie via Decision
---
Kyler Phillips vs. Cameron Else (BW)
Kyler Phillips (7-1, 1-0 UFC) made waves in his UFC debut by earning a Fight of the Night bonus over Gabriel Silva in a decision. "Matrix" uses a high-volume output and wild, unorthodox power strikes, unleashing fluid combos while bouncing around the outside. He does his best work on the mat, though, as the BJJ brown belt has amazing transitions and powerful ground striking, as well as a threatening submission game. 
Coming in as a short notice replacement about a week out, Cameron Else (10-4) will be making his Octagon debut. "Camchida" started his pro career 4-4 in his first eight bouts, but now rides a six-fight winning streak with all ending inside the first round, four in the first MINUTE. Else relies on the finish and many of his defeats have come at least partially due to lapses in his gas tank. On the feet, he is a lanky striker who is best with his kicks and sports a sneaky submission game, although not the best wrestling. 
I believe that this will be a fantastic fight and likely another FOTN for Phillips. Although a powerful knockout threat, Else's wild hands tend to cost him when he does not find his opponent's chin early. He loves a brawl and Phillips is likely to give him one, but has the footwork and head movement to stay out of the way of Else's looping combos. In addition, he is more than capable on the mat and has been tested against a much higher level of opposition. I think Matrix finds a late ground and pound knockout after a stellar back and forth battle.
Take the Shot: Kyler Phillips via Knockout
---
Dequan Townsend vs. Dusko Todorovic (MW)
Dequan Townsend (21-11, 0-3 UFC) bounced around on the regional scene before joining the UFC on a short notice opportunity. He has yet to find victory in the Octagon, being knocked out in his debut and outworked to decision in his next two fights. Townsend is primarily a Muay Thai striker with threatening kicks and a skilled jab. His ground game consists of an active guard with numerous defensive submissions on his resume, but he rarely chooses to engage in grappling himself. "The Tarantula" relies too heavily upon his range, with his low hands and fading movement creating serious holes for his defense, but is bolstered by an iron chin.
Dusko Todorovic (9-0) impressed on the Contender Series, earning himself a UFC contract, debuting here after several cancellations due to COVID-19. That fight saw him go to the first decision of his career in essentially a fight of the night, utilizing punishing clinch work and versatile, eight-point striking. Defensively, he has excellent head movement with an inhuman durability and threatens grappling, as he has a well-versed ground game. His offensive grappling and fantastic submission defense should be more than enough to overwhelm Townsend, as he will have no difficulty closing range and imposing his will, and that's even if his striking is not working out, which is unlikely. 
Take the Shot: Dusko Todorovic via Decision
---
We have seven prelims fights kicking this night off at 5 PM EST, with Chris Carpenter's predictions to be released soon!