After a two-month stint at the UFC Apex facility in Vegas, the Octagon is heading back to Yas Island in Abu Dhabi for the return of Fight Island.
We have a killer, if somewhat top-heavy, pay-per-view card lined up with the long awaited rivalry between Middleweight champion Israel Adesanya and the hard-hitting Paulo Costa. In the co-main event, the vacant Light Heavyweight title will be awarded to the victor of Jan Blachowicz and Dominick Reyes after Jon Jones' vacation of the belt.
---
Israel Adesanya vs. Paulo Costa (MW)
After a groundbreaking performance in knocking out Robert Whittaker to win the title, Israel Adesanya (19-0, 8-0 UFC) defended his belt against Yoel Romero in one of the worst MMA bouts I have ever seen, based just off sheer inactivity. His record has 13 KOs on it brought on by his unorthodox and impressive striking, polished after a storied career in GLORY Kickboxing. His massive 6'4 frame grants him a 4-inch advantage over Whittaker along with an 7-inch reach advantage. Adesanya uses amazing kickboxing to dominate his opponents from range and up close, delivering elbows and knees, along with punches down the middle. "The Last Stylebender" has been absolutely thrilling to watch and his cardio has held up, winning five-rounders against Brad Tavares, Kelvin Gastelum, and the aforementioned Romero. Adesanya has impeccable takedown defense and uses it to keep the fight exactly where he wants it and his striking can give him one punch (or knee/kick/elbow) knockouts with his precision or he can decimate his opponent with a thousand strikes.
Paulo Costa (13-0, 5-0 UFC) propelled himself into title contention with four straight knockout wins, followed by a Fight of the Year contender opposite Yoel Romero. "The Eraser" is a Muay Thai striker who specializes in delivering an onslaught of pain. Costa surges forward with constant pressure in every matchup, landing over eight significant strikes EVERY MINUTE inside the Octagon. Costa's vicious combos are near endless as he will stream his power hooks into powerful body kicks, knees, or hellacious uppercuts. Every strike Costa throws is meant to hurt his opponent as he yearns to be put into a brawl with his pace and near granite chin.
In what is sure to be a treat for the fans, neither fighter here will want any ground action and will purely seek to bash it out on the feet. The stylistic battle at play is between Costa's power and pressure against the superior technical proficiency, range, and movement of Adesanya. Adesanya has shown a weakness to pocket striking and is increasingly hittable when pressured, as Gastelum and Brunson found their successes when able to keep Adesanya up against the cage. If Costa is able to corral Izzy and stifle his experienced movement and range, the knockout will surely present itself. However, Izzy will take over in the later rounds, especially if Costa is unable to bridge the size discrepancy. I like the pressure of Costa to pay dividends early, as Adesanya has shown that he requires time to adapt to his opponent's range and weaponry inside the cage, which is time that will not be afforded to him.
Take the Shot: Paulo Costa via Knockout
---
Dominick Reyes vs. Jan Blachowicz (LHW)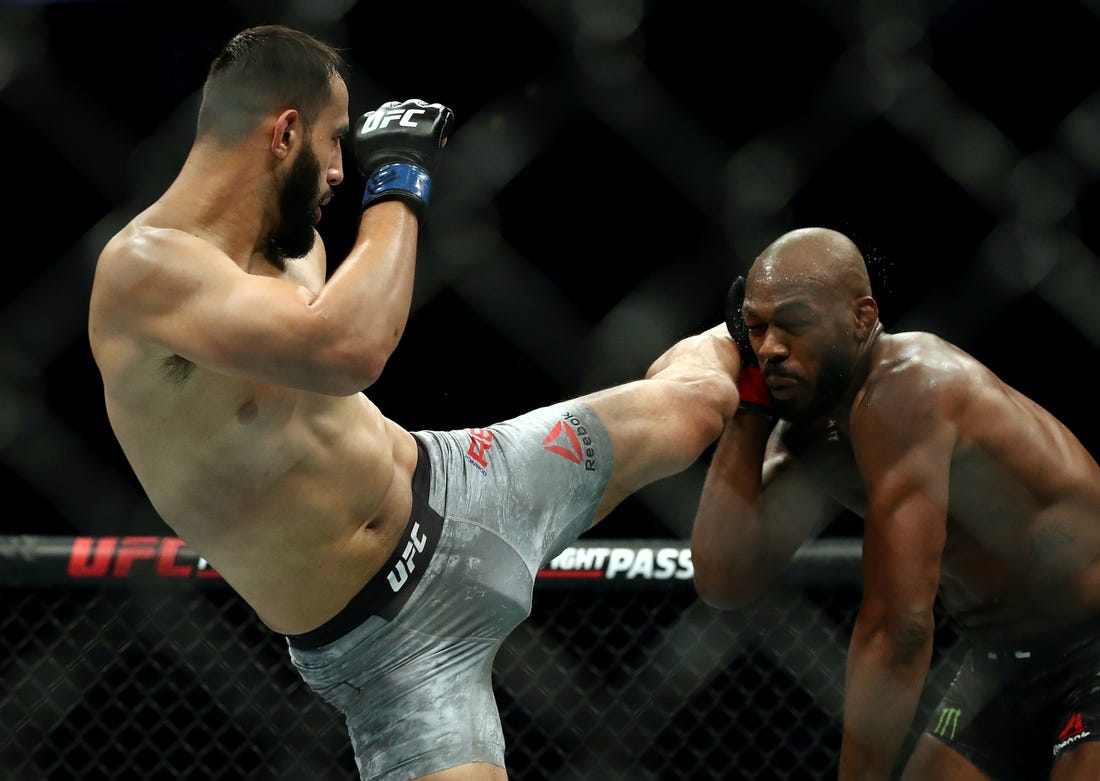 Dominick Reyes (12-1, 6-1 UFC) went undefeated through his first six UFC fights before losing a split decision to Jon Jones still contested by many. Reyes is a kickboxer with multiple KOs by head kick and solid power in his punches as well. With nine finishes to his name, all inside the first round, he presents a constant danger on both his front and back foot. The key to Reyes' game is the absolute warring spirit and unrelenting volume that practically forces his opponents to fold, relying upon his athleticism and sizable 6'4″ frame. He has some ground skill and two subs on his record, but certainly prefers when the fight is on the feet. Reyes' sound takedown defense has been getting better and better, along with his overall game developing after years in other sports.
Jan Blachowicz (26-8, 9-5 UFC) is a fighter often overlooked at the top of the Light Heavyweight division, but finally earned some respect with his first round devastation of Corey Anderson. Still, Blachowicz is a talented grappler with heavily underrated boxing, followed up with a great jab and a good wrestling game. He has fifteen finishes, split seven to eight between KOs and submissions. Blachowicz is typically a counterpuncher and is skilled at drawing out matches with a habit of starting slow, but has showed off more of his finishing ability in recent years.
On paper, this is a striker vs. grappler match, but I would genuinely be surprised to see this fight touch the mat for longer than fifteen seconds at a time. Reyes was barely wrangled to the mat by Jones, one of the most effective MMA wrestlers ever. Although Jan is skilled when the fight is on the mat, he does not have the most success at actually getting it there. If this fight is kept on the feet, Reyes' reach and kickboxing technique will put him clearly ahead, able to pick apart Jan at will from the outside. I see Reyes dominating the early rounds with a possible late surge from Blachowicz if Reyes is unable to find the Pole's chin.
Take the Shot: Dominick Reyes via Decision
---
Kai Kara-France vs. Brandon Royval (FLW)
Kai Kara-France (21-8, 4-1 UFC) has been busy in his year and a half inside the Octagon, notching three straight decision wins before being outpointed by top contender Brandon Moreno. "Don't Blink" turned it around with another decision, this time outworking power puncher Tyson Nam. He keeps an impressive volume on the feet, mixing up his striking well and using his excellent footwork. Don't think that he doesn't have power, as ten of his pro wins have come by (T)KO. He has nice takedowns when he chooses to use them, as well as a ridiculous takedown defense rate of 90% that often affords him the choice of where the fight takes place.
An upset submission win over title challenger Tim Elliott earned Brandon Royval (11-4, 1-0 UFC) a FOTN bonus and a ranking next to his name. "Raw Dawg" is a finisher who has stopped ten of his victories, seven in submission. He is a furiously active submission threat, especially off of his back, but has also shown ample takedown and reversal skills. On the feet is where Royval is the most exposed, preferring to keep the fight at distance so that his pocket boxing deficiencies are not exploited. Royval has never been finished, but often sees his output wane in the latter half of the fight.
This fight primarily resides upon how well Kara-France is able to enter the pocket without succumbing to the takedowns of Royval. His boxing and lighting quick hands will surely take advantage of Royval's sporadic power strikes at range, but all that success on the feet relies on him being able to avoid the grappling, as Royval's bottom game is not to be trifled with. With his fantastic takedown defense and fight IQ, he should have no issue keeping this in his wheelhouse.
Take the Shot: Kai Kara-France via Decision
---
Ketlen Vieira vs. Sijara Eubanks (BW)
Ketlen Vieira (10-1, 4-1 UFC) surged into the UFC with four straight victories, including a second-round submission over Octagon vet Sara McMann. Vieira comes in with a jiu-jitsu and judo background which serves as her primary method of attack inside the cage. "Fenomeno" holds six finishes on her pro resume, four by submission, as she seeks to secure top control and work into submissions from dominant positions.
Despite having a relatively mediocre record, Sijara Eubanks' (6-4, 4-2 UFC) has been up against top competition since her debut in the Invicta FC promotion. As a former IBJJF world champion, she mainly works as a grappler with great top control and ground and pound, but displayed higher level striking in her second face-off against Aspen Ladd. Sarj has some good clip in her punches, but her main forte is on the mat, where she can establish and hold her control. Most recently, she upset the hard-hitting Julia Avila, landing three takedowns and working over her opponent with volume and control from top position.
In a match between two talented ground technicians, I favor the skills of Vieira on the mat. For all of Eubanks' impressive grappling credentials, we have not seen her finish a fight inside the Octagon and had not even attempted a submission until her last fight against Avila. Vieira's judo background and submission knowledge will keep her out of danger and in top position on the floor, as I have no doubt she will be looking to take it there. Vieira has shown budding standup skills, but will likely want to secure this match on the floor. She will not have too much trouble, given her (relatively) massive four-inch size advantage over the former Flyweight and much more skilled wrestling entries.
Take the Shot: Ketlen Vieira via Decision
---
Hakeem Dawodu vs. Zubaira Tukhugov (FTW)
Hakeem Dawudo (11-1-1, 4-1 UFC) is now riding high on a four-fight win streak after a quick guillotine loss to Danny Henry in his debut. Dawudo is a Muay Thai striker who boasts a ludicrous volume in his strikes, as well as superb defense in both striking and takedowns. He can fight from any range and utilizes his leg kicks and eight-point striking style at all levels to dominate his opponent on the feet without ever needing to take it to the mat. Seven of his wins have resulted in knockout.
Zubaira Tukhugov (19-4-1, 4-1-1 UFC) proved he is not just another Russian wrestling prodigy in his last bout, knocking out Kevin Aguilar in the first round. He has scored eight finishes in his career, all but one by knockout. "Warrior"'s wrestling base is most evident when he is in top control. He rarely needs to land many takedowns as he is incredibly adept as stifling his opponent's activity while securing himself in dominant position. His striking is technical but low-volume, primarily just 1-2 combos that lead into his wrestling.
Although Zubaira's two UFC knockouts have shown that he has true power, this is primarily a striker against grappler matchup. Tukhugov will clearly be looking to take advantage of control time and positioning, while Dawodu will need to stay at kickboxing range and keep space with his jab and clean front kick. Dawodu is yet to be truly tested by an elite grappler, and I do not see it going well. Zubaira motivates the fight to his range well when he is the larger fighter and although Hakeem's five-inch reach advantage could provide some issue with the jab, he should have no issue entering range and securing ground or clinch control. This is a close fight and great test for two equally bright prospects, but I like Zubaira to snag a tight decision.
Take the Shot: Zubaira Tukhugov via Decision
---
Keep an eye on our home page, as we have your prelims predictions out for this fantastic card! Keep an eye on the Light Heavyweight showdown between recent Contender Series victor William Knight and Aleksa Camur!
See you Saturday, Freaks!