Next week we are heading out to Fight Island in Abu Dhabi for five straight events, including two massive PPV events, but we have one more Vegas Fight Night before we leave.
It's a heated rivalry with years in the making as former champion Tyron Woodley looks to get back on the winning track against the former interim champion and heel character in Colby Covington.
That's not all, though, as we have my personal favorite fighter, Niko Price, taking on Cowboy Cerrone in our co-main, as well as exciting fighters such as Johnny Walker and Khamzat Chimaev decorating this absolutely stacked main card.
---
Colby Covington vs. Tyron Woodley (WW)
Colby Covington (15-2, 10-2 UFC) is coming off his Fight of the Year contender and unsuccessful title bid against Kamaru Usman. He has heavy pressure and next-level wrestling chops, blended together into an all-out onslaught of violence. Colby's striking produces a much higher output, although less reliant upon power, as he recently took the record for most landed strikes in his July bout against Robbie Lawler. On top of that, Covington has an underrated submission game when the opportunity to choke his opponent out presents itself.
Tyron Woodley (19-5, 9-4 UFC) now finds himself on the first losing streak of his career after two one-sided defeats to Kamaru Usman and Gilbert Burns. Woodley is a supreme wrestler with a hammer of a right hand and the counterpunching to aid it. He finished off Darren Till in his last successful title defense in brutal fashion, dropping him with that right. His skill on the mat is rivaled by few and although many doubt his focus on the sport of MMA, he remains one of the most highly talented individuals in the stacked Welterweight division. Nowadays, his biggest issue is one of complacency that sees him stuck looking for one counter.
If this was the champion Woodley, this would be a much more fun fight to predict. As it is, however, Woodley has been completely outworked in every facet of every round in his last two fights as he seemed unable to get his back off the cage and look for weapons to use other than his power right overhand. That makes Colby a nightmare matchup. For all his crass but entertaining talk outside of the cage, Covington has the pressure, chain-wrestling, and volume striking capabilities tailor made to keep Woodley on his back foot and eating a near endless amount of damage.
Take the Shot: Colby Covington via Unanimous Decision
---
Donald Cerrone vs. Niko Price (WW)
Fan favorite Cowboy Cerrone (36-15, 23-12 UFC) is currently on the worst losing streak of his career, riding four straight defeats with three coming by way of knockout. His activity level seems a little high for his age and experience, but he has shown no interest in slowing down. In fact, just a little over a year ago he clearly beat Al Iaquinta after a highlight reel head kick KO of Alexander Hernandez. With that match against Iaquinta, he showcased his striking, still diverse and evolving while staying true to his fundamentals. Cowboy also has seriously underrated jiu-jitsu and it has come through for him many times over.
If you ask me for my favorite fighter, I won't hesitate. The Hybrid, Niko Price (14-4, 6-4 UFC) Price is a unorthodox finisher with brutal knockout power as well as a talented grappler. He is the only fighter to hold two knockout victories OFF OF HIS BACK and presents a constant KO threat at all times. The holes in his game lie in his willingness to leave his hands down and brawl, as he can get caught with long, technical straights outside of his brawling range. His last bout against Vicente Luque was an absolute war that saw Price lose by doctor stoppage and although he was down on the scorecards, Price is always there throwing heat and often landing.
This should play out entirely on the feet, although I do not see the bout lasting too long. Neither fighter really pressures for the takedown unless the striking is not going there way and with both of their active submission games at play, it leaves few moments where they will be looking to engage on the mat. Cowboy will be operating without his usual size advantage, instead looking at the wrong end of a three-inch reach discrepancy that will allow Price room to dictate the range and crowd Cerrone's dangerous kicking game. Cowboy's hyperactive fight schedule and declining durability bite him once again, likely in the first half of the fight.
Take the Shot: Niko Price via Knockout
---
Khamzat Chimaev vs. Gerald Meerschaert (MW)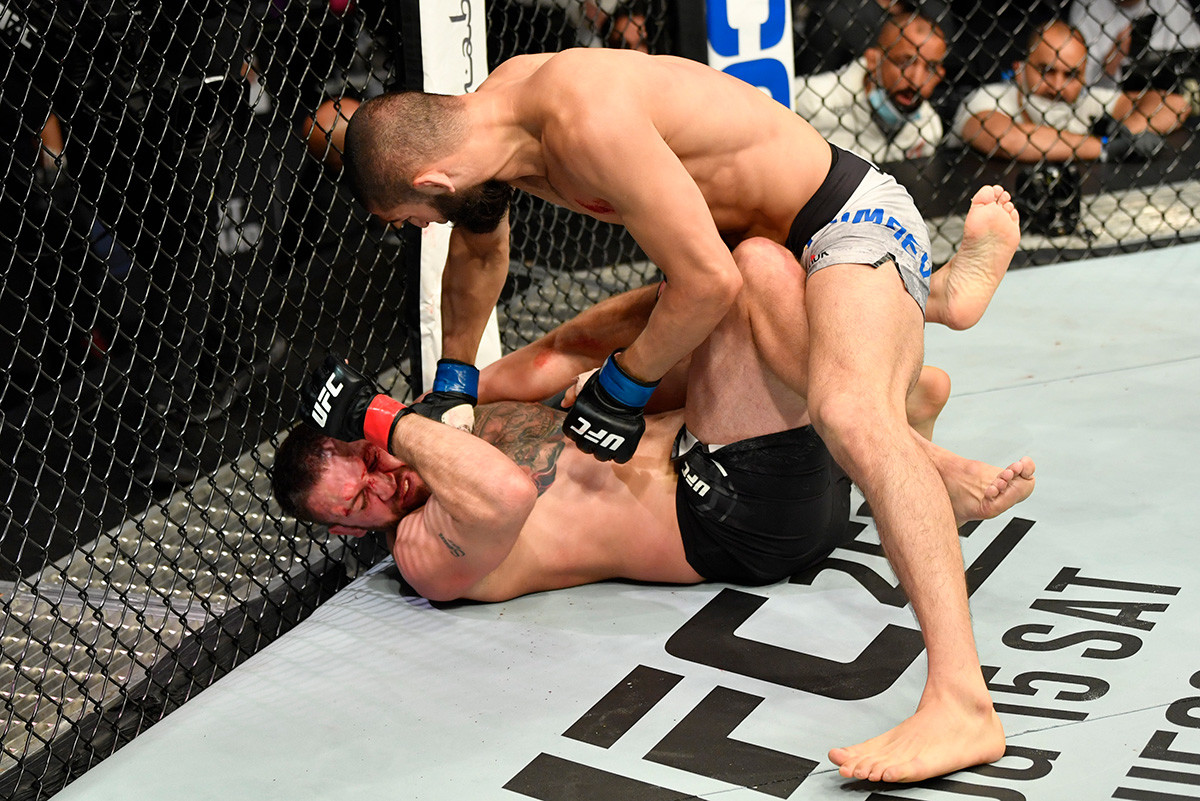 Khamzat Chimaev (8-0, 2-0 UFC) made himself one to watch over the summer by securing the record for quickest UFC turnaround with just ten days between his stoppage victories over John Phillips and Rhys McKee. Chimaev shifts between Welterweight and Middleweight, somehow able to make the cut down to 170. "Borz" stands at 6'2″ and looked like a behemoth in both weight classes, tossing around his opponents at will. Comparing Chimaev to Khabib wouldn't be incorrect, as Chimaev has relentless takedowns and furious ground and pound from top control, as well finishing all of his fights, split evenly between knockouts and submissions. Borz displays dominant control and positioning, as well as the acumen to find the choke when it presents itself. If you were concerned about his striking, have no fear, as he trains with Alexander Gustafsson and Ilir Latifi at Allstars Training Center and has displayed great kicks and boxing fundamentals on the regional scene.
Gerald Meerschaert (31-13, 6-5 UFC) scored a third round submission over Deron Winn before getting demolished by the power overhand of Ian Heinisch. He will look to get back on the winning track in the best possible way by taking down one of the most highly touted prospects. GM3 does almost all his work in the ground department, racking up 20 victories by submission. However, his striking is near disgusting, throwing a low volume with a poor defense to back that up and leaving himself open to way too many shots in return. That likely won't be a factor, though, as Meerschaert's takedown defense is pretty lackluster given that he would love for the fight to be a grappling match. Unfortunately, he has not shown much in terms of damage minimization or any uncanny abilities for snatching up triangles and armors (although he certainly can). While GM3 has the submission skills to theoretically get the tap when Chimaev takes it to the mat, he will have little answers to the brutalizing ground and pound and constant pace of the native Chechnyan.
Take the Shot: Khamzat Chimaev via Knockout
---
Johnny Walker vs. Ryan Spann (LHW)
After surging into the UFC with three straight knockout wins in a combined two minutes and 48 seconds of fight time, Johnny Walker (17-5, 3-2) had his hype train derailed by defeats to Corey Anderson and Nikita Krylov. Walker is a Muay Thai striker who uses his gigantic 6'6″ frame to spike power shots at his opponents with explosiveness rarely seen in the cage. This is all set up with constant flurries of feints and quick, dramatic movement. All but two of Walker's finishes have come inside the first round, usually because his fast twitch movements are not sustainable over the duration of fifteen minutes. Walker is a jiu black belt, which you would not guess by the paltry two subs on his record, but he primarily uses that grappling experience to limit the damage absorbed and keep the fight on the feet.
After choking out PFL Light Heavyweight champion Emiliano Sordi on the Contender Series, Ryan Spann (18-5, 4-0 UFC) has blasted into the UFC rankings with four straight UFC victories, only part of his eight-fight win streak. "Superman" has finished all but three of his fights, with eleven submissions on his record. His specialty is certainly his guillotine, which has earned him seven of those submissions and serve as an excellent counter to the wrestling and takedowns. His hulking 6'5″ build is best used when Spann can keep the fight at range and he has proven to have technical boxing, as well as improved power and cardio since his move up to 205 pounds. Spann has been against top competition for a while and his cardio issues have been on the table for a while, plaguing him in his most recent bout against Sam Alvey when he was able to be lulled into pocket exchanges.
This fight seems like it will either be an early finish or complete slop fest. Both fighters are incredibly dangerous with freakish size for the division, but both also have clearly exposed issues with their gas tanks. That favors Spann, who has the grappling and better (although not necessarily good) pacing should this fight enter the second round. He will need to control Walker, but also has a similar size to his Brazilian opponent that won't allow Walker his typical success with his short bursts. So long as Spann can avoid Walker's high-flying attacks in the first round by corralling him with his skilled grappling and more fundamental boxing, he can find a submission or earn a one-sided decision.
Take the Shot: Ryan Spann via Submission
---
Mackenzie Dern vs. Randa Markos (SW)
Former IBJJF world champion Mackenzie Dern (8-1, 3-1 UFC) picked up two straight wins under the UFC banner before falling to rising star Amanda Ribas. She got back on the right track with a first round kneeler over Hannah Cifers, the fifth submission win of her pro career. Her striking is by no means poor, as she has a respectable volume and more power than her knockout-less record would suggest. This combined with crisp Muay Thai fundamentals and decent wrestling chops makes her an all-around threat, but she evidently performs at her best on the mat with her jiu-jitsu.
Randa Markos (10-8-1, 6-7-1 UFC) is coming off a loss to the aforementioned Ribas, alternating Octagon wins and losses like clockwork. "Quiet Storm" is best on the ground with 4 wins coming by submission and all of them in armbars. She has a tendency to get lulled into brawls and her boxing is not technical enough to thrive in those environments, along with her not having a ton of power. I love Markos, but her main issue has been consistency and that has plagued her throughout her UFC career, where she can look incredible in one performance and fall flat in the next. That is a bad recipe against the specialist in Dern, who can capitalize on even the smallest of slip ups with a quick submission, and also has the BJJ pedigree to avoid Markos' dangerous submission threats from her back.
Take the Shot: Mackenzie Dern via Unanimous Decision
---
Kevin Holland vs. Darren Stewart (MW)
Kevin Holland (18-5, 5-2 UFC) rebounded from a submission defeat to Brendan Allen by knocking out Anthony Hernandez in under a minute, which he followed up with a third-round KO over late replacement Joaquin Buckley. Although losing his debut to a powerhouse in Thiago Santos, Holland has proved worthy of his UFC spot and demonstrating the multiple abilities he brings. "The Trailblazer" has good Kung Fu based striking, using combinations as well as power to finish eight of his opponents in knockout, while also using defensive submissions to finish the fight or keep it standing. He proved his skill as a BJJ artist in that match with GM3 by going toe-to-toe with the black belt all the way to a victorious decision, although he has shown lapses in his takedown defense.
Darren Stewart (12-5, 5-5 UFC) has made his reputation inside the Octagon with crisp Muay Thai and violent power. With 7 wins on his record by knockout, "The Dentist" has proved himself a violent force in the cage. He has fairly good head movement and a lot of feinting but makes most of his money as a counterpuncher. He can put anyone to sleep with one shot, but also has decent wrestling and will shoot a takedown if things aren't working out on the feet. With that said, elite grapplers have little issue going through his takedown defense, but he has underrated submission ability.
I think that this will be a scorching firefight between two fighters who have both proven an ability to end the fight with one strike. Holland has vastly improved his cardio concerns and has been looking to mix up his striking weapons, which he did expertly against Buckley. Stewart presents a similar skillset where Holland can win the striking exchanges by utilizing his length and movement, along with the submission ability off his back to end it should Darren pursue the grappling.
Take the Shot: Kevin Holland via Unanimous Decision
---
Stay tuned for the prelims predictions shortly coming your way for this incredible fourteen bout card!