Although this card has been hurt by the loss of Thiago Santos vs. Glover Texeira due to Texeira's positive COVID tests, we have a ranked Strawweight main event, as well as a number of hot prospects for this fight night event!
---
Michelle Waterson vs. Angela Hill (SW)
Michelle Waterson (17-6, 5-2 UFC), the new Karate Mommy, will try to make this a close fight with the striking. If it did stay striking, then this would be a more contentious fight. Waterson will definitely try to use her wrestling and submission skill to take home the victory. She has solid wrestling, but has faltered against prime competition without the most odefensive grappling capabilities.
You really have to give it up for Angela Hill (12-8, 6-6 UFC) and her activity, recently securing the most fights within a year. Hill is a Muay Thai striker who backs up her punches with a relentless pace and a surprising pop to her punches. Hill had poor success in her early Octagon career, due in part to her striking only style where Hill does not look good on the ground. Her game is best when she can dictate the striking exchanges and mix it up with all eight striking points.
Although Hill brings in a clear advantage in power and boxing ability with her hands, I simply don't see it being enough to overwhelm Waterson. Her fantastic submission game and offensive wrestling are often glossed over, but should not be against Hill, whose weakness time and time again has been her shoddy grappling defense. Unless Hill is able to keep this on the fight (where Waterson still has a clear shot to victory with her karate kicks), she is in for a rough show.
Take the Shot: Michelle Waterson via Submission
---
Khama Worthy vs. Ottman Azaitar (LW)
A late replacement bout worked wonders for Khama Worthy (15-6, 1-0 UFC), who unleashed a brutal first round KO over Devonte Smith, despite coming in as a massive underdog. He followed that up with a third-round guillotine against Luis Pena after giving up three takedowns and plenty of control time. Worthy prefers to live or die by the sword in his fights, with nine of his fifteen victories and five of his six losses coming by form of knockout. Worthy does not have much of a ground game, preferring to war out his fights on the feet. He puts out a nice striking output as well as 44% accuracy, although he shown concerns of being countered against higher level opposition. However, five of "The Deathstar's" six losses have come by knockout. Now riding a six-fight win streak, it seems like "The Deathstar" has found his niche and he will try to make a claim to that here.
Ottman Azaitar (12-0, 1-0 UFC) made his entry to the UFC with an impressive one-punch KO over Teemu Packalen. The German-born fighter is a particularly dangerous striker fighting out of the Brave FC promotion. He has nine wins by (T)KO, seven of which have come inside the first round. His weapons of note are his powerful hooks and straights, although I would like to see Azaitar load up a little less on his power punches. He has some decent wrestling, but mainly he uses it in reverse to keep it in his own playing field of striking. Trying to stand and bang with Azaitar, especially in that first round, is a recipe for disaster.
I think this bout is going to be a real treat between these two knockout artists for however long it lasts. While it seems that Worthy has the technical advantage in both submissions and striking, his defense severely lapses whenever he opens up on his power shots. That's a recipe for disaster against Azaitar, who has displayed that he only needs one connection to secure victory. On a more technical note, the disparity that Worthy has displayed when he opens up is. ore than enough to secure his demise against the one-shot bombs of Azaitar, with little weapons other than power as a backup plan.
Take the Shot: Ottman Azaitar via Knockout
---
Andrea Lee vs. Roxanne Modafferi 2 (FLW)
After switching between LFA and Invicta, Andrea Lee (11-4, 3-2 UFC) came into the UFC and secured three decision victories before dropping her next two by split decision. She used a karate-based volume striking style to win on the feet. She mixes her combinations together well and I am very impressed by the ease at which she can transfer to kicks. On top of that, she has wrestling and submission skills that have been able to urge her to victory along with four sub victories. Lee works best when she is the aggressor and can fight on her terms.
Roxanne Modafferi (24-17, 3-4 UFC) came out victorious in these two's first meeting back in Invicta FC, though by an extremely close split decision. "The Happy Warrior" has quickly become a personality and has scored two impressive upsets in just over a year Modafferi uses wrestling in combination with striking, and although she isn't the most finish-heavy fighter, she's hard to put out. Modafferi is best when able to control top position and unleash ground and pound, loving every opportunity to control punishing strikers.
I think that this match will go very differently from their first meeting due to Lee's substantial growth and improved wealth of experience. She offers a constant submission threat off her back as well as stellar takedown defense. On the feet is where her true advantage will be though, as her lengthy kicking range will give Roxy little opportunities for her unorthodox and quirky boxing to close the gap.
Take the Shot: Andrea Lee via Unanimous Decision
---
Ed Herman vs. Mike Rodriguez (LHW)
It may be a long time since the days of Ed Herman's (24-14, 12-11 UFC) height at the upper echelon of the Middleweight division, but he is just as dangerous of a bruiser as ever. Herman sports twenty-one of his professional victories coming by finishes, with fourteen by way of submission. With his striking, Ed fights in bursts, utilizing knees and elbows whenever possible, while he focuses upon his slick submission skills on the mat, often disregarding position in favor of the finish.
"Slow" Mike Rodriguez (11-4, 2-2 UFC) made his entry to the Octagon after a flying knee victory on the Contender Series. Rodriguez is a power striking utilizing eight-point striking, who hides his quick attacks with slow feints and movement. Rodriguez can close the show in an instant and has great fluidity as well as accuracy. Something I truly love is his use of kicks to keep his opponent in the range he wants them and he has body kicks that make you wince. His bane has been his ground game. Anyone proficient on the mat can stifle Slo-Mike or cruise their way to a decision.
Predicting this bout to me comes down to a question of defense and chin. Should Herman survive past the lanky Rodriguez's power first round, he sports the takedown pedigree and submission acumen to finish or control the fight. For my money, I think he has the tools available. While Rodriguez has clear power in his hands (and elbows), he still has grave issues when fronted with a discounted volume or utterly complacent ground game.
Take the Shot: Ed Herman via Unanimous Decision
---
Billy Quarantillo vs. Kyle Nelson (FTW)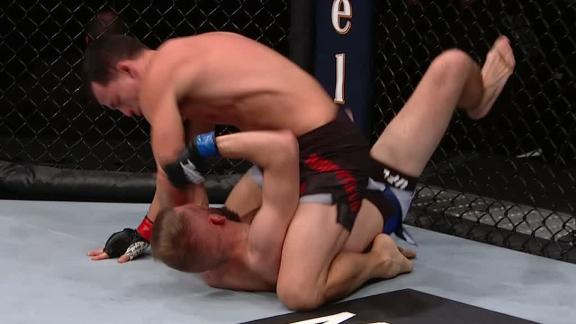 Billy Quarantillo (14-2, 2-0 UFC) had me thinking that his strengths laid in his striking prior to his UFC debut, then came in against Jacob Killburn and made Killburn look like he had no busy with Billy Q on the mat. He danced around him at ease, alternating between vicious ground and pound and chokes before the second round submission. He followed that up with a competitive bout against Spike Carlyle where he utilized his skill off of his back and his reach to great success. He has 11 stoppage victories, six of which have come by knockout. Billy Q has an unrelenting gas tank and pressure, as well as a long and lanky form that partners well with his grappling skill.
Kyle Nelson (13-3, 1-2 UFC) scored his first Octagon win with a brutal knockout of Marco Polo Reyes. Nelson is a generalist with five knockouts and four subs on his resume, as well as the wrestling game to control position. Nelson's striking defense is simply too poor to go up against the furious pace of Billy Q, giving up over six significant strikes per minute in his UFC tenure. His best shot at a win against the hard-nosed Quarantillo is riding out the decision from top position, a luxury he will simply not have given Billy's superior submissions and scrambling.
Take the Shot: Billy Quarantillo via Knockout
---
Keep an eye out for the prelims predictions that showcase a number of great prospects to keep an eye on, like the surging Julia Avila getting a shot at the Bantamweight rankings opposite Sijara Eubanks.
If you dabble in the occasional gambling, or even are just craving some more fights, check out Coby McKinley's coverage of the Contender Series, where he went five for five on his predictions the other week.
Until next time, Freaks.