We have a fantastic Heavyweight collision in our main event at the UFC Apex facility this week as Alistair Overeem continues on what looks to be his final title run upon against the hard-hitting Augusto Sakai.
---
Alistair Overeem vs. Augusto Sakai (HW)
It's been a rough past couple of years for the Reem. Prior to Ngannou, Alistair Overeem (46-18, 11-7 UFC) was the one-shot wonder who could put anyone away in seconds. This rocketed him to a championship match with Stipe, which was ended in the first by Stipe (even though he tapped). Overeem is one of the original glass cannons, he still has incredible power at 40 and has ended his last three victories by KO, along with world-class submission skills. However, he can quickly be ended by a hard hitter, as 14 of his 18 pro defeats have been finished by KO. On top of that, Overeem has fantastic grappling and submission skills that he has been much quicker to rely on in recent years.
Augusto Sakai (15-1-1, 4-0 UFC) is a huge up and comer in the Heavyweight division, most recently securing a split decision over Blagoy Ivanov. He competed at Bellator for a period then came into the UFC after a brutal knockout on DWTNCS with a debut that ended up being a 3rd round KO against Chase Sherman that showed off his standup talent in a wide variety. 11 of Sakai's wins have come by knockout and his Muay Thai striking pedigree gives him the technique and speed to throw shots. At first glance, Sakai looks to have an uncoordinated style and swings looping hooks and overhands. On closer examination, Sakai uses this style on purpose. He has a more technical standup, but he uses this unorthodox style to throw his opponent off their rhythm, while giving him time to find his. He strings together combinations very well and combines power with brilliant footwork and unorthodox workings to make an incredible and entertaining style.
Most Overeem fights come down to whether or not his opponent will find his chin. Even when Overeem was heading into a win over Rozenstruik (although he was down on the striking numbers), his chin failed him in the very last seconds. Sakai has the BJJ background and expert takedown defense to withstand Overeem's recent increased utilization of grappling and his chin and lackluster output make him not a convincing option on the feet. Sakai will continue his rise to the top with a well-placed counter on the long-ago cracked chin of the Reem.
Take the Shot: Augusto Sakai via Round 1 Knockout
---
Ovince St. Preux vs. Alonzo Menifield (LHW)
Ovince St. Preux (24-14, 12-9 UFC) has been around forever. OSP is one of the most experienced UFC Light Heavyweights, taking on the likes of Jon Jones, Shogun Rua, and Glover Texeira. An extremely well-rounded fighter, OSP can knock you at in a second with kicks and also punches. However, his main strength is his ground game, hence the newly christened OSP choke (I never want to hear it called the Von Flue again). OSP has incredibly high fight IQ and fights expertly for a man of his age (37). The most notable advantage for OSP here will be recovery and experience. He can switch his game immediately when he knows he is in trouble and has all the skills to weather a storm and return with his own firepower.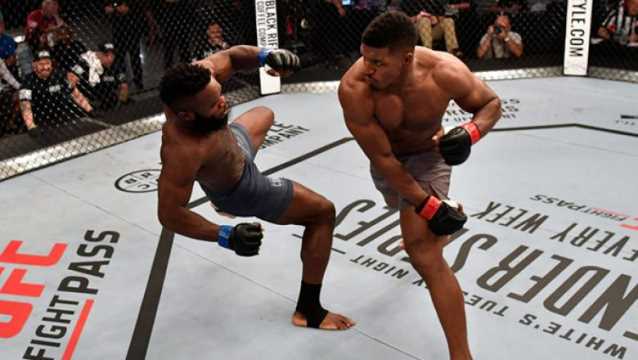 Alonzo Menifield (9-1, 2-1 UFC) plowed into the UFC with an eight-second KO on the Contender Series, only to rattle off two more first round KOs against Vinicius Moreira and Paul Craig. Menifield throws dangerous power, and even a small hook can end the night quickly for his opponents. He does still show the signs of a growing power puncher though, and his gas tank is his greatest weakness, should the fight be extended that long. Still, he has fantastic takedown defense, but overexposes on his power shots and is way too hittable with counters.
I'm honestly more excited about this fight than I was about OSP's matchup with Shamil Gamzatov, who Menifield replaced on around two weeks' notice. Menifield's last fight with Devin Clark was a barn burner, and this match will show if Alonzo can make the requisite adjustments from that fight. Unfortunately, I don't think this is the match for him. Menifield hunts ruthlessly for the KO, but shows serious lapses even before the first round ends. Headhunting is a bad strategy against OSP, who has only been (T)KO'd twice in his career, with his last coming eleven fights ago to Jimi Manuwa. The length and grappling pedigree of Saint Preux are too great a challenge for Menifield to overcome if he is unable to get that first round stoppage.
Take the Shot: Ovince St. Preux via Round 2 Submission
---
Sijara Eubanks vs. Karol Rosa (BW)
Despite having a mediocre record, Sijara Eubanks' (5-4, 3-2 UFC) has been up against top competition since her debut in the Invicta FC promotion. She mainly works as a wrestler with great top control and ground and pound, but displayed higher level striking in her second match against Aspen Ladd. Sarj has some good clip in her punches, but her main forte is on the mat, where she can establish and hold her control.
Karol Rosa (13-3, 2-0 UFC) has been fighting since 2013 and has a nice record to show for it, now riding two straight wins under the world's premier MMA banner. She has some nice grappling and fantastic defensive wrestling, but does the majority of work in striking. Along with four knockouts, she has a nice skill in volume striking. I imagine that will be her forte in the UFC as well, as she doesn't have much one-shot power or high success against top-notch competitors. Her Muay Thai boxing technique is fantastic and her long strikes always come in long combos, giving her a high output fan-friendly style. I expect takedown defense to keep this fight on the feet where she can open up with her onslaught of strikes and secure herself a ranking.
Take the Shot: Karol Rosa via Unanimous Decision
---
Michel Pereira vs. Zelim Imadaev (WW)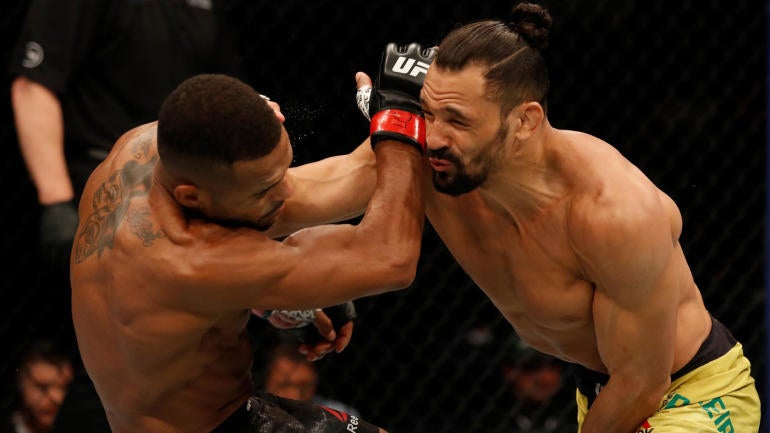 Michel Pereira (22-11, 1-2 UFC) made headlines even on the regional scene with his wild striking style, complete with spin kicks and superman punches and everything else you could ever imagine. The hype behind him only got larger when he knocked out Danny Roberts in his debut in just over a minute. The gameplan to beating Demolidor is simple. All you have to do is wait for him to gas, which he will do, sometimes even in the first round, although he did show improved patience before his DQ loss last fight to Diego Sanchez.
Eight straight knockout victories brought Zelim Imadaev (8-2, 0-2 UFC) to the UFC, where he lost a close decision due to a point being taken and was subsequently knocked out by Danny Roberts. Imadaev comes in with a boxing foundation and although he mixes up his strikes well, his main finishing threat comes from his punches. The primary spot of danger against Imadaev is inside the pocket, where he can unload with his power hooks and quick combos. His grappling is the most concerning issue, as his lackluster takedown defense and poor submission savvy leave him vulnerable to both being controlled and submitted.
Imadaev's skillful boxing and one-shot power are somewhat discounted by his poor accuracy from range and limited defensive skills as the fight goes on. Unluckily for him, he will have an opponent who uses his size and range expertly, as Pereira prefers to keep it in kicking range and dart in behind power straights. On top of that, Demolidor's BJJ black belt and five submission wins are often overshadowed by his frankly ridiculous and high-amplitude striking. Whether he chooses to attack his power shots or subdue Imadaev with his grappling, Pereira has all the tools to win if he manages his gas tank as he did in the Sanchez fight.
Take the Shot: Michel Pereira via Round 2 Submission
---
Brian Kelleher vs. Kevin Natividad (BW)
Brian Kelleher (21-11, 5-4 UFC) started his 2020 Octagon career with two finishes over top prospects Hunter Azure and Ode Osbourne. A decision defeat to Cody Stamann halted his efforts, but the 34-year-old veteran will be making his fourth appearance this year come Saturday. "Boom" lives and dies by the sword, with 24 of his 32 professional fights ending before the final buzzer. He has power and quick punches, although he often finds himself on the wrong end of the volume battle. He holds nine submissions to his name as well, with six coming from his guillotine.
Kevin Natividad (9-1) will be making his UFC debut after a round two knockout in July at LFA 85. "Quicksand" holds six finishes on his pro record with five coming by way of knockout, as well as an underrated submission game off of his back. His lone defeat came by a nine-second KO, which he righted with five straight victories. His striking is focused around his left hook and power right hand, but he favors his power punches a little heavily and causes his pace to wind down. Natividad is by no means lost in this fight, but he needs to stay away from the furious hooks and quick transitions of Kelleher. The most significant lapses in his career have come against people who can close into the pocket faster than he can and that is the name of Kelleher's game.
Take the Shot: Brian Kelleher via Unanimous Decision
---
Thiago Moises vs. Jalin Turner (LW)
Thiago Moises (13-4, 2-2 UFC) is coming off a win over veteran Michael Johnson, earning a second-round heel hook finish after being soundly outstruck in the first round. Moises has capable kickboxing and solid power, but his main skill is in the submissions. Moises was the LFA and RFA champion and he has incredible cardio. His Octagon career has shown his lapses in striking and poor movement when backed up against the cage and he often lacks the takedown chops to force it into the grappling arena.
Jalin Turner (9-5, 2-2 UFC) recently impressed in February by handing Josh Culibao his first pro defeat. "The Tarantula" skills utilize fundamental kickboxing, but is nonetheless effective. He has devastating power along with a massive size advantage at 6'3, a height rarely seen in the Lightweight division. Turner has decent submission skill with his BJJ purple belt but it is almost exclusively defensive. My problem with Turner is that he is too risky. His ground game has shown susceptibility to being controlled, though he can regain his footing pretty well. Although he packs a wallop, his chin has shown some lapses when he is unable to keep his preferred range.
There's a pretty clear striker vs. grappler matchup. Turner has nearly every advantage in the striking, between his size, technique, and stopping power. On the other side, Moises has the superior wrestling and submission skill. However, I think that the long limbs of Turner combined with his takedown defense and relentless pursuit of the knockout will earn him another early win. His power striking and massive seven-inch reach advantage will allow him to tee off on Moises at will as long as he can stay out of the close range.
Take the Shot: Jalin Turner via Round 1 Knockout
---
Keep an eye out for the prelims predictions for this stacked ten fight card!
If you dabble in the occasional gambling, or even are just craving some more fights, check out Coby McKinley's coverage of the Contender Series, where he went five for five on his predictions last week.
Until next time, Freaks.