Though the UFC's return to the APEX facility in Las Vegas had no shortage of mishaps, we had an entertaining card with a real upset in the main event!
This week, we have a Heavyweight collision between the show-stopping power of Derrick Lewis and Alexey Oleinik. Our co-main pits former Middleweight king Chris Weidman against Omari Akhmedov, hoping he can get his fighting legs back under him.
---
Derrick Lewis vs. Alexey Oleinik (HW)
Following his title shot defeat to Daniel Cormier and a subsequent loss to JDS, Derrick Lewis (23-7, 14-5 UFC) scored two decision victories, showing considerable improvements in his grappling and cardio. Lewis is one of the few fighters on the UFC roster who cuts to the 266-pound limit and is shown through his style. He hits incredibly hard and while he is a slower fighter without much of a ground game, he can end the fight with one good shot. Just ask Alexander Volkov, who was destroying him until the very last minute of their fight.
Alexey Oleinik (59-13-1, 8-4 UFC) is a submission specialist and aside from Fabricio Werdum, who he most recently defeated, is one of the best grapplers at the 206+ division. Oleinik has 46 wins by submission and don't let his record fool you. Although he only has eight knockouts in his 59 wins, he has dropped people with big shots and led into submissions. He has the Heavyweight power and although he is somewhat of a small heavyweight, especially when compared to Lewis, he has managed quite well for himself.
This is as extreme of a clash of styles as you will ever see in the Octagon. While Oleinik certainly has some pop, it is no secret that he is almost always at a disadvantage on the feet and tries to wrangle the fight to the mat at all costs as a result. On the other side, "The Black Beast" is a power puncher and only really a power puncher. He doesn't have great technique, grappling, or stamina, but touch you once and he can put you out easy. That goes double for Oleinik, whose last three defeats have come by knockout. Lewis has a clear and relatively easy path to victory if he can keep it standing, but that is way too big an 'if' for my money. Oleinik's relentless pursuit of grappling doesn't bode well for Lewis' shoddy takedown defense and his ineptitude at grappling transitions leaves him far too liable to Oleinik's chokes.
Take the Shot: Alexey Oleinik via Round 1 Submission
---
Chris Weidman vs. Omari Akhmedov (MW)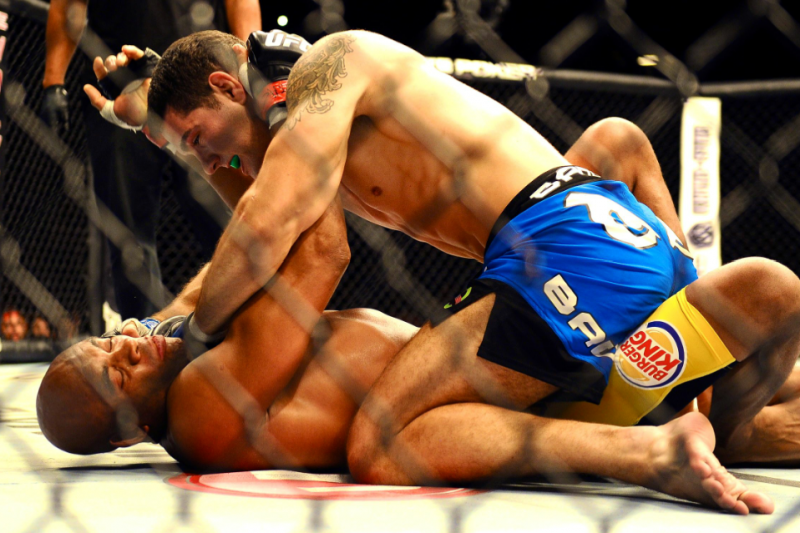 Chris Weidman (14-5, 10-5 UFC) was on a thirteen-fight unbeaten streak before losing the belt to Luke Rockhold. Now, he sits 1-5 in his last six matches with every defeat coming by knockout. Weidman comes in with a terrific All-American wrestling background that has seen him score at least one takedown in every one of his UFC bouts. That by no means makes him a one-dimensional fighter, as his kickboxing is technical and powerful, earning him six knockouts in his pro career. Weidman's Achilles heel has been his striking defense and chin, remaining a little too tentative when striking and allowing his opponent to catch him when he is backing up. However, when Chris takes it to his opponent, he is a freight train of power.
Omari Akhmedov (20-4-1, 8-3-1 UFC) is undefeated in his last six fights, his only setback being a draw against Marvin Vettori. The Dagestani "Wolverine" likes to get it done with his wrestling and use his striking more as a means to get it into the close range. Omari has twelve finishes on his record with seven by knockout, but his greatest weapon in his UFC tenure has been his top control and positioning. Omari has been able to ground and control talented grapplers like Ian Heinisch and Zak Cummings, as well as showing improvements in his striking.
Weidman is on a bad streak, there's no denying it. It's hard to ignore the issues with his striking defense, but this matchup seems to be one bred to get him back on the winning track. Omari relies heavily upon his positioning to earn his victory, something that he certainly cannot rely on against the fantastic wrestling pedigree of Weidman. On the feet, Chris holds clear advantages in both stopping power and technique while Akhmedov does not have the one-punch power or slick combos to find Weidman's faltering chin. On top of that, Weidman will be operating with five inches of reach advantage over the former Welterweight and will have the size and strength to bully Akhmedov at his own game.
Take the Shot: Chris Weidman via Round 2 Knockout
---
Darren Stewart vs. Maki Pitolo (MW)
Darren Stewart (11-5, 4-5 UFC) has made his reputation inside the Octagon with crisp Muay Thai and violent power. With 7 wins on his record by knockout, "The Dentist" has proved himself a violent force in the cage. He has fairly good head movement and a lot of feinting but makes most of his money as a counterpuncher. He can put anyone to sleep with one shot, but also has decent wrestling and will shoot a takedown if things aren't working out on the feet. Most recently, Stewart was outgripped by Bartosz Fabinski, but once again displayed his ability to quickly regain his footing and come back with power shots.
After moving up to Middleweight, Maki Pitolo (13-5, 1-1 UFC) scored a KO win on the Contender Series to earn himself a UFC contract. He failed to replicate that success in his debut against Callan Potter, but got back on the winning track with a finish of Charles Byrd. "Coconut Bombz" is a power puncher with devastating hooks, truly finding his mark when able to open up against the cage. Pitolo also has three submission wins on his record, but has limited offense off of his back.
The key to victory for either fighter is being able to establish their preferred striking range. Pitolo's hand speed and volume give him a leg up if he is able to make this fight into a brawl, but try to exchange technically, and Stewart's superior Muay Thai base and one-shot power will give him clear advantages. Pitolo will have issues with Stewart's size and brute strength, especially up against the cage. If either fighter is to find a ground advantage, it will be Stewart, whose clinch working and scrambling much outweigh Pitolo's nearly non-existent efforts to improve position off his back. Look for Stewart to combine his technical striking and top control for a clear decision.
Take the Shot: Darren Stewart via Unanimous Decision
---
Yana Kunitskaya vs. Julija Stoliarenko (BW)
Yana Kunitskaya (12-5, 2-2 UFC) got pulled up to the big leagues to take on Cris Cyborg for the Featherweight title. Although she lost her title shot, "Foxy" pieced together two straight decision victories before losing to Aspen Ladd in December. Yana has a crisp Muay Thai base with no shortage of powerful kicks and offers a high paced volume, although she takes a few more shots than I would like, which is part of the reason her two Octagon defeats have come by KO. Yana has solid offensive wrestling but struggles to establish top position and avoid the takedown.
After a failed stint on TUF 28, Julija Stoliarenko (9-3-1, 0-1 UFC)) has pieced together five straight wins, most recently capturing the Invicta FC Bantamweight strap. Julija is somewhat of a one-trick pony, with all but one win (her last) coming by first round armbar. She has a clear method of attack and wastes no time trying to get her grappling into effect. However, my criticism of her comes from her level of competition, as she is still yet to encounter an opponent with more than five fights in her pro career. That is too big of a factor for me to ignore and although Stoliarenko has a shot at blitzing the Russian and exploiting her takedown defense issues, her mediocre takedown entries and Yana's better competition give me doubts she will be able to score that signature armbar. Kunitskaya pieces her up en route to decision.
Take the Shot: Yana Kunitskaya via Unanimous Decision
---
Beneil Dariush vs. Scott Holtzman (LW)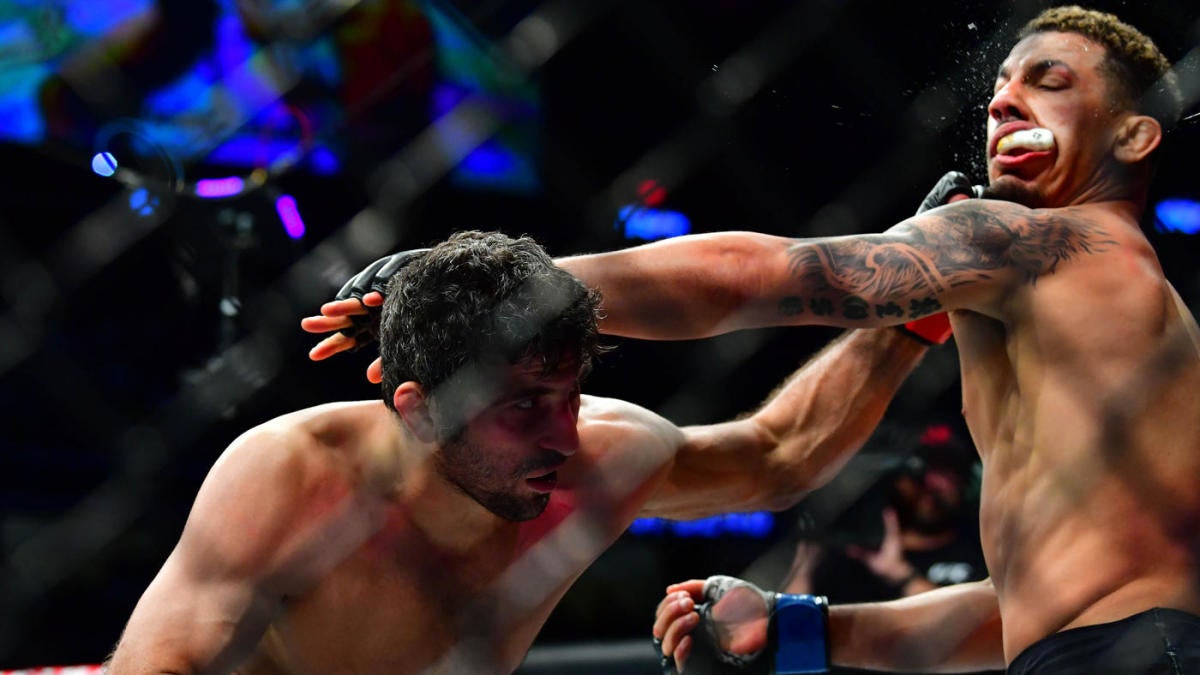 Beneil Dariush (18-4-1, 12-4-1 UFC) reasserted himself in the Lightweight rankings by dispatching Drakkar Klose with a highlight reel KO at UFC 248. "Benny" is an elite grappler with great takedown entries and back takes, securing twelve finishes with eight by submission. Dariush is another fighter where the blueprint is out there to win for those in the know. He has impressive wrestling, dangerous jiu-jitsu, and a nice strike differential. However, he has been consistently outclassed by fighters who are explosive and athletic, able to land power shots on his exposed guard.
Scott Holtzman (14-3, 7-3 UFC) has been around for a while, though his record may not look it. "Hot Sauce" blends his wrestling and striking incredibly well, throwing in consistent takedowns along with a knockout threat at all times. The bane to Holtzman's game has consistently been fighters with better wrestling than he has, and that chalked up to be true with his last defeat against Nik Lentz. The issue for Holtzman has been his willingness to engage on the mat, despite primarily being a striker. That's not to say he doesn't have any wrestling credentials, but Dariush has him significantly outmatched in that facet, as his submissions and grappling exponentially beat Scott's.
Take the Shot: Beneil Dariush via Round 2 Submission
---
Note: the following fight was set to be on the main card, but has since been moved to the prelims.
Kevin Holland vs. Joaquin Buckley (MW)
Kevin Holland (17-5, 4-2 UFC) rebounded from a submission defeat to Brendan Allen by knocking out Anthony Hernandez in under a minute. Although losing his debut to a powerhouse in Thiago Santos, Holland has proved worthy of his UFC spot and demonstrating the multiple abilities he brings. "The Trailblazer" has good Kung Fu based striking, using combinations as well as power to finish seven of his opponents in knockout, while also using defensive submissions to finish the fight or keep it standing. He proved his skill as a BJJ artist in that match with GM3 by going toe-to-toe with the black belt all the way to a victorious decision.
Joaquin Buckley (10-2) will be making his UFC debut after Trevin Giles was declared medically unfit to fight just minutes before their match last weekend. Buckley scored a second-round KO just last Friday against Jackie Gosh, displaying his powerful striking that has earned him seven career KO wins. Buckley's struggles have been against well-rounded who can take advantage of his poor grappling and winging power shots. Holland fits that bill perfectly, presenting finishing threats on the feet and mat. While Buckley has puncher's chance in this fight, Holland is a lock in my eyes with the technical advantages in nearly every area.
Take the Shot: Kevin Holland via Unanimous Decision 
---
Don't forget to tune into ESPN+ at 6 PM EST to catch the start of this incredibly fun card that's pretty much bred for finishes!