Fight Island may be over, but that does not mean the UFC is slowing down. We are primed for the first of five cards to be held at the UFC Apex.
Due to a rescheduled bout between Holly Holm and Irene Aldana, we have a three round Middleweight main event between Strikeforce veteran Derek Brunson and unbeaten finisher Edmen Shahbazyan.
---
Derek Brunson vs. Edmen Shahbazyan (MW)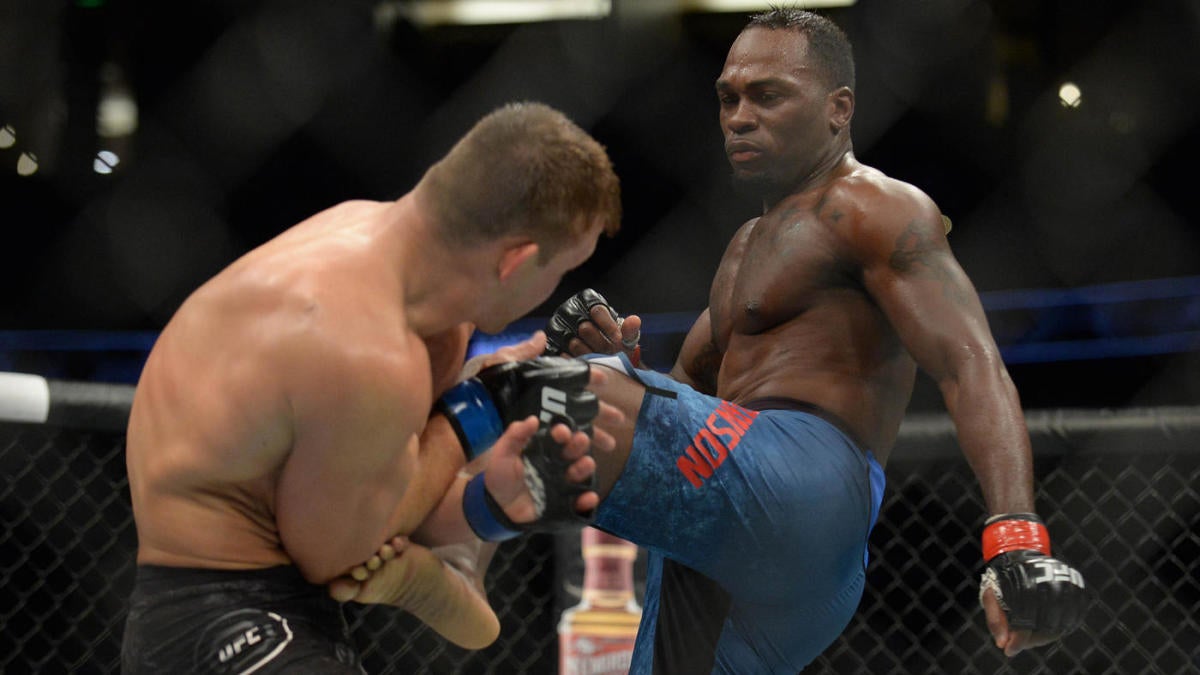 Derek Brunson (20-7, 10-5 UFC) has been kicking it at Middleweight for FOREVER now and was actually the headliner for the first UFC fight I saw live. He has elite wrestling and striking with some real power behind it, too, finishing seven of his UFC opponents in the first round. The biggest issue, time and time again, for Brunson has just been his pacing. Instead of using his elite wrestling and striking technique, he often will throw himself into a brawl chasing the finish. His last two fights, decision victories over Elias Theodorou and Ian Heinisch, showed a developed and more patient Brunson that provides much more of a high-level test.
A win and seventh straight first round knockout on the Contender Series propelled Edmen Shahbazyan (11-0, 4-0 UFC) to the UFC, where he outwrestled power puncher Darren Stewart and displayed his cardio and grappling. Since that split decision, he has rattled off three first round finishes, most recently a head kick KO over Brad Tavares (pictured left). With nine of his wins by first round KO, Edmen clearly has a lot of power, aided by his precision and movement, lining up the perfect shot between his opponent's guard. "The Golden Boy" also has solid grappling, and is often referred to as the "new breed" of MMA that trains all aspects of the sport vigorously.
Were this the old Brunson, there wouldn't be a single question about Edmen scoring the KO. Brunson's recklessness and defensive holes when he has his opponent hurt have been crippling for him in nearly all of his high-profile bouts, always getting eaten right before nearing that elusive title shot. His more patient efforts in recent fights give me a little pause, but not enough. Brunson's grappling is certainly his most clear advantage, but one that he will have difficulty implementing against the takedown defense and footwork of Shahbazyan. Stuck in a firefight against Edmen is a bad spot for him, as his striking defense will lapse once more in the birth of a new star.
Take the Shot: Edmen Shahbazyan via Round 1 Knockout
---
Joanne Calderwood vs. Jennifer Maia (FLW)
Joanne Calderwood's (14-4, 6-4 UFC) move to Flyweight has worked wonders so far, producing a 3-1 record with the only failure to Katlyn Chookagian who most recently challenged for the title. JoJo does her work in the decision, but has six finishes on her record, five by knockout. She mixes in her grappling really well and has shown some good power at 125 pounds. She looks to improve with each fight and the absolutely insane volume and warlike mentality she brings makes her a fan favorite on almost every card she appears on.
A loss to Liz Carmouche derailed Jennifer Maia (17-6-1, 2-2 UFC) in her UFC debut, but she turned the tide against Alexis Davis. She has since been unable to truly separate herself from the pack, The striker has punishing boxing and a fair bit of power, but has failed on the ground, being dominated by Carmouche and even falling to Davis in her matchup (although she recovered to get the win). Maia mixes up her strikes with a Muay Thai background and a black belt in jiu-jitsu to show she isn't entirely lost on the mat. It doesn't seem like either of those will be enough in this fight. Maia's lower output as well as grappling susceptibility give confidence in Calderwood nearly anywhere the fight goes and Maia isn't exactly going to be KOing "Bad Mofo" dead in the water. Calderwood cements her title challenger status with a dominant decision.
Take the Shot: Joanne Calderwood via Unanimous Decision
---
Vicente Luque vs. Randy Brown (WW)
Vicente Luque (18-7-1, 11-3 UFC) is riding a five-fight win streak with every victory in finish. Luque is as well-rounded as they come with technical Muay Thai and expert jiu-jitsu, where he has six subs in various forms of arm chokes. Luque is a powerful striker when pressing forward but prefers to pick up his guard and take a few shots while looking for a heavy counter when he is on the back foot. He mixes up his shots well with leg kicks and body shots, along with mixing in his expert wrestling. Luque has shown time and time again that he has the chin and power to out brawl his opponents, but also has the technique and grappling to make him an all-out threat.
Randy Brown (11-3, 5-3 UFC) also rounds out his gameplay to tango in any area with his opponent. "Rude Boy" has six wins by knockout and three in submission and is no doubt a threat at all spots. He uses his 6'3″ frame to hold the distance that he prefers while firing off kicks and his long straights, also utilizing a draining clinch game. His grappling is primarily defensive, but that doesn't mean that it isn't high level, as he most recently choked out Warlley Alves.
The tell for this match seems to be Brown's range requirement, as Vicente's expert grappling will likely keep Brown wary of going to the mat. Luque's striking and straight forward onslaught won't let Brown get away with his usual level of output or room for his power shots. Luque batters Brown over two rounds before finishing him in the third.
Take the Shot: Vicente Luque via Round 3 Knockout
---
Bobby Green vs. Lando Vannata 2 (LW)
Bobby Green (25-10-1, 6-5-1 UFC) righted his two-fight losing skid with a decision victory over Clay Guida just over a month ago. Green is a Strikeforce veteran who has been going up against the best competition for nearly the entirety of the career. "King" has 17 finishes on his record with nine by submission, though he has not earned a stoppage victory since 2013. Green is a well-rounded fighter who has been historically difficult to take down to the mat, as he is primarily offensive on the mat when in top position. He has clean boxing although he overexposes when stringing together his boxing combinations.
At the time of Lando Vannata's (11-4-2, 3-4-2 UFC) debut, "Groovy" was a 8-0 prospect making a short-notice move to the cage against #3 ranked Tony Ferguson. In their fight of the night appearance, Lando dazed Ferguson, dropping him multiple times before succumbing to a Brabo choke in the second round. After that, Lando was heavily favorited against a few opponents, but is yet to string together two consecutive wins in the UFC, despite his brute power, wrestling, and submission skill. Vannata's creative striking and power are only hampered by his infuriating inconsistency and willingness to relax while winning.
Although few fighters are as inconsistent as Vannata, he looks to be the play here. Their first meeting should have gone Vannata's way, but an illegal knee after dropping Green cost him a round. As a result, their FOTN went to a draw, but I simply can't see Green finding the same success he did by biting down on his mouthpiece and throwing like last time. Now just 2-5-1 over his last seven, he simply isn't the same fighter and Vannata won't be nearly as easy to hit as the ghost of Clay Guida.
Take the Shot: Lando Vannata via Unanimous Decision
---
Kevin Holland vs. Trevin Giles (MW)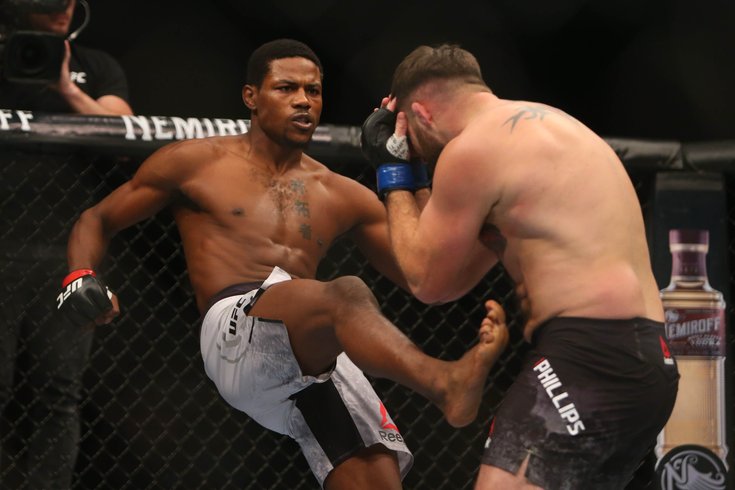 Kevin Holland (17-5, 4-2 UFC) rebounded from a submission defeat to Brendan Allen by knocking out Anthony Hernandez in under a minute. Although losing his debut to a powerhouse in Thiago Santos, Holland has proved worthy of his UFC spot and demonstrating the multiple abilities he brings. "The Trailblazer" has good Kung Fu based striking, using combinations as well as power to finish seven of his opponents in knockout, while also using defensive submissions to finish the fight or keep it standing. He proved his skill as a BJJ artist in that match with GM3 by going toe-to-toe with the black belt all the way to a victorious decision.
Trevin Giles (12-2, 3-2 UFC) is the more natural Middleweight with a serious finishing threat. He has 10 finishes evenly split between knockouts and submissions. The only decision was a split win over Ryan Spann and if you've seen Spann's surge through the Light Heavyweight division, you know Spann is a very scary man. "The Problem" has crisp striking and power, using feints to mix them in, which is a style I really like to see. His boxing is one of the best in the division and is incredibly technical. He fights very loose in the Octagon and is truly a fighter who loves every second in that cage. He has great takedown entries as well and although Gerald Meerschaert and Zak Cummings were able to latch onto guillotines, Giles displayed a much improved submission defense in his FOTN victory against James Krause.
Giles is an elite level boxer who has been entirely capable of outstrking every one of his UFC foes so far. The issue he has is being all too willing to engage on the mat, even when he is winning the fight on the feet. Though Holland's kicks and long striking are clearly potent threats, they seem to be neutralized by the pressure and superior boxing technique of Giles. If "The Problem" is able to keep this fight on the feet and lean on his takedown defense and defensive submissions, he should have no trouble opening up Holland from inside the pocket.
Take the Shot: Trevin Giles via Unanimous Decision
---
As of writing, we have eleven fights adorning this card. Don't forget to check out the prelims predictions right here!