After a lovely Wednesday night event of fights, we are primed for our third card in only eight days and this is not one to miss.
We delivered once again with our last predictions, with yet another card of taking home sweet profits.
Headlining the card we have the rematch for the vacant Flyweight title after Deiveson Figueiredo missed weight in his first match against Joseph Benavidez back in February. That's not all, though, as we have a high-stakes Middleweight matchup between Jack Hermansson and former title challenger Kelvin Gastelum.
---
Deiveson Figueiredo vs. Joseph Benavidez 2 (FLW)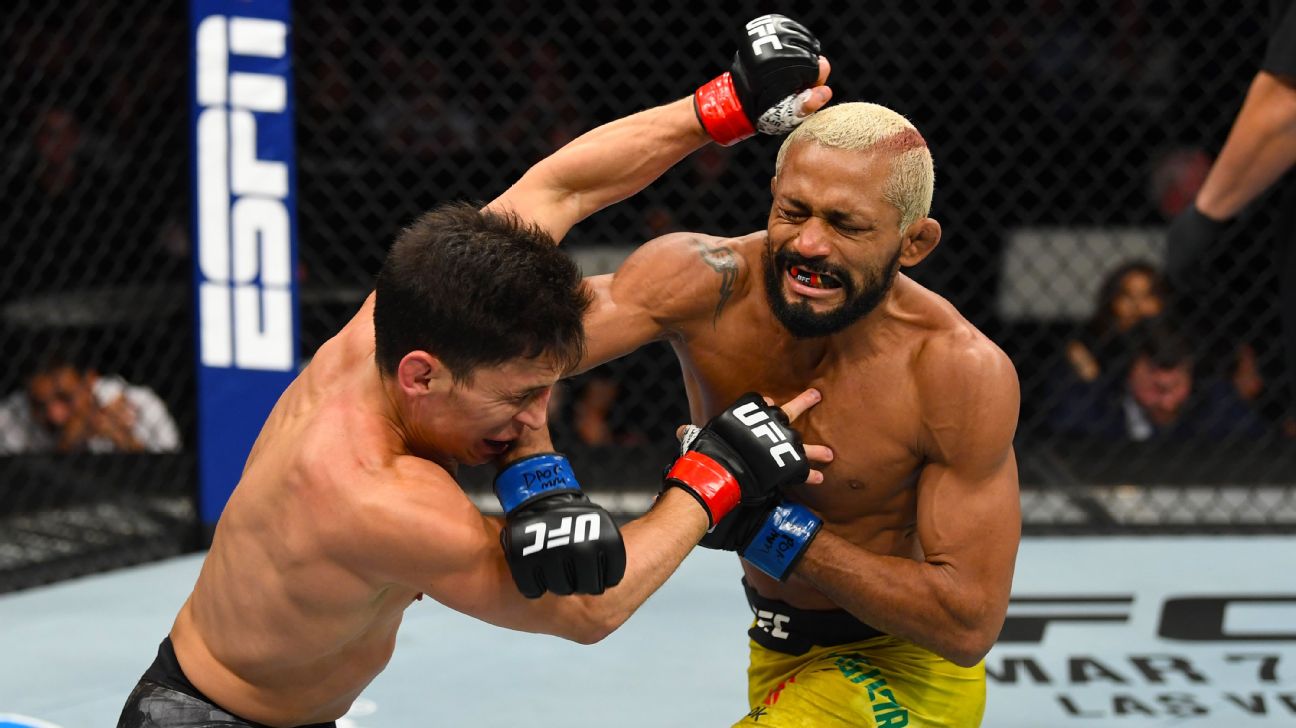 Despite COVID-19 worries last week, Deiveson Figueiredo (18-1, 7-1 UFC) will have a second chance to earn the Flyweight title after missing weight in February. "Deus de Guerra" is a finisher in every area, with 15 stoppages and nine coming by knockout. His striking is his main forte and he utilizes a long, odd, karate style stance to set up his power punches. His guard is a little low and outstretched, but his hand speed and concrete chin do more than enough to shore up those concerns. Even on the mat, Figueiredo has a number of crafty submissions in his repertoire, with his patented guillotine earning four of those six.
Joseph Benavidez (28-6, 15-4 UFC) is getting his fourth UFC title shot through what some argue to be an undeserved immediate rematch. Regardless, Joey B brings the same elite scrambling and quick pocket boxing that have kept him at the forefront of the division for years. With 17 total finishes and nine by submission, Benavidez has rolled through the up-and-comers with relative ease, hardly showing any signs of degradation despite nearing his 36th birthday. His success comes from his versatile skillset and ability to control where the fight takes place, whether utilizing his wrestling or devastating power hooks.
Although their first fight was somewhat contentious and I have a huge soft spot for Joe Jitsu, I don't feel that Benavidez has a multitude of ways to win this matchup. He landed some good power shots and calf kicks on Figueiredo, but he literally walked through them as if they were nothing. His speed and power simply outclassed Benavidez and nearly finished him in the first with an armbar if not for the latter's legendary scrambles. Unless Benavidez is able to hold Figgy down in the same way that Formiga did and stifle some of his strength, it will be another early night at the office.
Take the Shot: Deiveson Figueiredo via Round 1 Knockout
---
Jack Hermansson vs. Kelvin Gastelum (MW)
Jack Hermansson (20-5, 7-3 UFC) looked poised to make a run for the belt after amassing a stellar four straight wins in the span of a year, only to be shot down by the power of Jared Cannonier. "The Joker" holds sixteen finishes with ten by knockout, often as a result of his ferocious ground and pound. When Hermansson is able to establish top control, it is hard to get him off and even harder to survive the onslaught of punishment. He is not lost when striking, either, as his high mobility and lengthy frame allow him to move around the outside, forcing his opponent to come to him if they want to land their power punches. Still, his striking mainly exists as an avenue to his ground game, but he is hard to deter once he establishes himself in top control.
Despite a poor year in 2019, Kelvin Gastelum (16-5, 10-5 UFC) remains a top name and promising contender for the Middleweight division. His Fight of the Year with current champion Israel Adesanya and narrow split decision with Darren Till still showed his abilities well, even though they may not be favorable when looking at his record. Gastelum is primarily a boxer who utilizes his hand speed and footwork to enter the pocket and unleash power spots. His prestigious wrestling background primarily serves to keep the fight on the feet for him, where he has his patience and timing to exact punishment, landing a knockdown in every Middleweight tilt except for his match with Till.
In the striking avenue, there isn't much contest here. Hermansson's ten KOs imply that he is a threatening striker and although he does work with some technical boxing and great movement, he truly relies upon his grappling to secure the victory. If Gastelum is indeed able to keep the fight standing, he certainly has the superior technique and more than enough power to get the win. That said, Hermansson is no slouch on the feet and has a clear offensive edge on the mat. For all of Gastelum's scrambling and wrestling pedigree, he has struggled with the pure physicality of Middleweights when grappling and Hermansson is certainly not on the small side of the scale. While I am far past doubting Gastelum's ability to enter the pocket against larger competition, he simply hasn't show the ability to outmuscle them and force the fight standing. Hermansson's advances and control time set him up for a sound decision.
Take the Shot: Jack Hermansson via Unanimous Decision
---
Marc Diakese vs. Rafael Fiziev (LW)
Marc Diakese (14-3, 5-3 UFC) rebounded from a three-fight skid in 2019, picking up decisions over Joe Duffy and Lando Vannata. "Bonecrusher" has six wins by knockout, with all but one coming inside the first round. He has a nice Muay Thai striking base, but struggles getting his shots off and increasing the volume. However, it often isn't an issue for him, as his wrestling chops and ample control time leave him in position to rain down power blows as well as dominate position.
Rafael Fiziev (7-1, 1-1 UFC) emerged in the UFC with a perfect 6-0 record, only to have it quickly ended by a Mustafaev spinning kick. "Ataman" rebounded with a dominant decision over veteran Alex White, proving he has the chops for the world's top organization. Fiziev is about as elite of a Muay Thai striker as you can get, moving forward while hopping and feinting to provide no shortage of looks for his opponents. His MMA-adapted grappling is primarily used to keep it on the feet, but he has shown glimpses of skill there, but there isn't much tape on that with five of his wins coming inside the first round.
This is a great test for Fiziev, because it tests out just how his skillset stacks up against tried Octagon pedigree competition. As of right now, we know that he has incredible striking pedigree for which I give him both the volume and power edges in this matchup. Where it will get really interesting is when Diakese shoots in for the takedown. Should Fiziev's defenses hold up as well as they have against his opposition up to this point, he should have no issue keeping Diakese on his back foot and teeing off. I find that scenario more likely than the Brit holding Fiziev down for the whole fight, as Fiziev's takedown defense and scrambling have been nothing short of stellar.
Take the Shot: Rafael Fiziev via Unanimous Decision
---
Ariane Lipski vs. Luana Carolina (FLW)
Ariane Lipski (12-5, 1-2 UFC) debuted in the UFC with no shortage oof hype to her name, only to perform underwhelmingly, dropping two decisions before recently getting back on the winning track against Isabela de Padua. "The Violence Queen" does her best work when striking, earning six victories by knockout. Lipski offers powerful combos with quick hands, but has displayed struggles in head movement, absorbing no shortage of strikes between her three Octagon appearances. Her willingness to take a shot in order to give one often fails to opponents who can control her on the mat and avoid her average submissions that she throws off her back, but she brings clear power all the way through the fight.
With a victory on the Contender Series, Luana Carolina (6-1, 1-0) emerged into the Octagon, landing over a hundred strikes in her debut against human punching bag Priscila Cachoeira. "Dread" is a striker who relies more on volume than stopping power, but comes to brawl often. She loves to move around the outside using her quick feet to line up precision shots and kicks, where she gets her most devestating shots in. She has a skilled Muay Thai base with a great clinch game. I do have a criticism of her level of competition but her clinic on Cachoeira displayed her ability.
This is a sleeper fight of the night and I can clearly see why the matchmakers put this on the main card. Both fighters love to strike and throw no shortage of punches, which Lipski's aggression will certainly help with. When looking at the technique, it gives a clear edge to Carolina, if she can avoid Lipski's power right. Lipski's poor defense and less varied output and movement will be her downfall in this fight. Should Carolina be able to get Lipski to chase her and take advantage of the latter's disgusting head movement (a relatively simple feat), she should have no issue taking home the victory.
Take the Shot: Luana Carolina via Unanimous Decision
---
Alexandre Pantoja vs. Askar Askarov (FLW)
Alexandre Pantoja (22-4, 6-2 UFC) will have a close eye on tonight's main event, as he was the late replacement should Figueiredo have tested positive for COVID, and could secure the next title shot with a dominant win here. "The Cannibal" most recently scored an emphatic KO over Matt Schnell after his win streak was interrupted by Figueiredo in their Fight of the Night battle, keeping him close to the top of the division. Pantoja comes to brawl straight from the start, keeping heavy aggression and a brutal volume, earning 17 finishes with eight by knockout.
After a draw in his debut against Brandon Moreno, Askar Askarov (11-0-1, 1-0-1 UFC) defeated Tim Elliott in the first decision win of his career. Askarov displayed an adept understanding of the striking in that match, knocking down the veteran and nearly finishing the fight. Askarov is a grappler by trade, however, with seven of his wins coming by submission, including the elusive Twister. He has quick scrambles and skilled takedowns with an intention to take control and end the fight.
Despite Pantoja's nine submission wins, I can't give him the grappling edge against Askarov. He relies upon back control to be dangerous offensively and can get complacent in top position, which is not a smart move against a submission wrestler like Askarov. Despite that, his takedown defense and quick guillotine give him ample opportunities to keep the fight on the feet, where he has a clear advantage. Even though Askarov impressed me with his performance against Elliott, his lengthy striking style and somewhat meager volume give me concern against a striker of Pantoja's caliber, who will utilize his power right and leg kicks to wither down the Russian over three rounds.
Take the Shot: Alexandre Pantoja via Unanimous Decision
---
Make sure to tune in at 8 PM EST on Saturday to catch this phenomenal main card from Fight Island!
Be sure to check out Chris Carpenter's picks for the preliminary card!