With last week's event somewhat lackluster in terms of name value, we are back in full force with a premier matchup in the Heavyweight division that would be for a title if not for DC's trilogy bout and, oh yeah, Ngannou.
In our co-main event, some Featherweight strikers look sure to bring fireworks as Josh Emmett takes on "Hurricane" Shane Burgos.
---
Curtis Blaydes vs. Alexander Volkov (HW)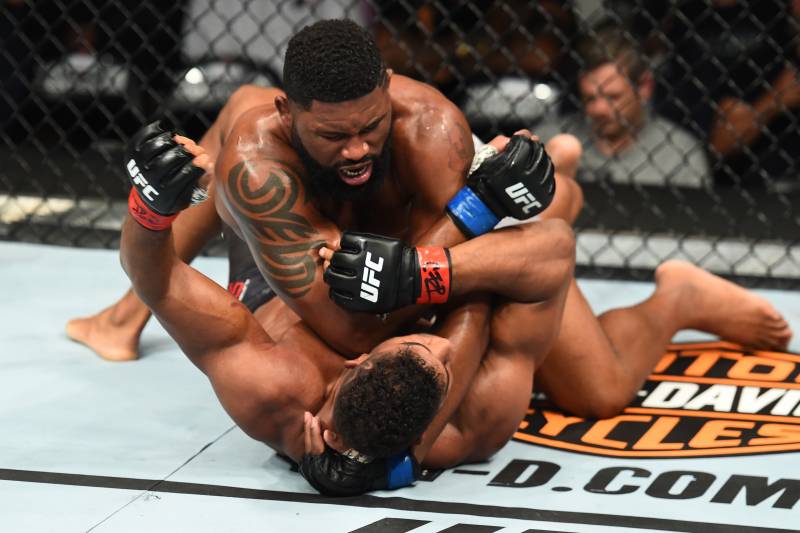 If not for one fighter, Curtis Blaydes (13-2, 8-2 UFC) would be near undeniable for a title shot right now. After a second round doctor stoppage to Francis Ngannou in his UFC debut (not bad, right), Blaydes went on to win five fights straight under the UFC banner, with three of those being knockouts. He was stopped inside of a minute by Ngannou, but has rattled off three straight victories, toting two straight by knockout. Blaydes is a wrester by trade, who is masterful on controlling position while inflicting damage with his knees and elbows. Prior to his last fight against JDS, I thought that JDS would deny all Blaydes' takedowns and then use his boxing to clinic Curtis. I was right in one sense, as they did not touch the mat, but Blaydes finished the Brazilian striker in the second round, adding feints and head movement into his striking arsenal.
Alexander Volkov (31-7, 5-1 UFC) would be undefeated in the Octagon minus that bomb from Derrick Lewis, but such is our beautiful sport. Volkov is a tactical, lanky striker who uses his 6'7″ length to establish range and pick apart his opponent from his kickboxing range where they cannot hit him back. Although susceptible to counters inside the pocket, "Drago" can outpoint pretty much any fighter on the roster with his incessant volume, as well as holding knockout victories over Stephen Struve and Fabricio Werdum. Despite having a trio of submissions to his name and surprisingly adept wrestling, Volkov will be seeking to keep the entire match on the feet.
Looking back at Volkov's match with Fabricio Werdum, I find it near impossible that a takedown artist of Blaydes' caliber will not wrangle the Russian down the mat, where Volkov's few defenses off his back besides "I'm big" won't save him from Blaydes' ground and pound. On top of that, their matching reaches indicate Volkov will not be able to tee off at his usual clip or establish his typical range. Blaydes has all the skills to dominate this match should he deny Volkov's pacing.
Take the Shot: Curtis Blaydes via Round 3 Knockout
---
Josh Emmett vs. Shane Burgos (FTW)
Team Alpha Male staple Josh Emmett (15-2, 6-2 UFC) has looked terrific at 145 pounds, finishing his last three victories by stunning knockout. Emmett offers a heavy movement striking style with good footwork, choosing to commit on a few select shots. When Emmett commits, he really commits and often delivers another highlight reel knockout. He also boasts a high level wrestling game to lean upon and has intense strength in clinch and ground exchanges. The largest hole in Emmett's game remains his activity level, failing to commit or mount high levels of offense when not on his pacing.
Few fighters are as game for a war as Shane Burgos (13-1, 6-1 UFC). "Hurricane" marches forward, forcing a brutal pace for him and his opponents to fight on. The gas tank of Burgos is simply unrelenting, bullying his opponents into submission. Although Burgos is by no means impossible to hit, his striking average of over seven significant strikes per minute provides danger and a scary finishing potential. Shane has five submission victories to match his five KOs, most recently securing an armor of Kurt Holobaugh after rocking him on the feet.
I'm pretty much going to ignore the ground game in its entirety here because I don't think the fight will go there. Burgos' near-perfect takedown defense rate combined with Emmett's recent reluctancy to grapple leave me certain this will take place entirely on the feet, and I am all for it. Burgos' striking pace and movement allow him to put forth an onslaught of volume, but not without his opportunities of being tagged. However, those instances accumulate from series of jabs and strikes thrown through his somewhat meager defense, making Emmett's winging overhands unlikely to find their mark. Burgos' aggression and relentless fury will break Emmett down late in the fight.
Take the Shot: Shane Burgos via Unanimous Decision
---
Raquel Pennington vs. Marion Reneau (BW)
Since defeating Miesha Tate, Raquel Pennington (10-5, 8-5 UFC) has gone just 1-3, dropping her title shot against Nunes as well as bouts to De Randamie and Holly Holm. "Rocky" is a jack of all trades, master of none with good boxing and a built wrestling game but without the power to finish fights or elite level submissions. However, she uses incredible control and pacing, as well as great striking defense to tangle on the feet, but desperately seeks to be inside the pocket or clinch to inflict real damage.
Even at 42 years old, Marion Reneau (9-5-1, 5-4-1 UFC) keeps on clipping, most recently seen on the wrong side of the decision back against Yana Kunitskaya. Reneau has some heavy hands by her side and throws some good shots, but her technique has faltered in her last few matches. She also brings along some slick submissions off her back, but will likely want to strike with Pennington. Even in that realm, her skill set is not well-rounded enough to outpoint to former title challenger.
Take the Shot: Raquel Pennington via Unanimous Decision
---
Lyman Good vs. Belal Muhammad (WW)
After absolutely dismantling Chance Rencountre, Lyman Good (21-5, 3-2 UFC) looks poised to make a run at the top 15, but will have to get past Belal here. Good is a terrifying striker with punishing power, and the hulking frame to use it. "Cyborg" prefers to utilize aggression and force his opponents to open up, saving his energy for the bombs he unloads, having finished all three of his victories in the promotion by knockout. The former Bellator champ has great footwork and head movement, making him a near-impossible fighter to outstrike.
Belal Muhammad (15-3, 6-3 UFC) had a four-fight winning streak interrupted by top-notch prospect Geoff Neal, but turned it around with two dominant victories. Muhammad is an wrestling dependent fighter who bases his game around control time. Muhammad seeks position over submission potential, and works to limit the offense coming back at him. That's going to be crucial for him here, and he is going to have to utilize his jab and footwork to maintain his timing.
This is a striker vs. grappler clash of styles in the purest of forms. For all of Belal's controlling mastery on the mat, he is yet to nail down his striking and can be easily caught, especially when pushing in. Yet Lyman Good's power and precision are held back by his lack of an urge for a ground game. It's the latter that I think will take this, as Good's takedown defense has only really been broken by Demian Maia, something many fighters are not shamed to admit. Belal is no Maia, especially when it comes to submissions, meaning Good will have more opportunities to close the show if he can regain control on the feet.
Take the Shot: Lyman Good via Round 2 Knockout
---
Roosevelt Roberts vs. Jim Miller (LW)
Roosevelt Roberts (10-1, 4-1 UFC) has shown himself to be a legit prospect in the Lightweight division. In his matches, he has proven just how skilled his long 6'2 frame is on the ground, but an element that wasn't highlighted there or in his first round submission over Darrell Horcher, was his striking. Roberts has some pop in his hands and a composed striking ability highlighted with a nice jab and a stellar right cross. He has the ability to strike from range or use his grappling pedigree to choke out his opponent. His guillotine is second to none and his massive frame provides his with an ability to manhandle his opponents in the clinch.
The skill of Jim Miller (30-13, 19-12 UFC) has not gone down as his age has risen. Although most recently beaten in decision by Scott Holtzman, Miller had two first-round chokes in his matches prior. His striking has been a weak point in his game in the past, but now he works behind a clean jab, although still without the most output. Miller has an elite submission game, and scrambles like almost no one else in his weight class can.
Although Miller's grappling pedigree and Octagon experience are somewhat worrying factors, Roberts has proven his skill level and well-rounded attack. He can compete with Miller on the mat, and his ground battles with Alexander Yakovlev and Thomas Gifford showed his potential. Even with that, he has no need to. His six inches of height advantage give him a massive advantage in striking.
Take the Shot: Roosevelt Roberts via Unanimous Decision
---
The main card kicks off at 9 PM EST on regular ol' ESPN, and don't forget to check the prelims predictions for the week written by the uncanny Chris Carpenter!
Until next time, Freaks.